Escape Game: "The Woe That Befalls Me"
By: IDAC CO., LTD.
Walkthrough:
1. Zoom in on the garbage can and take the hose between the garbage and the tires.
2. Turn right twice and take the screwdriver off the cart.
3. Look behind the washing machine and take the detergent.
4. Turn left. Zoom in on the drain on the ground and use the screwdriver to open the metal panel. Take the part of a jack.
5. Turn right twice. Open the door and enter the room.
6. Zoom in on the plant and take the blue bucket behind it.
7. Read the note on the table: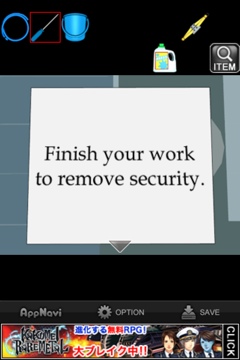 8. Leave the room and turn to the washing machine. There's a faucet to the right of it. Turn on the water and fill the up the bucket.
9. Turn your back to the car and look into the drain. There's something shiny: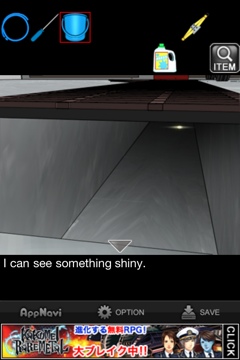 10. Put the hose on the faucet.
11. Face the back of the car and pour the bucket of water down the drain: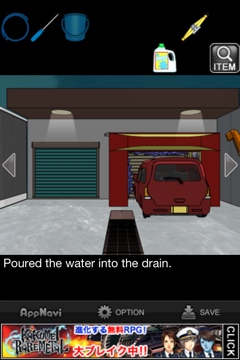 12. Turn around and look at the drain to find a key: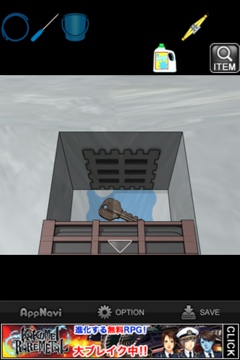 13. Use the key to open the grey door by the tires.
14. Enter and open the locker. Take the metal stick.
15. Open the top left drawer of the filing cabinets and take the Check Sheet.
16. Leave that room and face the garage door. There's a towel stuck up above. Use the metal stick to get it down.
17. Attach the metal stick to the jack.
18. Use the jack to lift up the car and take the knob that was under the wheel.
19. Attach the hose to the washing machine, then tighten it with the screwdriver.
20. Use the towel to wipe the wall above the tires to see this: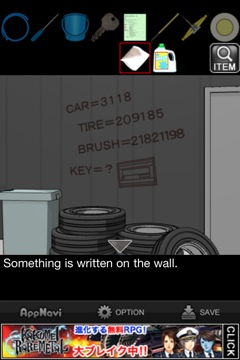 21. Try to wipe the mirror, but the dirt is too stubborn. Put the dirty towel in the washer and add detergent. Walk around, then come back and take it out.
22. Go back to the office. Put the knob on the cabinet below the sink and open the door to see this: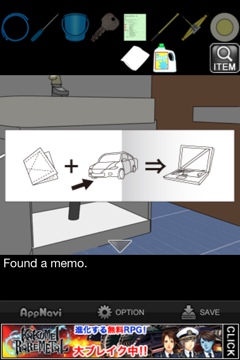 23.
***
Note: Sometimes a promo code is provided for a game, but it does not affect the review in any way. At AppUnwrapper, we strive to provide reviews of the utmost quality.
Check out my recommended list for other games you might like.
If you like what you see on AppUnwrapper.com, please consider supporting the site through Patreon. Every little bit helps and is greatly appreciated. You can read more about it here. And as always, if you like what you see, please help others find it by sharing it.
COPYRIGHT NOTICE © AppUnwrapper 2011-2017. Unauthorized use and/or duplication of this material without express and written permission from this blog's author is strictly prohibited. Links may be used, provided that full and clear credit is given to AppUnwrapper with appropriate and specific direction to the original content.