Escape Game "Strange House"
By IDAC Games
[DKB url="https://www.appunwrapper.com/StrHouse" text="Download" title="" type="" style="" color="green" width="" opennewwindow="" nofollow=""]
Click here to see my walkthrough.
IDAC has a number of room escape games in the App Store, and this is one of their better-looking ones. However, it suffers from poor game mechanics.
Gameplay 3/5
While this game utilizes your usual room escape controls, they can sometimes be a bit off, resulting in many repeat attempts to do something seemingly simple. Most of the puzzles are fairly straightforward in concept, but the game mechanics make them seem more complicated than they really are. The game is very linear, to a fault. Even if you find parts of a puzzle and have an idea what you should be doing with it, you won't be able to do so until certain other steps are taken. This could lead you to think that you're wrong about a puzzle solution, when it merely means that you need to come back to it later. Sometimes you need to look over every inch of an item before it will allow you to move it. And some clues are off, which could make one think their game is bugged. This makes the game unnecessarily frustrating, and may lead some players to quit early on. But it's still a decent game with some interesting puzzles, worth playing if you can pick it up for free.
Story 2/5
There really isn't much story here. You decided to check out an eccentric man's "strange house" and got locked inside. Now you need to use your surroundings to escape.
Graphics 4/5
The 3D graphics are a huge step up from IDAC's usual simple 2D drawings. However, like all their games, it only utilizes half the iPhone screen, so it's not as impressive as it could be. Instead of using the whole screen, the top part is your inventory, and the bottom has ads.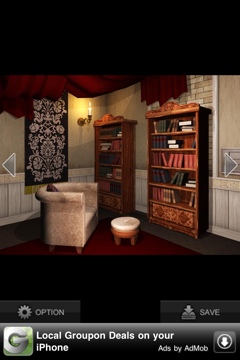 You can navigate the house, but you see the four corners, as opposed to the usual four walls. This is an interesting variation from other room escape games.
Overall, the graphics are pretty impressive, albeit a bit stiff.
Audio 2/5
There's no music in the game, and the rest of the sound effects are mainly the typewriter sounds coming from the text and a sparkly noise to announce you found an object. This makes the game feel a bit incomplete, and makes it hard to get fully immersed.
Replay Value 1/5
There's no reason to play this game again once you escape. In fact, you'll probably be so glad to finally be out of there, that you may delete it right away.
Conclusion 3/5
This is a challenging little room escape game that's worth playing if you get it for free. Keep in mind that if you pay for it, it's fairly short and you likely won't play it more than once. The linear gameplay and sometimes-awkward controls may lead to gamebreaking frustration, but trust your instincts to escape the Strange House.
If you're looking for more free room escape games, check out Diamond Penthouse Escape 2, Escape Game: "An Uninspired Man", Escape Game: "An Odd Game" and these other room escape games.