Escape Game: "An Uninspired Man"
By IDAC Co, LTD.
Click here for my walkthrough.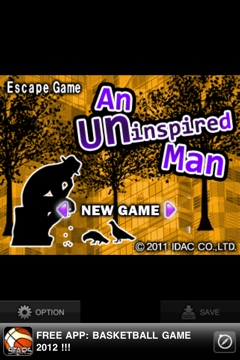 If you've played IDAC room escape games before, you probably have a love-hate relationship with them. It's because they are often free and have some great puzzles, but the game mechanics can cause unnecessary frustration. "An Uninspired Man" is one of their better games, but suffers from these same issues.
Gameplay 3.5/5
There really are some great puzzles here, and for the most part they're intuitive. But I got stuck several times, and almost every time it was because to open or turn over an object in my inventory, I had to tap a specific pixel. With certain objects, you could tap them till your fingers bleed, but unless you get it at just the right spot, you'll assume there's just nothing there to be found. So, if you go into this game knowing that you should tap *everywhere* — and I *mean* everywhere! — then you might not get as frustrated as I did. The game is actually quite long for their games, and most items have multiple uses. You won't be finishing this game in ten minutes.
What also bothered me about this game was the cart in middle of the room that you can't interact with. It drove me crazy! I kept thinking I just didn't tap on the right spot to zoom in on it. But no, it was never used. It was pretty distracting, though.
Overall, I would consider this to be one of IDAC's better games. It's definitely worth trying.
Story: 2.5/5
Not much of a story here, but better than many of their other games. You're a businessman who works for a department store and was tricked into getting locked in the clerk's office. Now you have to use your surroundings to escape.
Graphics: 2.5/5
I wish IDAC would move on from their simple 2D graphics and stick with the 3D. These over-simplified drawings pale in comparison to the 3D. However, they are clear and there's no mistaking what you're looking at. They do the job without the bells and whistles.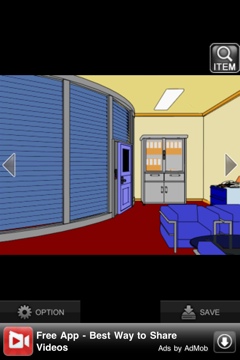 Audio 1/5
Like most IDAC games, there's no soundtrack and the sound effects are very minimalistic. They don't add much to the game.
Replay Value 1/5
This is a room escape game, and once you escape there isn't much reason to play again. There are no items to collect or alternate endings to look for.
Conclusion 3.5/5
This is another IDAC game that's worth playing if you can get it for free. But be prepared for some frustrations and a *lot* of tapping. There are some great puzzles here, though, and it is quite satisfying to complete it.
If you liked this game, check out Escape Game: "An Odd Game", Escape Game: "Strange House" and Atmosfear.