Escape Game: "An Odd Game"
By IDAC Co., LTD.
Click here to see my walkthrough.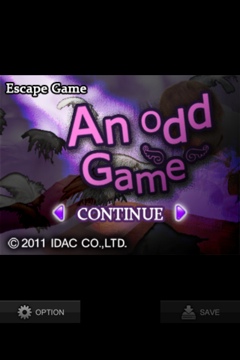 Ok, so that title is a bit harsh. But that's how I felt the first few times I tried to play this game and all I'd see is "There is nothing of importance here." Although it has IDAC's usual quirks, it is worth playing, especially if you get it for free and are a fan of room escape games. It's a frustrating but ultimately satisfying game.
Gameplay 3/5
This is another room escape game by IDAC, consisting of the usual controls. You tap around the room to uncover clues and items to help you escape. What can be frustrating, especially at first, is that most of the objects in the first room have no use, and those that do don't give up their clues easily. If you don't see "There is nothing of importance here," then keep tapping on that area, because it's likely something will show up eventually. Once you get past certain snags like this, the game is intuitive and straightforward. But like all IDA games, it's very linear. So even if you can guess a password, or see the clue from afar — you need to zoom in all the way for it to work. If you can get used to this, the game is actually pretty good.
Story 2.5/5
You're playing an "odd game" with your girlfriends at school. You're a bit afraid of the game, but don't want your friends to tease you. So you play anyway, and suddenly you find yourself in a locked room and have to escape.
Graphics 2.5/5
The simple 2D graphics are pretty bland, but they get the job done. They're clear so you know what you're looking at. But graphically, this is not one of IDAC's better games.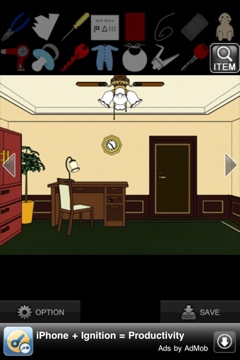 Audio 1/5
Usually the lack of music doesn't bother me so much. But what does bother me here is the nagging typewrite sounds every time I tap on something and the game tells me "There is nothing of importance here." Get used to those six words because you'll be very well acquainted with them after only your first few minutes of playing.
Replay Value 1/5
There really isn't any reason to play this game again once you escape.
Conclusion 3.5/5
I got off to a rough start with this game because of the need to keep tapping a spot several times before the clue appears. I deleted and re-downloaded the game at least half a dozen times before finally pushing through it. If you can get past the frustrating beginning, it has some great puzzles that are fun discovering. So try to stick with it and don't give up. Of course, if you need help, feel free to post in the comments section.
If you like this game, make sure to check out Escape Game: "An Uninspired Man", Escape Game: "Strange House" and Antrim Escape 3.