Ellie – Help me out…please
By Ateam Inc.
Click here for my walkthrough.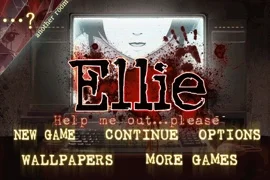 Ellie – help me out…please is a free Japanese room escape game with a horror twist. It's challenging, creepy, and suspenseful. What more could you want from a room escape game?
Gameplay 5/5
Like any room escape game, you have to find items and use them to get out. The unique angle here is that you are looking through a monitor and telling the trapped girl what to do. She describes objects to you and you tell her how to use them. The controls are intuitive and very responsive. The puzzles are challenging, and may stump some players. But even if you have to read a walkthrough to complete it, this is a game worth experiencing.
Story 5/5
You find a monitor in an old abandoned building. When you turn it on, a young girl appears on the screen, frantically asking for help. She's locked in a room and needs you to help her escape. There is more to the story than it seems. It has a creepy ending that makes for a suspenseful experience similar to that of being inside a horror movie.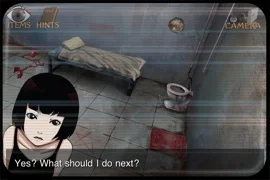 Graphics 5/5
The graphics are crisp and clear. The small cell can be seen from two different angles. The room is dark and dreary without making items difficult to see. The lines across the screen give the authentic feel that you're watching her through a monitor. I liked the contrast of the bright, Anime-style girl against the dark setting of a prison cell.
Audio 5/5
The soundtrack in this game really sets the mood. It's eerie but never intrusive. From the very beginning, you know something's not right because of the haunting music.
Other than the the music, there isn't much audio in the game besides a few sound effects and the girl's dialogue. She speaks in Japanese with English subtitles. Together with the graphics, it all comes together very well to create the intended mood.
Replay Value 3.5/5
This is a pretty short game, but there are multiple endings, so it is worth playing through the game a few times. It's also a great work of art that you may want to return to later or show off to friends. I'm having a hard time accepting that I'll need to delete it eventually to make room for other games, due to its large 200mb size. There is also "Another Room" you can buy within the game through an in-app purchase for more creepy fun.
Conclusion 4.5/5
Ellie – Help me out…please is something you need to experience if you like room escape games or simply creepy games. I took off half a star for lack of backgrounding capabilities and because early on there's a "bug" that makes it difficult to pick up a specific object. If not for a walkthrough that explained a way around the bug, I would not have been able to continue with the game. But once you get past that, this is a short but enjoyable experience that should not be missed.
If you liked this game, check out Closed Room, "An Odd Game" and Antrim Escape 3.