Cause of Death: Halloween Special: Dead Man Walking Part 1
By Electronic Arts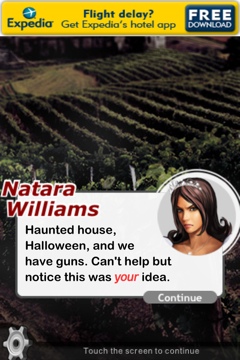 On November 7th, EA added a free Halloween Special to their game Cause of Death, Dead Man Walking Part 1. It's a bit late for Halloween, but any time is good for a scary story! Brace yourself for another scary masked murderer and other monsters that lurk in the dark.
Gameplay 3.5/5
This isn't so much of a game as an interactive story. If you're looking for something that will give your fingers exercise, this isn't it. Speech bubbles pop up. You simply tap the screen to see the next one. Occasionally you have to make a choice, which will impact your story. If you make too many bad choices, you could find yourself dead — even eaten by a zombie!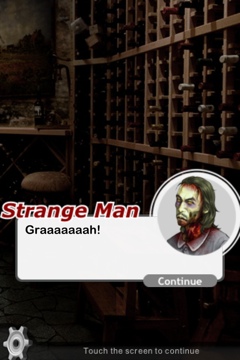 Story 5/5
Just like the first episode, Tough Love (the Maskmaker), Dead Man Walking offers a suspenseful murder mystery that keeps you reading so you can find out who the mysterious killer is. (Could he really be a ghost?) Like the first story, you play both the victim and the hero. There's something strangely satisfying about playing the victim and getting your head bashed in by the Exterminator. The dialogue is written well, with the same humor and suspense as the original. It feels authentic, like you're trapped in a horror movie. You also get to see Mal and Natara in Halloween costumes!
Graphics 4/5
The graphics are similar to the Maskmaker, done well but lacking retina support. Once again, it looks like a graphic novel. The villains and monsters are all drawn well and are genuinely spooky.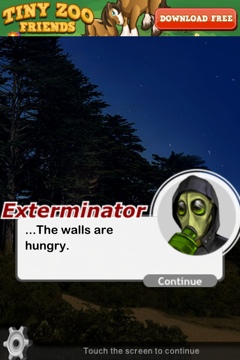 Audio 4.5/5
Perhaps it's because the game started off with the haunting, creepy music, but I liked it much better than in the Maskmaker. It fits perfectly with the murder mystery horror story.
The music playing during the more upbeat scenes where Mal and Natara are joking around, is a bit annoying. But thankfully it gets broken up by the suspenseful and eerie music.
The sound effects work well, too, to capture the scary mood.
Replay Value 4/5
This game offers plenty of reason to play through it more than once. If you get yourself killed, you'll need to go back and make the right decisions to keep you alive. But even if you made the right choices the first time, it's worth playing again and experiencing some gruesome deaths. Just like the Maskmaker story, if you make enough right decisions you unlock bonus footage, which you definitely don't want to miss.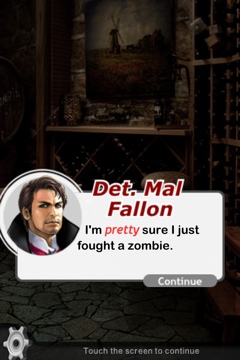 Conclusion 5/5
If you haven't played Cause of Death yet, this is a great place to get your feet wet (and bloody!). If you miss Halloween and are looking to get back into the mood, this is perfect for you. But keep in mind, there is a lot of reading. If you're ok with that, you should really enjoy Dead Man Walking. Part 1 is fairly short, but will whet your appetite for the next part of the story. You can either wait to get it for free, or buy it on demand right away.
Don't forget to check out my review for Cause of Death: Tough Love and Dark Meadow!