Sneezies
By Chillingo (Retro Dreamer)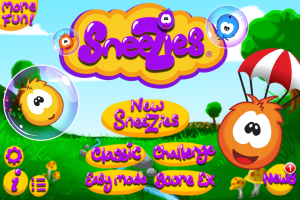 Sneezies was the first game I bought when I got my iPhone 4. I got addicted to the little guys while playing on the store model. Now, after owning the game for 1.5 years without any notable updates, Sneezies update 2.0 has been released in honor of their third birthday. The developers boast 60 new levels split into three worlds: Green Fields, Golden Sands, and Blue Ocean. So is the new update good enough to be worth buying the game or even downloading it again if you deleted it ages ago? Read more to find out.
Gameplay: 4/5
If you're not familiar with Sneezies, the way the game works is a bunch of cute little fluffy creatures called Sneezies appear on your screen, floating in bubbles. You have the power, with your finger, to sprinkle sneezing powder on them. This causes them to sneeze, pop their bubbles and fall (with a parachute, of course). When they sneeze, they pass it on to Sneezies close to them, creating a chain reaction. The whole time they are floating around the screen and bouncing off the walls.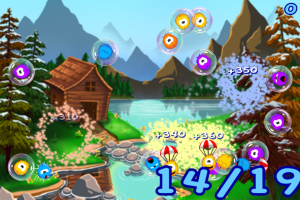 So where's the challenge in this game? You're limited in moves, and usually only to one. You need to find the best spot to tap that will set off the biggest chain of Sneezies. Each level has a number of Sneezies you're required to pop. If you pop even more of them, you get a higher score. As you progress through the levels, the number Sneezies increases and the size of the Sneezies decreases. The percentage of the Sneezies you must pop also increases. This means later levels can become quite challenging. Most of the new levels still only allow you one move. But these are broken up with the occasional one that requires you to reach a goal in three moves or less. If you do particularly well, you are awarded extra moves to earn bonus points.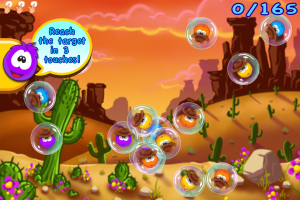 In the original classic version, you could not skip any levels. But luckily the additional 60 levels just added do have this much-desired feature. You can skip up to two levels, meaning you can play three incomplete levels instead of being stuck with one. You can also replay any of the levels you completed to improve your score, without losing any progress.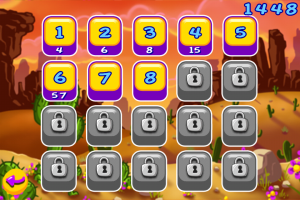 The touch controls are responsive and the physics work right. It's a great pick-up-and-play game when you have a few minutes (or hours) to spare.
One issue I do have to point out is that the game is still stuck in one orientation. You can't rotate the screen to accommodate your headphones, charger, etc. This should be standard in all games now, especially one that has been out for three years. But if you can get past this flaw, the game is still great for sitting back and relaxing. (*Edit: Retro Dreamer was unaware of this issue and said it will be fixed in a future update!)
Graphics: 4.5/5
The Sneezies were always adorable, and the backgrounds were always easy on the eyes. With this new update, there are more backgrounds and the Sneezies even get some costumes, such as cowboy hats. Although, I can't help but winder why they didn't get any party hats for their birthday!
The animations look great, and have even more variety now. When a level ends and the remaining Sneezies are blown away, you see different colored leaves fly by, depending on the scenery. There are also little flowers and dust in the desert levels. These are all nice touches that keep the game fresh.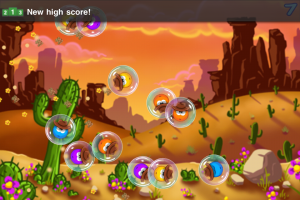 Audio: 4/5
I don't know about you, but I never get tired of hearing those cute little sneezes as they fall. The sound effects match up perfectly with the animations, bringing the Sneezies to life.
I don't find the music to be all that special, and prefer to shut it off. But luckily the game has separate music and sound effect controls, so you can shut/lower the music while keeping the sneezes nice and loud. This is a feature I believe every game should have, but sadly many are released with only one volume control. Take advantage of these options to set it to your preferences.
Replay Value: 4/5
There are 60 new levels to play, as well as the original Classic, Challenge, Easy and Score Ex. OpenFeint leaderboards and achievements are there for those who like competition. The new content offers some great challenge once you you reach the desert levels. You should be able to squeeze some good playtime out of the new content.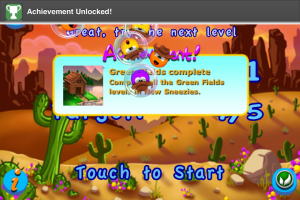 Conclusion: 4/5
The new update offers plenty for everyone. If you got stuck in the classic version, you now have more levels to play and can put classic behind you. If you exhausted all that the original had to offer, well, you now have more levels to play. The only reason not to play this update is if you already got sick of those cute little critters. It can be a very repetitive game and some may tire of it pretty fast. But if you can give them another chance, try it out. It may rekindle your love for the little furballs! And as always, it's a great kid-friendly game that families can enjoy together.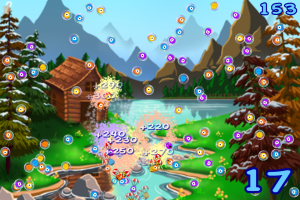 *Note: Sneezies Lite also got an update recently, to add the retina-optimized graphics of the full version. So if you haven't been able to decide whether to buy Sneezies, the lite version should now give you a better idea of what you'd be getting.
***
Note: Sometimes a promo code is provided for a game, but it does not affect the review in any way. At AppUnwrapper, we strive to provide reviews of the utmost quality.

Check out my recommended list for other games you might like.

If you like what you see on AppUnwrapper.com, please consider supporting the site through Patreon. Every little bit helps and is greatly appreciated. You can read more about it here. And as always, if you like what you see, please help others find it by sharing it.

I also offer affordable testing and consulting for iOS developers.

COPYRIGHT NOTICE © AppUnwrapper 2011-2020. Unauthorized use and/or duplication of this material without express and written permission from this blog's author is strictly prohibited. Links may be used, provided that full and clear credit is given to AppUnwrapper with appropriate and specific direction to the original content.