Linkoidz
By Retro Dreamer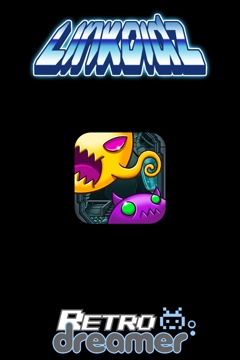 The first couple of minutes for me of playing Linkoidz were really weird. But before long I was so addicted I couldn't put it down. I may be late discovering this wonderful game, but I needed to review it anyway and let people know what they're missing.
Gameplay: 5/5
Linkoidz is a match-three game. You are on some strange planet armed with a gun and a force-field shield. Aliens are dropping down on you over seven rows. Your shield holds them off, but it can only handle so much weight before it crumbles. So in order to keep these aliens from overtaking you, you have to link up aliens of the same type/color to make them explode. You do so by sucking them up with your gun and then shooting them into another row. You can pick up one alien at a time, or you can pick up multiple rows and shoot them into one. But you can only pick up one *type* of alien at a time. This is where the controls felt weird at first. But give it a few minutes and it will feel perfectly natural. The controls are perfectly responsive, so you can keep up with the game as long as your fingers are fast enough. You can't blame the controls if you lose ;).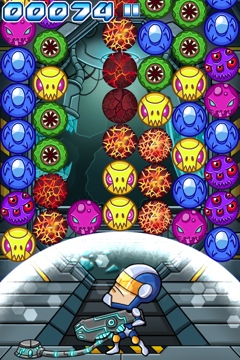 The game starts off with a tutorial that explains how everything works, step by step. As far as tutorials go, this is one of the better ones I've seen. By the time I got to the real game, I felt prepared. The tutorial even explains how the "boss" aliens work — you can't move them and you need to explode aliens around them a certain number of times before they explode themselves.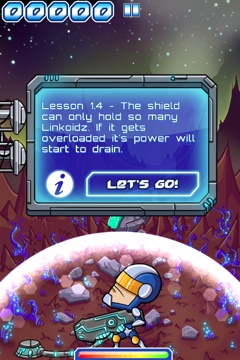 There are multiple areas that unlock as you progress, which offer different and harder challenges. The levels are broken up into different goals, so it never really gets boring. Sometimes you have to survive for a certain amount of time, while others you have to reach a specific score before you can move on to the next level. There is plenty of variety and challenge here to keep you occupied.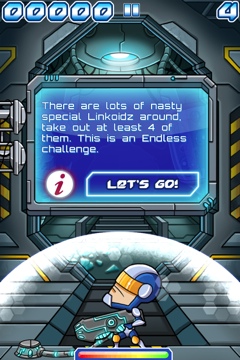 Graphics: 4/5
The 2D graphics are clean and crisp. While they aren't groundbreaking, they do the job well. The aliens look tough and cute at the same time, like a Pomeranian that thinks it's bigger than a Rottweiler. But don't take them lightly, because if your shield breaks, you'll be consumed by them. They are small, but together they're mighty!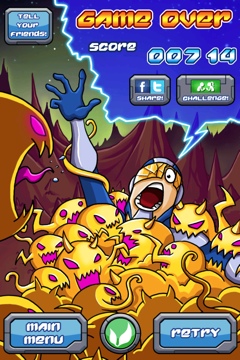 While the graphics could use a bit more oomph, they don't detract in any way from the fun factor of the game. They also help keep the game small (download size is only 19mb) so you'll have plenty of room for graphics-heavy games like Infinity Blade 2.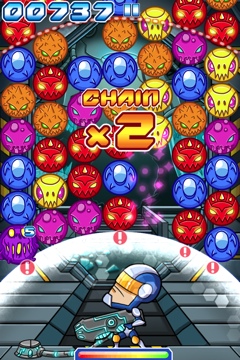 Audio: 4/5
The music is subtle and relaxing, just like any puzzle game should be. I know it's there, but it doesn't distract or annoy me.
The sound effects are also subtle, but they work to audibly tell you when you've sucked up aliens or exploded them. They're effective without being distracting.
Replay Value: 5/5
Even if you're an expert at this game and manage to complete all the levels quickly, you can always try to improve your scores. Each area also has an endless mode, which should keep you entertained indefinitely while you try to top your best score. There are also OpenFeint and GameCenter achievements and leaderboards to keep the completists and competitive busy for a long time.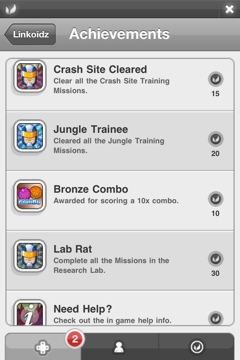 Conclusion: 4.5/5
If you like match-three games and are looking for something different that offers variety and challenge, this is the game for you. It's polished, the controls are quick and responsive, and the graphics are quirky but not too cute. You really can't go wrong with Linkoids.