***Note: The contest is currently over, but Willy Wiener is free for a limited time. Download it here. ***
[DKB url="https://bit.ly/wEUCJR" text="Download" title="" type="" style="" color="green" width="" opennewwindow="" nofollow=""]
Have you ever flung a wiener? If not, you're missing out on one of life's greatest pleasures!
I'm talking, of course, about Willy Wiener and the Tunnel of Doom! Read my review here. This game, by @MobiDojo, has you flinging Willy, a heroic hot dog, at Dottie the Donut to rescue her from the fiery pits of Hell. You'll also have to survive falling past fireballs and pitchfork-wielding demons in order to save her. If it sounds absurd to you… well, it is!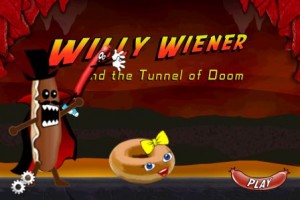 If you haven't flung a wiener yet, now's your chance to win a free copy of Willy Wiener and the Tunnel of Doom for iPhone! Thanks to MobiDojo, I have ten (10) promo codes to give away. There are several ways you can win:
—
Five (5) of the codes will be give away through a drawing. All you have to do for a chance to win is three simple things:
1. Make sure youΓÇÖre following me on Twitter: @AppUnwrapper or "Like" our Facebook page. If you do both, you can get more entries via step 2:
2. Tweet this message: "I just entered for a chance to #FlingaWiener! Follow @AppUnwrapper and @MobiDojo and RT to enter. https://www.appunwrapper.com/2011/12/29/giveaway-win-a-willy-wiener-promo-code/"
You can also share this page via Facebook for a second entry. Share it through Digg, StumbleUpon, Reddit as well, for more entries. You can get up to three entries total.
3. Comment below with your Twitter/Facebook username and any methods you used to share, so I know you're interested in the promo code. Winners will be contacted through Twitter, Facebook or email. ***Please don't post links, or your comment will end up lost in my spam box.***
The contest will end on January 4th and there will be five (5)winners. Please make sure to use the codes ASAP, as they do expire.
Good Luck!
—
For another chance at a code, keep an eye on my Willy Wiener Review, because I'll be hiding a code in there!
—-
And the last four codes will be posted or tweeted on my Facebook page and Twitter feed. If you want a chance at them, make sure youΓÇÖre following me on Twitter @AppUnwrapper and "Like" my Facebook page to find out when I'm posting them.
Good luck! Let's get flinging!