The Mystery of the Crimson Manor
By: Media City Games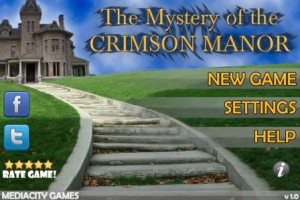 [DKB url="https://www.appunwrapper.com/crimsonmanor" text="Download" title="" type="" style="" color="green" width="" opennewwindow="" nofollow=""]
If you like this game, try "Alice Trapped in Wonderland" by MediaCity Games, the same developer as Crimson Manor.
Walkthrough:
1. Walk through the gates.
2. Walk into the small building. Read the journal on the table.
3. Go back to the gate and examine the right lion head. Take the key from its mouth.
4. Go back to the small building and use the key to open the box on the table. Take the key from inside.
5. Leave and tap on the house/manor up the path. Use the key to open the door.
6. Enter the left door. Take the key from the bowl and read the journal entry.
7. Enter through the door ahead and take the magnifying glass.
8. Arrange the pictures above the fireplace like so to open a secret door behind the bookshelves:
9. Go back to the main room and go up the spiral staircase.
10. Open the left door in the back and enter the room. Look at the picture above the bed:
11. Arrange the puzzle on the night table so it looks like this:
12. Leave and open the door to right. Enter the the room. Use the clover key to open the closet. Take the blue book and read the journal entry. Leave the room.
13. Enter the room to the right, towards the front. Read the journal entry and take the figure from the night stand.
14. Enter the bathroom and take the light bulb.
Click on the little numbers below to continue to the next page of the walkthrough.