If you like the point-and-click adventure games like the Lost City and The Secret of Grisly Manor, you won't want to miss out on The Mystery of the Crimson Manor by Media City Games. Thanks to the developer, we have promo codes to give away!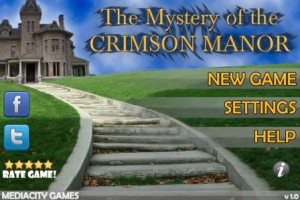 [DKB url="https://www.appunwrapper.com/crimsonmanor" text="Download" title="" type="" style="" color="green" width="" opennewwindow="" nofollow=""]
;
5 codes will be given away in a drawing. Here's how to enter:
1. Make sure youΓÇÖre following @AppUnwrapper and @MediaCityGames on Twitter. You can also "Like" our Facebook page for an extra entry.
2. Tweet this message:
"I just entered a #giveaway for a chance to win Crimson Manor! Follow @AppUnwrapper and @MediaCityGames and RT to enter. https://www.appunwrapper.com/win-crimson-manor"
You can also share this page via Facebook for a second entry.
3. Comment below with your Twitter/Facebook username and any methods you used to share, so I know you're interested in a promo code. Winners will be contacted through Twitter, Facebook or e-mail. ***Please don't post links, or your comment will end up lost in my spam box.***
The contest will end on Sunday, March 4, 2012 and the codes are for iPhone/iPod. Please make sure to use the codes ASAP, as they do expire.
**For more chances to win, keep an eye on our Twitter feed for some code slams!**
Good Luck!