Cryptic Caverns
By: 3D Methods
[DKB url="https://www.appunwrapper.com/cryptic-caverns" text="Download" title="" type="" style="" color="green" width="" opennewwindow="" nofollow=""]
Walkthrough:
1. Take the rope and tie it to the tree. Then step off the boat onto land.
2. Take the left path and go inside the ship. Take the crate, which has gold in it.
3. Go up the ladder, then up the stairs. Take another crate which has good in it. Then leave the ship.
4. Tap to the left of the ship to find yourself in front of a small building. Tap the crate next to it to get more cold coins. Enter the building and take the painting off the wall. Take another crate of the top of the bar. Also open the back door.
5. Go back to the first screen with the torch.
6. Take the right path this time. Tap on the building and take another crate from the porch.
7. Open the door and enter to talk to the Withered old man. Find out everything he knows and get the Sanctuary Key from him. Trade the painting for the Captain's Key.
8. While you're there, look at the sculpture on the wall and read the book on the bookshelf: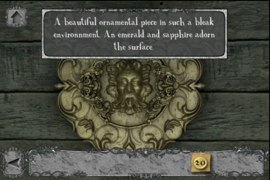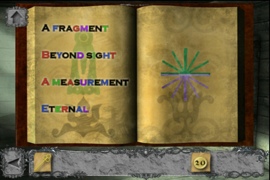 9. Go back to the screen with the torch. Tap left, tap left, tap left. Zoom in on the axe. Notice the green eye by the axe. Look at the book and focus on the green letters. Select them like so, and the green eye will glow. Take the axe: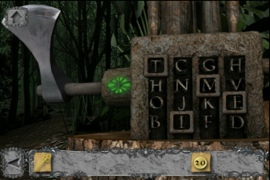 10. Tap the windmill to see the cavern opening. Then go back to the ship and use the Captain's Key to unlock the door to the cabin. Go inside take the ruby figurine. Read the book next to it. Also, examine the sculpture on the wall.
Click on the little numbers below to continue to the next page of the walkthrough.
***
Note: Sometimes a promo code is provided for a game, but it does not affect the review in any way. At AppUnwrapper, we strive to provide reviews of the utmost quality.

Check out my recommended list for other games you might like.

If you like what you see on AppUnwrapper.com, please consider supporting the site through Patreon. Every little bit helps and is greatly appreciated. You can read more about it here. And as always, if you like what you see, please help others find it by sharing it.

I also offer affordable testing and consulting for iOS developers.

COPYRIGHT NOTICE © AppUnwrapper 2011-2020. Unauthorized use and/or duplication of this material without express and written permission from this blog's author is strictly prohibited. Links may be used, provided that full and clear credit is given to AppUnwrapper with appropriate and specific direction to the original content.