100 Exits
By: Apperleft Ltd.
This is a walkthrough guide for anyone who needs help, hints, cheats, solutions, or answers for the iPhone/iPod game 100 Exits.
Level 1. Tap the door to open it.
Level 2. Turn your phone upside-down so the bar falls off. Then turn it upright again and slide the door to the left.
Level 3. Shake your phone right to left until a key falls. Pick it up and use it to open the door.
Level 4. The V = 5. Knock 5 times to open the door.
Level 5. Tap the two green buttons at the same time, over and over until the "NO" sign fades from the door, then tap on it to open it.
6. Tilt your phone to the side so the can is in front of the door. Then tilt it towards you so the can goes away from the door, then tilt away from you and the can will crash through the door.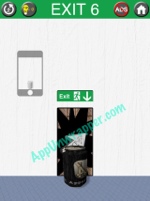 7. First arrange the dots like so and the door will change: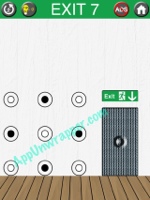 Then arrange it like so to open the door: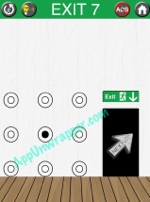 8. Turn on the buttons shown below, then slide the door left after the lightbulb goes on.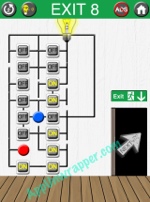 9. Change the directions of the cars so they look like so, then tap the door: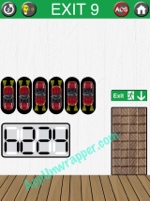 10. Hold down the Home button on the biggest iPhone on your screen. You'll see it turn green. While holding it down, press the Home button on your own iPhone. The game will minimize, but when you open it again, the door will open.
11. You need to use morse code here (SOS). You'll notice that when you tap the lifesaver it makes a noise. Tap it three times quickly, then three times slowly, and again three times quickly and the door should open.
12.
13.
14.
15.
16.
17.
18.
19.
20.
***
Note: Sometimes a promo code is provided for a game, but it does not affect the review in any way. At AppUnwrapper, we strive to provide reviews of the utmost quality.

Check out my recommended list for other games you might like.

If you like what you see on AppUnwrapper.com, please consider supporting the site through Patreon. Every little bit helps and is greatly appreciated. You can read more about it here. And as always, if you like what you see, please help others find it by sharing it.

I also offer affordable testing and consulting for iOS developers.

COPYRIGHT NOTICE © AppUnwrapper 2011-2020. Unauthorized use and/or duplication of this material without express and written permission from this blog's author is strictly prohibited. Links may be used, provided that full and clear credit is given to AppUnwrapper with appropriate and specific direction to the original content.