Haunted Manor: The Secret of the Lost Soul
By: Redbit Games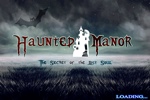 [DKB url="https://www.appunwrapper.com/HManorFull" text="Download" title="" type="" style="" color="green" width="" opennewwindow="" nofollow=""]
***Looking for the Haunted Manor 2: The Horror Behind the Mystery: Walkthrough?***
The full game is finally out, just in time for Halloween! This is a walkthrough for both the demo and the full game. If it's for the demo, I'll make note:
Walkthrough:
If the step-by-step walkthrough isn't enough, you can also watch this walkthrough video for the first part of the game:
1. Notice the symbols on the wall when the lightning flashes:
Demo: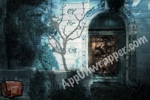 Full game: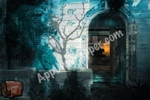 If you wait a bit, the game should also show you the symbols as a clue in your journal:
Demo: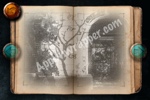 Full game: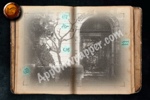 2. Tap on the door and highlight the symbols you saw on the wall. The doorknob will turn blue if you got it right, and the door will unlock.
Demo: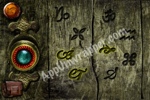 Full game: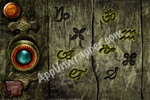 3. Tap the knob to open the door and enter the manor. After a bit, the lights will go and and you get hit in the head. You wake up in a room with an electric chair:
4. Take the stuffed bear from the chair: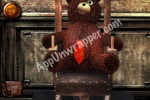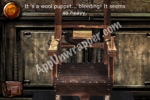 5. Go back one screen and tap on the framed photo on the left.
Demo: Take the coin with the skull on it.
Full game: The coin is stuck. Turn the candleholder to loosen the coin and then take it.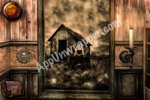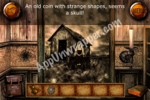 6. Go back a screen and tap on the tile puzzle on the wall. Swap the tiles to solve it: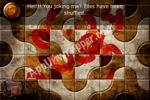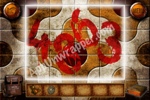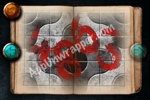 7. Go back to the electric chair and use the coin to pry open the seat, revealing a key. Take the key.
8. Use the key on the cabinet below the bookshelves and you'll get a red rod.
9. Put the bear back in the electric chair.
10. Put the rod in the slot on the combination lock on the wall and it becomes a lever. Enter the combination from the tile puzzle and pull the lever. The chair will slide over.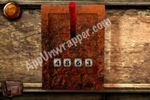 Click on the little numbers below to continue to the next page of the walkthrough.