Haunted Manor: The Secret of the Lost Soul
By: Redbit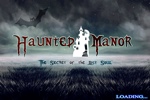 [DKB url="https://www.appunwrapper.com/HManorFull" text="Download" title="" type="" style="" color="green" width="" opennewwindow="" nofollow=""]
Review:
Haunted Manor is a game that's free in the app store, but it's actually a demo for the upcoming full game. So is it worth your time?
Gameplay: 5/5
This is your typical adventure, point-and-click (tap) game. The controls are simple and intuitive. You tap on objects in front of you to interact with them and pick up items. As in any point-and-click adventure, items picked up go into your inventory bag, and can then be used with your environment. There is also a handy journal that automatically saves clues (fans of Fire Maple Games will be familiar with this feature from The Lost City).
The controls in Haunted Manor are very responsive, with no lag between screens or interactions. Although this is a very short demo, it feels as polished as a completed game.
Seasoned adventure gamers might find it too easy, but should still enjoy it for everything else it has to offer.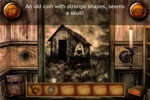 Graphics: 4.5/5
The 2D graphics are very clear on my iPhone 4, and are detailed enough to feel almost real. The game really shines with its animations and use of light and shadow. The flashes of lightning in the first screen manage to capture the atmosphere perfectly while subtly offering important clues. It's details like these that, in my mind, show that some real love and effort went into making this game. This was not a rushed job meant to make a quick buck.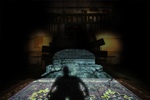 Audio: 5/5
From the moment you start the game, you'll be sucked in by the music and sound effects. The music is haunting but never overly-repetitive or annoying (at least for the demo!). The sound effects accent the visuals while offering feedback on your actions. They both work exceptionally well with the graphics and animations to create a spooky, haunted house atmosphere.
Replay Value: 1/5
This is a short demo of point-and-click adventure game, so there isn't much replay value. The visuals and sound effects might make it worth playing through a second time, though.
Conclusion: 4.5/5
While this is only a short demo for the upcoming game, I highly recommend playing it, if for nothing else than to see that there are quality adventure games on the way and developers who care about making a good game. There's also the added bonus that upon completing the demo, you'll be given the opportunity to enter to win 1000 free copies of the full game!
I, for one, can't wait to play the full game. It's rare to find a game that has the full package of graphics, audio and polished, user-friendly controls.
Download the game here.
[DKB url="https://www.appunwrapper.com/HManor" text="Download" title="" type="" style="" color="green" width="" opennewwindow="" nofollow=""]
Check out these great screens from the upcoming game, not seen in the demo!
If you need help getting through the demo, try this walkthrough.
Download the game here.
[DKB url="https://www.appunwrapper.com/HManor" text="Download" title="" type="" style="" color="green" width="" opennewwindow="" nofollow=""]