Murder Room
By: Ateam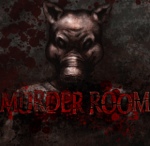 [DKB url="https://www.appunwrapper.com/MurderRoom" text="Download" title="" type="" style="" color="green" width="" opennewwindow="" nofollow=""]
See the walkthrough for Murder Room: Another Room here.
Walkthrough:
Chapter 1:
1. Turn left twice. Tap on the man with the chainsaw. If you want to see one of the "bad" endings, tap on him to zoom in on what he's doing, and watch.
2. If not (or after that), turn left and take the knife off the table. Look at the engraving: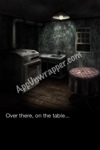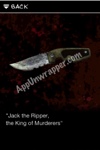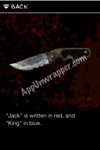 3. Look at the top of the stove. You can try to press a button, but after that you won't be able to touch it anymore.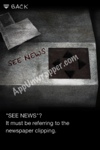 4. Look out the window to see there's no way out.
5. Go back to the first room and tap on the closet door to see a combination lock. The left two numbers have a red border and the right numbers have a blue border. The clue to solving the puzzle is the knife — "Jack" is red, "King" is blue.
Since Jack is 11 in a deck of cards and King is 13, put 11 on the left and 13 on the right to unlock the door. Take the doll from inside.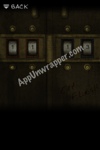 6. Go to the room with the radio on the shelf (and the tipped-over chair) and try to open the door. You'll decide you need to lure the Butcher outside. Go to the kitchen and put the doll through the window, then hide under the table. He'll leave the room.
7. Read the newspaper clipping on the stove. Then examine the body he was standing over. It's a little girl. Cut her ropes with the knife to free her. Then you'll hear a noise. The Butcher is coming back!
Click on the little numbers below to continue to the next page of the walkthrough.