Chapter 1 (again):
1. Do everything from before. Get the knife. But when you get to the closet door, use the numbers from the steak: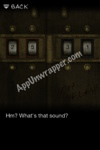 2. The closet will move. Take the suitcase and spray can from behind it. Examine them both to see that the suitcase is filled with cash and the spray can is rust remover.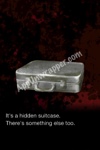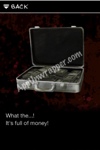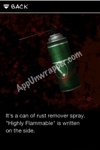 3. Examine the door again so you'll have the idea to get him to go outside. Throw the suitcase out the window, hide under the table again, and he'll go after it.
4. Cut Melanie loose again.
Chapter 2 (again):
1. Get the rope and secure the door. Then go to the window and spray it it with the rust remover. You can now open it and close it.
2. Get the tablecloth and turn it into a rope. Hang it outside the window again and try to climb down. When the Pig Man climbs up, slam the widow down on his hands three times and he'll fall. You'll get the rope back.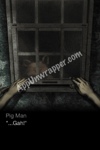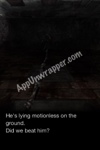 3. Try opening the door, but Melanie stops you. Pick up the key from near the window. Open the fridge and take the gasoline.
***Like this game? Try "In Fear I Trust."***
Chapter 3 (again):
1. Hide under the couch. Use the knife to pry open the floorboard and open the fuse box again. Tell Melanie about the hiding place and then run back under.
2. Turn off the lights with the fuse box. Then spray the rust remover at the Pig Man.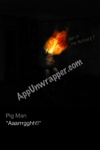 3. Tie the killer up using the rope. Then try to exit. A metal door will slam down.
Click on the little numbers below to continue to the next page of the walkthrough.