Murder Room: Another Story: A White Lotus
By: Ateam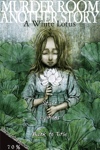 [DKB url="https://www.appunwrapper.com/MurderRoom" text="Download" title="" type="" style="" color="green" width="" opennewwindow="" nofollow=""]
This is the bonus story that you can purchase once you complete the original Murder Room.
See the walkthrough for the original Murder Room here.
Walkthrough:
1. You get locked in the bathroom. Pick up the roll of tape from under the sink.
2. Open the locker and take the hose.
3. Turn left and pick up the screwdriver from near the toilet.
4. Use the screwdriver to open the drain cover.
5. Use the screwdriver to unscrew the shower head.
6. Look at the letters on the wall. It looks like the days of the week, with Friday missing: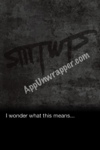 7. There's a combination lock on the wall to turn on the water, with a clue on the inside of the lid: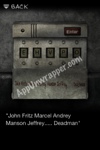 8. Look at the first letter of each of the names on the cover. They stand for the months of the years (January, February, March, etc.). Continue the pattern and then press ENTER to turn on the water: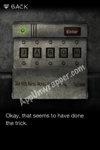 9. Attach the hose to the shower and then the other end to the water tank. Then turn on the water.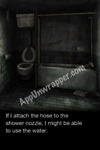 10. The hose is leaking. Tape it up and then turn the water back on.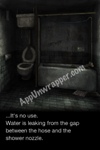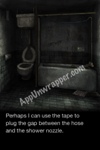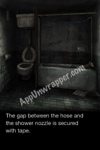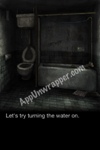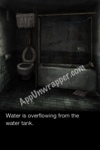 Click on the little numbers below to continue to the next page of the walkthrough.