21. Also take a look at the keypad by the door. There are some letters and symbols on it now.
22. Use the brush to clean the drain cover. Then place the drain cover on the mirror to get this: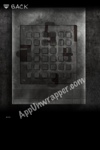 23. tAPe represents a clock.
Rearrange the letters. A=0, B=1, C=2… Z=25, a=26, b=27, c=28… z=51
Everyone has different letters on their door panel. Mine is j:l:L which = 7 (j=35, which is 7:00 on the clock), 37, and 11.
7:37:11 (Hours:Mins:Secs)
(Thanks to user "finally" for the help!)
So my code is 73711. Enter it on the keypad and press enter.
24. Neil tells you to put on your mask. Notice the pig mask in the sink, that you couldn't pick up before. Take it now and put it on. The room will fill up with gas and colored spotlights will emit from the door panel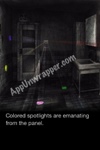 25. If you have the shower curtain spread, the mirror will reflect one of the beams of light onto the floor. Notice you can press each of the lights.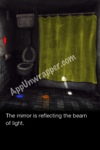 26. Open the medicine cabinet while looking at the grate in your bag. Notice that the numbers on the grate match up to items in the cabinet. Go in numerical order and the colors you get are Red, Purple, Pink, White, Orange.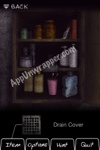 Tap the lights in that order. The purple light is the blue one that's to the left of the door.
27. Tap the door. It's now unlocked. Neil will talk to you. Use the gun on him and watch the ending.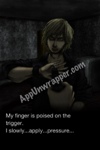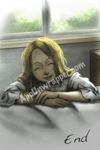 Congratulations! You completed the game! It was all a dream! If you liked this game, try these other escape games and adventure games.