Infinity Blade III (3) Blacksmith Forging Guide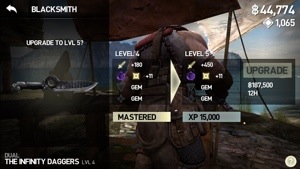 [DKB url="https://www.appunwrapper.com/IB3″ text="Download" title="" type="" style="" color="green" width="" opennewwindow="" nofollow=""]
See all our Infinity Blade guides in one handy place.
Here you'll be able to find a all the stats and costs for upgrading weapons at the Blacksmith in IB3, including hints, tips and help that seem useful. I will try to do as much of it as possible with photos (I upgraded some weapons before starting the guide, so if anyone can provide missing info/photos, that would be really helpful.) It's a work in progress, so bear with me. Feel free to help out in the comments section to complete the guide faster. I've split it into smaller lists on different pages for less scrolling. Just click on the links to get to a page for each category.
*NOTE: Since the Soul Hunter update will be lowering forge times, I'm not uploading any more photos at the moment. I will provide level 10 stats for all items once I have them, though.
This will be split up into Siris and Isa.
Siris:
Isa: