Infinity Blade III (3) Unlimited Gold and Battle Chip Glitches Guide
[DKB url="https://www.appunwrapper.com/IB3″ text="Download" title="" type="" style="" color="green" width="" opennewwindow="" nofollow=""]
See all our Infinity Blade guides in one handy place.
There are several known glitches in Infinity Blade 3 that allow you to make instant (unlimited) gold or battle chips (BCs). This guide will walk you through some of those glitches. Keep in mind that, as glitches, Chair may fix them at any time, and I do not know what will happen when they do. Use these glitches at your own risk.
**Note: The Soul Hunter update fixed these glitches, so they won't be available in 1.1 or later. There is, apparently, another glitch with two character slots. If you go back and forth between them, you can duplicate certain things like BCs from Trials. But some have had their data wiped doing this, so try it at your own risk! I think the game is pretty balanced now, so I don't think it's worth the risk and haven't tried it myself. Doing so also makes it more likely that ChAIR will do something like in 1.1 to delete them all. They just gave us a huge gift (see here for more info) and a huge update, so enjoy the game and please don't use the new glitch. 🙂 ***
Gold Glitches:
1) Make sure you have some gems in your gem bag. Go to the Gem Cutter, and move a gem into the forge. While it's in one of the three forge slots, select the whitish yellow circular "sell" button in the lower left corner of the screen. You'll get the gold, but when you leave the Gem Cutter, you'll still have the gem. This is a really easy way to make more gold if you're running short, but I suggest you don't rack up too much gold with this, or it can ruin all the fun.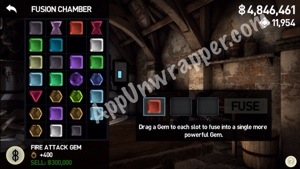 Battle Chip Glitches:
1) The battle chip glitch is not quite as simple. You can only do it while at the Merchant Ship. You need to scroll to an item that can be purchased using battle chips (like an herb or a key) and then press the "sell" tab and the buy button at the same time (the sell tab should be pressed slightly earlier). Be careful not to sell your equipment instead or buy the herb/key. I find it helps to hold both buttons down together and try to release them at the exact same time. It takes practice to get it right. You should hear a little "ka-ching!" when it works. Good luck!
As you can see here, I used the Butterfly for the glitch, so I didn't get much from it, but you can see the amount climbing. If you have a more expensive item available (like a Rare Root) , you'll get considerably more chips, as you can see below. The merchant won't sell you any items that you don't have room for. So a good way to give yourself a chance of getting a good item in there to do this with is to have all other herbs (besides Rare Root) full. That way you won't end up with something that won't give you much BCs. Also, it's easier if you use a weapon that has a gem in it so you can't accidentally sell it.