Infinity Blade III (3)
By: Chair Entertainment
[DKB url="https://www.appunwrapper.com/IB3″ text="Download" title="" type="" style="" color="green" width="" opennewwindow="" nofollow=""]
Chair announced that a huge new content update is coming for Infinity Blade 3 on December 19th, called "Ausar Rising"!
See our Ausar Rising guide here.
*** More info about the Deathless mode! Sounds hardcore!
"Are You Deathless?
Some costumed vigilante once said something to the affect that ΓÇ£with great challenge comes great reward.ΓÇ¥ ChAIR took that as inspiration for a new mode available in the upcoming Infinity Blade III: Ausar Rising update. Available worldwide to all players December 19, Deathless Mode will truly test the mettle of even the most seasoned Infinity Blade veteran.
So what is Deathless Mode? After youΓÇÖve defeated the Worker of Secrets, a new icon appears on the World Map. This ominous skull icon is your entry into Deathless Quests. Each of the usual Quests in Infinity Blade III has been transformed into a palm-sweating gamble where you put your gear on the line for even greater rewards and fame. ItΓÇÖs every Infinity Blade III quest turned up to 11 on the ΓÇ£holy crap thatΓÇÖs hardΓÇ¥ meter.
There are some rules regarding Deathless Mode.
You only enter with the Gear you have equipped. Everything else is left back at the Hideout.
Even your Gold and Chips are left behind.
You can spend Gold or Chips while on a Deathless Quest, but youΓÇÖll have to earn that spending money while on a Deathless Quest.
All enemies are tougher and are equipped with Boss Perks.
If you die, the Gear you have equipped is left behind. You will have to fight through that Deathless Quest again and defeat the Titan who killed you in order to reclaim your loot.
Lose to that Titan a second time and those items are lost forever, replaced by what you currently have equipped.
You must fully complete a Deathless Quest in order to bring all of your earnings back to the Hideout.
Sounds tough, eh? Well, taking on Deathless Mode comes with some seriously sweet rewards. All Chip earnings are doubled while in Deathless Quests (quadrupled if you have SirisΓÇÖ new ΓÇ£Chip BoosterΓÇ¥ Skill thatΓÇÖs been added in Ausar Rising). There are exclusive items available only in Deathless Quests. And by beating all Deathless Quests (including defeating the Worker of Secrets), you unlock the ability to re-master items up to level 15!
The truly hearty will complete Deathless Mode five times to unlock the ability to re-master items up to level 20!! That is a tall task. But imagine your favorite gear mastered to level 20. YouΓÇÖd be like, double-immortal or something.
Now you know the challenges that lay ahead and you know the rewards are well worth it. The only question that remains is: Are you Deathless?"
Watch the video about Deathless mode here. ***
***News about the Exclusive reward for downloading the update on day one!
"Special Rare Defense Gem available one day only!
WeΓÇÖve included something special with Infinity Blade III: Ausar Rising, a free update for IB3 owners available December 19. On launch day, anyone who buys Infinity Blade III or who downloads the update will be able to participate in a one-time single-player Trial. The reward for this trial? A 50% Rare Defense Gem!" ***
See all our Infinity
Blade guides in one handy place.
***New update from Chair, 12/16/13:
"Perfect Parry All and Rare Defense Gems are re-imagined for upcoming Infinity Blade III update.
Infinity Blade IIIΓÇÖs free update, Ausar Rising (available worldwide December 19) delivers a host of awesome new features, including the hardcore Deathless Mode and the return of the Survival Arena. Ausar Rising also brings back two gems fans have been clamoring to slot into their items. Yep, IΓÇÖm talking about the Parry All Gem (now a Perfect Parry All Gem!) and the Rare Defense Gem (commonly referred to as the Rainbow Defense Gem).
Both are back in Ausar Rising, but each has been changed from Infinity Blade II.
Perfect Parry All Gem
Equipping this Gem to an item allows you to parry any type of attack, but to succeed you will need to score a Perfect Parry. This adds an exciting element of risk. If you have the skill, then the Perfect Parry All Gem could dramatically change how you tackle Infinity Blade III.
Rumor around the ChAIR office is that forging the Perfect Parry All Gem enough times could actually turn it into a Great Parry All Gem. If true, that would mean you need only score a Great Parry (easier than a Perfect Parry) to deflect an enemy attack.
Rare Defense Gem
Anyone who has beaten the Worker of Secrets a few times knows that the Titans almost always have at least one form of elemental attack. This additional damage gets through any Block that isnΓò¼├┤Γö£├ºΓö£├╗t a Perfect Block and can add considerable damage to any hit that connects. You can equip an Elemental Defense Gem, which protects against one specific element (Fire, Electricity, etc.). The Rare Defense Gem protects against everything. Well, with a catch…
When you gain or forge a Rare Defense Gem, it starts at 5% protection. That means you ignore 5% of the elemental damage from an enemy. By forging multiple Rare Defense Gems, you can increase this protection. Forge again and again and you will get to 100% protection from elemental attacks.
And More!
In truth, weΓÇÖve added a number of other gems, but weΓÇÖre not revealing what those are. YouΓÇÖll have to discover those on your own.
The Perfect Parry All Gem, Rare Defense Gem, and a whole host of other new gems are available December 19 as part of the Infinity Blade III: Ausar Rising update." ****
***Update, from Chair:
– New areas to explore, including Drem's Maw and the Dark Citadel from IB1.
– New dragon!
– 60 new items to master!
– Hardcore Deathless mode — risk your equipped items for the opportunity to level items past lvl 10.
– New Arena Mode!
– More story is revealed.
– Exclusive items for updating on day one.
– Get the sixth infinity weapon!
– New skills, including one that allows you to remove all gems for free!
– and more! Read below:
"Infinity Blade III: Ausar Rising is jam-packed with new features and exciting content. Seriously, this free update is overflowing with goodness. HereΓÇÖs a quick look at everything youΓÇÖll get on December 19.
The Return of Ausar the Vile!
Before he was Siris, the hero of the Infinity Blade series was known as Ausar the Vile. Now, SirisΓÇÖ malevolent past returns and with the help of Isa, he must finally destroy his dark mirror. This new, substantial series of quests feature several new enemies, including a pair of new Deathless!
Explore New Environments and Return to the Original Infinity Blade Castle
In 2010, millions of gamers explored the God KingΓÇÖs Dark Citadel. For the first time, return to the original Infinity Blade castle, years after SirisΓÇÖ climactic battle against Raidriar, the God King. Players will also explore several all-new environments.
Earn the Sixth Infinity Weapon
Since the launch of the best-selling Infinity Blade III, fans have wondered how to get their hands on all six Infinity weapons. With Ausar Rising, Isa can obtain the final Infinity weapon, the Infinity Edge. Maybe there is somewhere one could take all six Infinity weapons? Hmmm…
Day One Exclusive!
Fans that download the Ausar Rising update on December 19 will have a chance to score an incredibly rare gem. More details on what the gem is and how youΓÇÖll claim it will come soon.
Enter the (Second) Dragon
Infinity Blade III players have been clamoring for more dragon action and Ausar Rising delivers! Once youΓÇÖve defeated the first dragon, BaΓÇÖel, you will be able to find a second dragon named Pisci. This new, persistent enemy will show up in a variety of locations, including new areas from Ausar Rising. Do enough damage over time to this second Dragon and youΓÇÖll open up a new kill quest to take her down, finish her off, and claim her extremely rare treasure!
Not for the Faint of Heart: Deathless Mode
Looking for even more of a challenge from Infinity Blade III? YouΓÇÖve got it. Deathless Mode turns normal Infinity Blade III quests into ultimate tests of skill. Equip your best items before you enter a quest, because once in, all your unequipped items, gems, gold, and chips are left behind at the Hideout. And if you die? You drop everything you had equipped and everything you had won and will have to fight your way back to claim your loot! But itΓÇÖs worth the effort as there are Deathless Mode exclusive items and those who make it through Deathless Mode unlock the ability to master items beyond level 10!
Master Items to Level 20
You read right. Ausar Rising enables players to master items beyond level 10 and right up to level 20. Defeating the Worker in Deathless Mode once will unlock the ability to master items up to level 15. Beat Deathless Mode five times and unlock the abilty to master items to level 20. Only the strongest warriors can wield such strong weapons, after all!
Enter the Survival Arena
The Survival Arena puts you in a series of progressively harder tests against a horde of Titans. Will you gamble your current winnings for a chance to earn even more against even tougher opponents in the next tier?
New Items, Gems, Skills, and Goals
Infinity Blade III: Ausar Rising adds more than 60 items for Siris and Isa, along with new gems and some new Skills and Goals. Some examples of a few gems you ask? How about newly designed versions of the All Elemental Defense gem (AKA the Rainbow Gem) and the Perfect Parry All Gem. What about some of the new Skills? Well, there is Master Looter that lets you tap one gold bag in the world and collect all rewards in that area, or how about Chip Booster that doubles the Chips earned in battle challenges, or there is our favorite new skill ΓÇô Free Gem Removal.
Trade Tips In-Game with MyMob Chat
As if all this werenΓÇÖt enough, weΓÇÖre proud to introduce a brand new feature that we think will greatly enhance how players experience Infinity Blade III. With MyMob you can talk with your friends, leave notes about quests, and urge for help in ClashMobs.
Holiday Helms
Last, but certainly not least, new Holiday Helms will help you celebrate the upcoming festive times. First up ΓÇô and available the weekend Ausar Rising releases ΓÇô you can get your ΓÇ£Ho Ho HoΓÇ¥ on with a helm worthy of Santa Claus. WhatΓÇÖs it look like? Be sure to ΓÇ£LikeΓÇ¥ the Infinity Blade Facebook page for a first look coming very soon.
Infinity Blade III: Ausar Rising is available worldwide as a free update for all players on December 19." ***
Check out the official preview video!
——-
So far, we've seen these two photos and were told that it's the biggest content update for any IB game ever! Make sure you have plenty of room to download the update! (Previous updates required over 2.2 GB of free space.)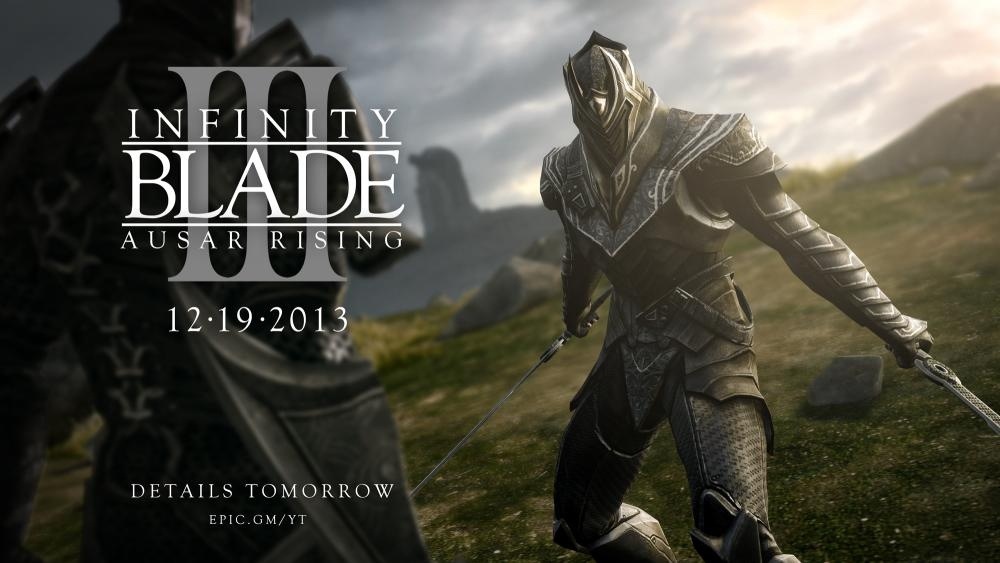 Check back here for more info. And download Infinity Blade 3 if you haven't yet!
Also, make sure to join the 47 Ronin Clashmob on December 13th for your only chance ever at a sword from the movie!