MacGyver Deadly Descent
By: FairPlay Media Limited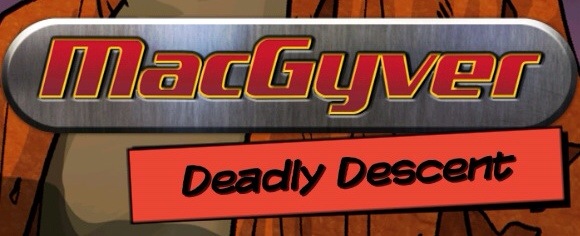 [DKB url="https://www.appunwrapper.com/MacGyver" text="Download" title="" type="" style="" color="green" width="" opennewwindow="" nofollow=""]
Walkthrough:
Part 6, The Bomb!
Chemical Reaction:
These levels require you to drag matching colored chemicals to each other to diffuse them. Everything is pulled downwards, so you can't move them up, only sideways and down.
Chemical Reaction 1: Start with light blue, then green, red and yellow.
Chemical Reaction 2: Start with orange, then get all three pink together. Then red, then white, then all three light blue. Then green.
Chemical Reaction 3: Start with red, then light blue, yellow, green, and dark blue.
Chemical Reaction 4: Start with red, then green, light blue, red, then yellow.
Chemical Reaction 5: Start with blue, then yellow, green, and red.
Chemical Reaction 6: Start with light blue, then white, green, pink, dark blue, orange, yellow, and red.
Chemical Reaction 7: You need to fill in the three gaps with yellow, pink and light blue so you can get each of the other colors across the gaps to the chemicals on the other side.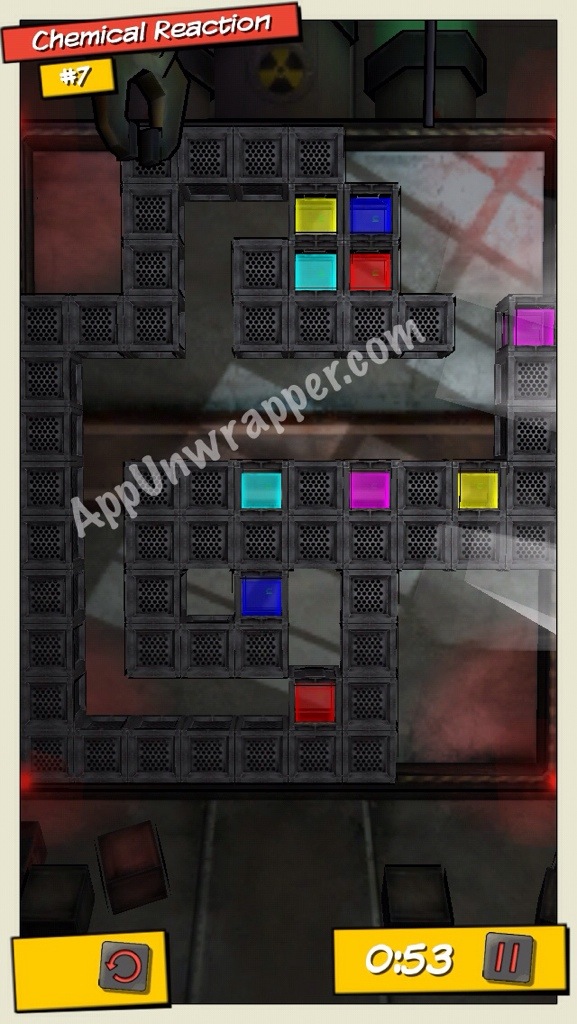 Chemical Reaction 8: Get the left blue piece off to the left side. Then clear all the other chemicals from that side except for blue. Get the right blue over to that side, then work on the right side, leaving pink for last.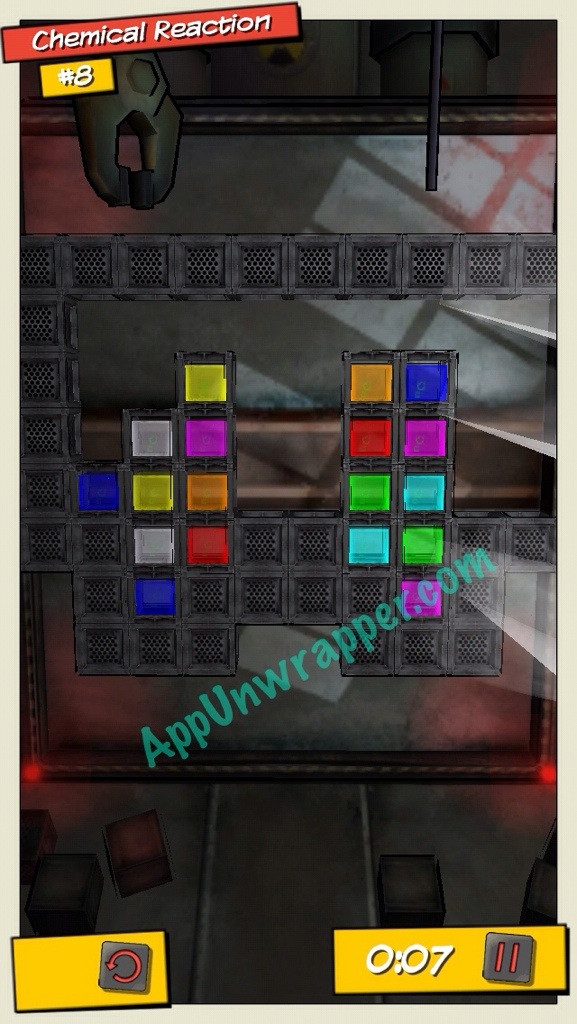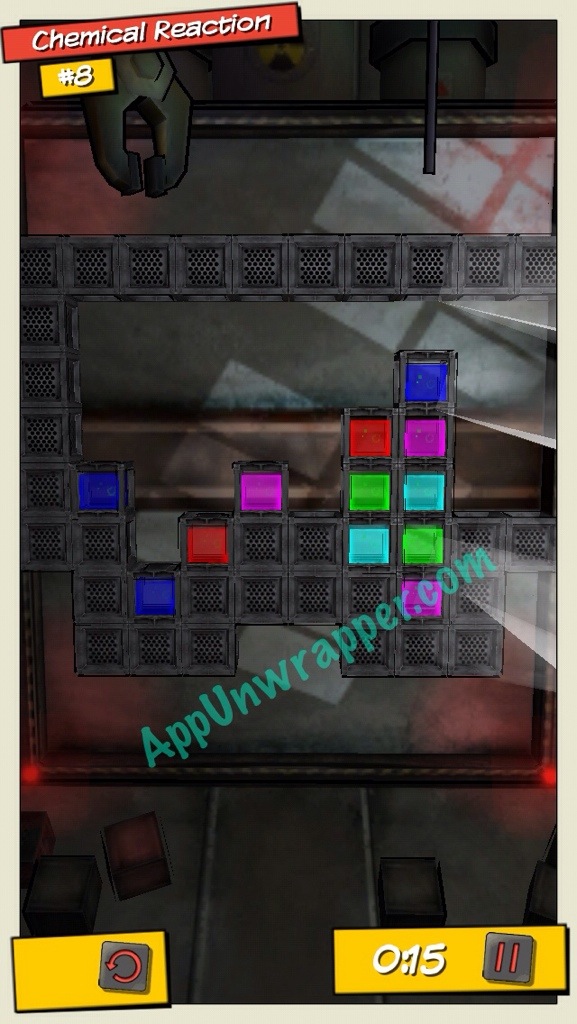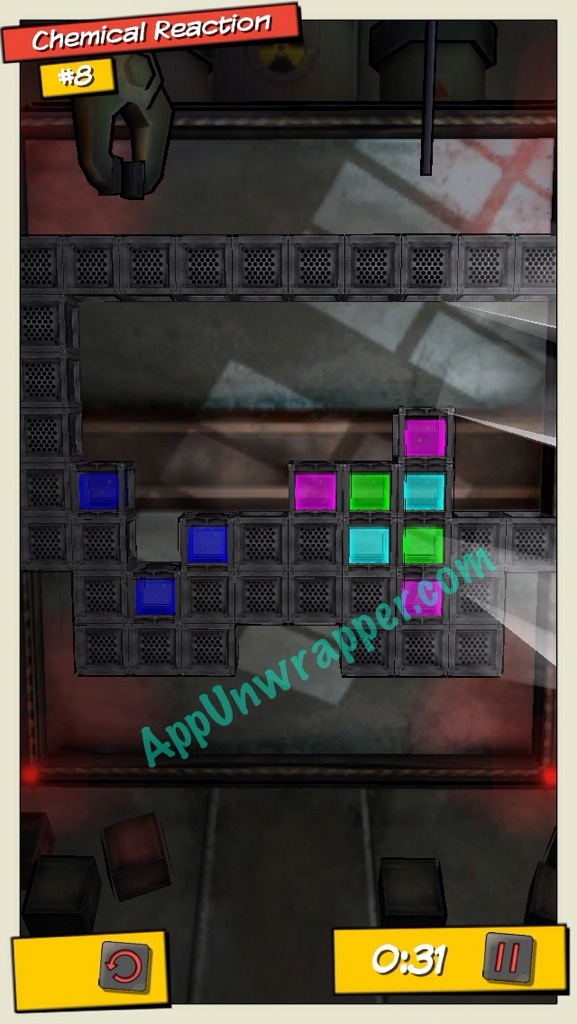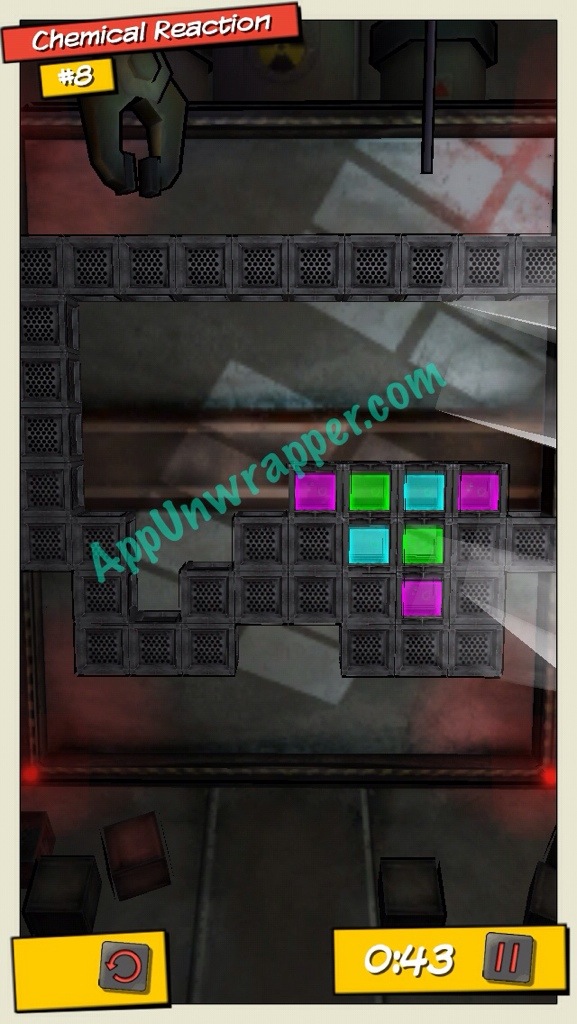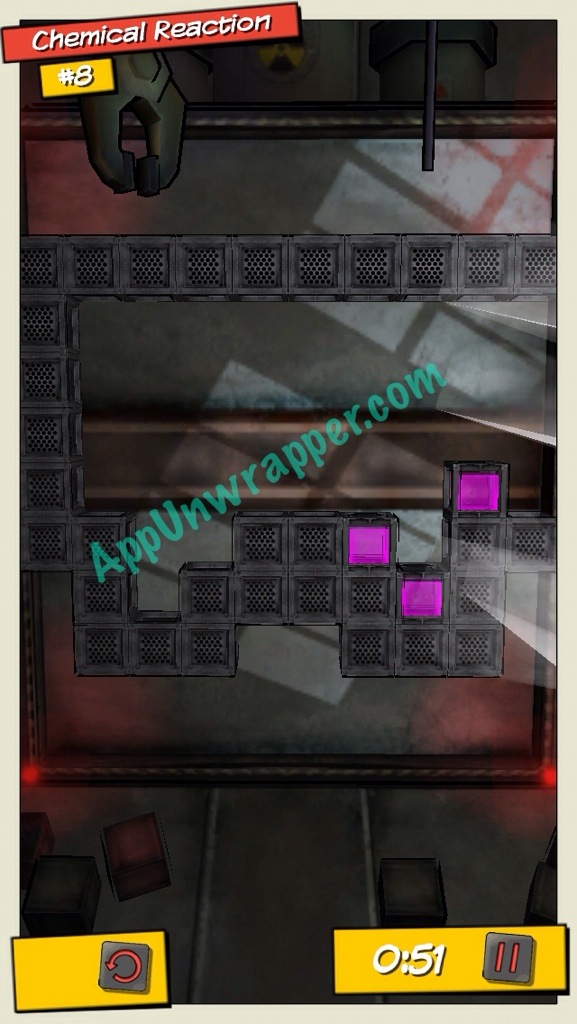 Chemical Reaction 9: Still working on this one. Push one yellow and one pink to the right so you can get the top blue to the bottom level. Then clear the pinks and the yellows. Push one green to the bottom, then set up the blues on top of it so you can clear all three together. Then clear the greens.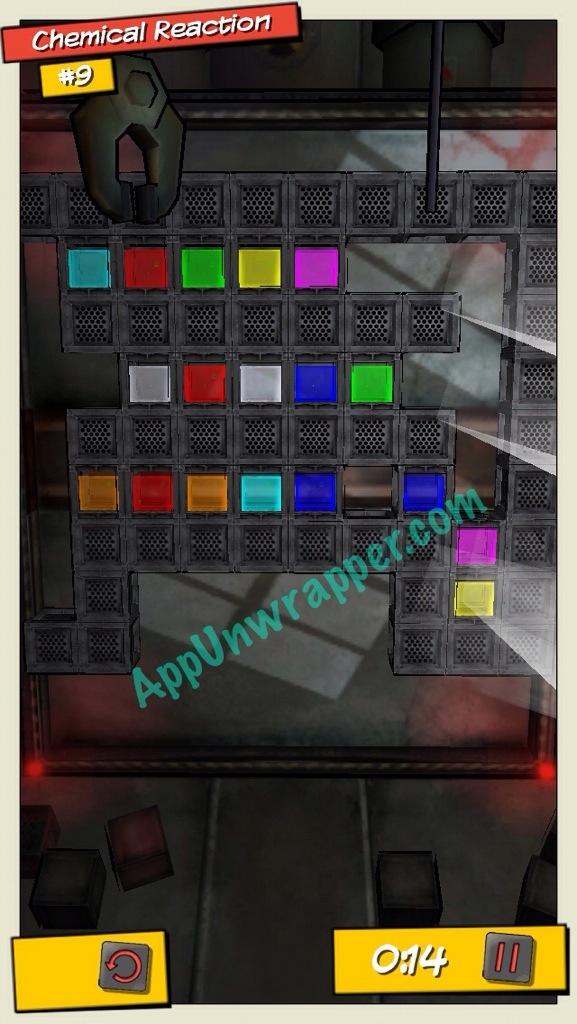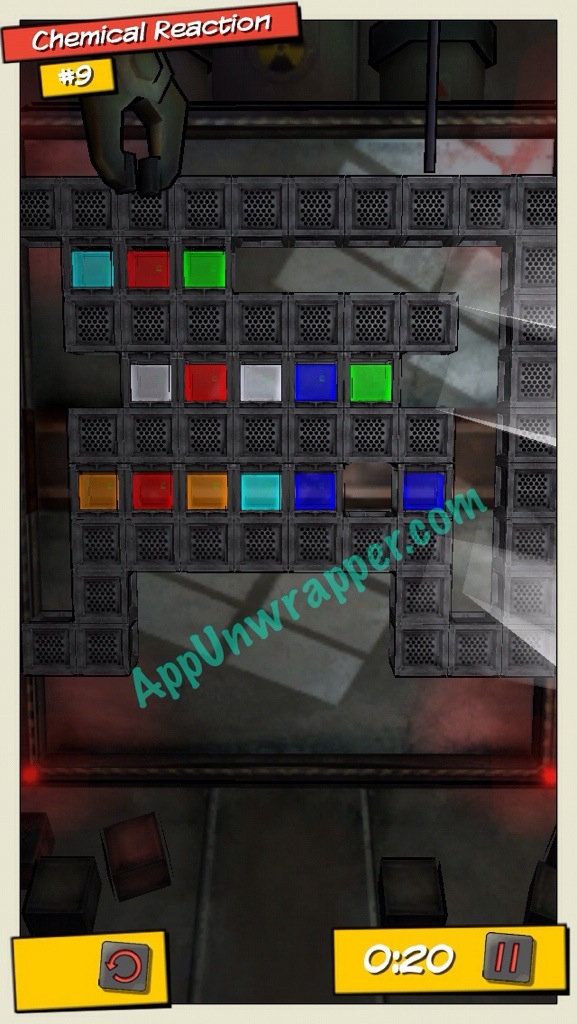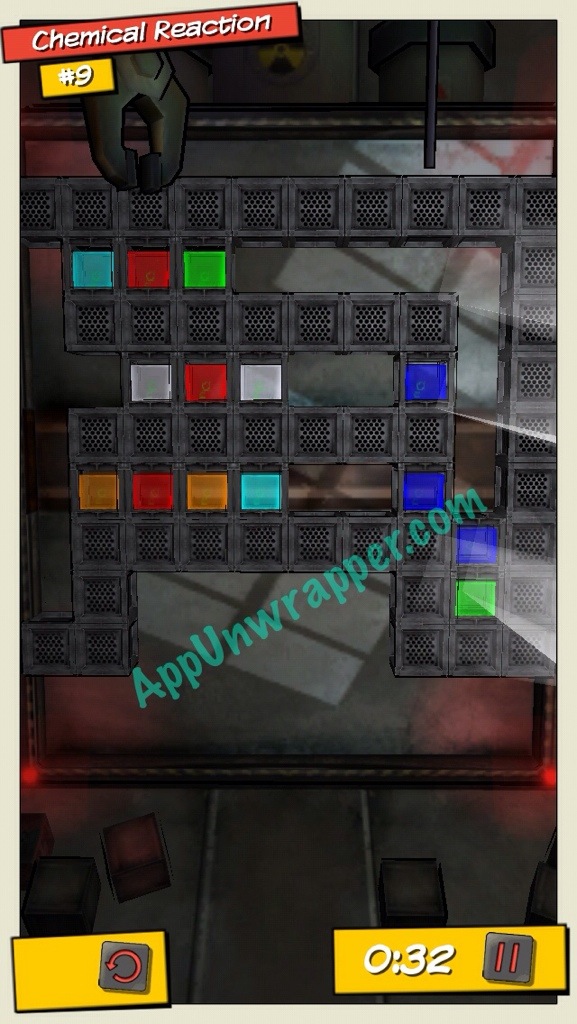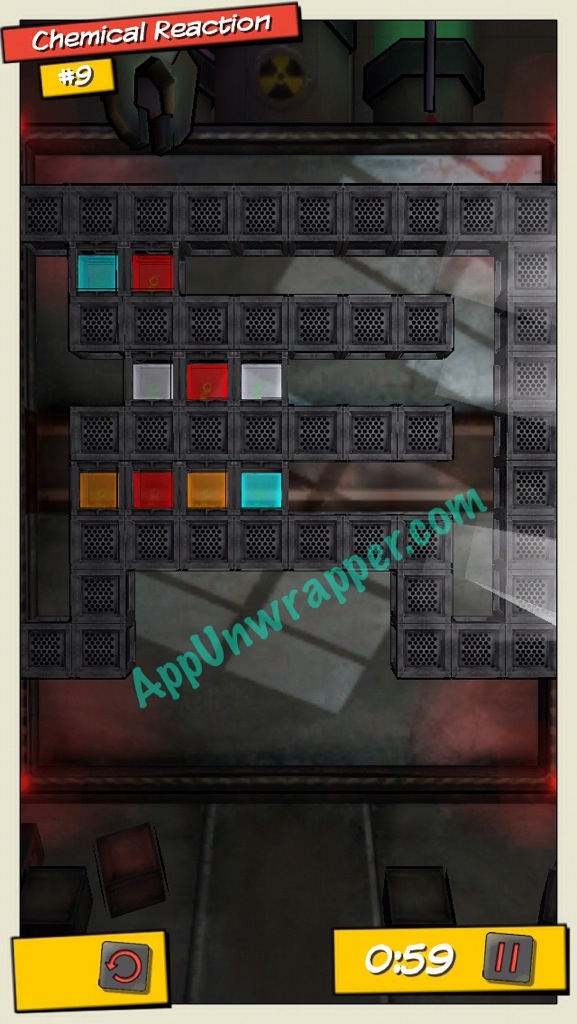 Thanks to Ryan for the rest of the solution: "Push orange bottom left. Then all blocks on middle row left.
Then push aqua left off the top and onto the middle row
Slide bottom row across one right to avoid red double…
Then slide the red block right out of the stack making white disappear. Then it's a simple finish!"
If you liked this game, you might also like Hellraid: The Escape.
***
Note: Sometimes a promo code is provided for a game, but it does not affect the review in any way. At AppUnwrapper, we strive to provide reviews of the utmost quality.

Check out my recommended list for other games you might like.

If you like what you see on AppUnwrapper.com, please consider supporting the site through Patreon. Every little bit helps and is greatly appreciated. You can read more about it here. And as always, if you like what you see, please help others find it by sharing it.

I also offer affordable testing and consulting for iOS developers.

COPYRIGHT NOTICE © AppUnwrapper 2011-2020. Unauthorized use and/or duplication of this material without express and written permission from this blog's author is strictly prohibited. Links may be used, provided that full and clear credit is given to AppUnwrapper with appropriate and specific direction to the original content.