Hero Emblems
By: CHUN LUNG KUO (HeatPot Games)

[DKB url="https://www.appunwrapper.com/HeroEmblems" text="Download" title="" type="" style="" color="green" width="" opennewwindow="" nofollow=""]
This will be a Debuffs walkthrough guide for Hero Emblems. It's a work in progress, so please bear with me. Feel free to ask for help in the comments or help fill in some holes.
Debuffs:
Poison tiles will poison your characters every move until you remove them by matching them with other tiles or using Trista's Purify skill. They can also multiply.

Spiders explode into poison tiles all around them if you don't get rid of them right away.

Fire tiles act like poison, but they burn instead.

Bombs explode after a certain number of moves, doing damage and creating fire tiles. Use Trista's Purify several times or create chains right next to the Bomb to remove it before it explodes.
Chains need to be matched with other emblems or purified twice before they will disappear.


Frozen emblems are like the chains, but the first stage hides the emblem so you can't see what it is.

Beware of this horned heart. It heals all enemies and sticks around for the entire dungeon. The only way to get rid of it is to drop it to the bottom like the keys or with the Purify S. skill

Stone eyeballs will turn all emblems of a character into stone. The numbers ones will automatically vanish when the number counts down to zero. The ones without a number will stay on the board (and keep your emblems stoned) until you drop the eyeball down to the bottom of the screen. You can also get rid of it with the Purify S. skill. Stone emblems can still be turned into chains, but they will just disappear without any effects.
Update: It appears that you can also get rid of the eyeballs by killing the monster that spawned them.


Tentacles aren't as bad as they look. The tentacle monster tile releases tentacles all around it. They trap your emblems, but are fairly easy to get rid of by creating chains around it. Looks a lot nastier than it is. Well, unless you let it grow out of control.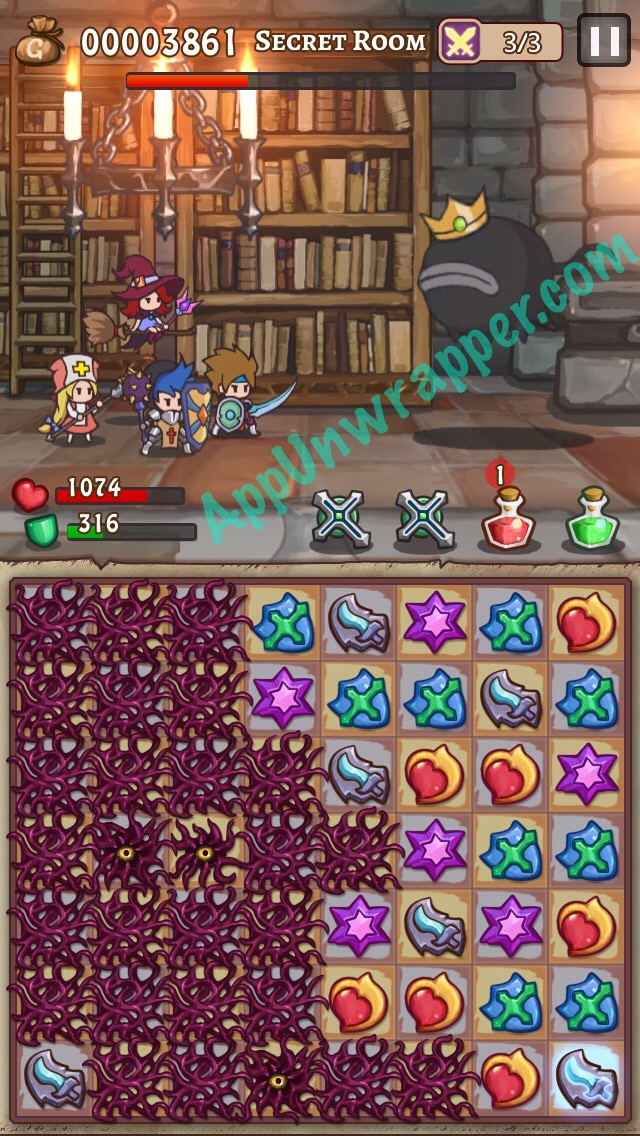 The Lightning Stone will shock your party as long as it's on the board. Like the eyeball, there's a countdown version that disappears automatically, as well as a permanent version that needs to drop to the bottom of the board.

The Question Mark is something the Pirate leader throws at you. It does nothing UNLESS you use them in a chain, at which point they explode into poison tiles all around it. So if you can, avoid using them and you should be fine.
Need more help with the game? Try my general walkthrough guide.
See my emblems location guide here.
See my skill locations guide here.
***
Note: Sometimes a promo code is provided for a game, but it does not affect the review in any way. At AppUnwrapper, we strive to provide reviews of the utmost quality.

Check out my recommended list for other games you might like.

If you like what you see on AppUnwrapper.com, please consider supporting the site through Patreon. Every little bit helps and is greatly appreciated. You can read more about it here. And as always, if you like what you see, please help others find it by sharing it.

I also offer affordable testing and consulting for iOS developers.

COPYRIGHT NOTICE © AppUnwrapper 2011-2020. Unauthorized use and/or duplication of this material without express and written permission from this blog's author is strictly prohibited. Links may be used, provided that full and clear credit is given to AppUnwrapper with appropriate and specific direction to the original content.