What is a Proximity Backflip?
You need to do a backflip where your head gets very close to the ground. You can see a short video of it here:
You can also do it very easily with a hover board:
Kiss the Rail:
You need to come off a jump/flip and hit just the last bit of a bunting: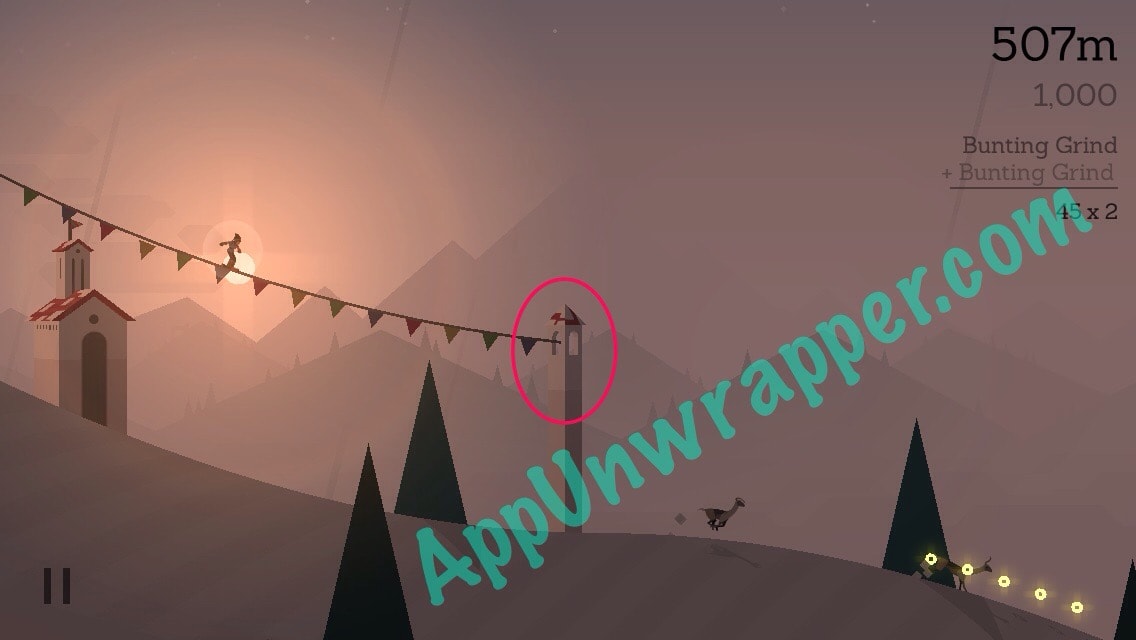 Here it is in action:
Here's a list of goals for each level.
Here's a breakdown of points, thanks to rbates:
Stunts:
Backflip: 10
Double Backflip: 60
Triple Backflip: 200
Proximity Backflip: 300
Quadruple Backflip: 500
Rock Bounce: 80
Fire Stomp: 180
Ramp Kicker: 20
Chasm Jump: 50
Wingsuit: 30
Loop de loop: 40
Thread the needle: 240
Bunting Grind: 10 + 5 per 2m
Roof Grind: 10 + 5 per 2m
Grind Bonus: 300
Kiss the Rail: 250

Other:
Coin: 10

Big Coin: 100

Llama: 200

Ice Slide: 10

Rock Smash: 50

Firepit Smash: 100

Elder Woken: 200

Elder Escaped: 800

Sunrise: 1000

Please let me know if you notice any errors.

Tips:

"Grinding is key to scoring, so grind whenever possible. If the grind is flat through a tower, don't jump so you can get the Grind Bonus.

If the grind peaks at a tower, do a backflip to build up the multiplier. While doing this, keep an eye on the next tower and if it is an arch, switch to the wing suit while still in the air and drop down below the grind to Thread the Needle through the arch then backflip back onto the grind. End it with a Kiss the Rail for some really nice points. I got a 19k combo doing this.

If there are no grinds around, try to do a Proximity Backflip over a steep cliff and then switch to the wing suit for a second to fling yourself up then do a double back flip and repeat to build up the combo.

It is a good idea to throw in a few high point stunts and multiply that with a lot of quick stunts. They both work together this way and you won't score much doing one without the other."
***
Note: Sometimes a promo code is provided for a game, but it does not affect the review in any way. At AppUnwrapper, we strive to provide reviews of the utmost quality.

Check out my recommended list for other games you might like.

If you like what you see on AppUnwrapper.com, please consider supporting the site through Patreon. Every little bit helps and is greatly appreciated. You can read more about it here. And as always, if you like what you see, please help others find it by sharing it.

I also offer affordable testing and consulting for iOS developers.

COPYRIGHT NOTICE © AppUnwrapper 2011-2020. Unauthorized use and/or duplication of this material without express and written permission from this blog's author is strictly prohibited. Links may be used, provided that full and clear credit is given to AppUnwrapper with appropriate and specific direction to the original content.