Chapter 2:
Mission C2-1:
Mission C2-2:
Mission C2-3, Icebreaker:
As the mission name suggests, you can break ice on this level. If you're trying to get the badge for Nano Crusher by breaking all the containers on the level, don't miss the ice! It kind of glows a bit to show you that it's breakable.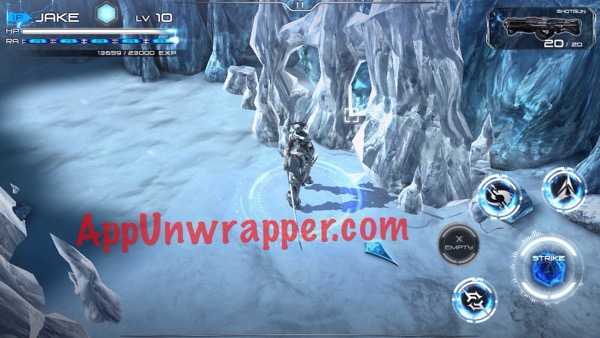 Mission C2-4:
Mission C2-5, Marching Orders:
To get the Trap Maker badge, you can't get hit by a trap at all. There's ice that drops here, and they can be hard to avoid. But if your shield goes up from them, that means you won't get the badge. It doesn't matter if you don't sustain any actual damage from them.
Mission C2-8, Blizzard Titan (Emperon boss):
This guy looks a lot scarier than he is. Sure, he hits hard, but you can take him down by generously using evade whenever he attacks and just hacking away at him. At some point, he will disappear and some smaller enemies will appear. Defeat those and he'll return until you take him down.
I made a video of the battle, but it's not one of my finer moments:
Click on the little number 4 below to continue to Chapter 3.
***
Note: Sometimes a promo code is provided for a game, but it does not affect the review in any way. At AppUnwrapper, we strive to provide reviews of the utmost quality.

Check out my recommended list for other games you might like.

If you like what you see on AppUnwrapper.com, please consider supporting the site through Patreon. Every little bit helps and is greatly appreciated. You can read more about it here. And as always, if you like what you see, please help others find it by sharing it.

I also offer affordable testing and consulting for iOS developers.

COPYRIGHT NOTICE © AppUnwrapper 2011-2020. Unauthorized use and/or duplication of this material without express and written permission from this blog's author is strictly prohibited. Links may be used, provided that full and clear credit is given to AppUnwrapper with appropriate and specific direction to the original content.