The Guides
By: Luke Lisi and Kevin Bradford

This is a complete step-by-step walkthrough with answers, solutions and help for Section 4 of the iOS and Android game The Guides. I will explain all the answers, so only look if you don't mind spoilers. If you prefer to have a hint, you can ask in the comments section.
See my walkthrough for Sections 1 & 2.
Looking for my review of The Guides?
Section 4:
4-1: Hint: numbers
Solution: Go back to level 3-16 and find all the numbers. Put them in the right order to match the colors in 4-1 and you get 8945.
Answer: 8945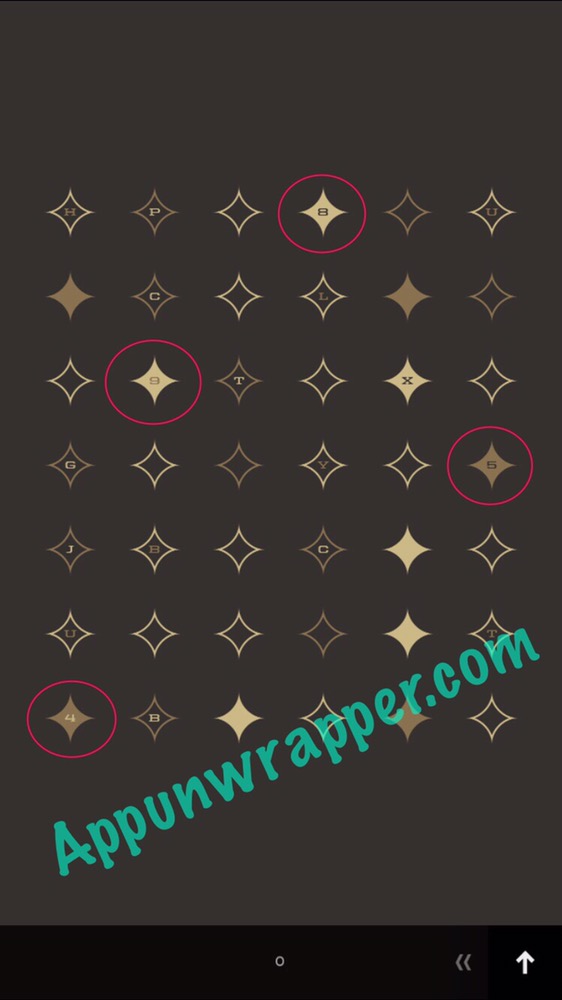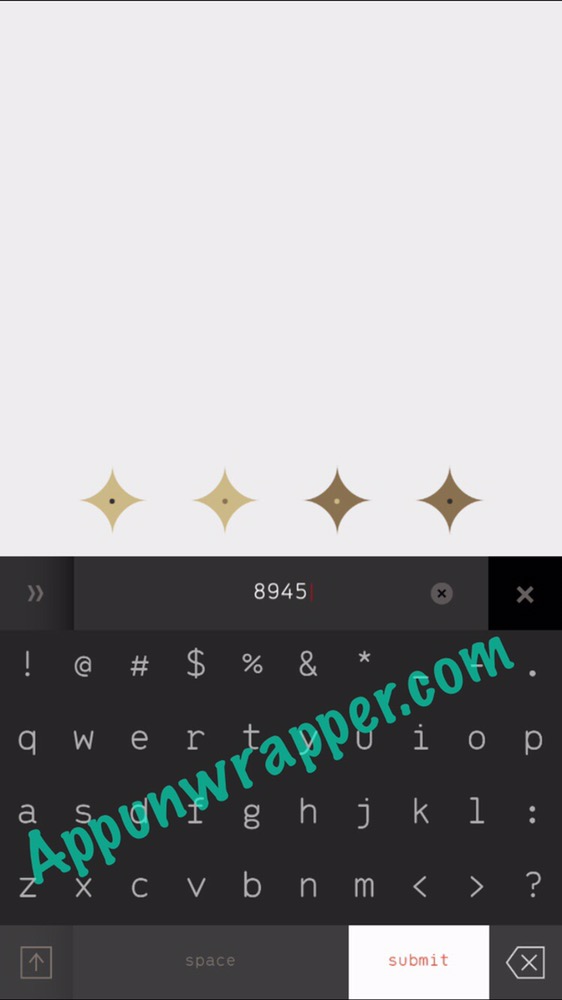 4-2: No hint.
Solution: The key is the answer to 4-1. You have 8945. So tap the 8th symbol, then the 9th, 4th, 5th. Then I was left with only one symbol. Tap it to continue to the next level.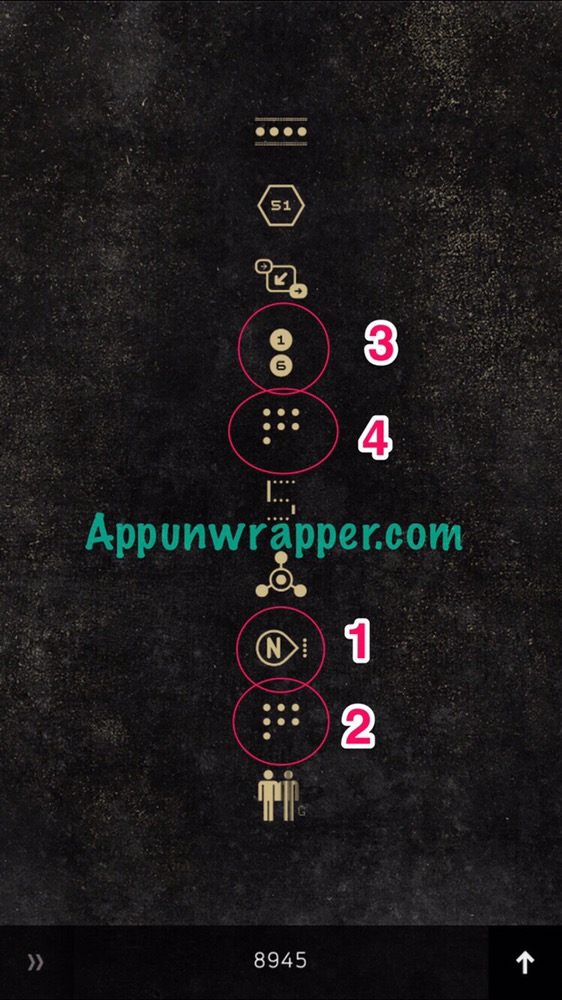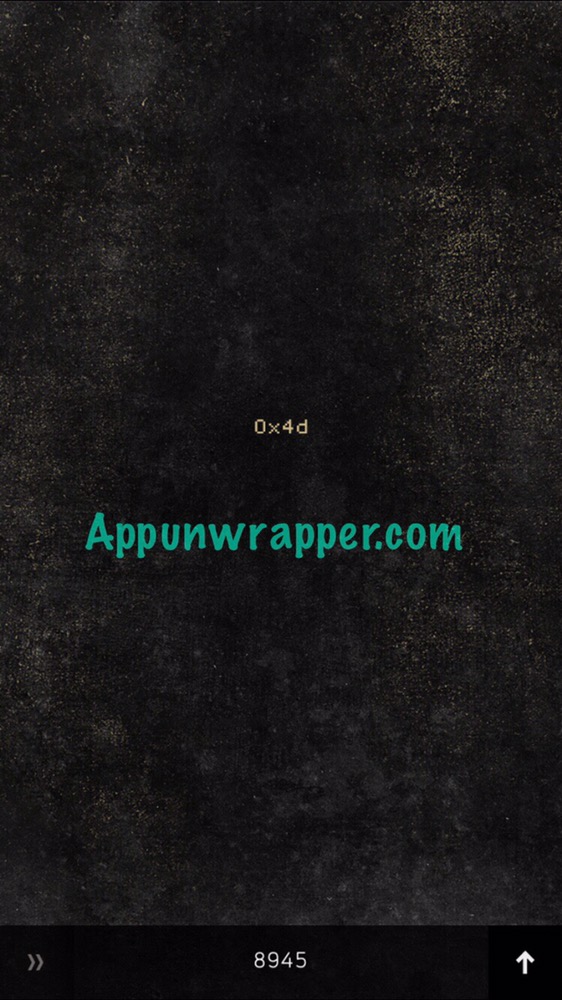 4-3: Hint: xxxx
Solution: Go back to 4-2 and keep the hint box open as you press the symbols. You'll get x=T, x=E, x=S, and x=T. Put them together to get TEST.
Answer: TEST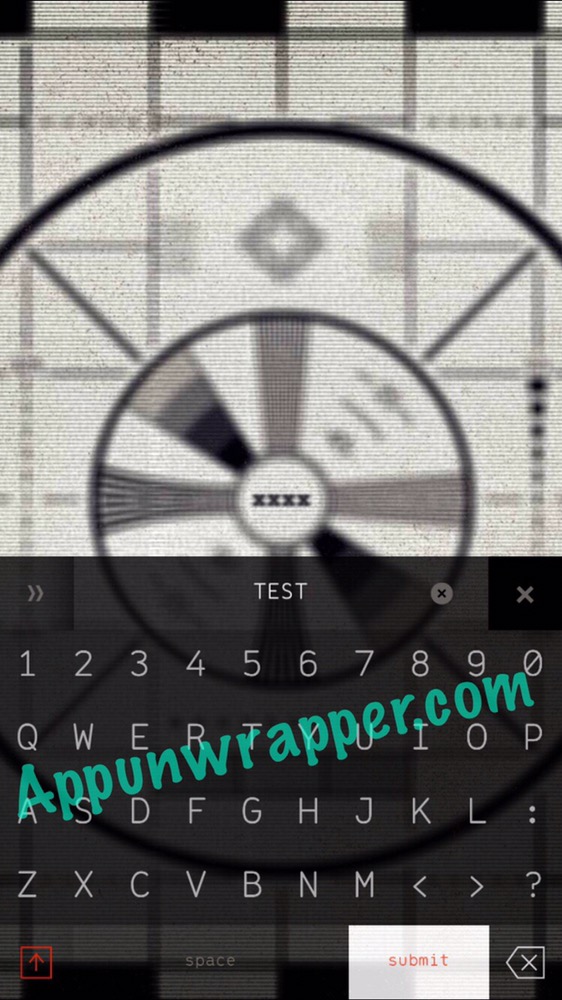 4-4: Hint: 8945
Solution: Insert 8945 into the numbers-to-letters decoder and you get HIDE.
Answer: HIDE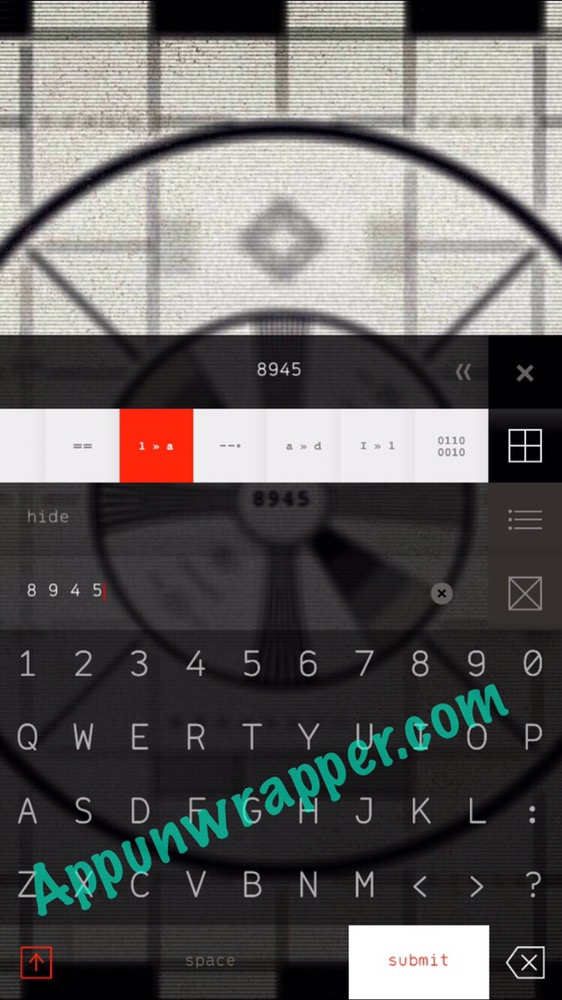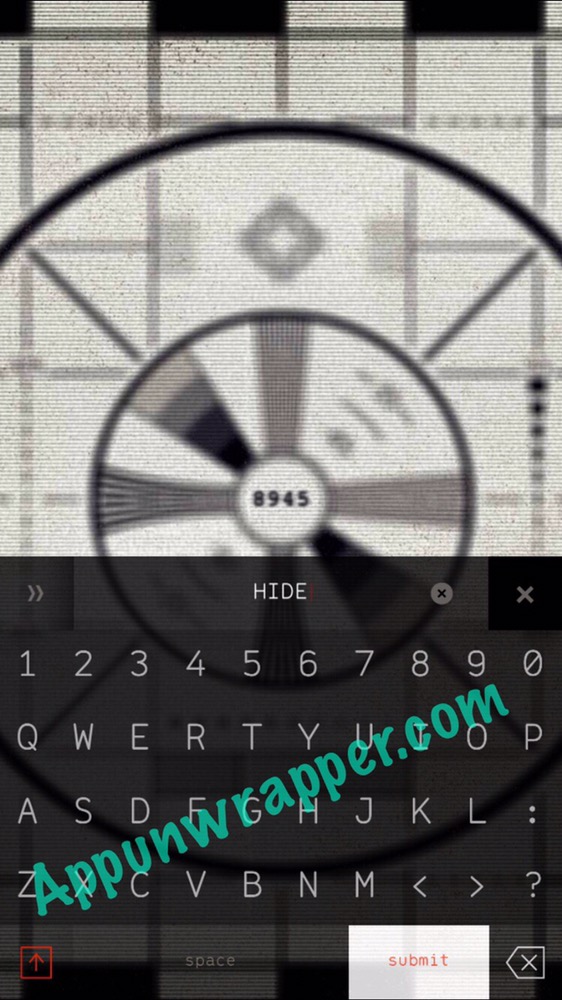 4-5: Hint: Blinking "i"
Solution: Notice that there are two layers here and you can drag one up and down. Turn your device to landscape mode and line up the pieces so they say GLITCH.
Answer: GLITCH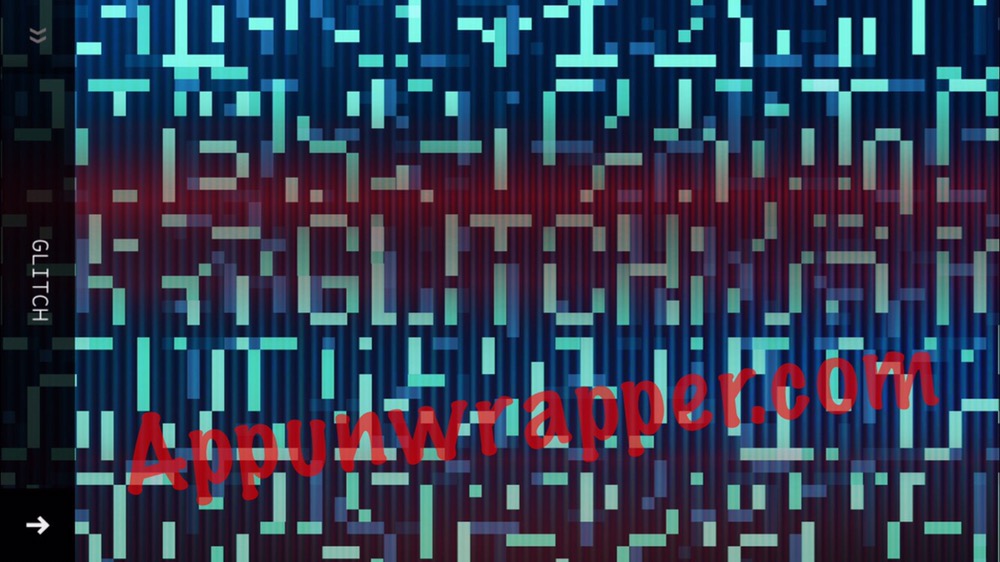 4-6: Hint: Blinking "t"
Solution: Slide right to see a chart labeled "Warning: Data Fragmentation". The letters from GLITCH are scrambled in this chart. If you go through each number on the main page and see where they meet ( 7 & 9, 6 & 6, 8 & 3, etc), most of them result in a blank. But notice the locations of the letters that do exist. The blanks represent the rest of the alphabet. So plug them in (79, 66, 83, 69, 82, 86, 65, 84, 73, 79, 78) and you get the word OBSERVATION.
Answer: OBSERVATION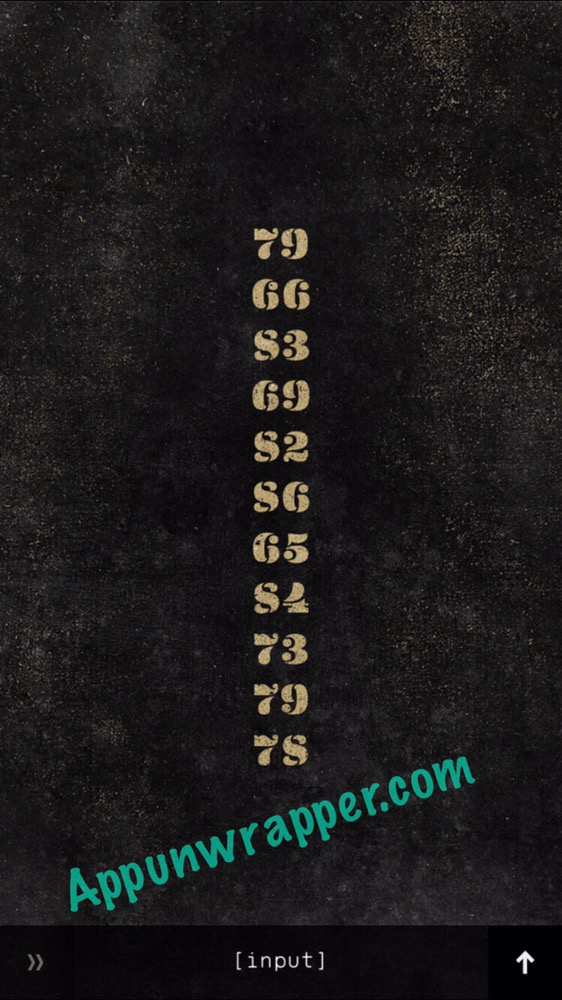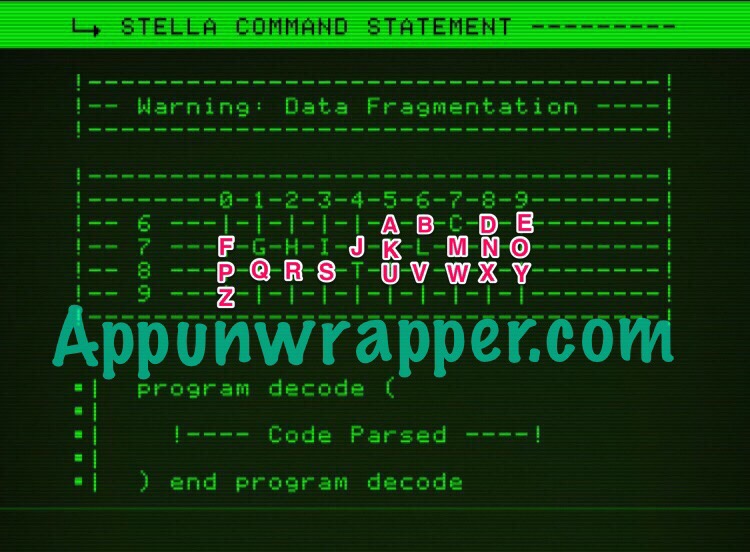 4-7: Hint: [1]
Solution: Notice the numbers in the upper right corner: 83 72 73 70 84. Translate them into letters using the same key from 4-6. You then get SHIFT. There's also a new decoder available which will give you the same answer.
Answer: SHIFT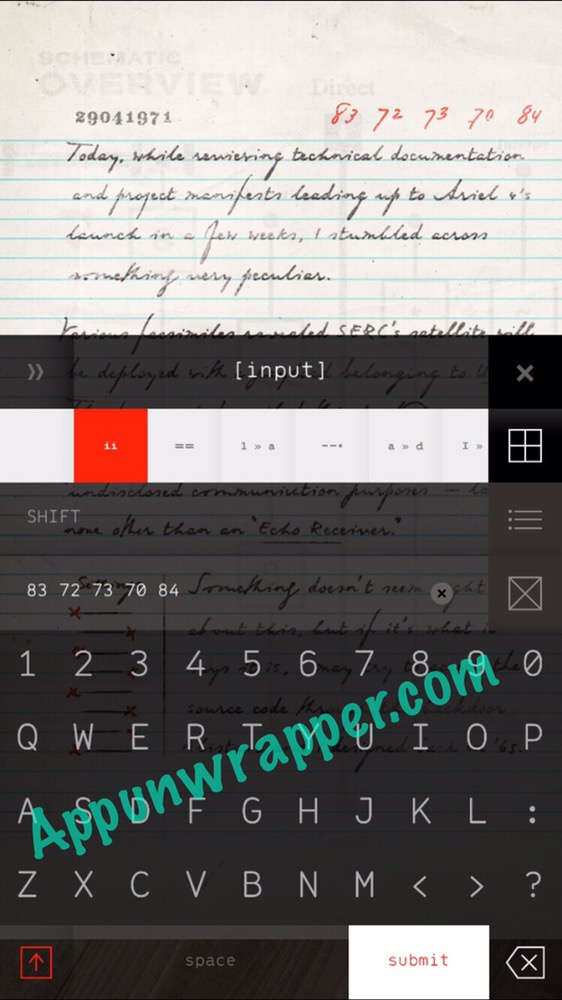 4-8: Hint: double-conversion
Solution: If you swipe right, it says "Use Bypass to Proceed." Bypass is the red line made of dashes. So follow it to see the four symbols you need to pay attention to. They're &!$%.
Then, use the SHIFT (answer to 4-7) button on the game's keyboard to see which numbers on the keyboard would be &!$%. You end up with 6145. Enter that in the 1 >> a decoder to get FADE.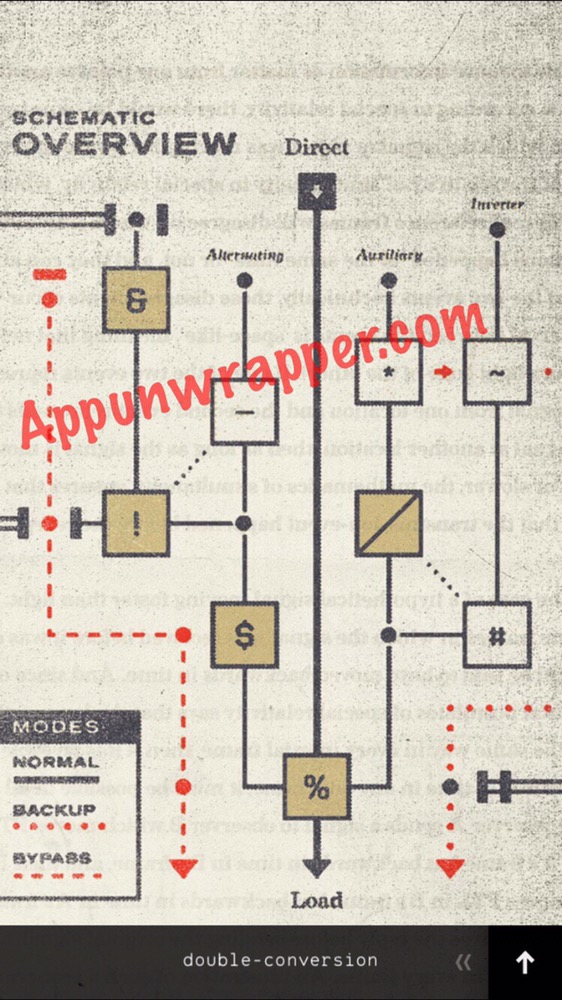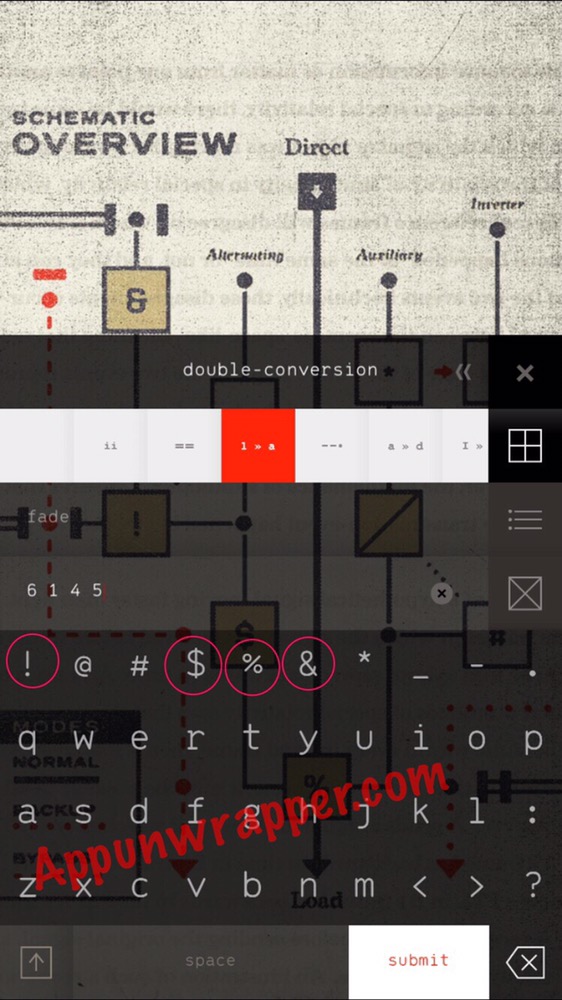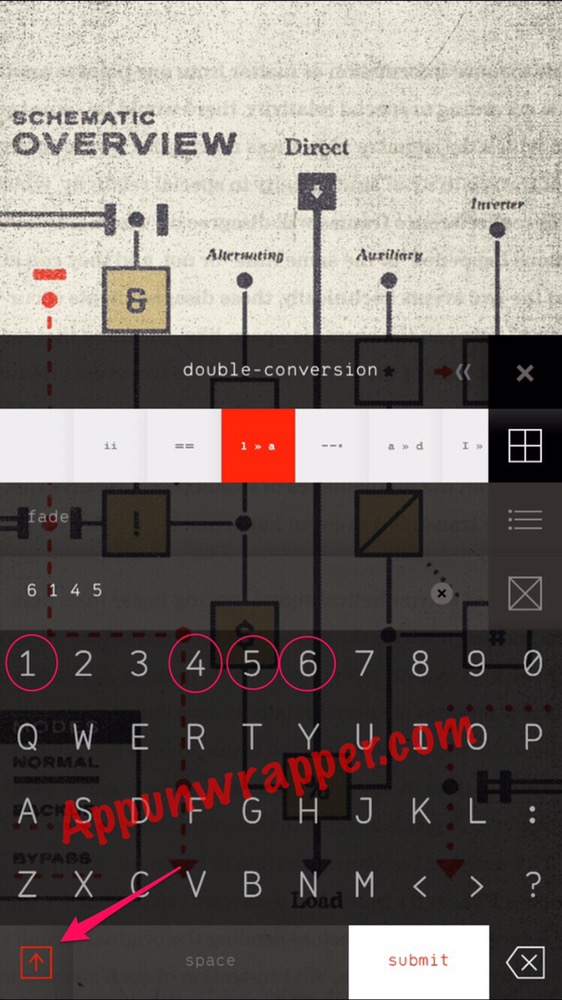 Answer: FADE
4-9: Hint: Settings
Solution: Go back to 4-7 and look at the part that says "Settings." Make note of the X's. Back on 4-9, move each of the sliders to those positions. The word "REPEATED" will appear at the top.
Answer: REPEATED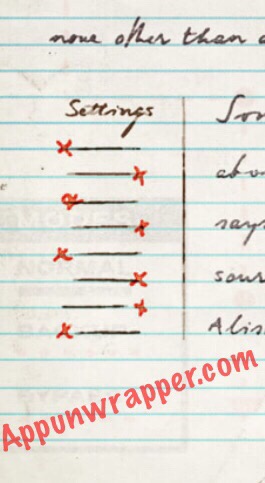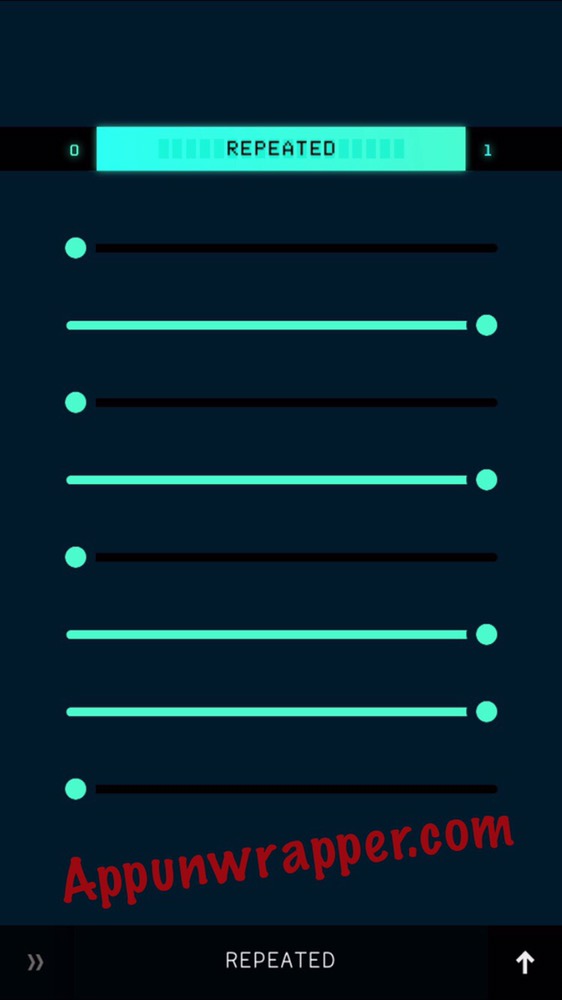 4-10: Hint: x ΓÇó x
Solution: If you drag the letters, you can see more of them. It says ICDNOITOSERTRDRFIAENCRATETINEOCSNE. The hint of x ΓÇó x is telling you to cross off those every first and third letter. You end up with COORDINATES.
Answer: COORDINATES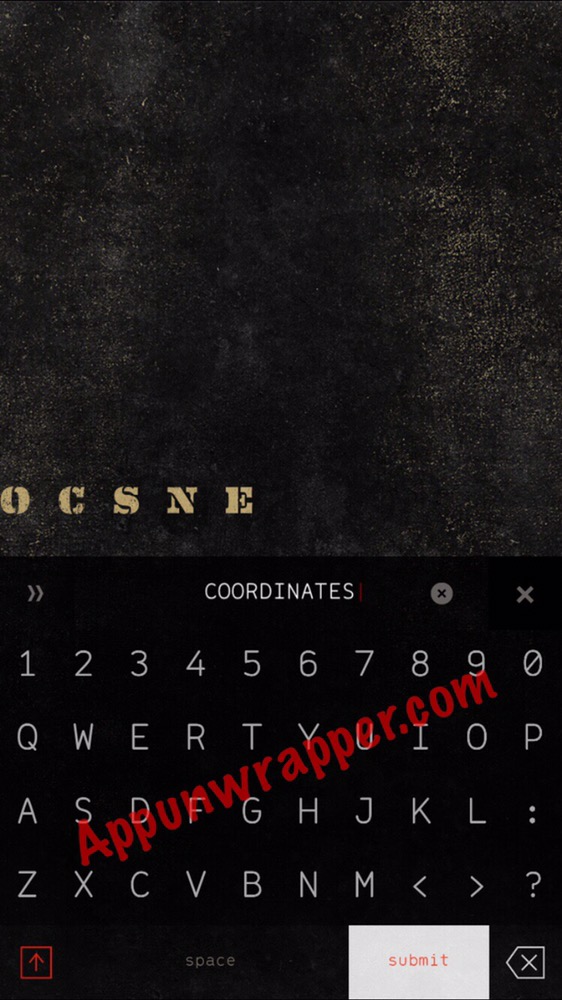 4-11: Hint: rearrange
Solution: Go back to level 2-14 and find all the letters shown in 4-11. You get ABCDELMNRSU. The hint said rearrange them. You then get UNSCRAMBLED.
Answer: UNSCRAMBLED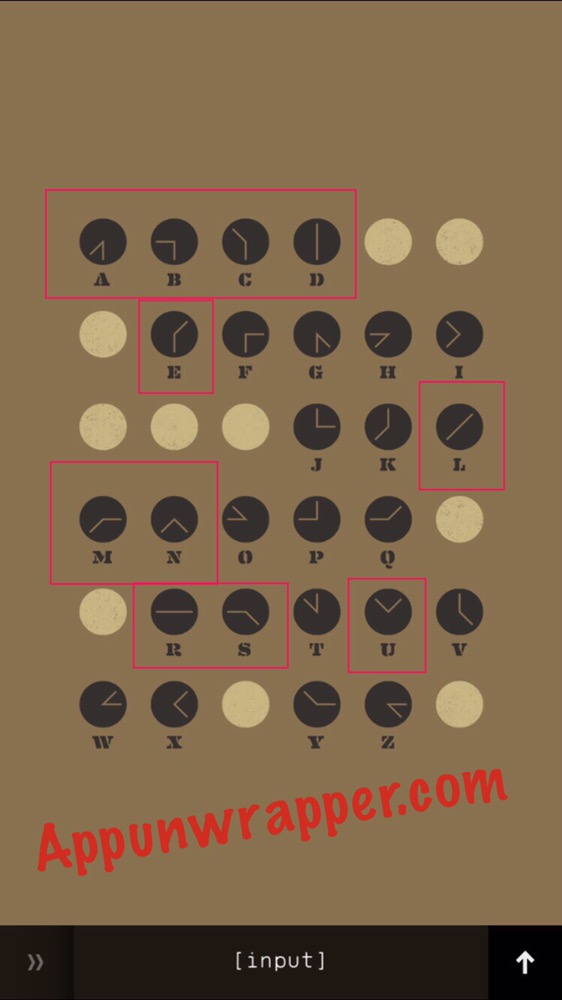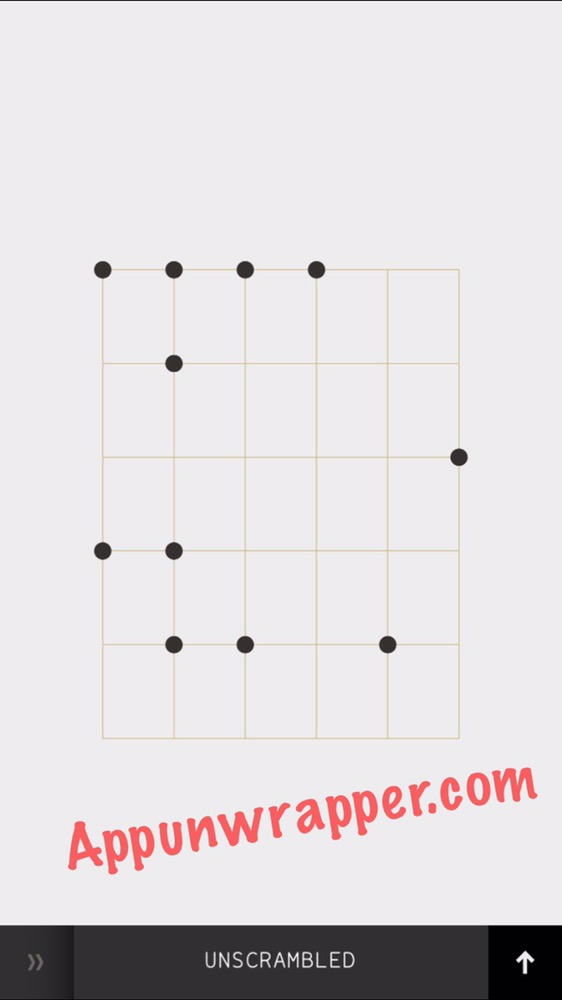 4-12: Hint: Blinking "m"
Solution: Swipe right to see:
var n :: key
var i :: input length
c1 = 'BLACK'
c2 = 'GOLD'
n = sumAll('c1, c2')
i = sumAll('c2')
The black ones are ABMRU, 5 letters.
The gold ones are CDELNS, 6 letters.
If you add them up to get n, it's 11. 11 is the key, or number you need for the shift decoder. "Input length" is the letters you need to use with the decoder. The golden dots are corresponding to the letters C, D, E, N, L and S, shift 11 to get RSTCAH. Rearrange them to get CHARTS. (Thanks to Emilie.)
Answer: CHARTS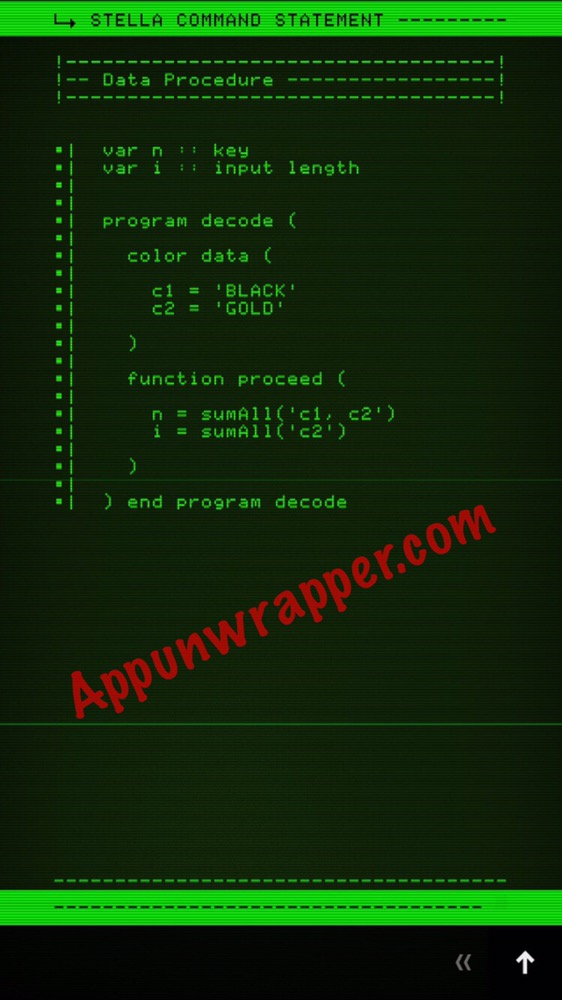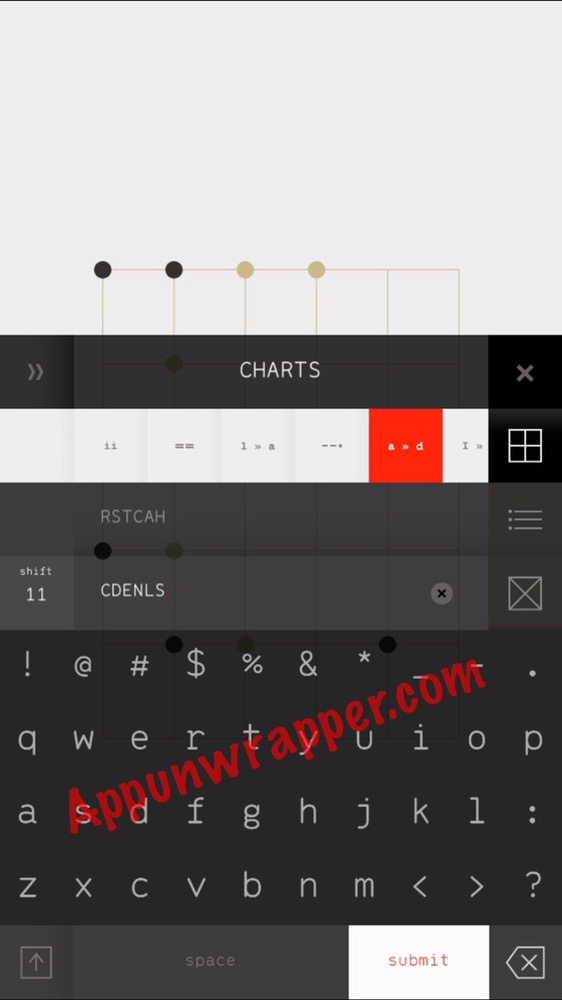 4-13: Hint: [A2] [D4] [E2] [B1]
Solution: A2 = SI, D4 = LE, E2 = NC, B1 = ED. That gives you SILENCED.
Answer: SILENCED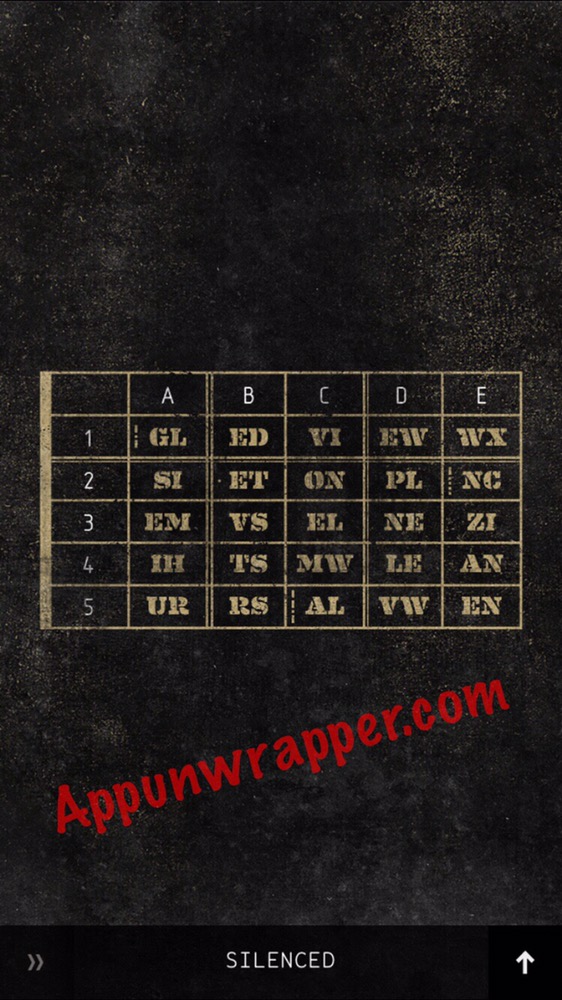 4-14: Hint: Blinking "p"
Solution: Swipe right to see:
"Recalibrate Data:
var [xy] :: coordinates
(1) :: [E5]
(2) :: [C5]
(3) :: [G7]
(4) :: [D6]"
Using the chart from 4-13′ you can figure out E5 is EN and C5 is AL. But G7 and D6 are not on that chart. Apparently, you're supposed to get "northwest" or NW from the morse code in the background. But maybe the spot on the map on the computer is also saying northwest? Not sure — it's a little too cryptic for me. But either way, you need to move two spots left and two spots up for each of the coordinates. SO SUBTRACT 2 from each number and letter toget C3, A3, E5, B4. That gives you EL, EM, EN, TS, or ELEMENTS.
Answer: ELEMENTS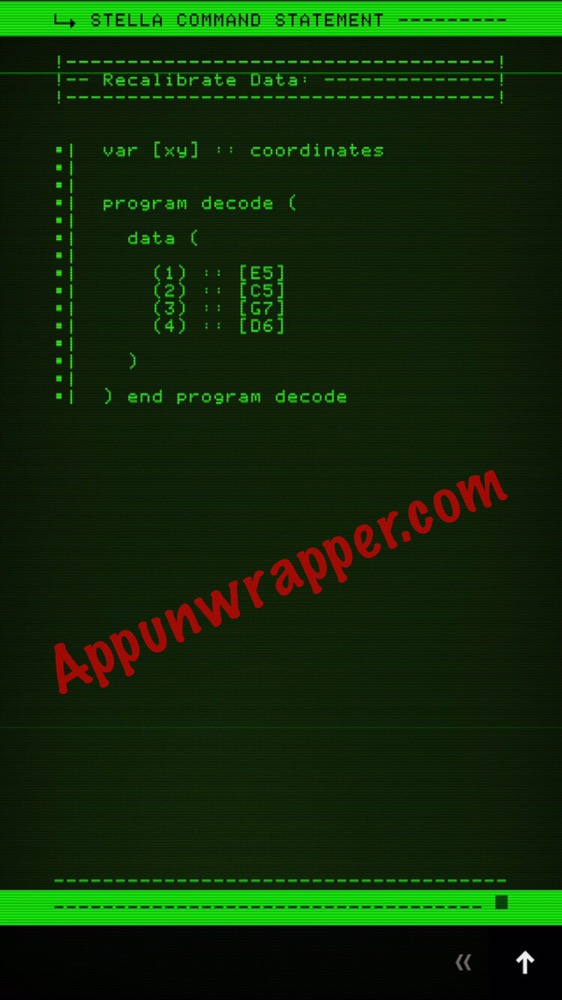 4-15: Hint: 97 7 16 1
Solution: This is the Periodic Table of Elements. Find those four numbers on it. 97 = BK, 7 = N, 16 = S, and 1 = H. Then, notice it says KEY under N at the top, which is #10. So take the letters BKNSH and shift them 10 using the decoder to get RADIX.
Answer: RADIX
4-16: Hint: [4F 5A] [4E 4E] [4E 5A] [4D 5A]
Solution: Slide right and find those coordinates on the chart. So you get:
[O Z] [N N] [N Z] [M Z]
Plug those into the equations on the first page and use the == decoder and then the 1 >> a decoder to get:
O Z = 9 = I
N N = 4 = D
N Z = 5 = E
M Z = 1 = A
Answer: IDEA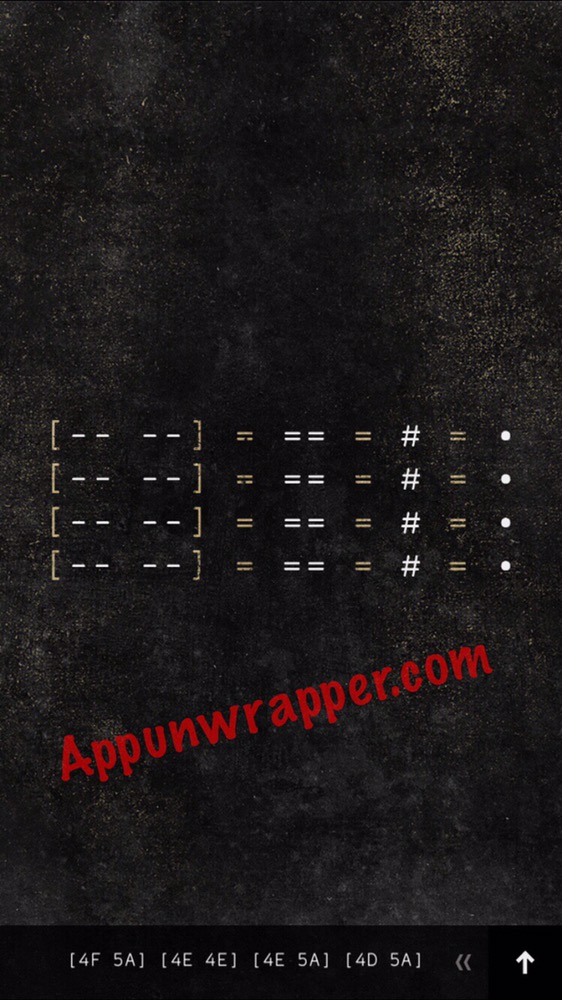 4-17: Hint: H E " X
Solution: Notice 6.9 is underlined. The atomic mass of the missing element is 6.9. If you look at the table of elements, Li has a mass of 6.9. Plug that into the hint where you see " and you get HELIX.
Answer: HELIX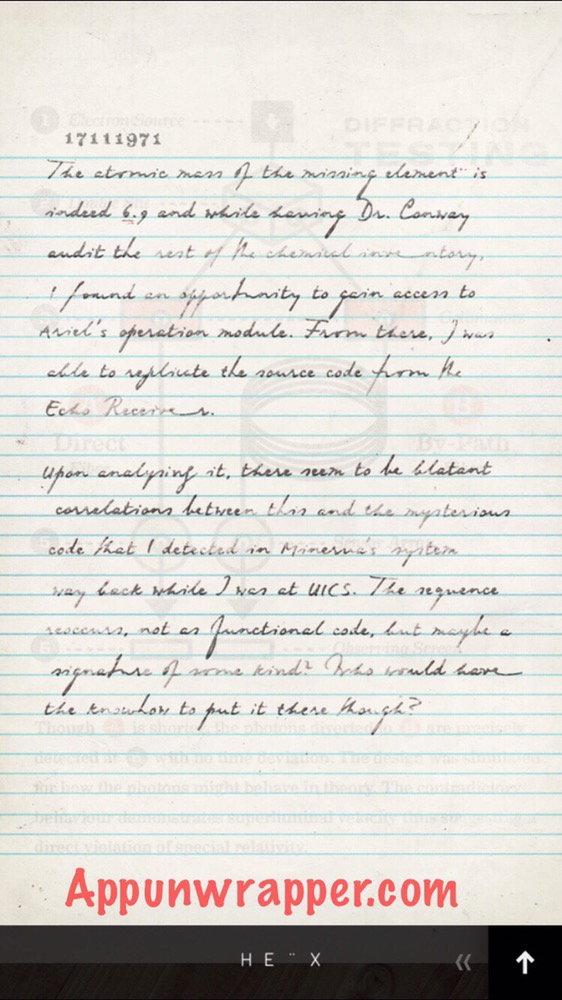 4-18: Blinking "s"
Solution: Line up the two sides of the helix so the symbols match up and you get two letters or numbers on each line, like in the photo below. You then get 6A, 6F, 75, 72, 6E, 65, 79, 73. You should now have a new decoder labeled 0x. Type in all those numbers into the decoder and you get JOURNEYS.
Answer: JOURNEYS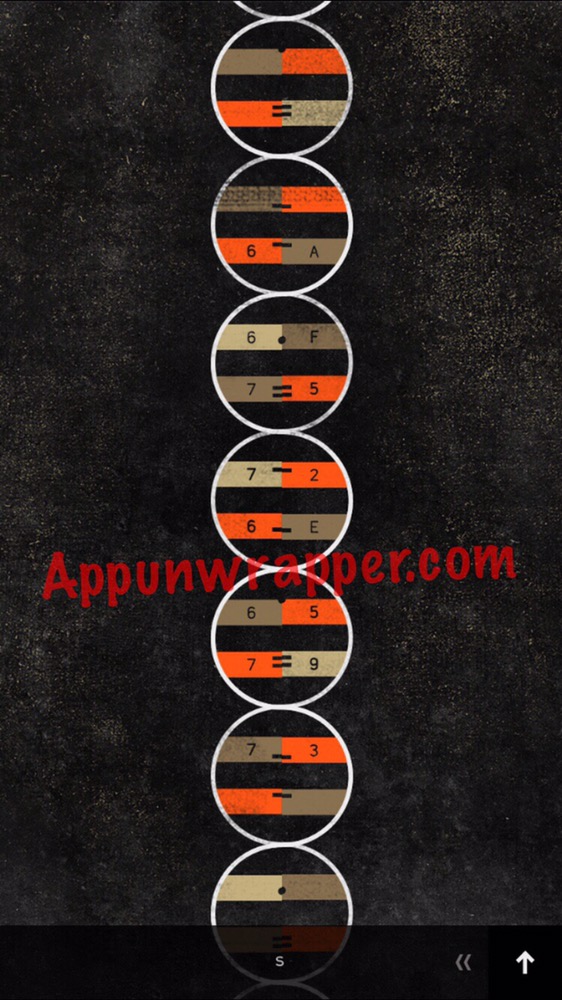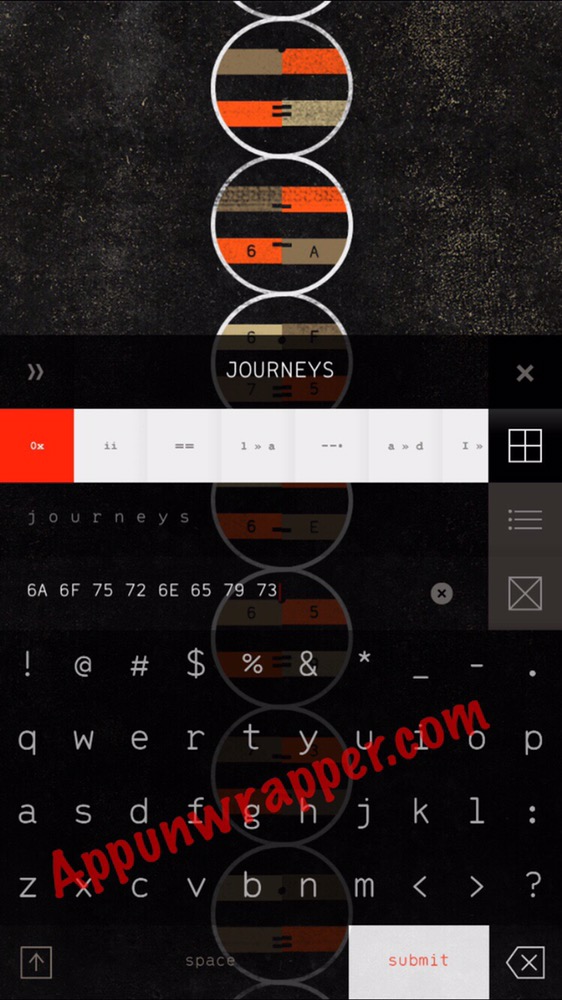 4-19: Hint: [2]
Solution: Slide right to see this:
(1) :: 0
(2) :: 0
(3) :: 1
(4) :: 0
(5) :: 1
(6) :: 0
(7) :: 1
(8) :: 0
Go back to level 4-9. Set the sliders to LLRLRLRLR and the word ASTERISM appears.
Answer: ASTERISM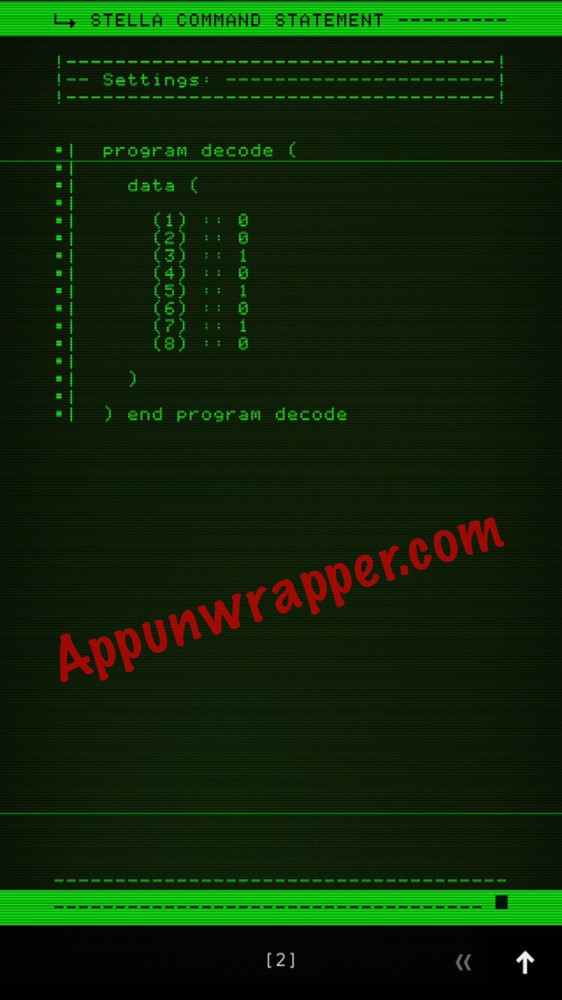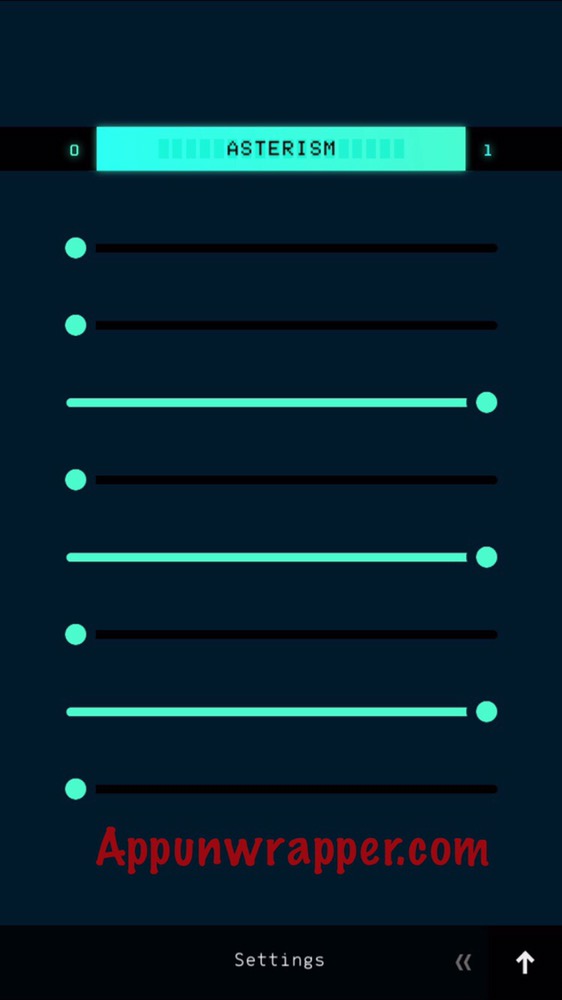 4-20: Hint: Blinking "k"
Solution: There are multiple layers here. Notice that there are four static circles in the four corners of the screen. Drag each layer around to match those circles until you get the constellation Orion.
Answer: ORION
4-21: Hint: Blinking "y"
Solution: Go back and look at level 4-10 again. Fill in all the letters in the spaces, using the letters from 4-10 and going in threes, top to bottom. It will spell out INTERFERENCE COORDINATES DISTRACTION. Next, pick out the letters with numbers under them and put them in numerical order. You'll get INTERCONNECTED.
Answer: INTERCONNECTED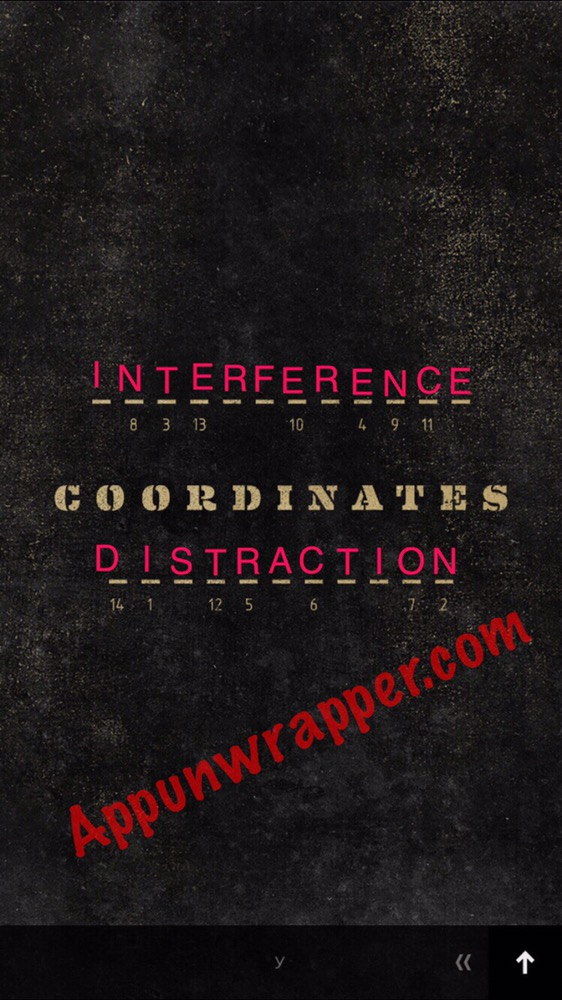 4-22: Hint: [3]
Solution: Notice the Morse code. -Γò¼├┤Γö£├ºΓö£Γöé- is K, Γò¼├┤Γö£├ºΓö£Γöé is E, -Γò¼├┤Γö£├ºΓö£Γöé– is Y, and Γò¼├┤Γö£├ºΓö£ΓöéΓò¼├┤Γö£├ºΓö£ΓöéΓò¼├┤Γö£├ºΓö£ΓöéΓò¼├┤Γö£├ºΓö£Γöé- is 4. Put them together and you get KEY4. Swipe right to see:
(1) position = 'LEFT'
(2) position = 'RIGHT'
(3) position = 'LEFT'
(4) position = 'LEFT'
(5) position = 'RIGHT'
(6) position = 'RIGHT'
(7) position = 'RIGHT'
(8) position = 'LEFT'
Go back to level 4-13 and match the gold boxes to the boxes in the chart. I overlapped them in the image below. You then get C1, E3, D5 and A4. The letters in those boxes are VI, ZI, VW, IH.
Use the Shift decoder with VIZIVWIH and shift to 4 (KEY4). You get REVERSED.
Answer: REVERSED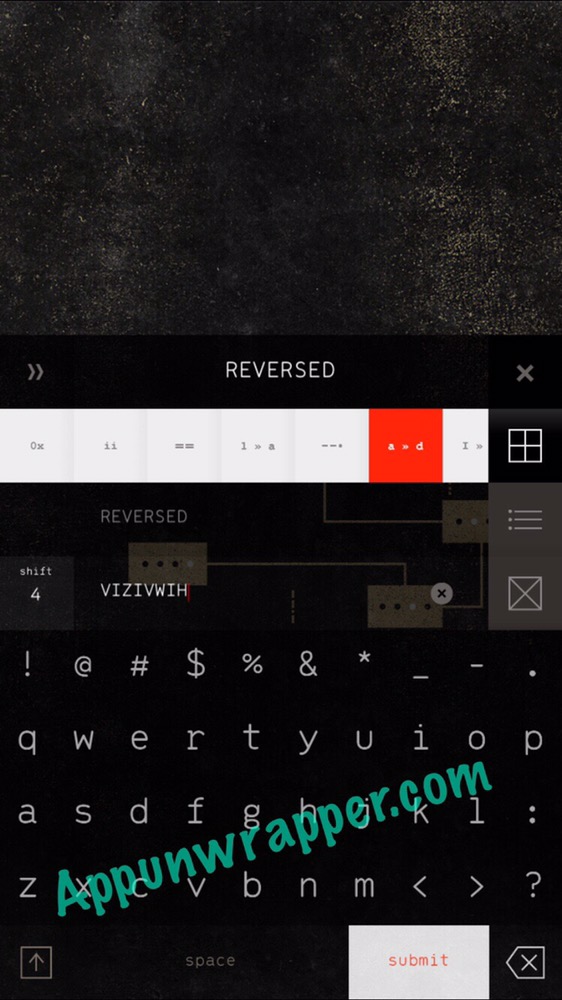 4-23: Hint: [4]
Solution: Pay attention to the highlighted letters: NO, IS, SECRETNESS, A, POT. Using the answer from 4-22, reverse those letters and you get TO PASS ENTER CESSION.
Answer: CESSION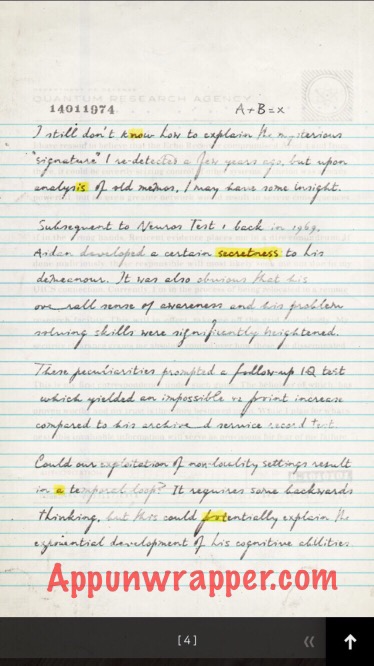 4-24: Hint: Settings Overview
Solution: Swipe right to see:
z = ii('42)
Some smart readers have provided the solution in the comments section. Please refer to that until I have a chance to compile it all here.
Answer:
4-25: Hint:
Solution:
Answer: