Pokémon GO
By: Niantic, Inc. (Nintendo)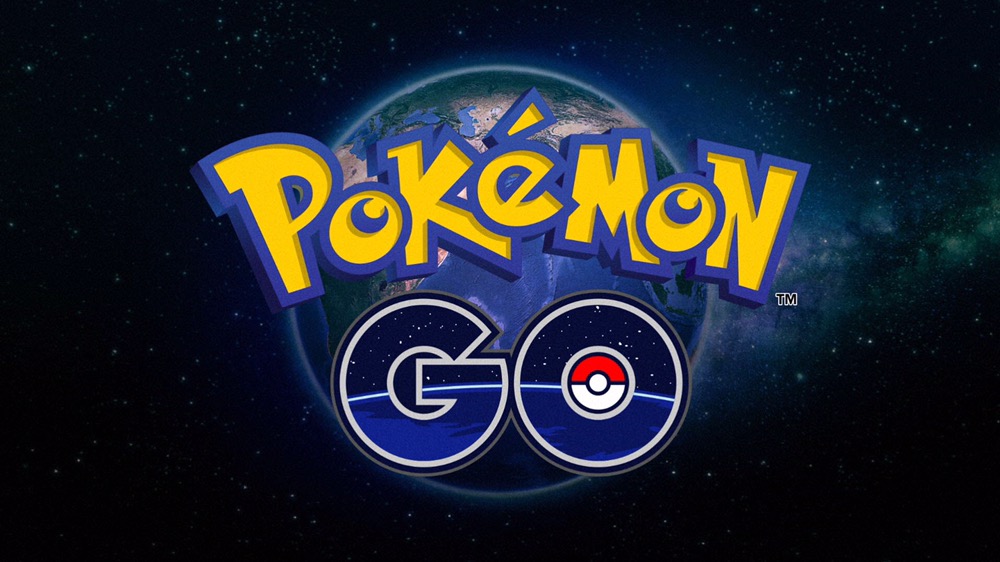 I've been playing lot of Pokemon Go (I'm level 21 right now), and one of the biggest questions I get from people is when to evolve their Pokemon. If you're looking for information on stardust, candies and transferring Pokemon, first see this guide.
First, let me show you the Combat Power (CP) gauge. The whole arch (pink arrow) shows you the current max CP this Pokemon can have. The white part (yellow arrow) shows how close its current CP is to the current max. This helps you tell whether the Pokemon is a strong one. You want the CP to be as close to the max as possible.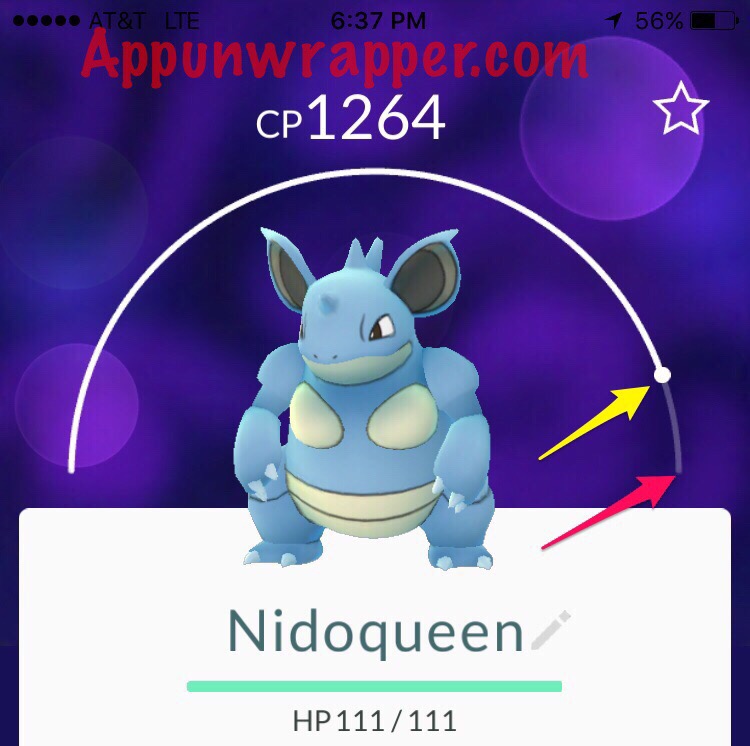 I learned this the hard way, as it's hard to tell early on, but the max CP of all your your Pokemon (and all Pokemon in the wild) increases as your avatar levels up. This means that no matter how strong you think your Pokemon is, it will always have the ability to get stronger (the current rumor is that the CP caps out when you reach level 30). If your goal is to get the strongest Pokemon of each kind, this means you want to wait before powering up or evolving your less common Pokemon. Unlike in the old Game Boy games, Pokemon here do not grow with you. Only their potential does. And as Pokemon get stronger, it costs more stardust to power them up. Yes, it may seem like 20,000 stardust is a lot. But it's not when each power-up costs 2500 and only gives you a few CP. That stardust can go real fast if you're not careful. It's best to save it up for powering up Pokemon that are already strong and just need a little help maxing out their CP.
Let me use my Dodrios as an example.
I caught a Doduo when I was just a young whippersnapper of a trainer. I thought it had the highest CP possible and therefore would be so strong when I evolved it. So I evolved it. (You can evolve a Pokemon at any time, as long as you have enough candy to do so.) This was it then. I couldn't power it up anymore. I thought I got an amazing Pokemon. It had 448 CP, which seemed like a lot to me at the time.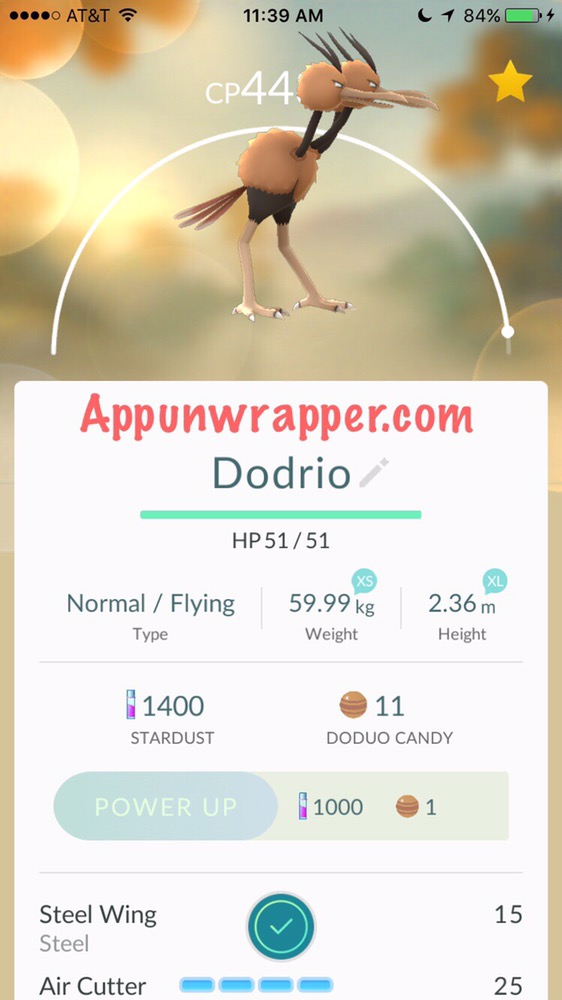 This is that same Dodrio now. It has little over half its max CP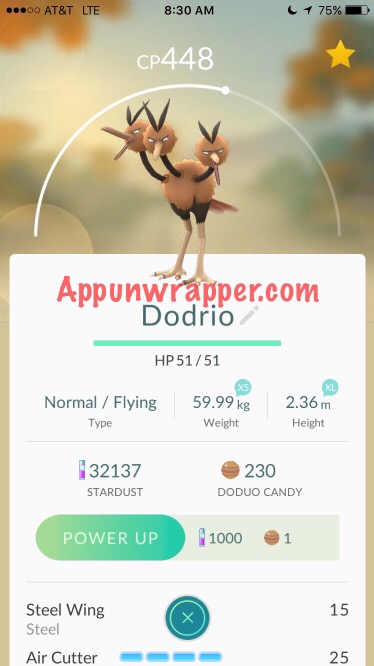 And this is another Dodrio I have close to its current max CP.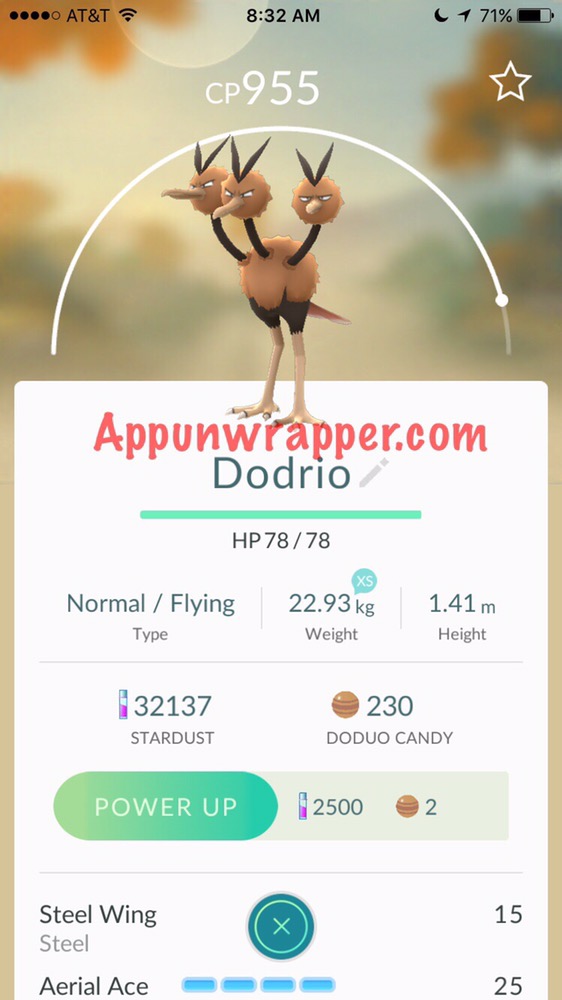 I come across a lot of Doduos, so it's no big deal. But I did learn from this to use my stardust very sparingly. It's exciting to get a Pokemon with a high CP, but unless it's one I know I'll see plenty of, I won't evolve it. And I don't power any Pokemon up unless I think it's worth evolving right now or is already evolved and close to current max CP. Here's what I do instead:
I always keep at least one Pokemon of each type I caught in my bag, no matter how weak. But when I catch duplicates, I keep the ones with the highest CP and transfer the others to turn them into candy. As I get stronger, the Pokemon I meet have a higher CP. I have a much better chance of catching a Pokemon that might be worth evolving when I catch it. If I catch a few of the same Pokemon very close to their current max CP, I keep all of them until I get one that's considerably stronger.
So if your goal is to have strong Pokemon to use in gyms, I would hold off on using any stardust until you've reached at least level 20 or so. Any stardust you waste early on just means you need to earn more later. Each Pokemon you catch only gives you 100 stardust, no matter how rare or hard it was to catch. So keep that in mind before you spend all your stardust to power up your Pikachu you got as a starter. It's not worth it. And it's not worth wasting your few precious Pikachu candies to evolve a weak Pikachu into a Raichu. It just makes sense to wait. Patience, grasshopper!
You might even get lucky and catch a fully evolved Pokemon with a very high-CP, saving you both stardust and candy.
Basically, before powering up or evolving a near-max CP Pokemon, think about your own level and whether you've been leveling up quickly. If you have been, it's worth waiting because that max CP will soon grow. If you're at a high enough level that your next level-up is a long way off, it's more worth it to invest in your current Pokemon.
Keep in mind that it's not so black & white as just keeping the highest CP Pokemon. Two of the same Pokemon can have different max CPs and HP but be close to the same CP. They also might have different attacks, so look at those as well. Pay close attention so you don't accidentally scrap the better one. Take these two Sandshrews I caught. One has a current CP of 424 but his Max CP is lower than the 444 CP. But the 424 has higher HP. So you might want to hold onto both of those and decide later whether to evolve one (or both). The 444 has a higher max CP, though, so will likely higher HP in the end, since it's got more room to grow. So the 444 is still likely your better choice despite the lower HP. It's possible that hatched Pokemon are better than caught ones.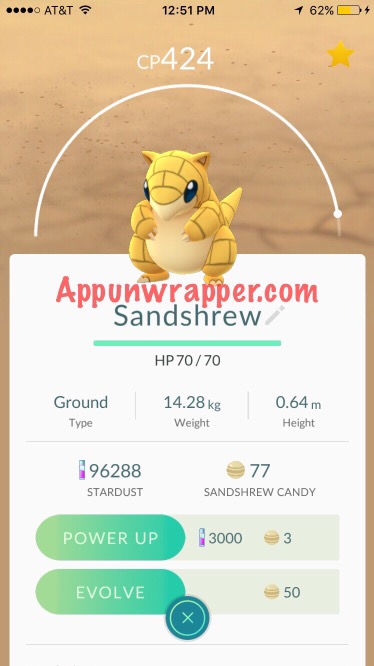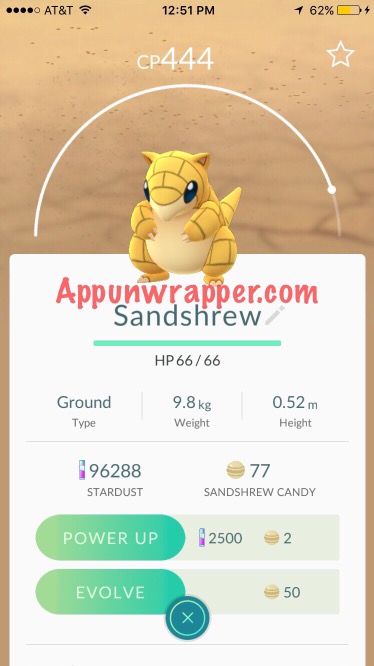 Here's another example. The 191 Caterpie has a higher HP than the 199 Caterpie, and possibly even more room to grow than the 199. So the 191 is likely more worth evolving.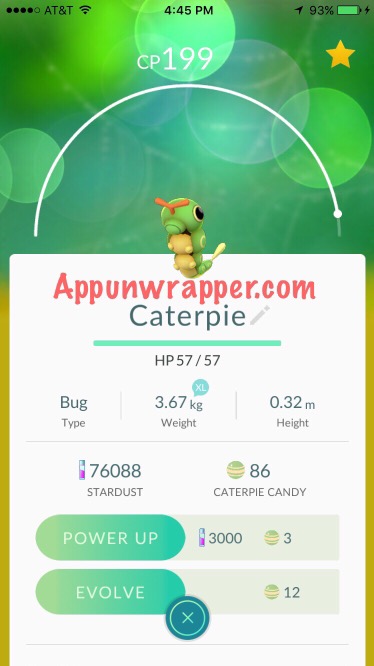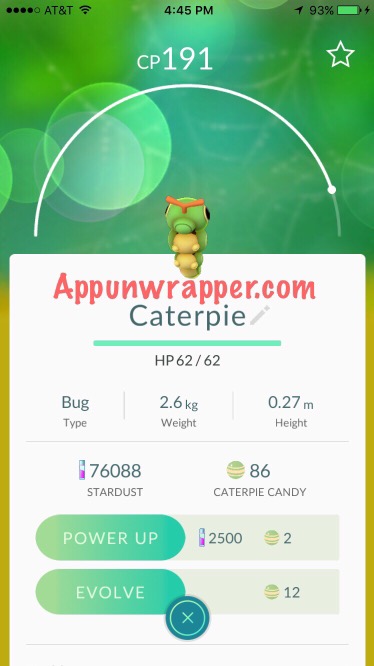 Then there's these two Nidorans just one CP apart. But the 367 looks like it has more room to grow than the 368 and it also has a higher HP.
Then these two Mangetites are only two CP apart, but the 326 has more room to grow and a higher HP. So that one has more potential and is the better choice to hold onto.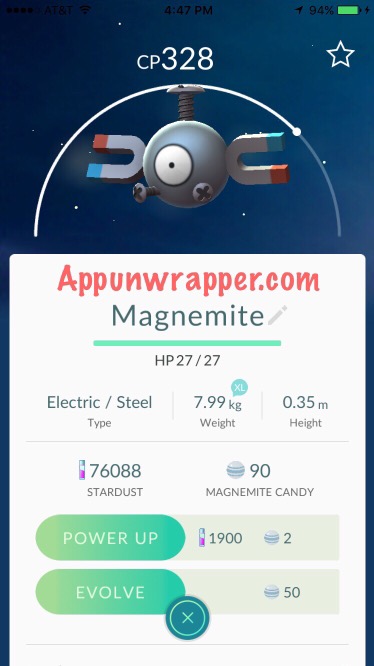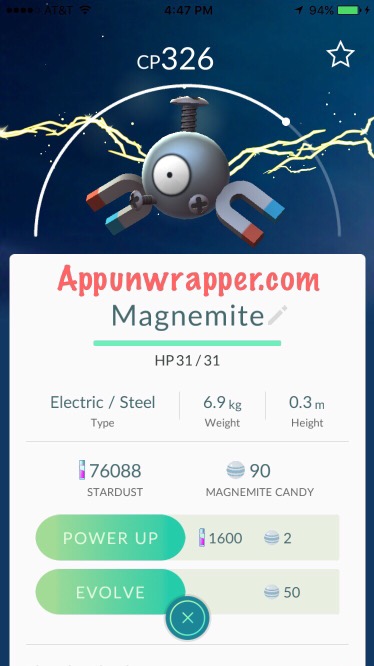 And between these two Nidorans, the lower CP one has more HP and looks like it could potentially be the better one with a little powering up.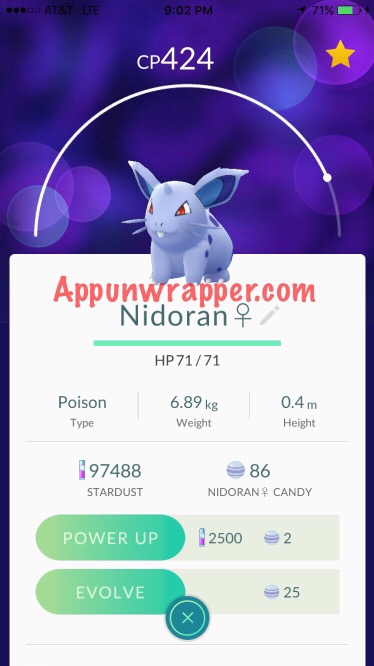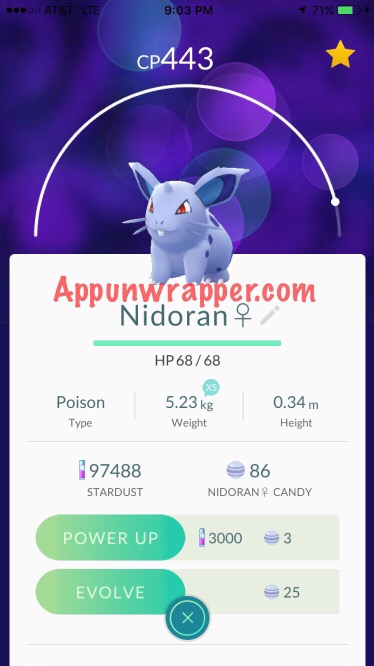 And these two Oddishes. The lower CP has higher HP and could also catch up with the other's CP to become the better Pokemon.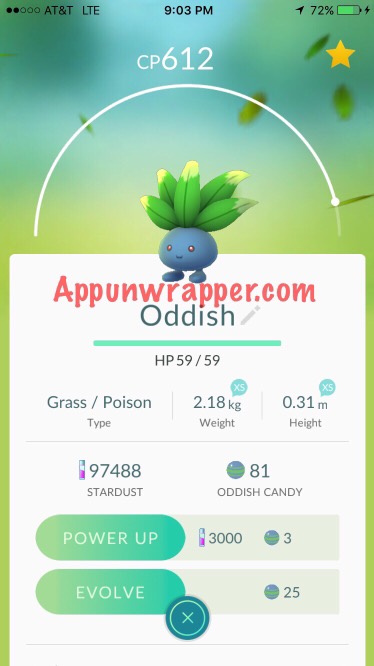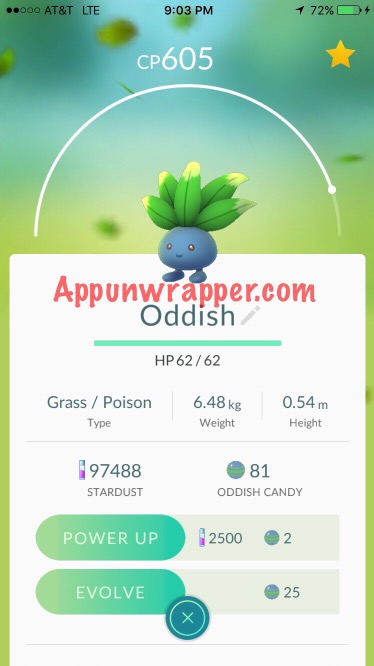 So the main point with the above examples is to compare the CP to max CP as well as HP before tossing out one Pokemon over another.
Also think about how often you see a specific Pokemon and how many candies you have for that Pokemon. If you rarely see them, just hold off. If you see them often and have a stockpile of candies, you can spare the candies to evolve the Pokemon even if he gets replaced in the not-so-distant future.
Right now I'm at a high enough level that if I see an uncommon Pokemon with a near-max CP, I might power it up and evolve it. For instance, this Psyduck I turned into a Golduck when I was level 20. I knew it would be a long while before I find one that's much stronger than that, because my next level-up was 50,000 XP away. So I made the call to use some stardust and candy to power him up to his current max CP and then evolve him for some instant gratification. Even though his max CP will continue growing, it will be at a very slow rate at this point. So it doesn't cost me that much stardust to keep him at max CP. If you want to make sure you waste nothing, you could wait even on a Pokemon like that. But then you need to figure out what level is a high enough level for you to feel ready to start evolving and using them in gyms.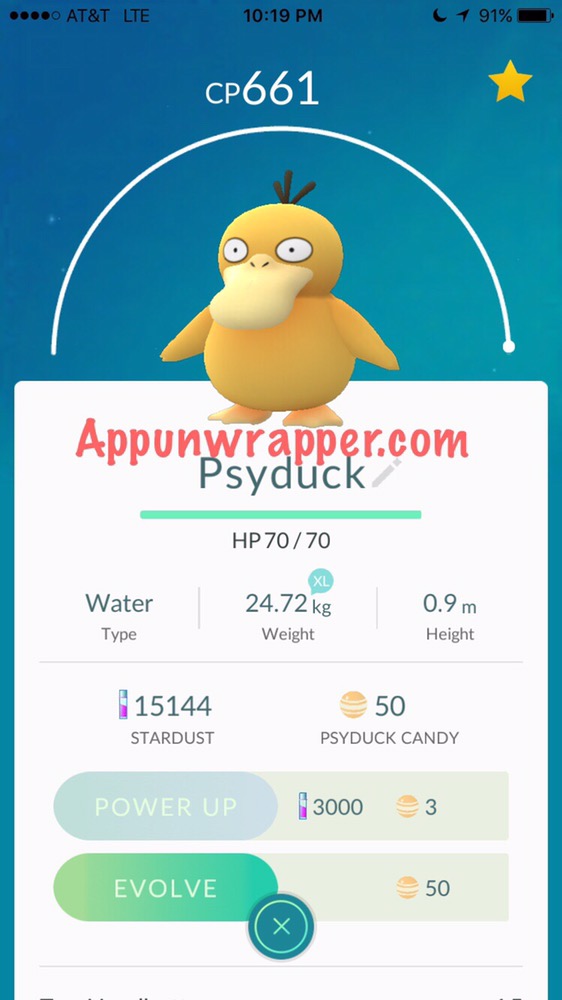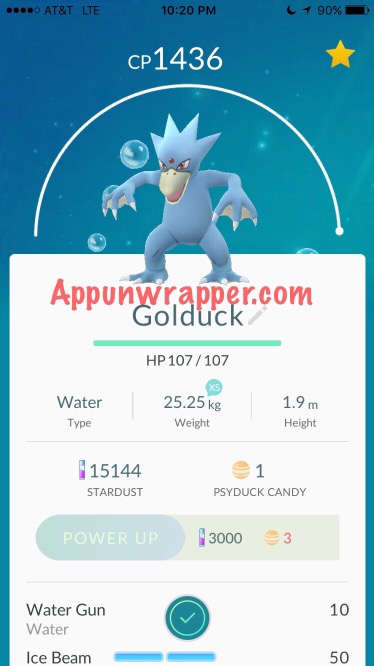 As you can see here, when I got to level 21, his max CP went up a drop. But now I need 75,000 XP to get to level 22, so it was still very much worth evolving him. Continuing to power him up won't cost too much stardust or candies. But if they cap out at level 30, you may decide that level 20 is still too early for you. You might want to evolve him but not waste any stardust to keep him strong. That's entirely up to you. I've been catching enough Psyducks that I may just leave him as is now and assume I'll catch a stronger one much later.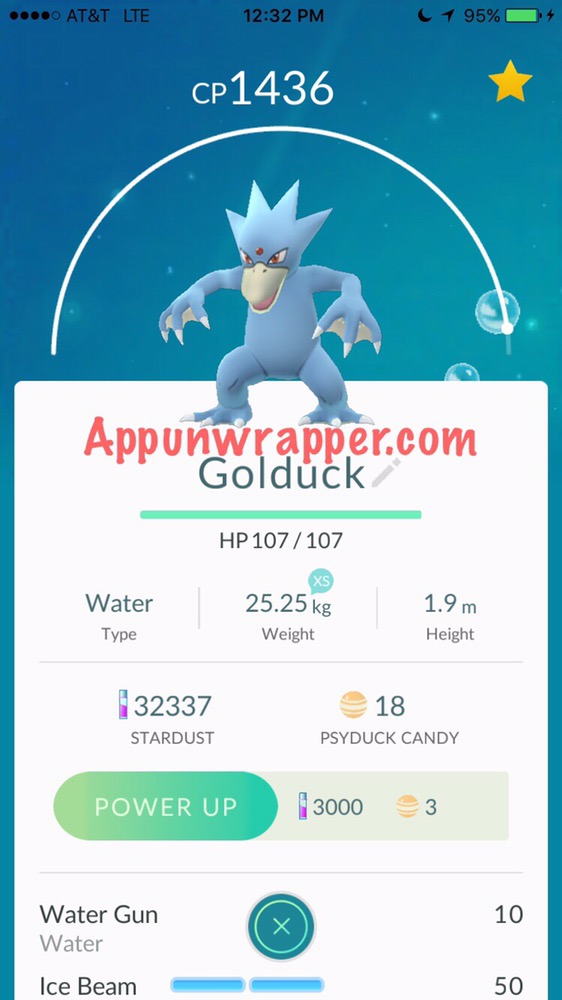 On the other hand, this is my starter Pokemon, Charmander. I haven't powered him up at all because it would take way too much stardust and candies to ever get his CP comparable to one I can catch in the wild right now. So instead he'll be transferred to the professor and turned into candy eventually.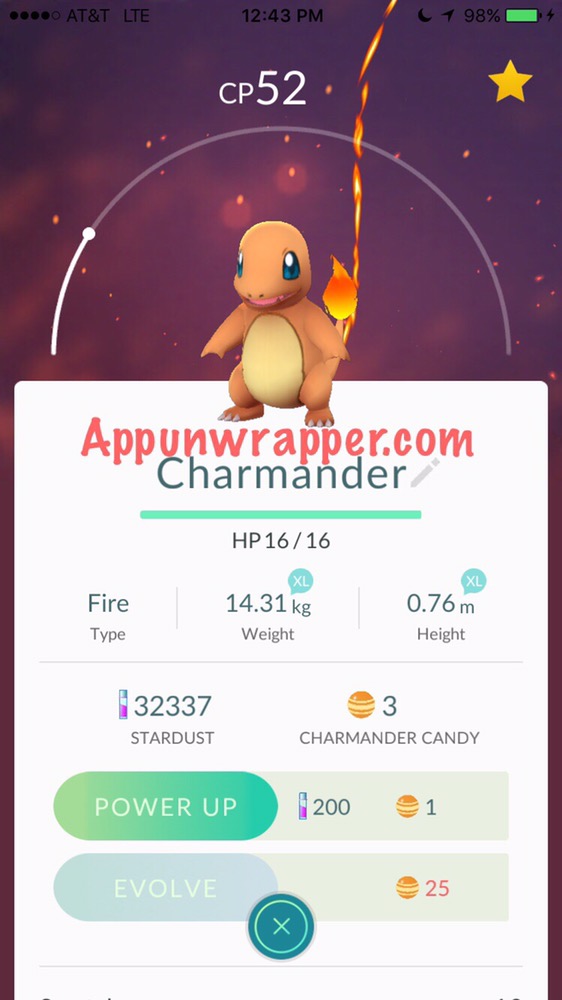 When it comes to common Pokemon like Pidgeys, Zubats, Spearows and Rattatas (and Doduos for me), if you have hundreds of candy, go ahead and evolve some of them. It gives you some good experience points, especially if you activate a Lucky Egg before evolving them all. But I strongly suggest you don't waste any stardust on them. They're not worth it (sorry, but they really aren't.)
Now, if all you care about is filling out your Pokedex and you know you won't care later down the road that your Pokemon are weak, go crazy and evolve all your Pokemon the second you can. But don't say I didn't warn you. 😛
NOTE: If you have a lot of a certain Pokemon (like Pidgey), you can get experience from evolving some of them. Evolving a Pokemon gives you 500XP. If you activate a Lucky Egg before you do all your evolving, you'll get 1000XP per evolution. So you can try saving up some Pokemon like Pidgeys and Caterpies, while transferring most of them. Some Pokemon only need 12 candies to evolve, so you can get a lot more out of them. Just turn the evolved Pokemon into more candy (don't waste stardust powering them up) and keep evolving the new ones you find. But be careful not to accidentally turn your strongest ones into fodder. 😉
You can also try this calculator to determine the IV of your Pokemon.