Reigns
By: Devolver Digital (Nerial)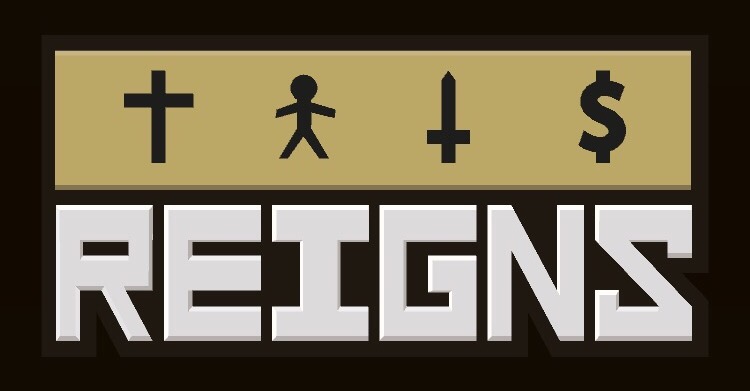 This guide will show you all the Royal Deed objectives in Devolver Digital & Nerial's Tinder-like kingdom management game Reigns on iOS, Android and PC. I'm only missing the Writer — I'll fill that in when I have it.
I have guides for achieving some of these (click on the links to find them), but if you need help with others, just ask and I'll do my best to help.
the Young – Govern at least 5 years
the Duelist – Win a duel
the Dazed – Try the blue one
(This refers to eating the blue mushroom.)
the Wicked – Recruit the spy
the Patron – Recruit the Minstrel
the Blessed – Meet the clumsy prophet
the Lover – Start a romance
the Target – Hear about the conspiracy
the Tender – Arrange a bestial honeymoon
the Doomed – Unmask the Senator
the Pivot – Pass the first millennium
the Wise – Recruit the doctor
the Sorcerer – Meet the witch
the Creepy – Lose yourself in the dungeon
the Trump – Govern like a winner
the Alchemist – Find the Frozen Blood
the Settler – Discover a new world
the Pious – Build a cathedral
the Greedy – Build a personal fortune
the Bigot – Build 5 Churches
the Devious – Invent modern politics
the Devil – Meet the Devil
the Father – Have an heir
the Mage – Talk to the vase
the Crusader – Start a crusade
the Peacemaker – End a crusade
the Seer – See the future
the Musician – Write a war song
the Coward – Look somewhere else
the One-handed – Lose a limb
the Old – Govern at least 20 years
the Ancient – Govern at least 40 years
the Grizzled – Govern at least 60 years
the Senile – Govern at least 80 years
the Fossil – Govern at least a century
the Eternal – Govern at least 200 years
the Hat – Identify the terrorist cell
the Survivor – Trick the devil
the Writer – ??? (This is apparently related to the doctor inventing the printer, but I don't recall ever seeing that card myself.)