Hi everyone! I'm back with My Week Unwrapped and I want to do something just a little bit different this time. There have been a lot of great sales lately and I often tweet them out but don't always mention them on here. I don't want to make a new post for every sale, so what I'm going to try is putting the noteworthy sales at the bottom of these posts. Make sure to scroll all the way down so you don't miss them. Anyway, I've been very busy this week and there are a lot of games to cover, so let's get to it!
Causality
I had great things to say about Loju Games' puzzler, Causality, back when it released earlier this year. But I was stuck on the last level that would unlock five more levels, and it had been haunting me ever since. I finally solved it (with some help) and then finished the rest of the game, along with my walkthrough. It's still a fantastic game, though if I had designed it I wouldn't have locked the last five levels behind the hardest one in the game. Still, it's very much worth checking out if you're a puzzle fan. And if you need help, here's my complete walkthrough guide.
MechBox 2
Andrey Sklyarov's MechBox 2: Hardest Puzzle is the sequel of Mechanical Box. It's a short game, which was released with only seven levels. But this past week saw the addition of one more level, so I made a walkthrough video for it. You can see the rest of my walkthrough guide here.
Resynth
I mentioned Polyphonic LP's Sokoban puzzler, Resynth, last week, but I had more time to play and write a review. I liked the puzzles a lot, but found the music and visual effects interfered too much to the point that it became unplayable for me. You can read more about it in my review.
Shape Garden
Riada International's Shape Garden is actually a re-release of the same game under a different name. It used to be called Glooze, and if you Google it (I'll wait) you'll see why the developer chose a new name. I reviewed the game back when it was still Glooze, and he same review still stands. There have been some improvements, though, notably that this time there are no ads at all, so you can play as much as you want for free with no catch. If you like the game and want more themes (or just want to support the developer), you can unlock two different theme packs for $0.99 each. I think that's incredibly fair. So go give the game a download!
Look Right Agency
I was really enjoying the text messaging game called Look Right Agency by Capable Bits. I spoke a bit about it last week and mentioned I had played so far for free and that I hadn't been hit with a paywall yet. Well, since then an update released that blurred out photos I had already seen and asked me to buy the "Look Right Pass," without any explanation of what that is. I had every intention of paying to unlock the rest of the game if I hot a point where it said something like "this is the end of the free trial. Please pay to unlock the rest of the game." But having photos I'd already seen go blurry totally destroyed the immersion I had experienced from the game. It was done so poorly. And still, I might have paid for the in-app purchase (IAP) if it had been clear what I was getting. I've been burned too many times by vague IAPs. So for now, I've abandoned the game. Maybe I'll go back to it in the future if I get a confirmation about what the IAP buys and the sour taste this left in my mouth goes away.
Crushy Bricks
I like match-3 games, and Umbrella Games' Crushy Bricks looked like an interesting twist on the genre. I was enjoying it, though it seemed like an odd game to have levels and missions. I never remembered what my goal was, so I kept just making matches and getting one star for every level. There is a high score-chasing arcade mode, which I think is a much better fit for this game. But I lose interest when I saw you can continue your game by watching an ad. I'm tired of this in high score chasers and don't see a point in playing a game like that. If I'm going to compete against others, I want it to be based on skill alone. But it's still an interesting game and worth checking out for yourself.
Cosmic Path
GalacticThumb's Cosmic Path is a level-based puzzler where you swipe to move your piece around the board between walls or white dots, picking up all the white circles. The tricky part is that you have to complete each level within a certain number of moves or you lose. There are also red dots you need to avoid, as they kill you if you touch them. Unfortunately, the swipe controls are a little fiddly and I sometimes mis-swipe, forcing me to restart the level. It could really benefit from an undo button, and the developer said they're looking into adding one. The game is free with ads and an IAP to remove ads, so check it out if you like what you see in the video below.
A Planet of Mine
I heard some good things about Tuesday Quest's A Planet of Mine, so I gave it a try. It was a complete disaster. I don't have much experience with these kinds of games (4X?) and despite tapping and swiping everywhere I could think of to make something happen, I just couldn't see any way to progress past placing my chickens down to pick berries. The game desperately needs a tutorial, or maybe there is one and I just couldn't find it. But either way, I didn't care enough about it to try and figure it out, so I deleted it after my very pathetic video below.
Calculator: The Game
Simple Machine has had some very popular games, though none of them have really been my kind of thing before. But Calculator: The Game is totally my jam. I've been playing it since it released a few days ago and I'm still not finished, as it seems to have over 200 levels and I'm around 175. Basically, you have a cute, friendly little talking calculator who has a few buttons available at a time. Each puzzle gives you a goal number to reach and a limited number of moves in which to do so. It's very math-centric, but it's far more interesting than doing math homework. It does help if you're good at math, but don't let that scare you away. It really is one of the better puzzle games I've played and it's consistently held my attention through the addition of new buttons every few levels. It's also completely free with ads. If you buy $2.99 worth of hints, it should remove the ads, but there's currently no way to reach the store without first using some hints. I've chosen to just put up with the ads, especially since they got less obnoxious after the latest update. In any case, this is a game very well worth checking out. And if you get stuck, you can try my walkthrough guide.
Knights Fall
CARBON EYED's Knights Fall is an interesting game that feels pretty unique. Besides some impressive graphics, the gameplay is innovative. It's level-based and the goal is to complete each mission with the highest score as possible. Each level gives you a certain number of rocks and once you press START, they automatically start being catapulted onto the board. You then control a slider that determines where the rocks will land. The idea is to get them to hit and bounce off enemies onto other enemies. You want to try to not waste the rocks, as you get extra points for every rock leftover. So far, very few levels have given me trouble, so it seems very fair for a free-to-play game. So far I haven't had to stop due to running out of energy, either. But it's possible if you play in longer sessions that you might. I like that the missions keep changing to add in new ideas and mechanics, such as using the rocks to turn blades or handles. I'll likely stick with this one as long as it doesn't become necessary to spend money to continue. I recommend at least trying it to see if you like it.
Snaky Snake
I'm pretty burned out on the whole Verby Noun thing, but Nicolas Pierre-Loti-Viaud's Snaky Snake looked too cute to pass up. I'm not particularly good at it, so I don't know how long I'll stick with it. But it uses the Crossy Road model in that you can play for free and unlock everything through playing or spend real cash to unlock new characters more quickly. So far, I unlocked the dragon and the lion. I was having trouble with the dragon, but the developer told me it's possible to clear out all the building using the dragon's fireball ability, since any buildings destroyed won't regenerate. It still seems pretty hard, as doing that takes some skill. But that's good to know and I may try for it. In any case, the game is free and seems well-made, so check it out.
The Lion's Song
I was excited to play Mipumi Games' point-and-click adventure, The Lion's Song, which released first on PC and just made it over to mobile. It even has iCloud sync, which I really appreciate. Unfortunately, the game crashed four times in my first twenty minutes playing. I reported the problem to the developer, and hopefully they can fix it. But until then, I can't really say much about the game. You can still see what it's like from the video below, but beware that it may crash on you, too.
Sidewords
Sidewords isn't releasing until July 18th, but I got an early copy and have been playing for a day or two now. It's a word game with some interesting twists. Since I still play Typeshift daily, I'm always open to new word games that aren't just more of the bland and boring Word Cookies ilk. Sidewords actually reminds me a lot of Typeshift in the way you need to use and reuse letters, but it's still very different. There's two modes. The puzzle mode gives you two words, one across and one down. There's a grid between them and you need to combine letters from both words to create new words and fill up the grid. But where it gets tricky is that they can't overlap. So if you leave yourself with a bunch of consonants and no vowels, you'll have to remove one of your words and try something else. It's a very relaxed game with lots of content. You can also go back to older levels and try to find new ways to solve it, if that's your thing. I actually managed to make TANGELO out of both words and fill up the entire board with just one word, which made me feel really smart. There's also the QUADS mode, which is an endless high score chaser like Threes! using letters. What's really interesting about it is that you don't get points for the words you make. Those don't matter so much as the placement of them around these pink squares. The whole goal of the game is to get rid of the pink squares to rack up points. But if you let too many sit on the board at once, they'll fill it up and end your game. It's an interesting twist on the genre and it's not easy. But both modes are meant to be relaxed, so there are no timers. And you can even use a free hint if you're having trouble thinking of a word! If you're a fan of unique word games, especially those that aren't filled with IAPs and ads or other nonsense, you'll definitely want to pick up Sidewords in a few days. Till then, you can watch my video below.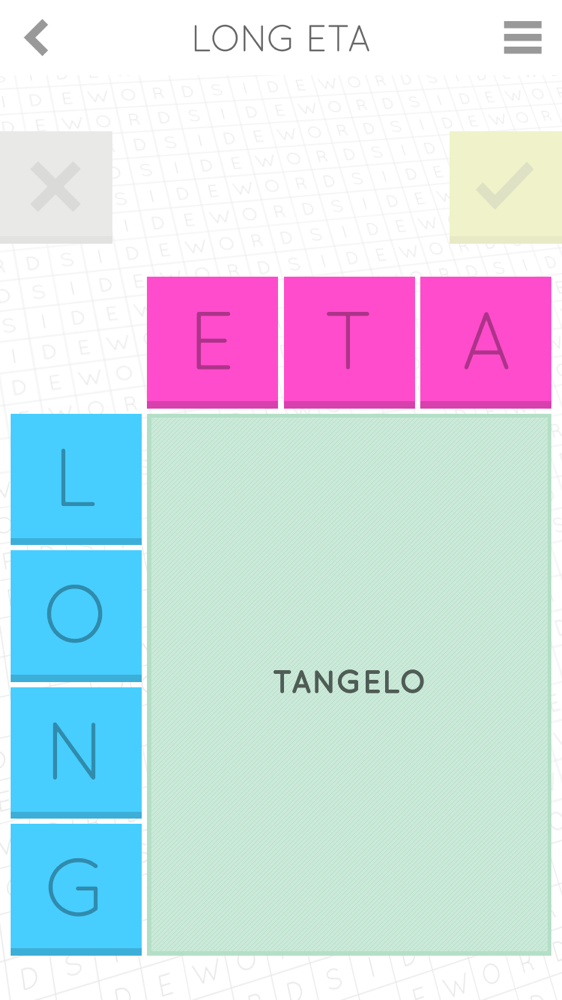 Telling Lies
I haven't been playing this yet — if only! — but Sam Barlow announced his upcoming game, the spiritual successor to Her Story, my 2015 Game of the Year that still tops my Recommended List. It's a good ways off, as the filming won't even start until the end of this year. The game will be called Telling Lies and feature 3-4 key characters this time. While he hasn't given many details about the story yet, he told Variety that it's in the vein of a political thriller and took inspiration from Francis Ford CoppolaΓò¼├┤Γö£├ºΓö£├╗s 1974 mystery thriller Γò¼├┤Γö£├ºΓö¼├║The Conversation." Γò¼├┤Γö£├ºΓö¼├║Imagine Steve McQueenΓò¼├┤Γö£├ºΓö£├╗s Γò¼├┤Γö£├ºΓö£ΓöÉShameΓò¼├┤Γö£├ºΓö£├╗ mashed up with Γò¼├┤Γö£├ºΓö£ΓöÉThe Conversation,'Γò¼├┤Γö£├ºΓö¼├æ Barlow said. For movies, he said, the 1970s Γò¼├┤Γö£├ºΓö¼├║were such a golden age exploring the intersection of government, society and individuals.Γò¼├┤Γö£├ºΓö¼├æ
This time, instead of self-publishing, Annapurna Interactive is publishing it, and they're looking to cast some big Hollywood stars. I'm not too concerned with who's in it, as I'd never heard of Viva Seifert and her performance in Her Story blew my socks off. The title also makes me wonder if we'll have to catch people in lies like you do in another full-motion video game, Contradiction. While Her Story did involve detecting when someone was lying, it was mostly in your head and not part of the gameplay. I am curious to see whether this game will have more traditional gameplay or surprise us again with something we've never seen before. Either way, I'm excited about the news and can't wait to play! Sam has ensured me that it will be released on mobile, just as Her Story was, so rest easy knowing you can play it on your preferred platform. I'll make sure to update you as I hear more.
Noteworthy Sales:
Stolen Thunder is now free to try and then $0.99 to unlock the rest of the game. I really liked this one back when it released. You can read my review here and then make sure to try it out!
illi by Set Snail is currently FREE, down from $2.99.
FRAMED 2 by Loveshack is on sale for $0.99, down from $4.99.
Samorost 3 by Amanita is on sale for $1.99, down from $4.99.
Agent A: A Puzzle in Disguise by Yak & Co. is on sale for $0.99, down from $4.99.
Phew! That was a busy week! I hope you find some good games from here and if you have any feedback on what you'd like to see here in the future, please comment below! Until next time, that's My Week Unwrapped!