Level 46: Fill in the alphabet and numbers 1 – 0 again. It says, "Minus indicates key value." If you pull out all the letters with an X on them, you get GIJKV and then a minus sign on number 2.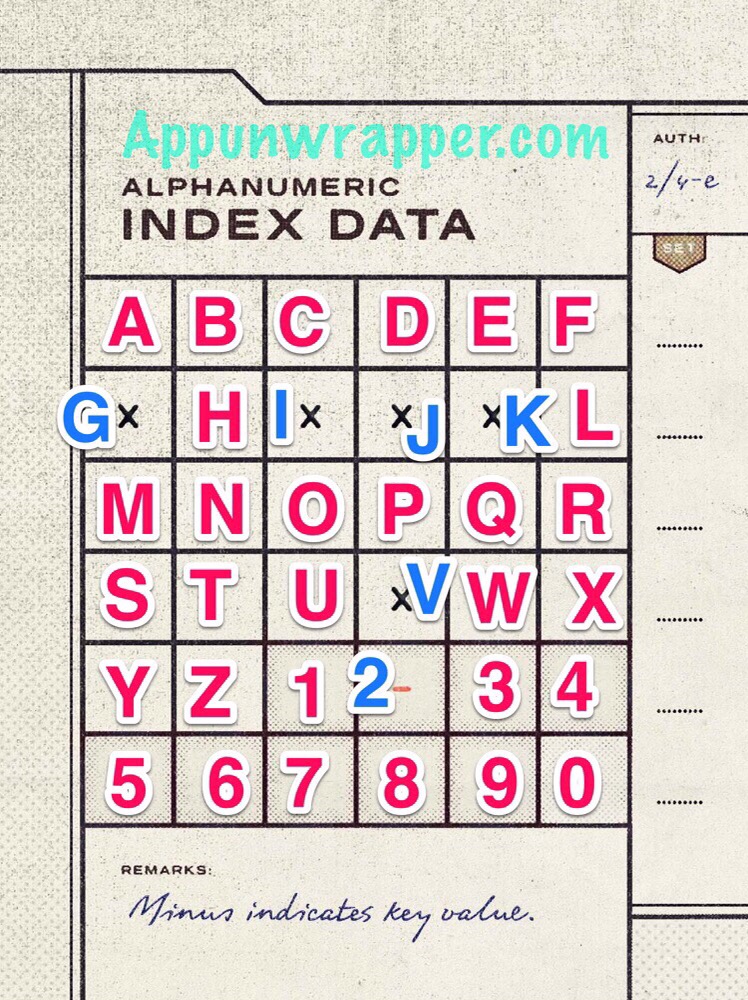 Use the decoder to shift the letters 2 over to get EGHIT. Scramble them to get EIGHT.
Answer: EIGHT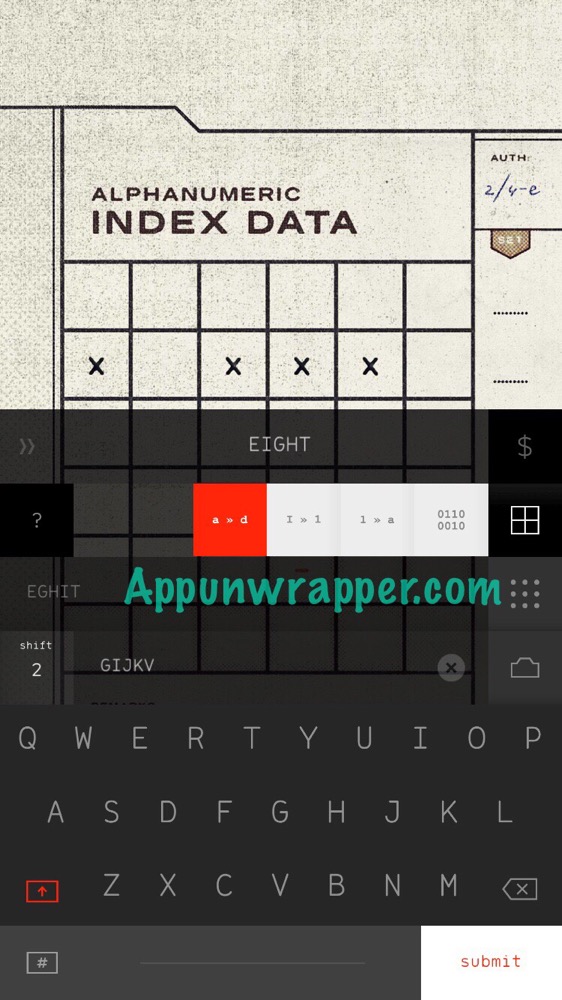 Level 47: It says, "Network Links: 48, 87." The hint says, "Primary Network Link: 41." The arrow is showing you the tracker positioning for level 41.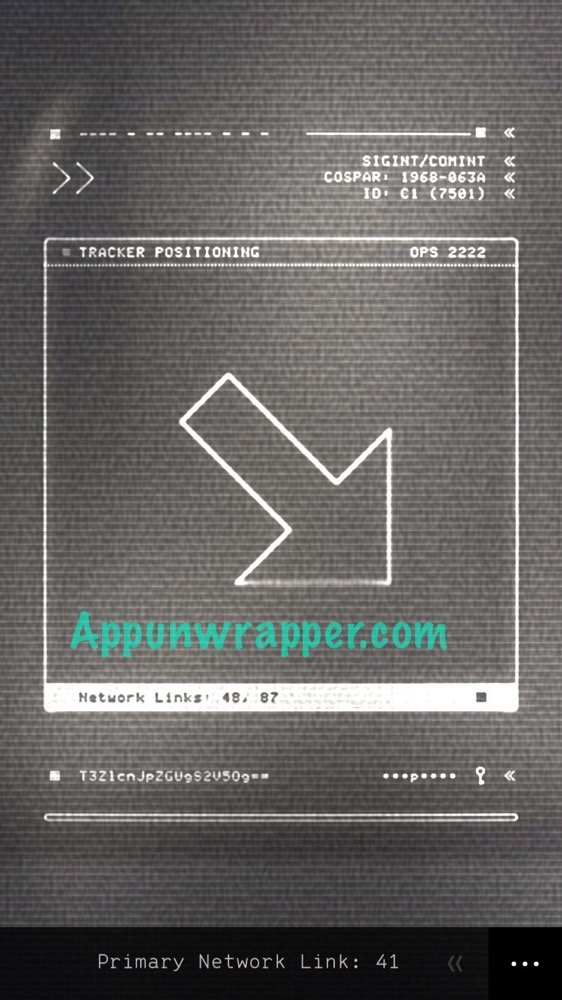 Go back to level 41 and shift it to the lower right corner like below. Turn it into binary numbers and you get:
01110101
01110110
01101101
01110101
01110111
01110110
01110001
01101011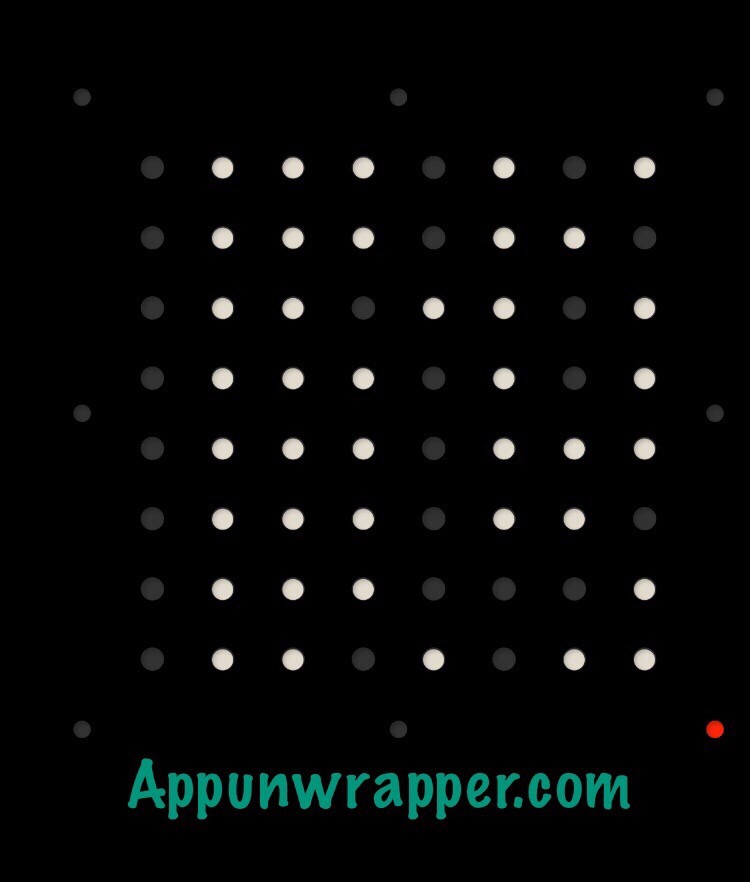 That translates to UVMUWVQK. Shift it 8 over (remember, EIGHT was the answer to 46) using the decoder and you get MNEMONIC. Enter that in Level 47 to unlock Level 49.
Answer: MNEMONIC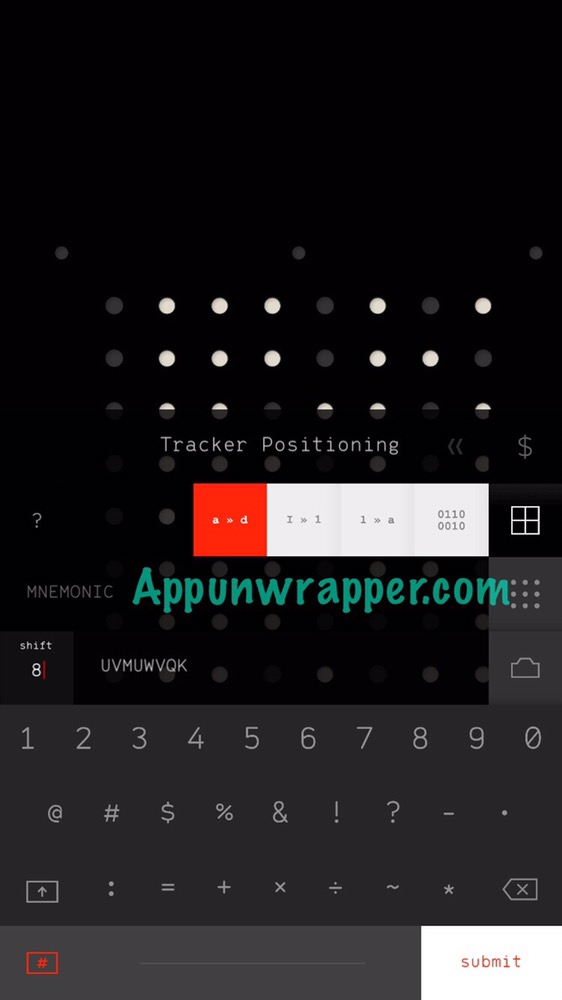 Level 48: This unlocks from Level 49. If you look at the thumbnail, it shows these numbers:
13 12 23 11
The hint says "key value > previous".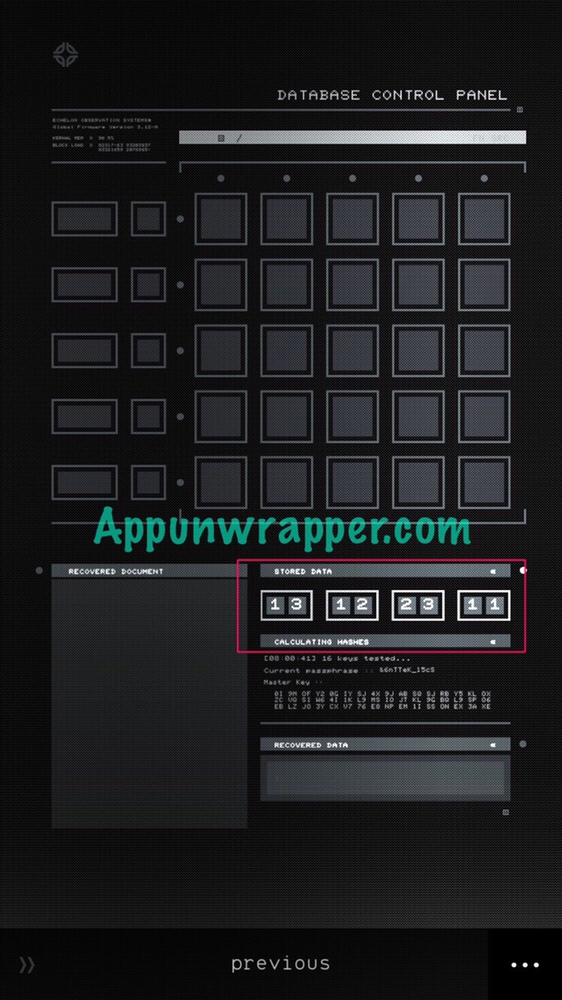 If you use the decoder to change the numbers 13 12 23 11 into letters, you get MLWK. Use the Caesar cypher to shift them 8 letters over (because the key value is the previous level, which is 47, and that also had you shifting 8). You then get EDOC.
Answer: eDoc
That unlocks Level 50.
Level 49: It says:
Prognosticating randomly established visuals indicates omniscience under simulation.
If you take the first letter of each word, you get PREVIOUS.
Answer: PREVIOUS
This unlocks level 48.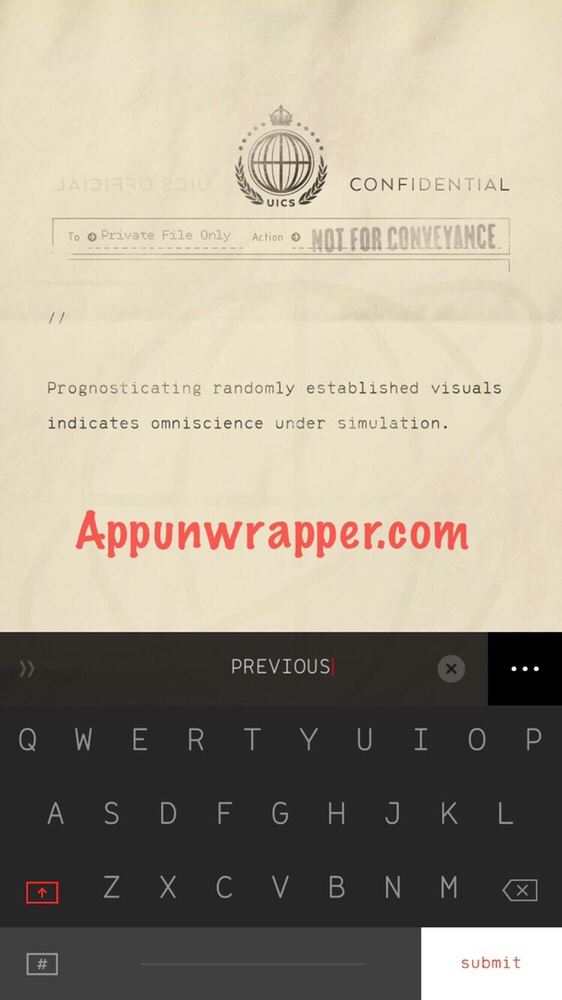 Level 50: Hint: (2,5)(4,2)(2,4)(5,1)(4,1)
Swipe to the left to see a grid full of letters. Use the hint to find the 5 letters, as so:
W I/J R E D
Answer: WIRED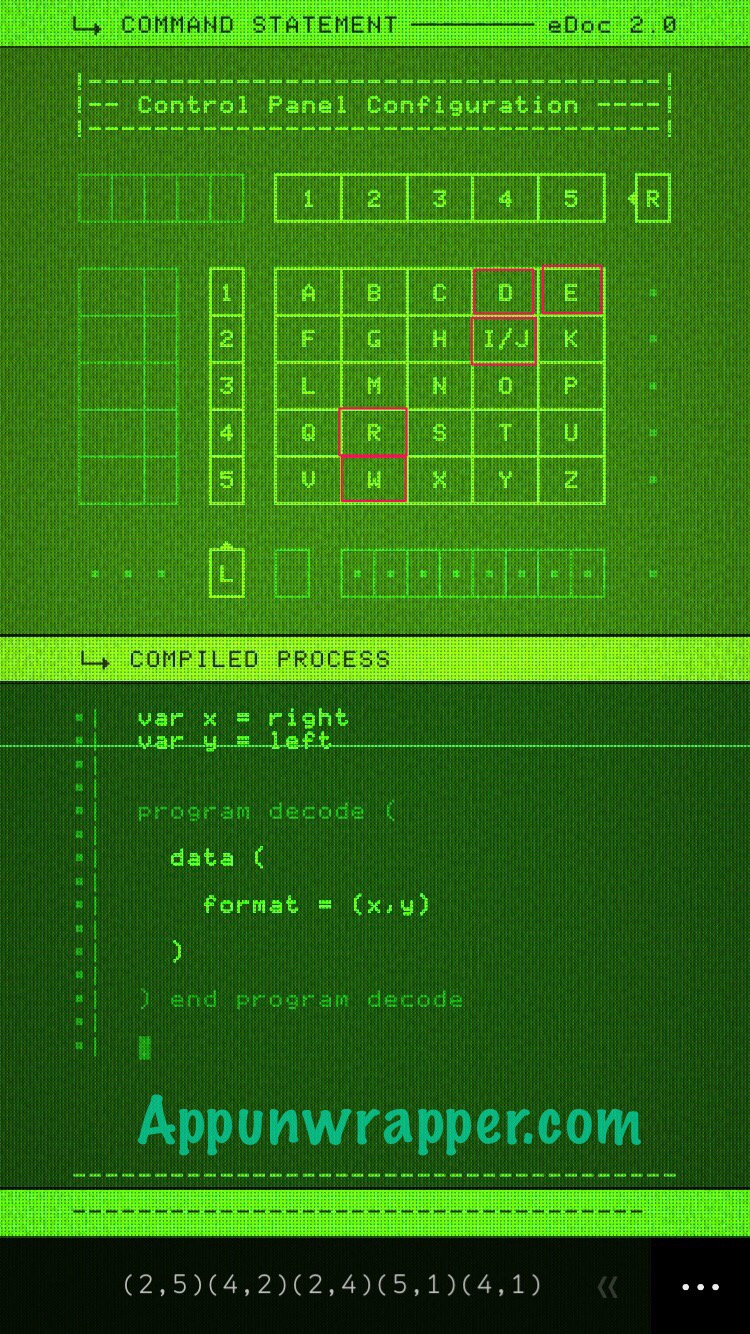 That unlocks level 52.
Level 52: I don't know if it matters, but I entered axiom as my identification earlier. Here, you see the colours from level 50. Every left row is the y and every right row is x. That gives you (1,3),(4,3),(2,2),(4,2),(3,1) which spells LOGIC.
Answer: LOGIC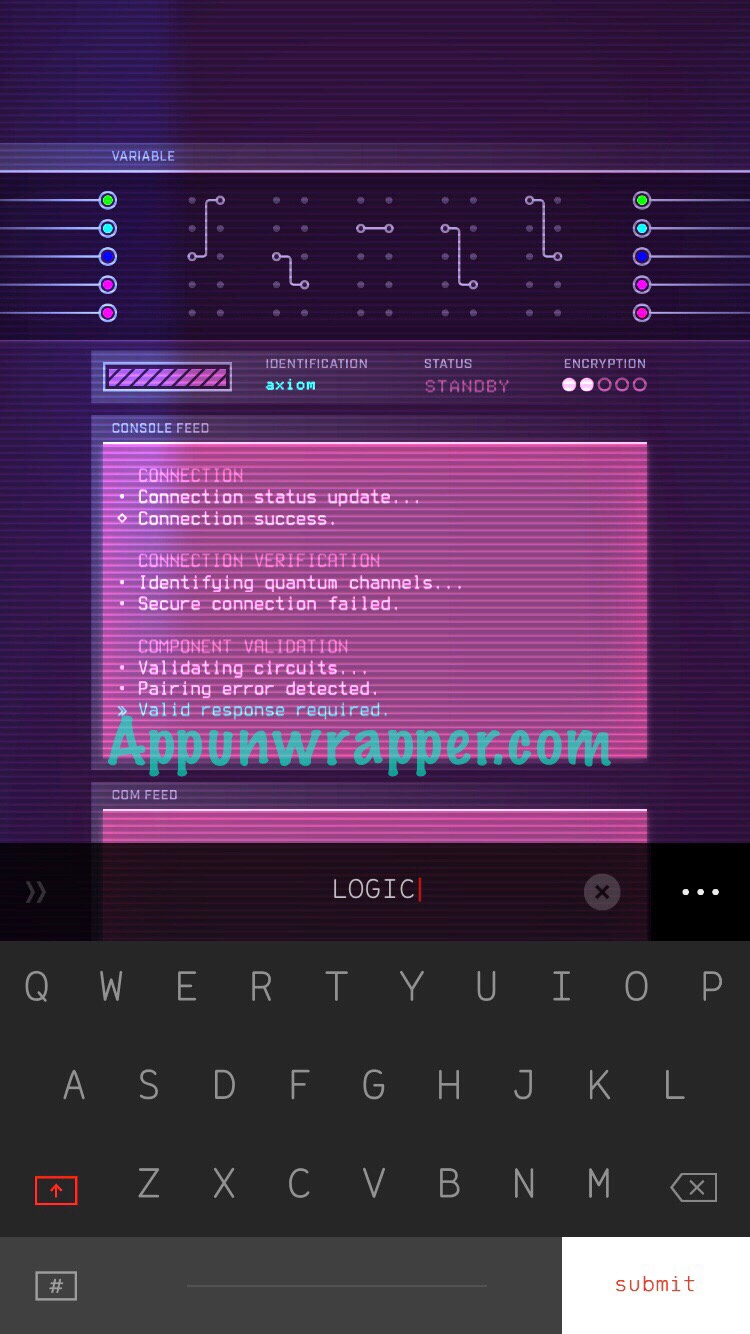 If you play close attention, the blinking cursor under COM FEED is Morse code! It goes: -•• • •••
That translates to DES. Enter DES to unlock a new screen.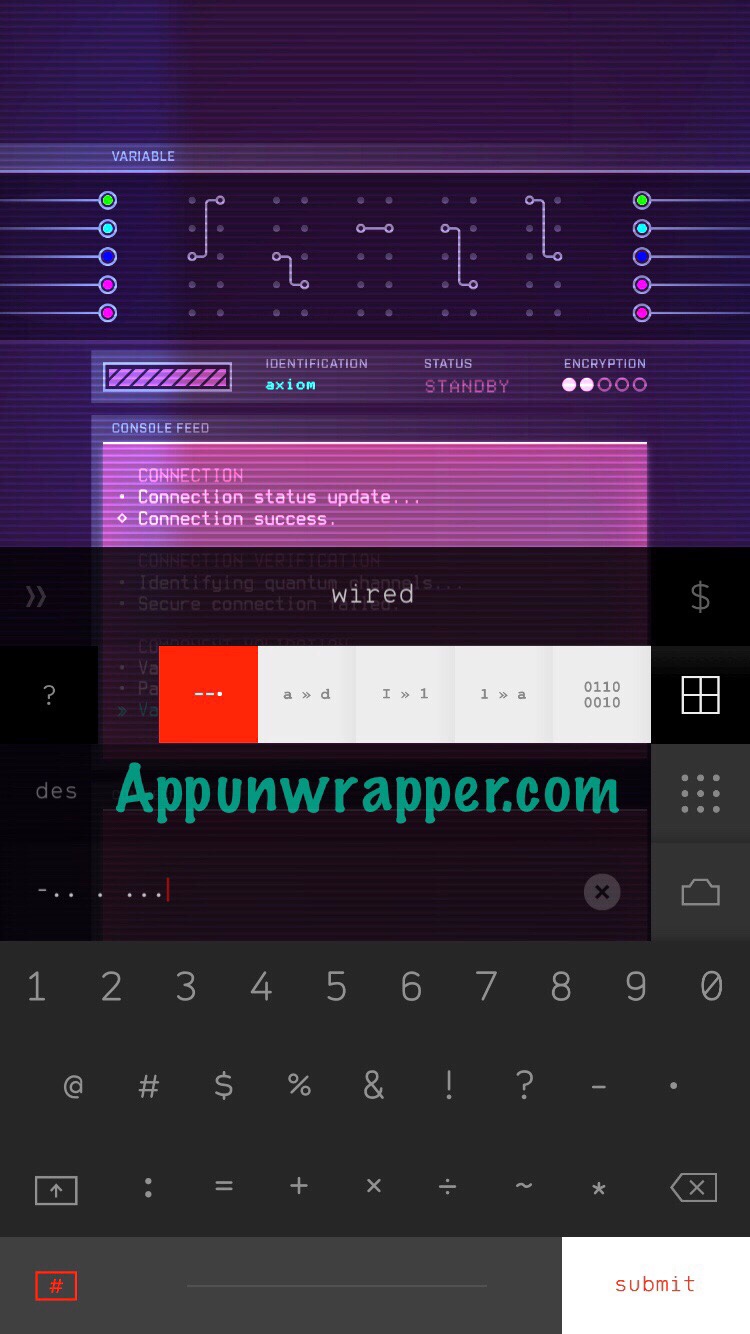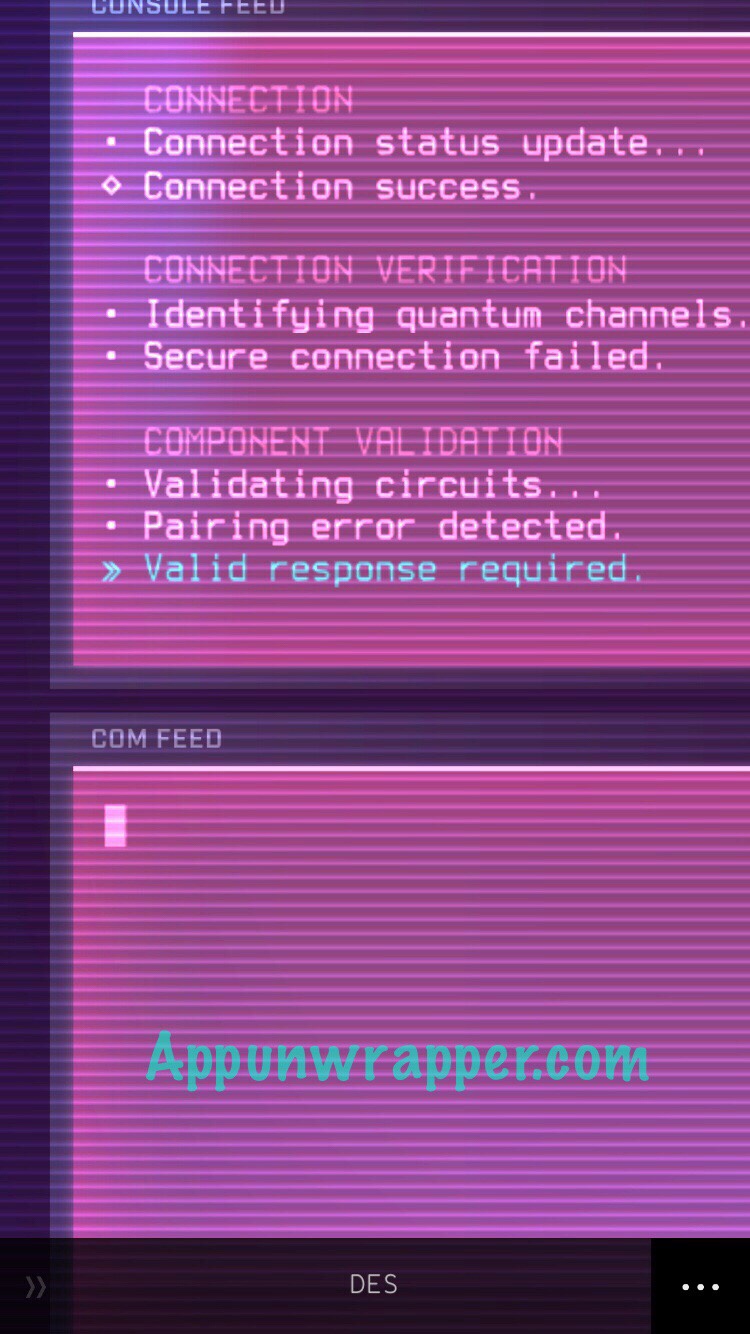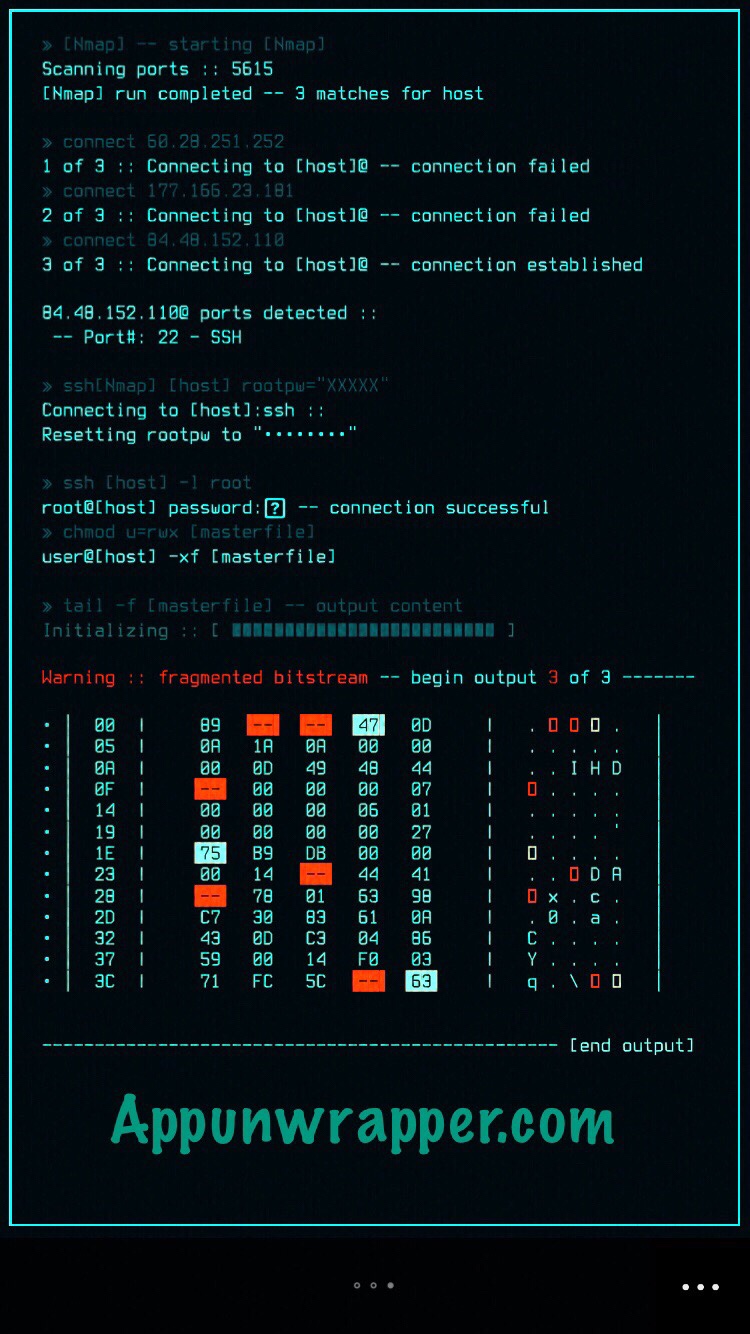 Level 53: Pay attention to the pattern of the bullseyes at the top of the screen. You need to tap the blank one at the end until you see one that will complete the sequence. Then press the little dash to the right of it. If you got it right, you'll unlock Level 54. Otherwise, it will reset to a different pattern.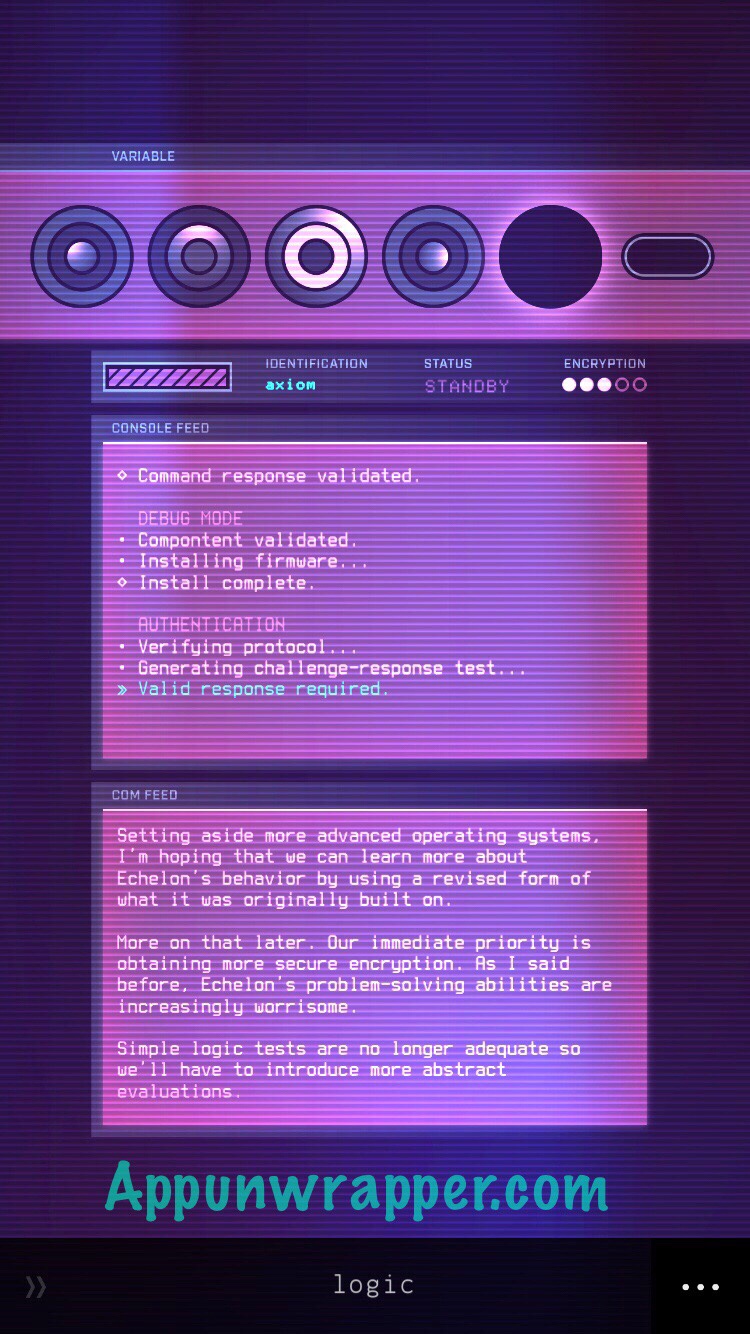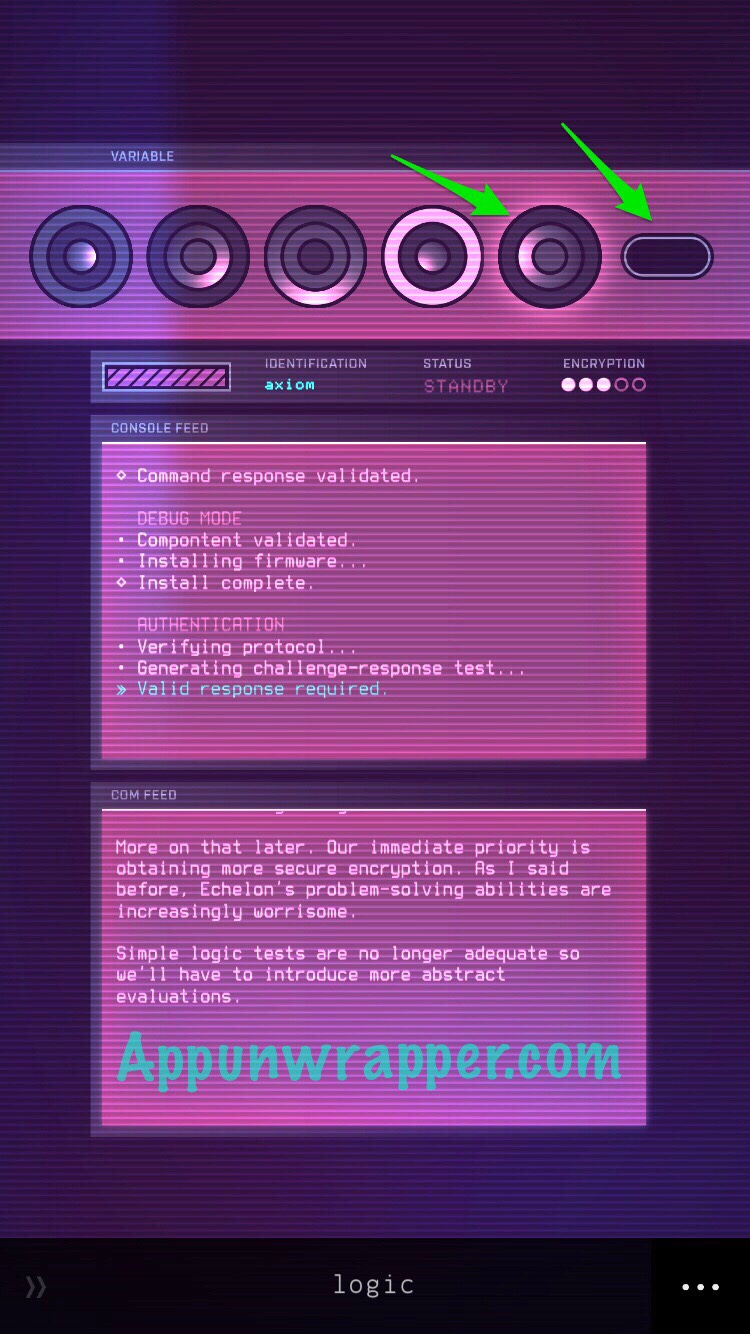 Also, if you swipe to the left, you can see this screen: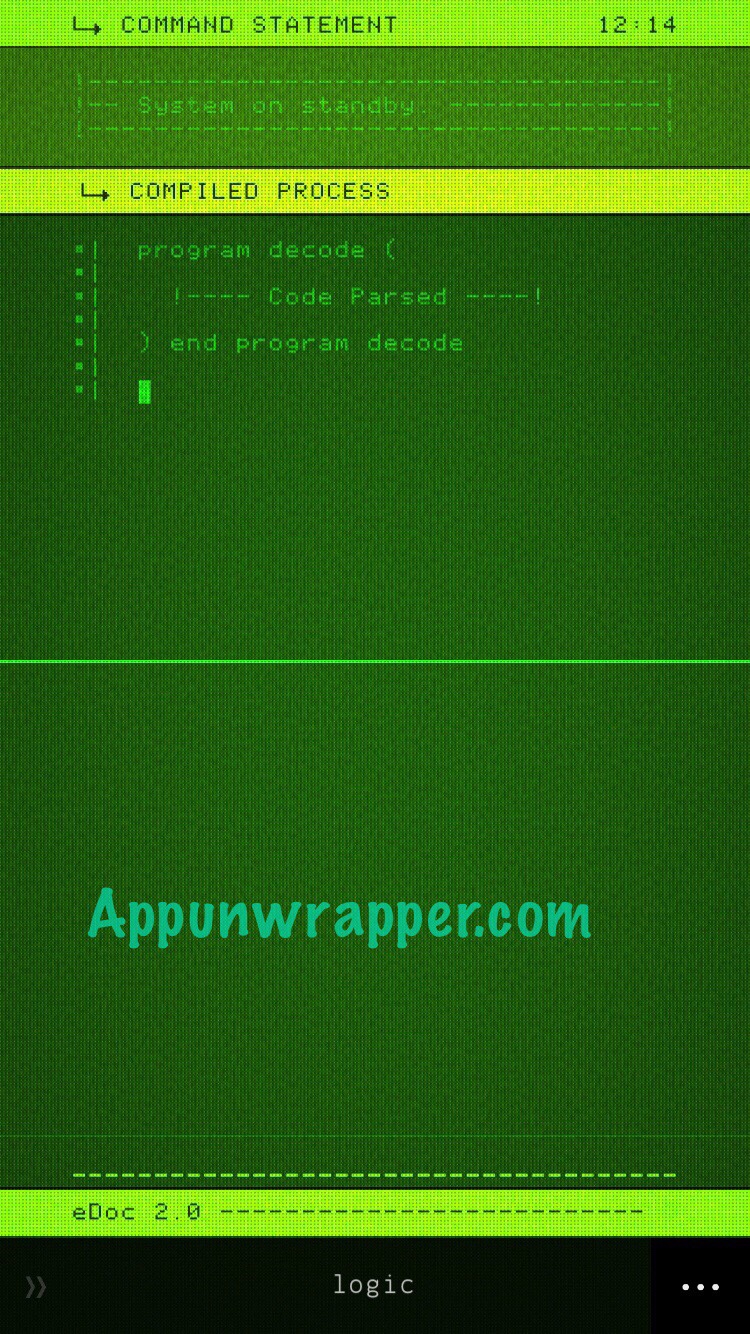 Level 54: Hint: – • — •–• • ••• –
It's Morse code. Translate it and you get TEMPEST.
Answer: TEMPEST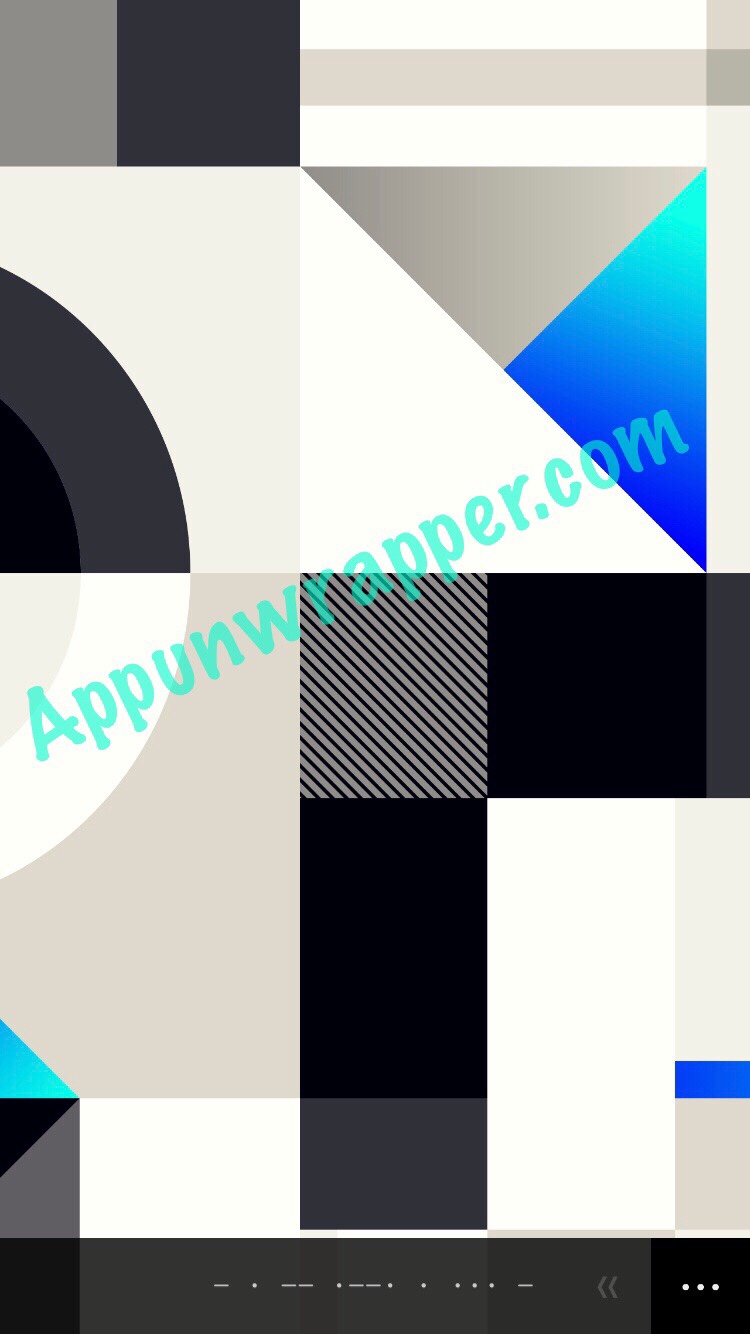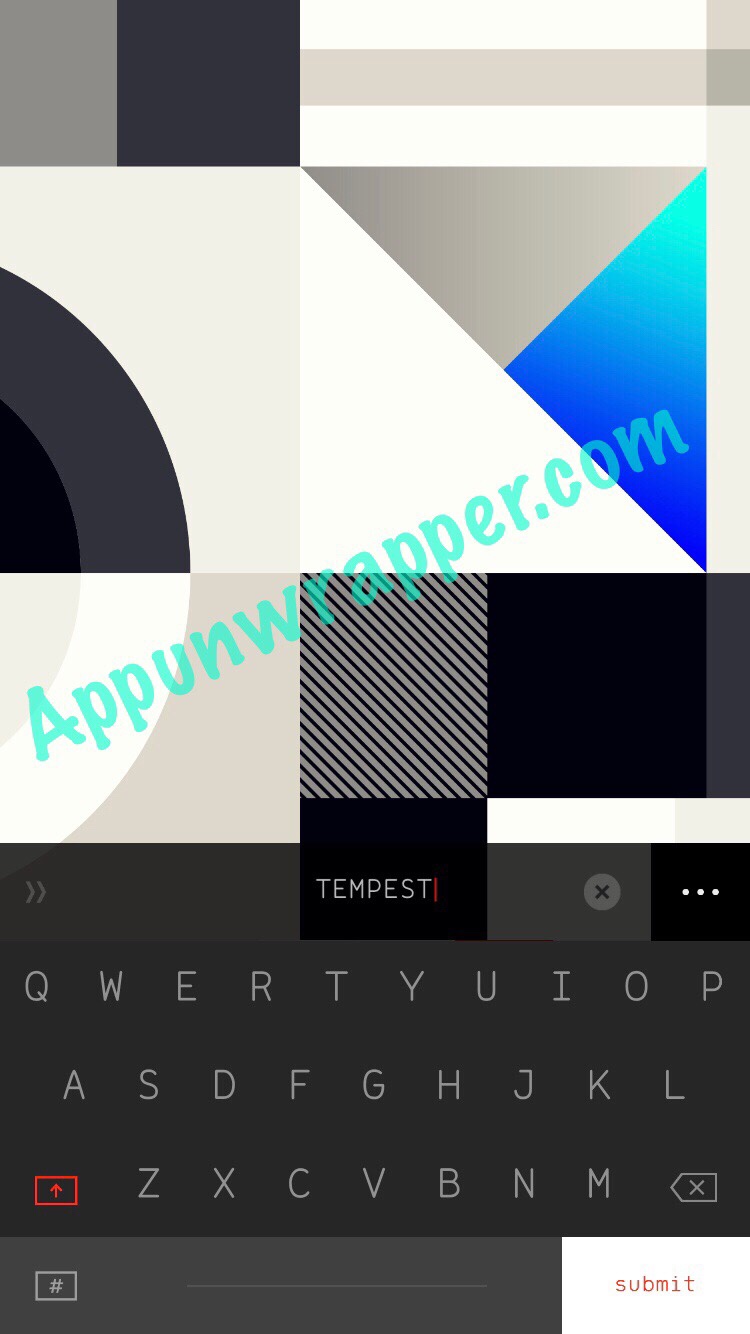 There's also this Morse code tree if you swipe to the left.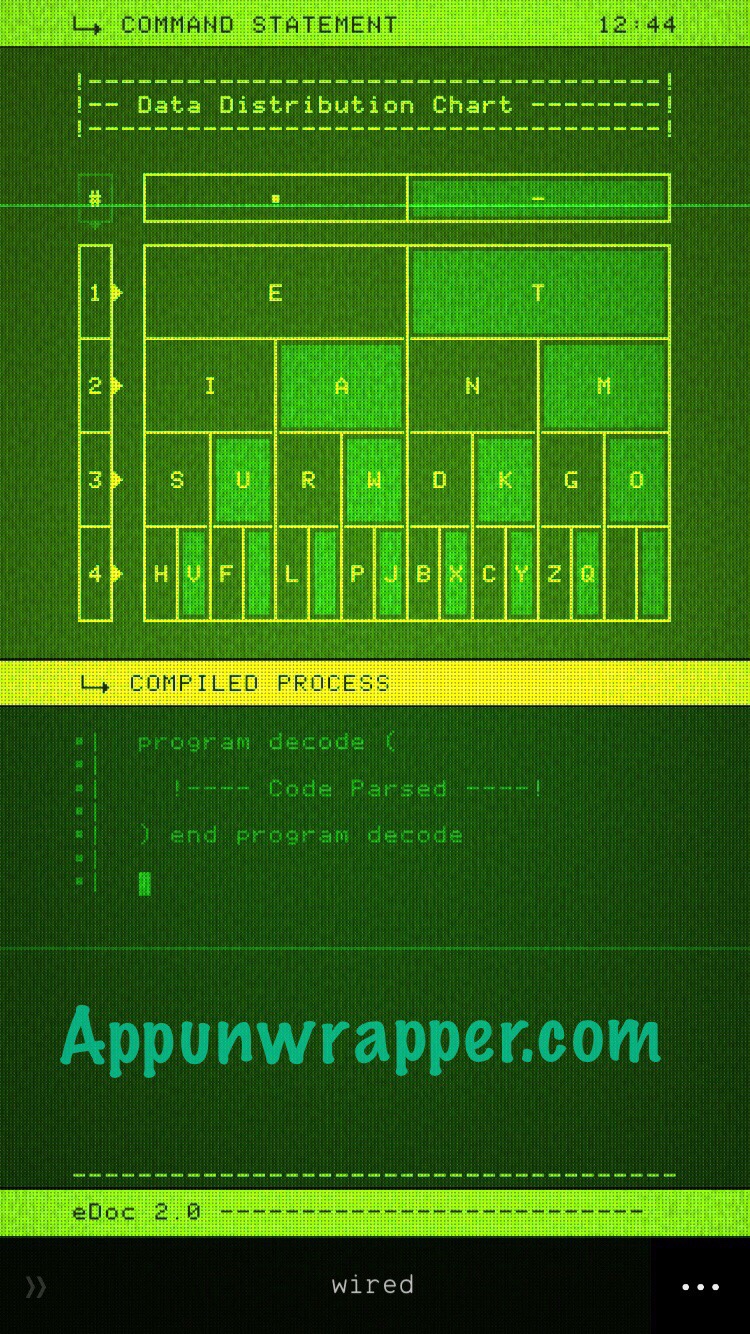 Level 55: There's more Morse code at the top of the screen. Use the decoder to translate it to TONE.
Answer: TONE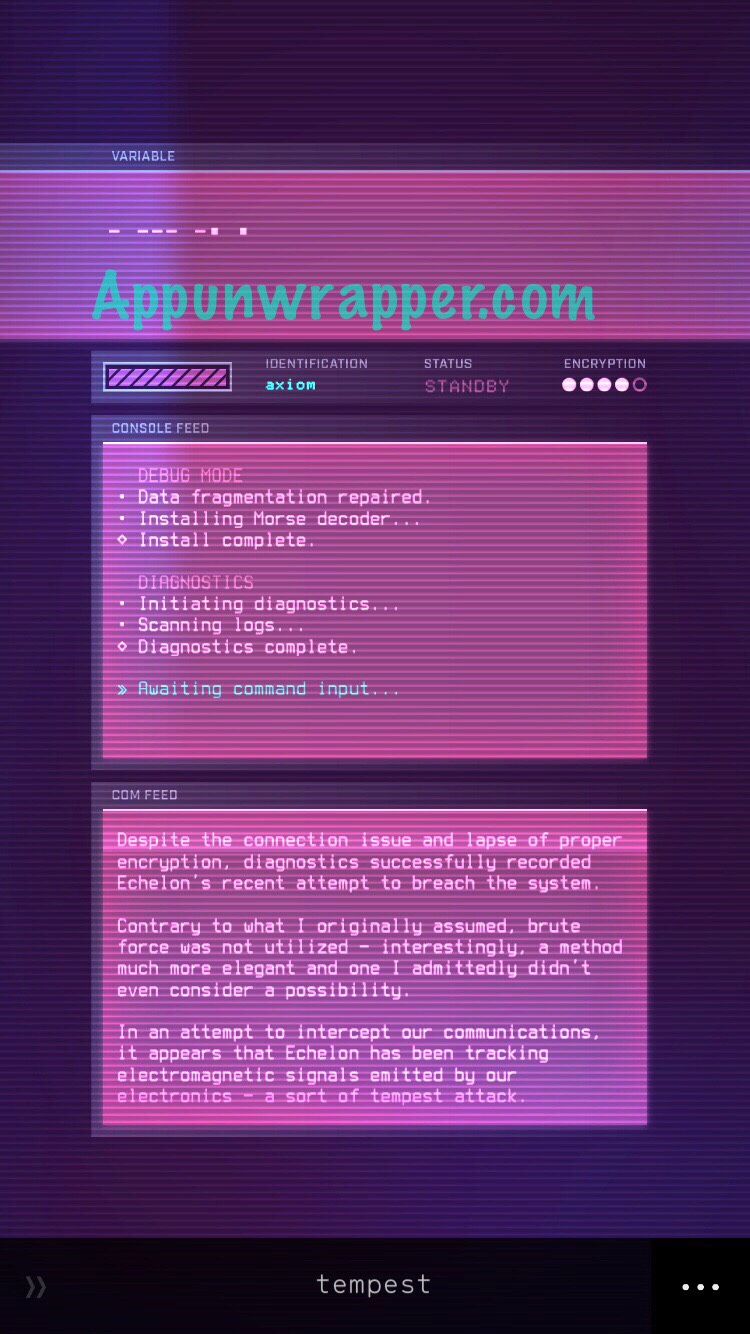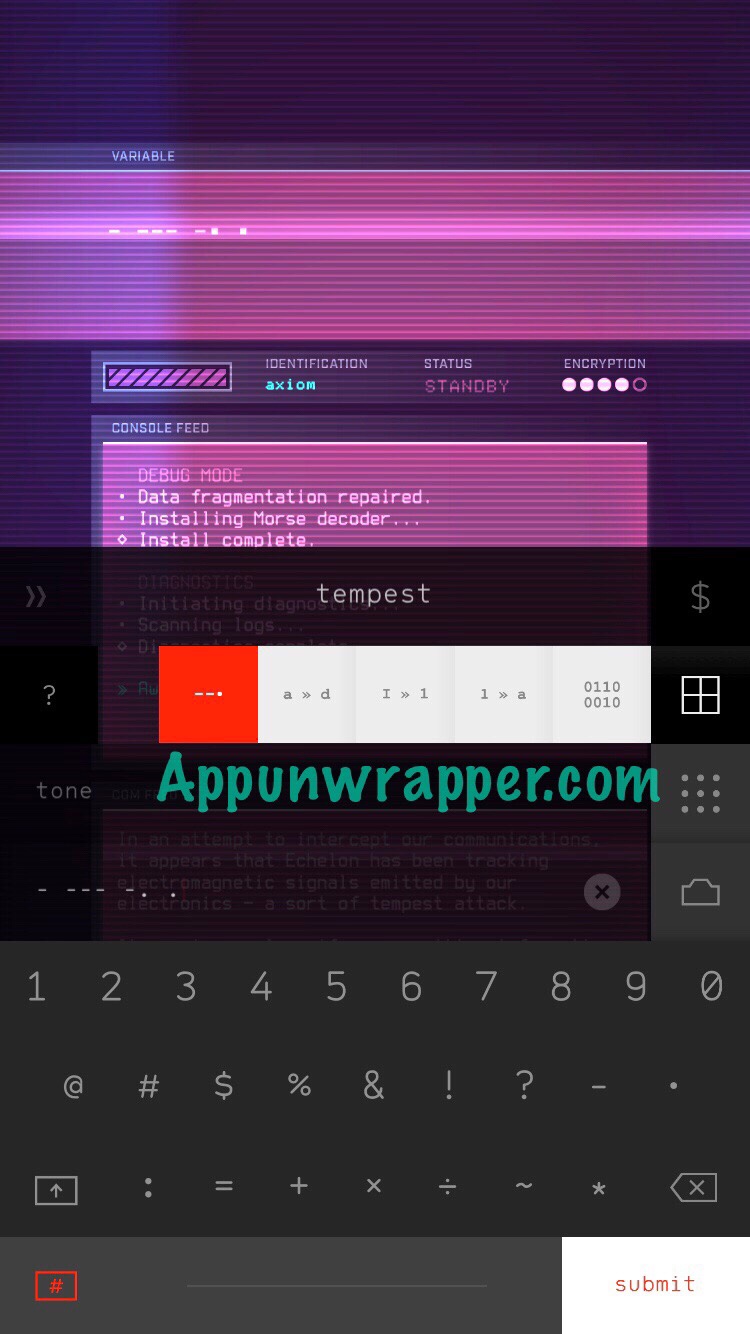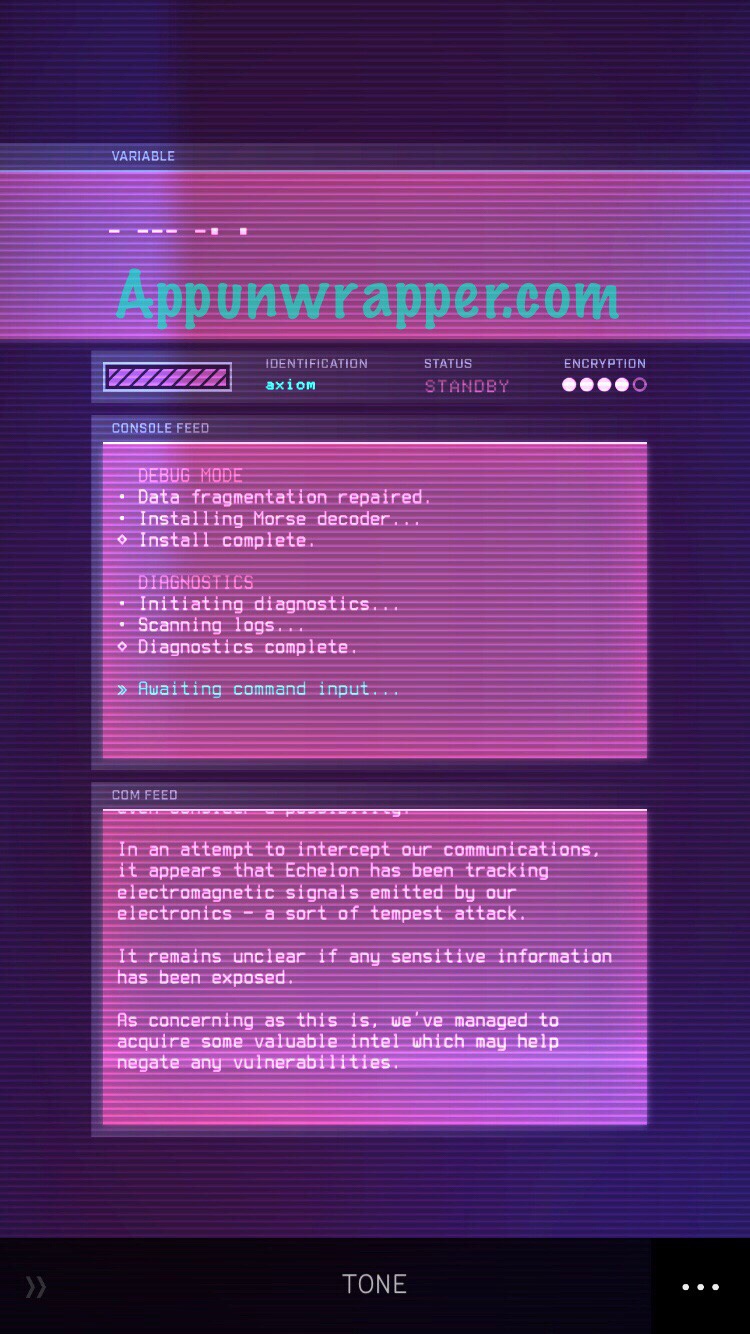 Level 56: Pay attention to the Morse code running across the top of the screen. You can also hear it. It goes:
— •–• •••
That translates to OPS.
Answer: OPS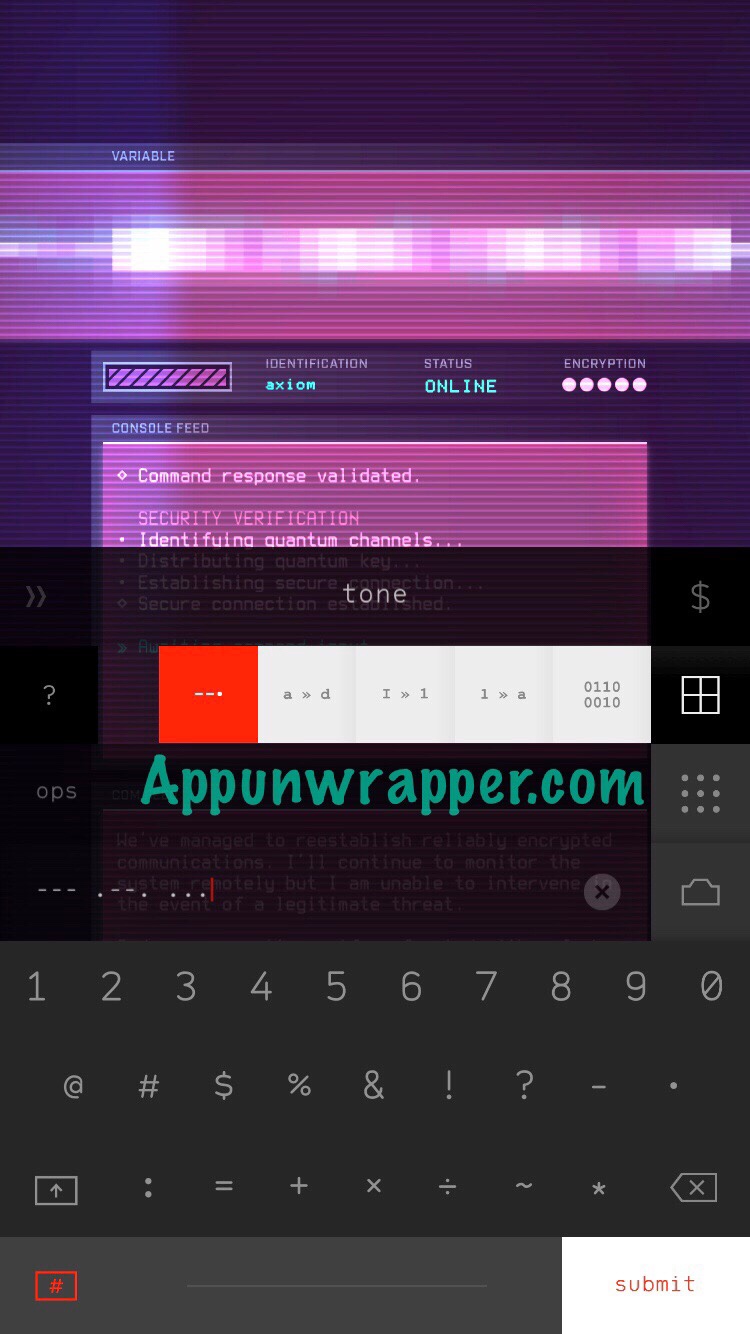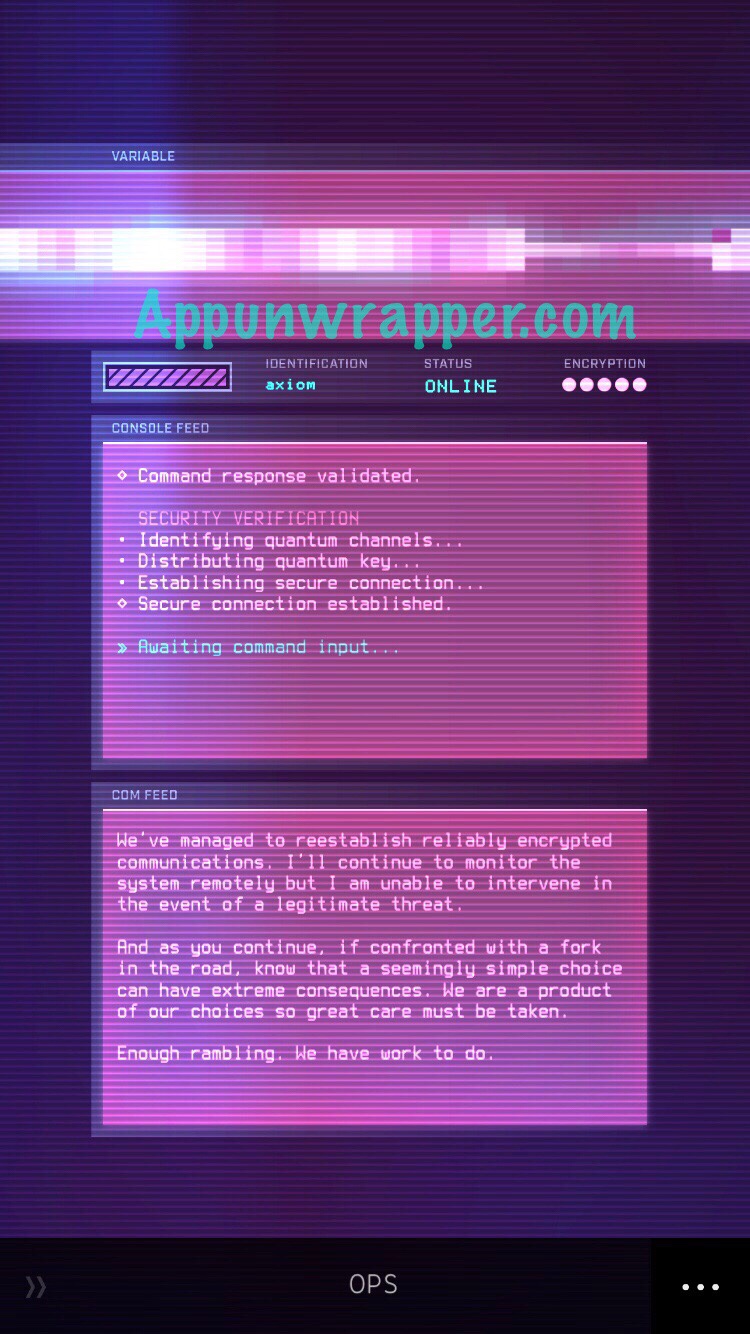 Level 57: Hint: Primary Network Link: 41
The arrow is showing you the tracker positioning for Level 41.
It also says: Network Links: 58, 59, 73, 76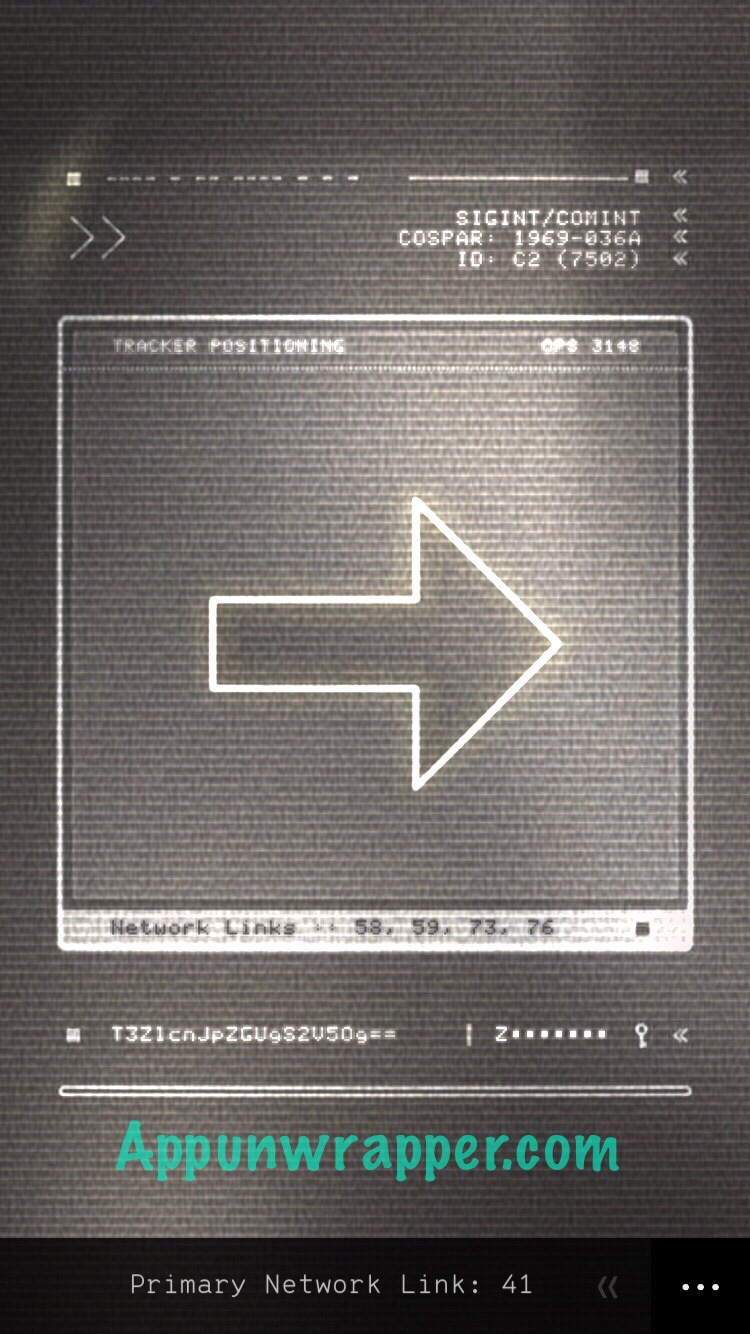 Go back to Level 41. Slide everything over to the right so that the dot to the right is red. Start writing down the binary:
01100100
01110010
01100001
01110111
01101011
01100011
01100001
01100010
Translate and you get:
drawkcab
Or: BACKWARD, spelled backwards.
Answer: BACKWARD
Level 58: The first two sentences read:
"After looking everywhere, the solution was located in a drawer. It was simply filed in reverse."
So reverse the word DRAWER to get REWARD.
Answer: REWARD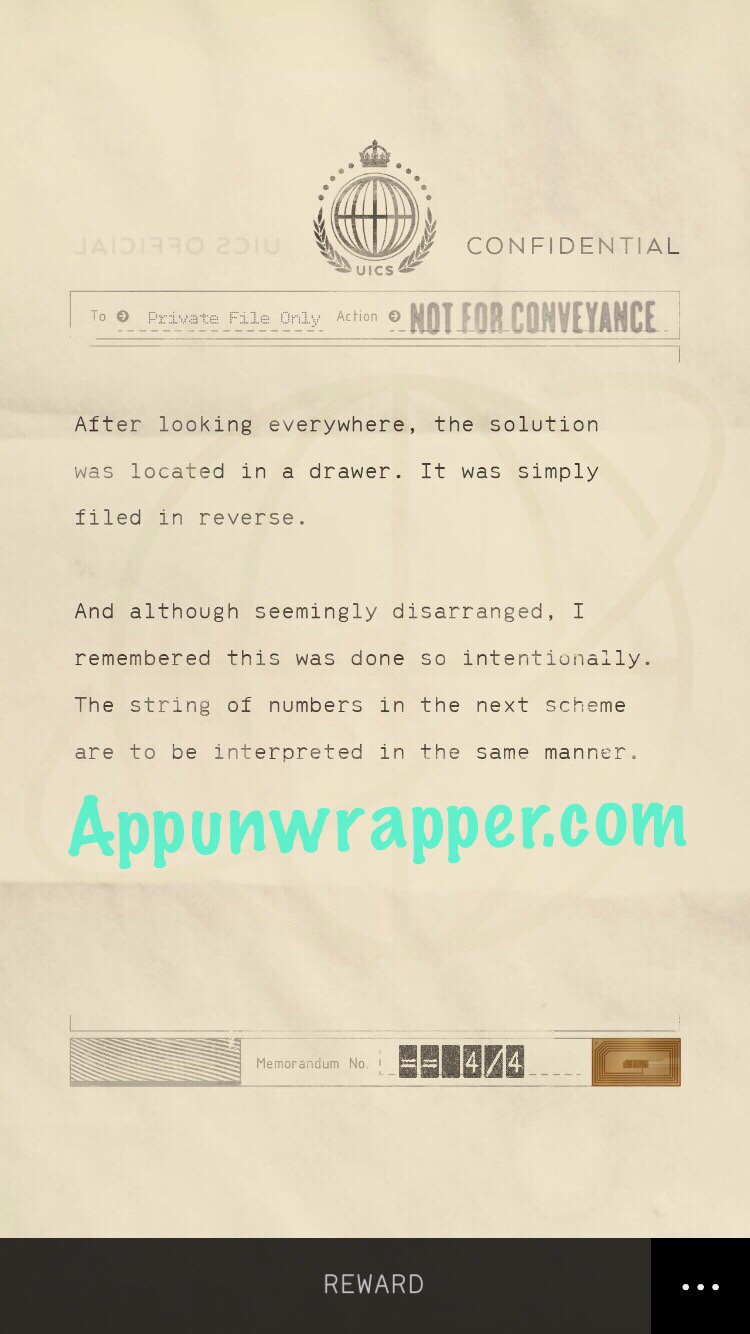 There's more to 58. Notice the == 4/4 at the bottom.
Find the other levels like 58, and note down what they say:
26: bG 1/4
43: 9v 2/4
49: cA 3/4
Put bG 9v cA into the == decoder from the original game, The Guides, to get LOOP.
Answer: LOOP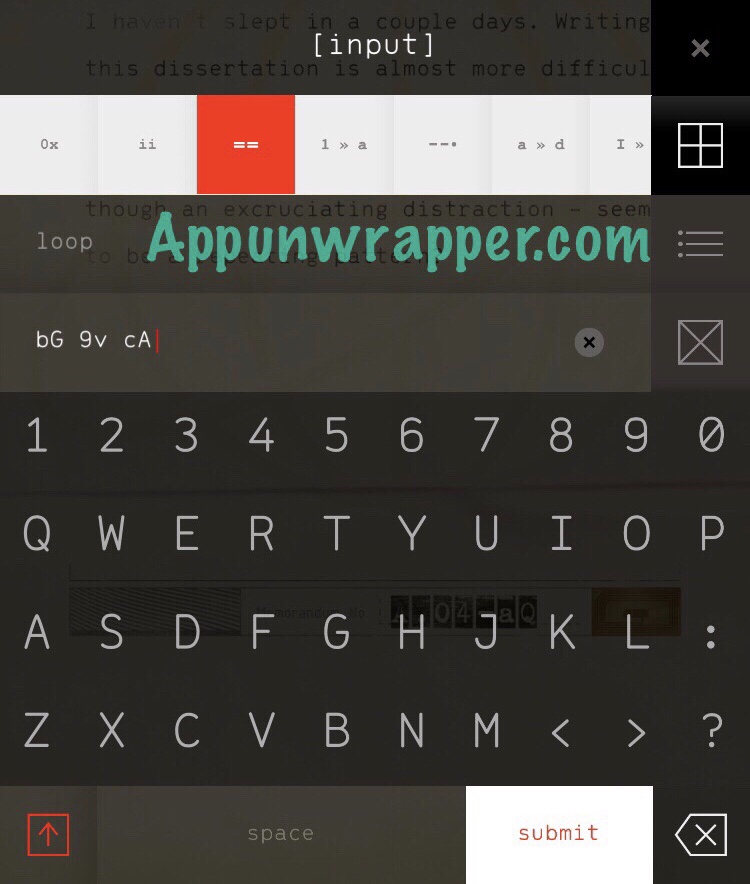 That unlocks another blank page.
Level 59: Hint: Data Scheme 4
The numbers shown are: 549354
Use the decoder to get EDICED. Reverse it to get DECIDE.
Answer: DECIDE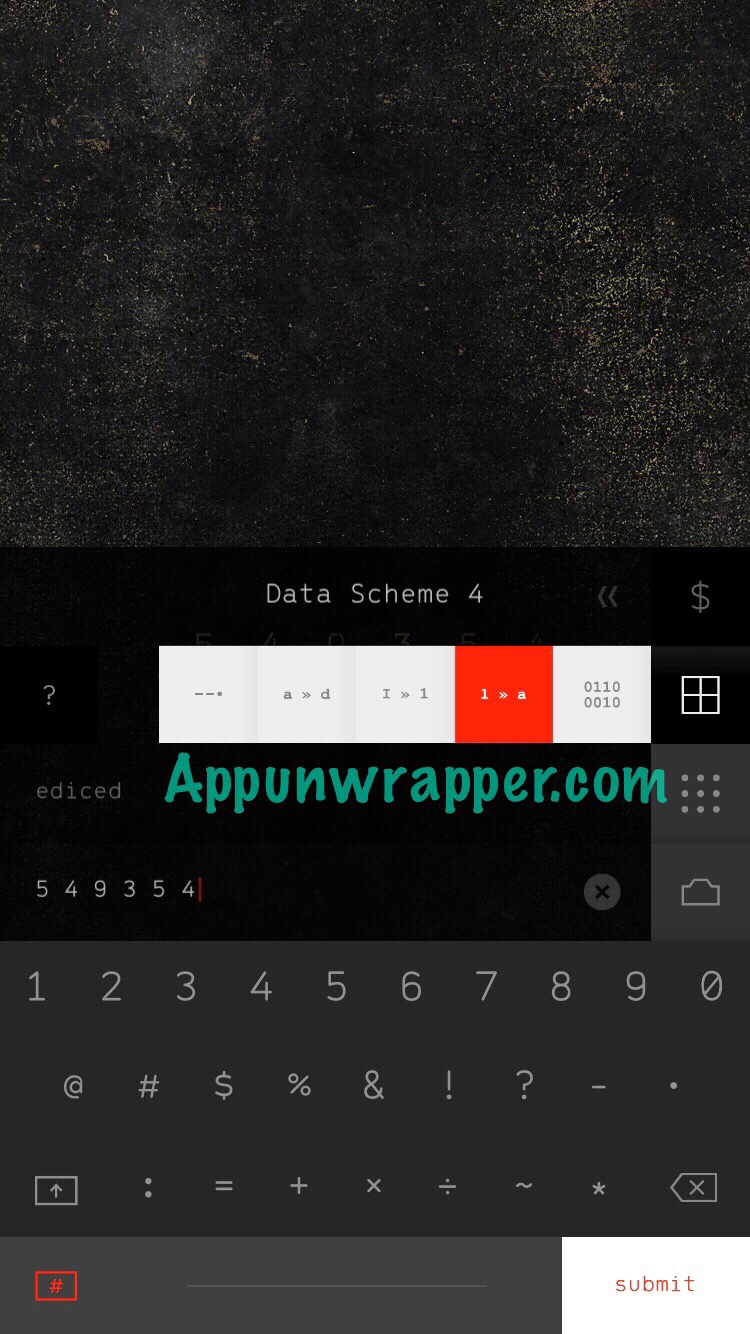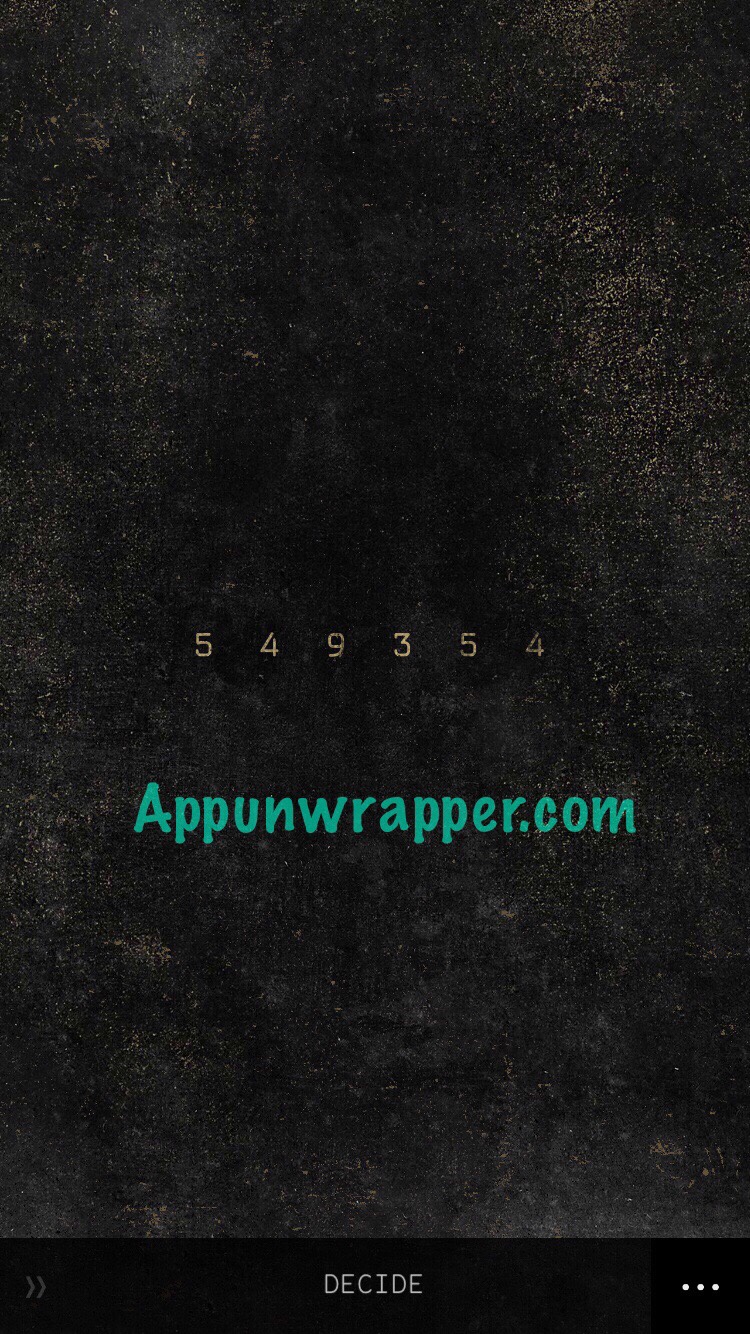 Level 60: Any input unlocks Level 61, which is a blank page.
Click on the little numbers below to continue to Levels 61 – 100, or click here.
***
Note: Sometimes a promo code is provided for a game, but it does not affect the review in any way. At AppUnwrapper, we strive to provide reviews of the utmost quality.

Check out my recommended list for other games you might like.

If you like what you see on AppUnwrapper.com, please consider supporting the site through Patreon. Every little bit helps and is greatly appreciated. You can read more about it here. And as always, if you like what you see, please help others find it by sharing it.

I also offer affordable testing and consulting for iOS developers.

COPYRIGHT NOTICE © AppUnwrapper 2011-2020. Unauthorized use and/or duplication of this material without express and written permission from this blog's author is strictly prohibited. Links may be used, provided that full and clear credit is given to AppUnwrapper with appropriate and specific direction to the original content.