TypeShift
By: Zach Gage

Zach Gage's fantastic word game, Typeshift, just got a new free crossword puzzle pack called Pumpkin. These are fan puzzles made by Robert Seater and each one has its own set of rules, making it more challenging than usual. So I'm going to help you solve all of them. Obviously, this walkthrough will spoil things for you so only look if you've give up on your own.
I'm putting each puzzle on its own page to minimize spoilage. Use the links at the top or numbers at the bottom to find the page you're looking for.
Puzzle 1 | Puzzle 2 | Puzzle 3 | Puzzle 4 | Puzzle 5 | Puzzle 6 | Puzzle 7 | Puzzle 8 | Puzzle 9 | Puzzle 10
Puzzle 1, Short Puzzles by Robert Seater:
1. Sequenced templars: ORDER
2. Witch transport: BROOM
3. Trims a plant or photo: CROPS
4. Cryptographic programmer: CODER
5. Hunter trash thieves: COONS
6. But wiser?: OLDER
7. A voice or a bomb: BOOMS
8. Sounds of trotting hooves: CLOPS
9. Chickens working together: COOPS
10. Helium windfall: BOONS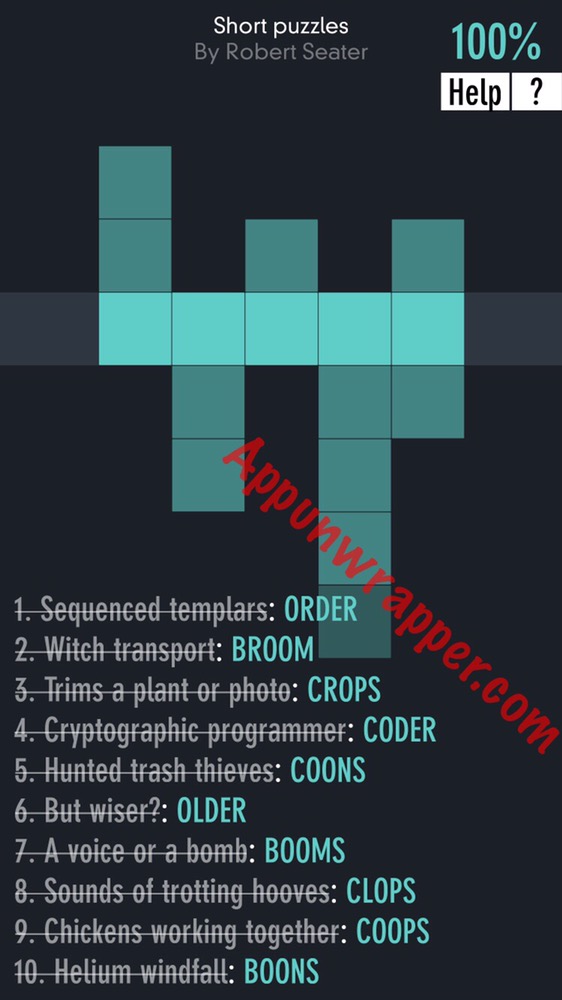 Click on the little numbers below to continue to Puzzle 2, Start as you last ended, or click here.