follow.trail
By: Grzegorz Pykacz

Update: The contest is over, but there are four puzzles at the bottom of this page that include promo codes for the game! See if you can solve them and please let me know if you get one.
Not too long ago, I reviewed Grzegorz Pykacz' unique endless puzzle game, follow.trail. I liked it so much that I put it pretty high up on my Recommended List. It doesn't really give you much of a tutorial, but instead expects you to discover how the game works through trial and error. I found that really compelling, and especially liked that it has an unlimited undo button that encourages trying different solutions instead of punishing you for making a mistake. It's a very relaxing game, but still challenging.
I solved over sixty-five levels so far, but there have been so many great games lately that I haven't been back to it in a while. Since there appears to be 9,999,999 levels, it's not a game you finish so much as play here and there when you have some time to spare. And that's what I love about it. Like Yankai's Triangle, I know it will always be there for me whenever the mood strikes. It's also a perfect one-handed game that can be played anywhere.
There were some minor features I wanted to see, like iCloud sync and a way to replay older levels so I could help others pass a tricky level I already completed. The game also was iPhone-only before. Well, the developer has been hard at work implementing iCloud, a level selector, and iPad optimization. He even added GameCenter leaderboards so you can see how you compare to others. There's literally nothing left to ask for. I'm blown away by a solo developer putting in that extra effort to appease his fans. The level selector is also super slick, with a slider to the right that lets you quickly race past all the levels you completed. Grzegorz also managed to keep the layout just as minimal as before, because you access previous levels by tapping on something that was already on the screen. It's the best of both worlds.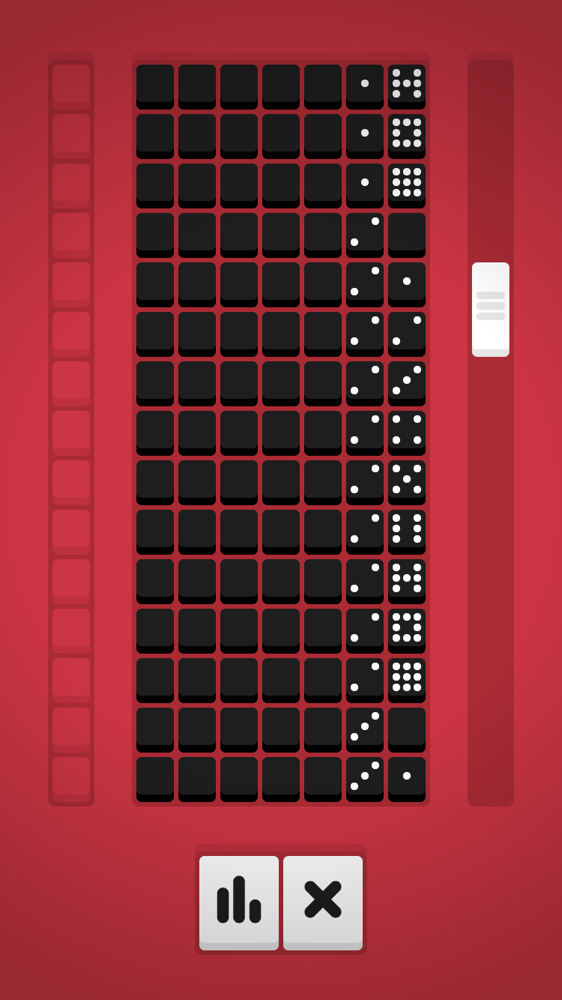 And to celebrate the update, the developer was nice enough to provide me with some promo codes to give away. Five lucky readers will get this endless puzzler absolutely free. I have five (5) iOS codes to give away. If your wallet is hurting from all the great PC and console ports we got over the last few weeks, this is your chance to get another amazing game without spending a penny. Please read the instructions below carefully to make sure your entry is accepted.
Here's how to enter:
1. Make sure you're following @AppUnwrapper and @gpykacz  on Twitter. You can also "Like" my Facebook page for an extra entry.
2. Tweet this message:
I entered for a chance to win a copy of 'follow.trail' by @gpykacz on iOS! Follow @AppUnwrapper & enter here: https://www.appunwrapper.com/FTgiveaway
You can also share this page via Facebook for a second entry.
3. To make sure you're entered, comment below with your Twitter/Facebook username and any methods you used to share, so I know you're interested in a promo code. Winners will be contacted through Twitter, Facebook or e-mail.
The contest will end October 4, 2017 at 8:00 PM EST and there will be a drawing for five (5) iOS winners. Please make sure to use the codes ASAP, as they do expire. To use the codes, go to the "Featured" tab in iTunes and press "Redeem," log in to your account and then paste the code in the text box. Then download and enjoy!
Good Luck!