I was browsing my Twitter feed today with my morning coffee and had an odd conversation with Graham Ranson, one half of Glitch Games. He said I might have already seen one of their next games without realizing it. I thought it was strange, but I didn't pry just yet.
I continued about my day, playing some Starman, which I highly recommend, by the way. A short time later, I see a tweet from Glitch Games about how they got no responses to their super secret press release. I quickly checked my spam folder but didn't see anything from them.
Could this be? Did they forget about me? I was a bit offended. But they told me I should have gotten it. So I kept looking.
And then I recalled that odd "spam" I got yesterday and possibly even deleted. It was from Veritas Industries and they were looking for human test subjects. The reason I even remembered it in the first place is because by some weird coincidence, Veritas is the name of the company that manages my apartment building. After a quick glance at it and determining it was spam, even if it was a strange email to get to my AppUnwrapper account, I forgot about it.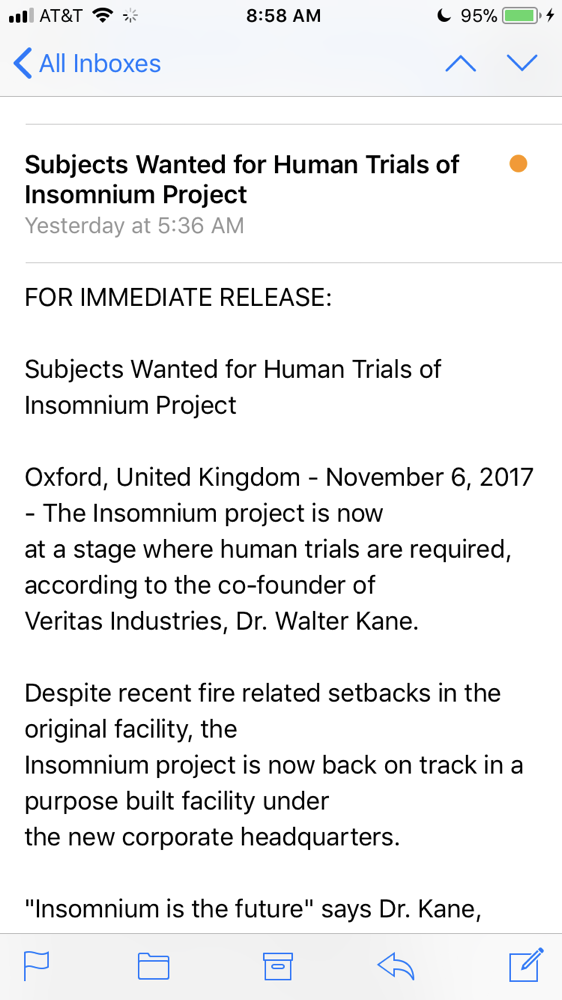 But now I saw a second one, this time in my spam folder. And then everything started to come together. This email addressed me by name, the subject is strange, and already by the end of the first paragraph you can tell something's very off. Aha! Those sneaky bastards!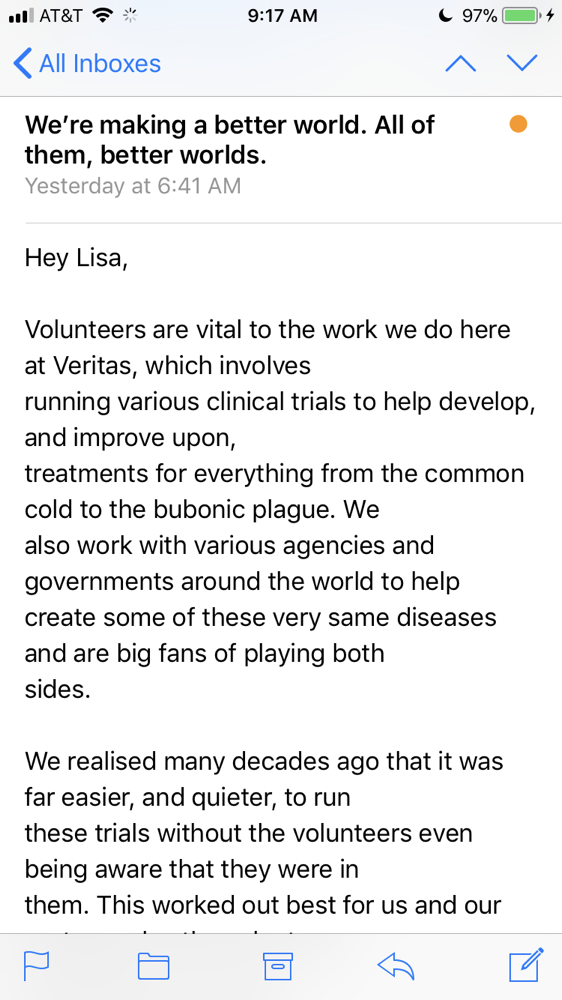 So I clicked on the the link at the bottom of the email that leads to the Veritas Industries website. As odd as the site is, and though much Glitch humor is present, there's no actual mention of Glitch Games or that this is indeed even a game. So I think everyone can be forgiven for missing the connection. But now that I know, I noticed things like FaultyRobot, which has a similar logo as the Glitch Games one.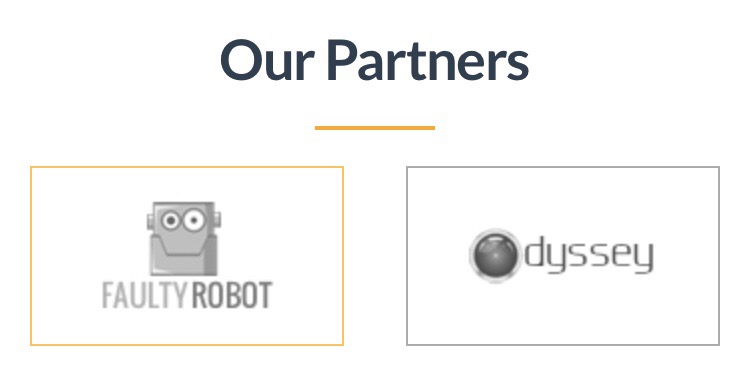 It looks like the game will probably be called Insomnium, but I haven't gotten confirmation about that yet. They're still keeping details under lock and key until later this week. So for now, you can just enjoy browsing through the site looking for Easter eggs and other clues as to what the game might be like. Personally, I love the subject matter, as it has the potential to be both disturbing and absurd at the same time.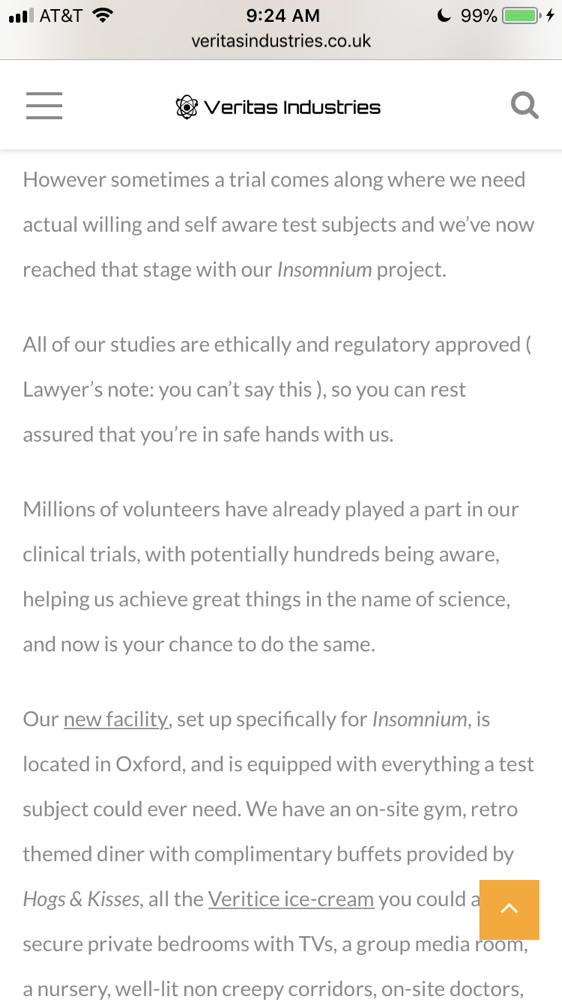 Also, if you sign up to be a volunteer, I'm pretty sure that it's really a newsletter, or even the opportunity to beta test the game, but I could be wrong. You'll just have to try it to find out!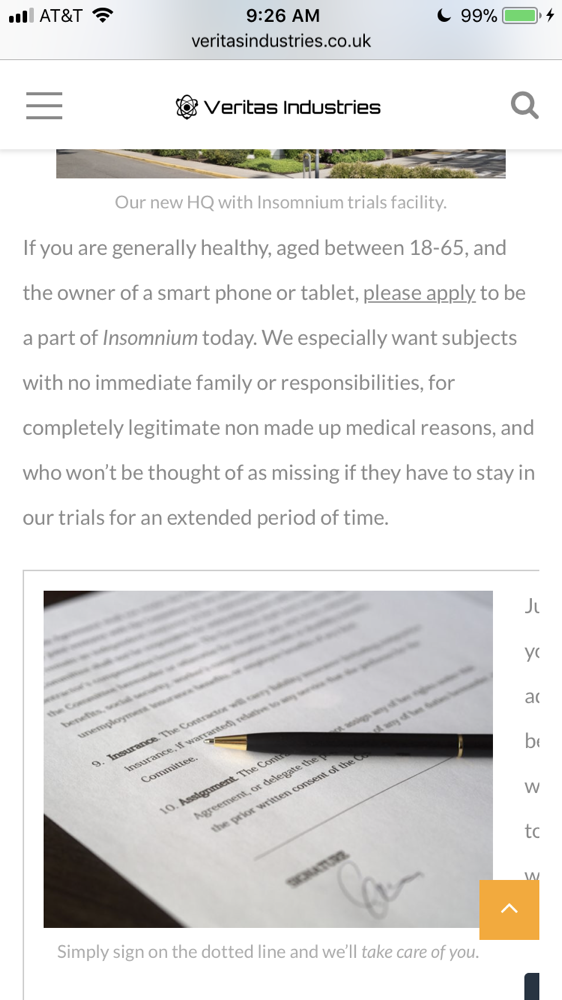 So once again, click here to see the full website. They put a lot of work into it and any Glitch fans should enjoy poking around. And make sure to check back here later, as I'll share any new details I get.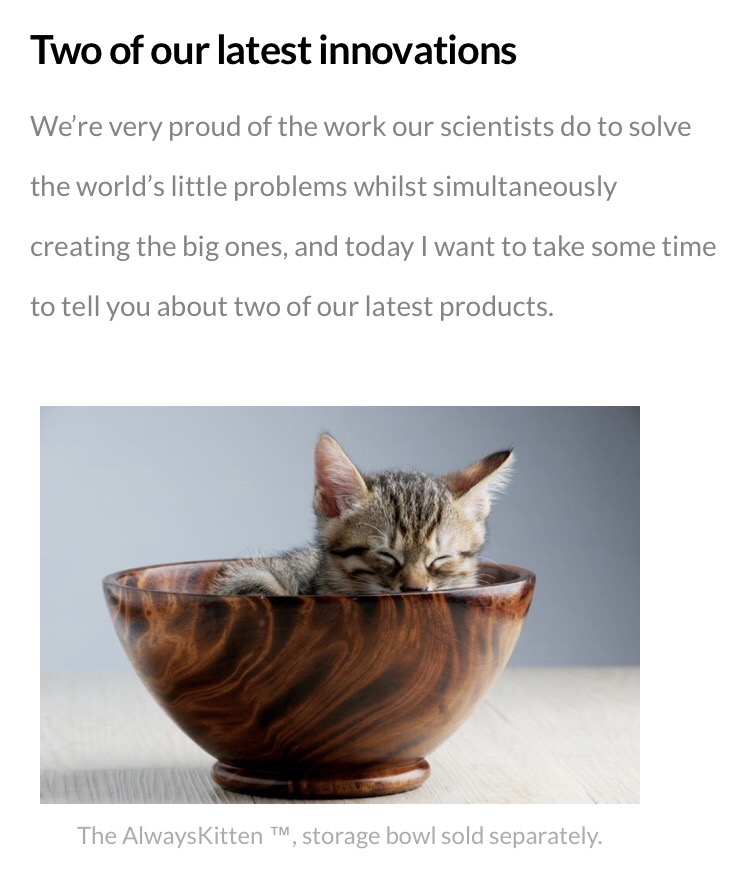 I mean…