JoinDispatch
By: Kyle McCullough (SpectreVision)

Not sure what to do with your life? Do you want to make a difference in the world but don't have the training, or the time and money for an education? Thanks to a trend started by Uber, experience isn't an issue as long as your standards are low. The new Dispatch Emergency Response Service is the latest company offering people the freedom of self-employment without any of the benefits of owning a business. A quick glance at their website explains how you can help your community and save lives without any previous training or experience. Dispatch allows anyone with a smart device to answer calls for help and determine how to best handle the situation. If you've been struggling to find meaning in your life, continue reading below to learn how you can join Dispatch.
If you want to start saving lives while maintaining a flexible schedule that works around you, the first thing to do is download this app. After some brief training, you should have an idea whether this is the right job for you. If so, you'll be prompted to pay the low, low, one-time fee of $0.99 to become a full-fledged Dispatch employee — but you will, of course, be hired as an independent contractor so Dispatch doesn't have to pay any of your taxes or provide any benefits. But you'll be doing meaningful work, and that's all that matters, right?
At Dispatch, you'll have a number of tools at your disposal, but they're limited. Depending on the situation, you may want to send the caller an ambulance, police car, or fire truck. But keep in mind that if you send one when it's not absolutely necessary, you may end up without one when you need it. So try to use the skills you pick up on the job — such as First Aid or Science — to walk callers through their emergency. That will also save Dispatch money, as those emergency vehicles don't come cheap — especially when they're able to respond in a matter of seconds, faster than state-funded services or any of the competition.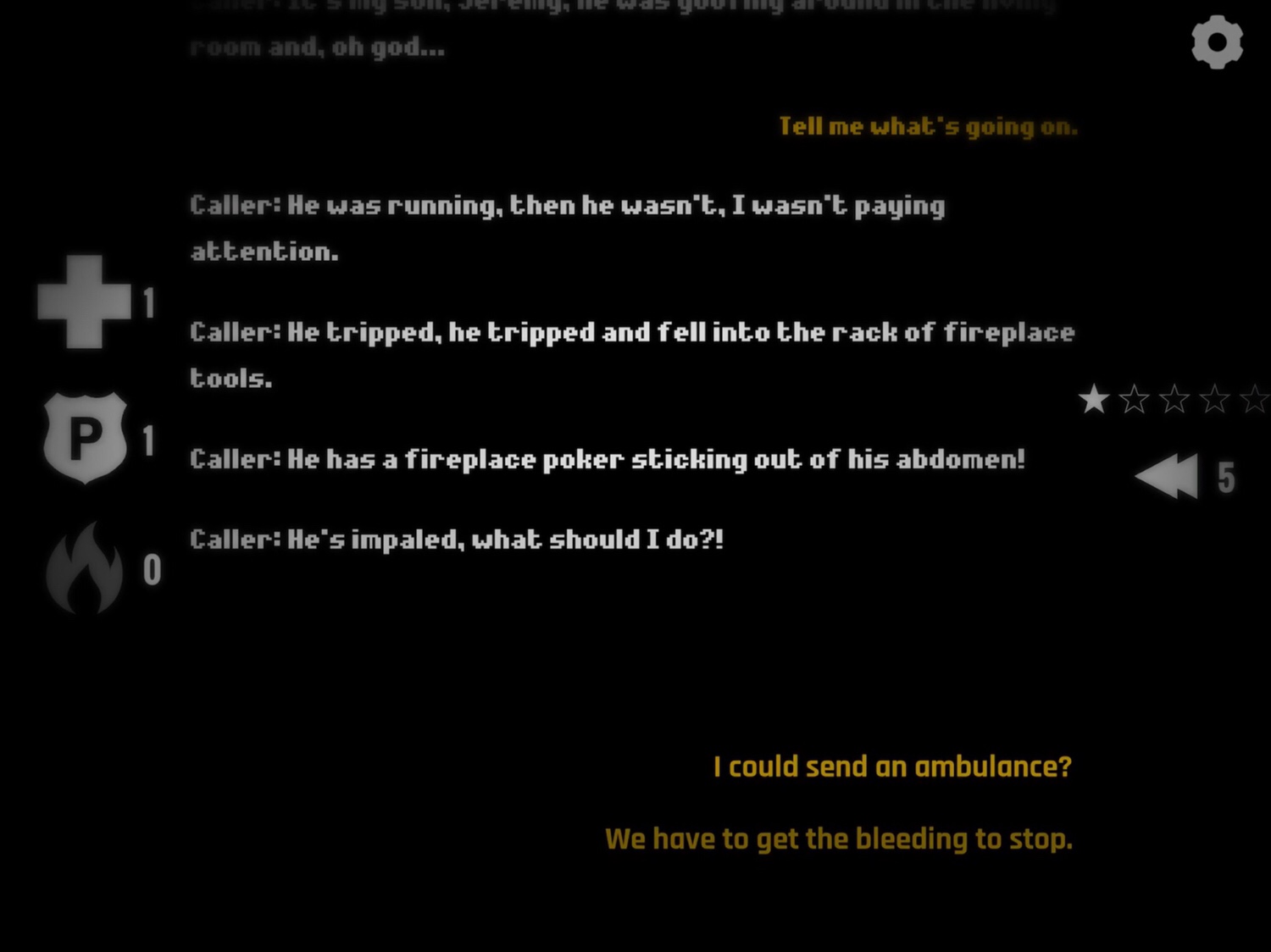 Dispatch believes in rewarding employees for a job well done, so callers are asked to rate their dispatcher on a scale of one to five stars. If you consistently please your callers, you might even move up in the company! But keep in mind, the app is still new and has some kinks to work out, so your star rating might not always reflect the actual rating. The system might also occasionally have trouble recognizing one of your skills. I have faith in the app developers, though, that they can squash these bugs in a timely manner so we can focus on what matters — helping people and earning a somewhat decent living.
If you do mess up and manage to anger a caller, Dispatch has control over time and space itself, so you can either restart the call and try to do better, or use your limited number of rewinds to change your last response. You might wonder why Dispatch is using such amazing powers in very limited capacity, but remember, you're not hired for your skills or education, so leave the thinking to your manager. We dispatchers need to focus on the callers and helping them in their emergencies. Everything else is outside of our pay grade.
On your first shift, you might take calls about snake bites, home invasion, strange odors, or even a Slide 'n' Slip mishap. You need to decide if something like a cat up a tree is worth wasting your time with while someone trying to get through is bleeding out on their kitchen floor. Dispatch doesn't believe in hand-holding, but your manager will step in if you're found wasting resources on non-emergencies. The best way to hold onto your new rewarding job is to follow instructions and keep your head down. If something seems strange or a caller isn't acting normal, don't investigate it. Just tell your manager and the problem will be dealt with swiftly. Otherwise, you may never make it to your second shift. And we wouldn't want that, would we? I'm sure you'll do fine, though. Most people make great Dispatchers, as any skills you need can be learned on the job.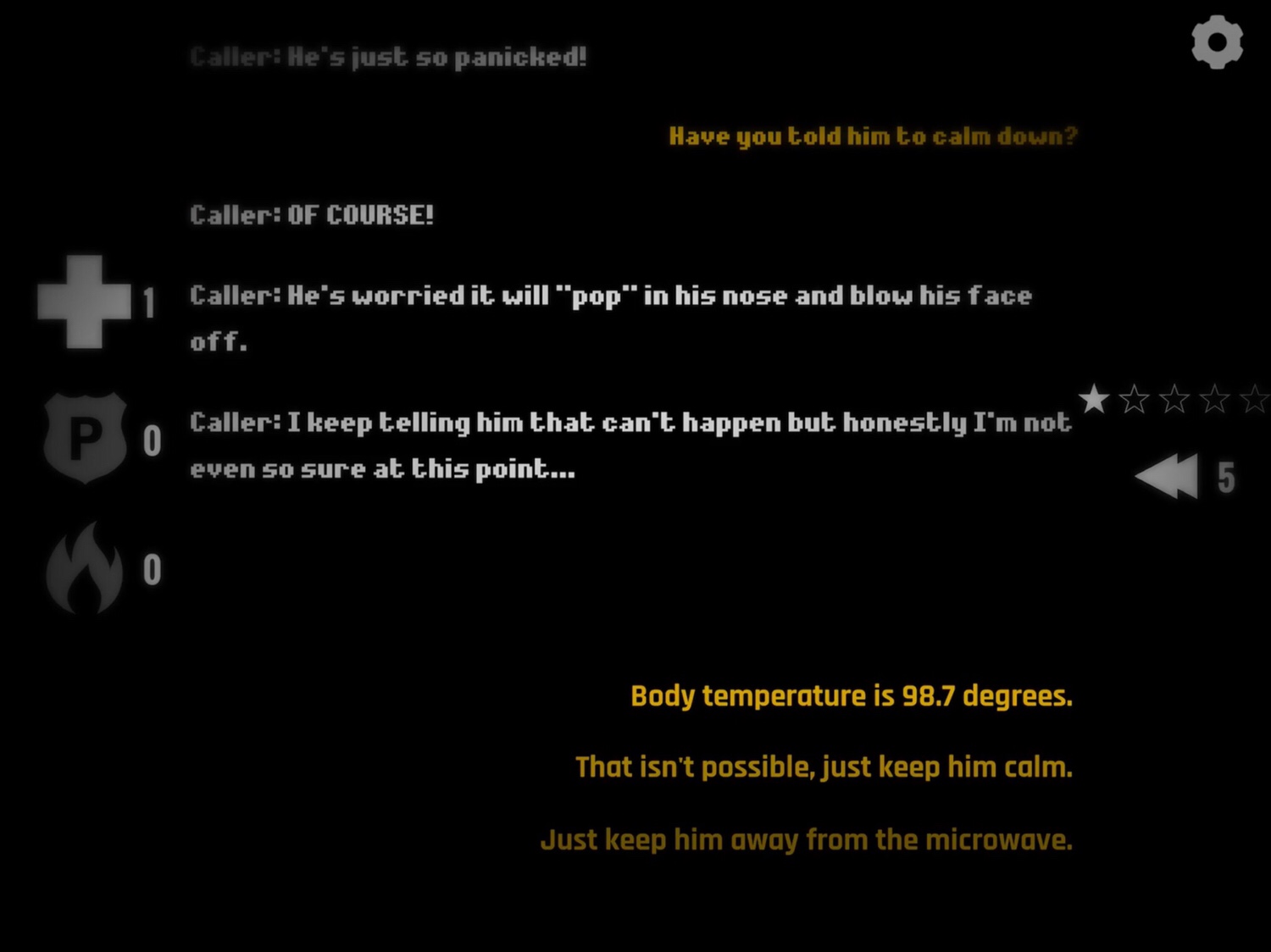 So what are you waiting for? Download JoinDispatch now and start your training today! A more fulfilling career is just a click away! If you'd prefer to see another Dispatch employee in action first, you can watch my own logs that were recorded below to ensure that I was performing my duties at the adequate standard expected of all Dispatchers. Take it from someone who just got off their first shift and can't wait to start their second when it becomes available — Join Dispatch! In fact, I like the job so much, I turned back time so I could start fresh with the same callers and try to do better for them while maybe even learning new skills. If my experience is anything to go by, I don't think you'll regret joining the Dispatch family.