Hi everyone and welcome back to My Week Unwrapped, where I talk about all the games I've been playing over the last seven days. Forgive me if this isn't up to my usual standard, as I had my face drilled today and there isn't much that scares me more in this world than the dentist. Still, last week's got pushed off because my site crashed right before I was about to publish. So I didn't want to delay this week's roundup, especially since there's so much to cover. So please bear with me as I take you through my adventures in gaming.
JoinDispatch
I had pre-ordered SpectreVision'a JoinDispatch probably a month before release, since it was free and sounded like something I might be interested in. I actually thought it would be more like HERO Unit, in which you answer emergency 911 calls and respond accordingly. While I enjoyed that game to some extent, I wasn't blown away by it. So I was interested in seeing JoinDispatch's spin on the genre, but also kind of just expecting more of the same and tried not to get my hopes up. I also didn't read the entire description, so I didn't realize that the emergency response system is only part of the game, that there's an underlying story reminiscent of Papers, Please! and Replica. This is a game that totally gets my sense of humor and I loved every second of it. Despite some bugs, I was able to play through it twice and unlock most of the secrets. I seem to be missing some skills, though, so I might take a break from it for a while and play through it again to see what else I can find. Overall, I think it's a must-have experience. The game is free to download and play through the tutorial. Then, you pay just $0.99 to unlock the rest of the game, which is currently one season. The developers want to add more and continue with the story, and the best way to make that happen is to support the game. It's cheap and well worth your time. And I just learned last night that Elijah Wood is the Creative Director of SpectreVision, so that's pretty cool. You can also read my full review, which I attempted to do in character. I don't know how well I pulled it off, whether it makes it sound like a sponsored post. But I assure you, that was all me. I was having so much fun writing the intro paragraph that I just ran with it and stayed in character the whole time. If my review wasn't effective, I hope you'll take me seriously here and give the game a chance.
The Guides Axiom
The Guides Axiom, the sequel to The Guides, recently got an update that added a few more free levels, as well as a paid expansion pack that offers twelve more puzzles for $1.99. I bought the expansion and made a walkthrough here, but I found the paid levels a bit underwhelming. I don't mind that I spent the $1.99, since I already got so much from the game for free. I was just surprised that most of them were easier than the rest of the game. I thought the paid levels would be more challenging, or at least more interesting. Unless I'm missing something, each puzzle only has one answer, compared to many of the earlier ones that had two or more answers. So at this point, I'm not sure if I would recommend them unless you want to support the developers' work and give them the opportunity to hopefully work on more games.
Never Stop Sneakin'
Never Stop Sneakin' is by the developer of Dust: An Elysian Tail, but it's a very different game. Instead of hand-drawn artwork and complex battle mechanics, it features low-poly art and simplified on-finger controls that feel great on a touchscreen. And at first, it's a lot of fun. You sneak around and defeat enemies simply by getting close the them from the back or side. All weapons are used automatically depending on whether you approach from the back or the front. Unfortunately, it starts to get repetitive pretty quickly, and I mostly lost interest. I'll probably play once in a while when I'm bored, but I don't see myself sitting through hours of it. I wrote up some more impressions here and you can watch some of my gameplay videos below.
Candleman
I played Candleman over the last couple of weeks and wrote some first impressions here, but I finally wrote a proper review here after completing the game. Since I already said so much about it, I'll let you read those instead of rehashing everything again.
Shatterbrain
Back in 2015, Orbital Nine released a unique physics puzzler called Brain It On! Each level would give you an objective, such as "Lift the orange box off the ground" and you would draw a shape that, together with gravity, would get the job done. Easier said than done! I had a lot of good things to say about it in my review, but I wasn't good enough to complete the game. Still, I appreciated that the one-man developer uses an almost too fair monetization system, offering the entire game for free as long as you can complete the levels in order and earn enough stars. If so, you won't be bothered by any ads or IAPs whatsoever. But if you want hints or to unlock content sooner, you can watch ads or pay a fair price for everything at once. Well, now three years later, he's back with another physics drawing puzzle called Shatterbrain, which uses a similar concept but the goal in each level is the same. You draw shapes again, but you have to shatter the glass pieces. Sometimes there are bombs to explode, or black objects you can't touch. Things get even more difficult when you get to red mesh areas that you can't draw on. I'm still working my way through the game, but I'm enjoying it so far and once again appreciate the super fair monetization. There's really no reason not to try Shatterbrain, so grab it here and if you get stuck, I started a walkthrough here.
WAKFU: The Brotherhood
I never heard of WAKFU before I saw the game in the App Store, but I noticed it was free without any IAPs and I liked the artwork, so gave it a go. It seems like a decent game, but I was confused by the instructions sometimes. I got stuck on some boss that I couldn't defeat, even though I was doing what the game told me to do. So for now, I've given up. But you may have better luck with it, so give it a try.
The Pillars of the Earth
Unfortunately, my game of Daedalic's The Pillars of the Earth is still broken and unplayable, so until they fix it, I can't recommend it. I have the latest iPad Pro, so I can't blame the issues on my device. I also see in the App Store that others are experiencing issues as well. So my advice at this point is to wait until they sort it all or unless you want to support the developer anyway and have faith it will be fixed in a timely manner. You can see some gameplay video below that I took right before everything broke.
Killing Time at Lightspeed
Killing Time at Lightspeed releases in a couple of days on April 12th and I'll have more to say about it then. But it released first on other platforms and is the perfect fit for iOS, since the whole game takes place on a fake social network. Your character is traveling on a spaceship in the future and your only connection to your friends and family back home is FriendPage, which is like a combination between Facebook and Twitter. Everyone else is aging quickly and technology progresses, well, at the speed of light. It's basically a text-based adventure game where you play a pretty passive role. But it's quite compelling. I just find it most enjoyable when I treat it like a real social media, opening it here and there throughout my day instead of barreling through it all in one sitting. Anyway, you can watch some gameplay video below and pre-order it now if you like what you see.
Vandals
Cosmografik's Vandals is a turn-based puzzler in the spirit of games like Lara Croft GO and Hitman GO. The twist here is that you're a graffiti artist trying to tag walls, but the pesky cops are always in the way. You need to pick up items and use them to distract the cops so they don't catch you. The game releases April 12th and I've only had a chance to play a few levels so far, but I like what I've seen. It can even be played with one hand in portrait mode, which I think is a first for a game like this. It does enough differently that it feels fresh, and it's already offering me a challenge. I'm still messing around and learning how the different items work, as well as the police behavior. But I should be able to give more impressions on release. So far, I think this is a game to keep an eye on, or even pre-order now.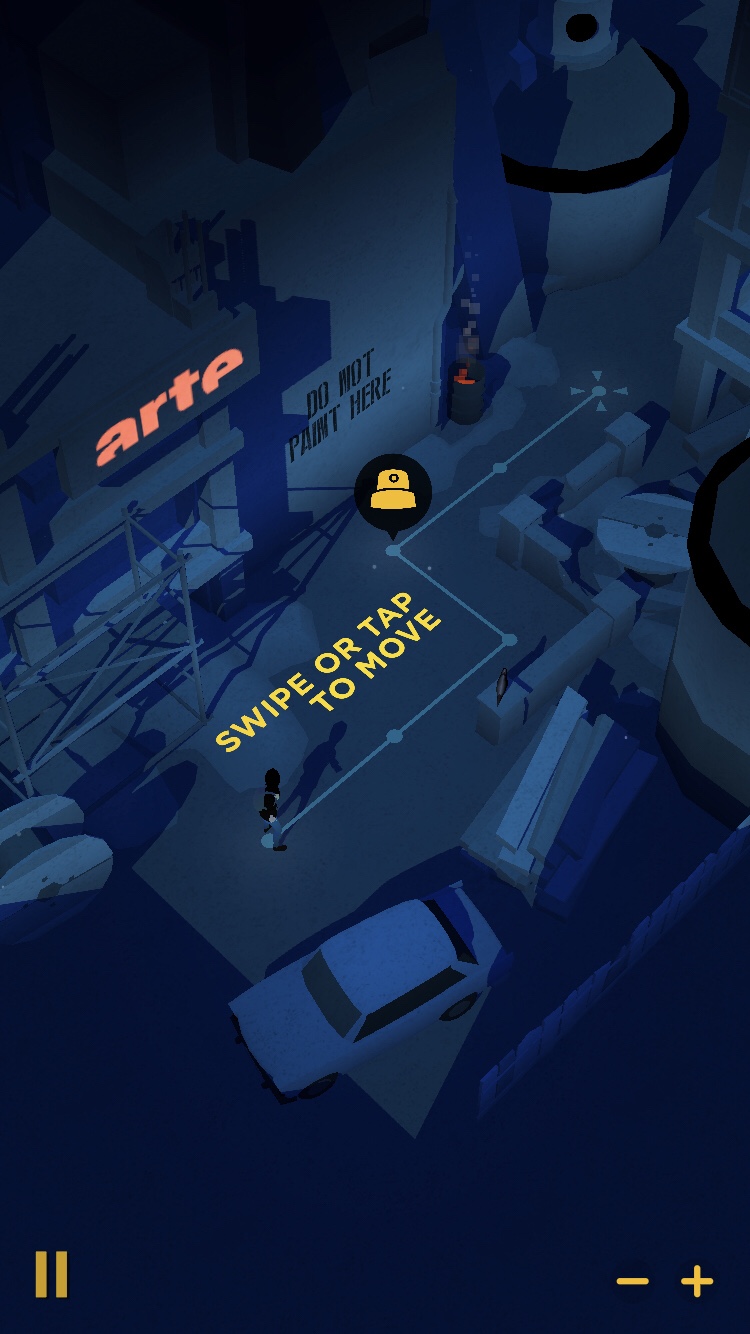 The Mooseman
The Mooseman has been out already on PC, but it's coming to iOS and Android on April 17th as a free download with an in-app purchase (IAP) for the full game unlock. I started playing a bit and it's nothing like what I expected. You basically have two controls — the left side is a joystick to move left and right, while tapping the right side reveals a ghost world. You need to change back and forth between the real world and the ghost world to overcome obstacles. You can also get eaten by bears or scary flesh-eating zombies, which I didn't expect. It's all very reminiscent of Year Walk, but with its own distinct style. I'm excited to go back to it and see what else is in store for me. The only issue at the moment is that the joystick, well, sticks sometimes. It can be a problem when you're trying to inch slowly to avoid enemies but Mooseman keeps going after you lift your finger. The developer said it's intentional, though, and he might change it. But so far it's only a minor inconvenience and isn't deterring me from playing the game. Anyway, you can check out my video below and I'll have more to say about it when it releases.
Six Match
Everyone might be sick of me talking about Six Match by now, but this will probably be the last time for a while because I just ended a game with a score of almost 23000. It was a long game, and I've already started a new one, but it's kind of my go-to time-waster when I don't want to deal with any reflex-based games or reading, just endless stress-free matching. If you haven't downloaded it by now for some reason, just do it! And you can see some of my high-level gameplay below that includes the new colored blocks that were added recently.
And that's everything I've been playing this past week! Since some of these games aren't out yet, be sure to check back next week as I'll definitely have more to say about them. And let me know what games you've been playing in the comments section. Until next time, that's My Week Unwrapped!