Hello guys and gals and welcome back to My Week Unwrapped, where I discuss the games I've been playing over the last seven days. I was focusing a lot on a few games, so this won't be a terribly long post. But it's still chock full o' great games, whether you like puzzles, action or point-and-click adventures. So let's get started!
Evergarden
I had Flippfly's gorgeous Evergarden a couple of days before release and played it so much that I had completed the story mode twice — once on my iPad and once on my iPhone — before writing my review a few days later. It joins an endless high score chasing merging puzzler with side puzzles that involve creating patterns out of triangles. What you earn in one puzzle mode helps you in the other, and the two help keep things varied. I'm still trying to beat my high score of 73,000, as it's by no means an easy game. But there's a ton of depth, so the more you play and experiment, the more you'll learn and be able to plan out your moves. Since I already wrote a glowing review, though, I'll let you read that. And if you're already playing, try my walkthrough guide.
Barbearian
Gimblll's frantic hack-and-slash game, Barbearian, finally released this week. I had been playing it a few weeks early and have still only completed about 30% of it so far. I love the game to bits, but it's challenging for me and also hurts my thumb, so I've been pacing myself. Because of that, I don't have a review yet, but I did write a guide here and I have a number of gameplay videos up on my YouTube channel. I plan to keep chipping away at it and eventually review it, so expect to see more of it in the coming weeks. In essence, it's a fast-paced action game where you play a human in a bear skin battling hordes of enemies. As you rescue little minions, they join you to fight at your side, eventually forming a mini army. When they die in battle, you can summon them again if you have enough spirit energy. If not, you're going to have to take on your enemies alone until you have more. You can pick up limited-use weapons and power-ups to help you, as well as currency for upgrades. There's also a whole bunch of secrets to discover. I really feel like I've barely even scratched the surface. If you like these sort of games, I don't think you'll be disappointed with it. And while I haven't personally adjusted the difficulty settings, there are ways to make it easier if that's a concern. You can also watch my videos below to see if it's something you'd like.
Unavowed
I've already written a bit about this in the last My Week Unwrapped, and I apologize to those who don't play PC games at all, but I finally finished Wadjet Eye's Unavowed and it's a true masterpiece. Sure, you can tear apart some aspects of its story if you try hard enough, but that's the case with most story-based games. This one is so ambitious, though, and it delivers on just about every front. It's exactly what I look for in a modern point-and-click. It may be heavier on dialogue than puzzles, but the dialogue is all worth listening to. It's also full of difficult decisions and plenty of replay value. But instead of repeating myself, I'll just let you read my review here. And if you're stuck on any puzzles, I have a step-by-step walkthrough here.
The Shivah
I'd been meaning to play Wadjet Eye's The Shivah for a while now and having just finished Unavowed, this seemed like the perfect time. It's short and sweet and I don't think I'd ever played as a rabbi in a game before, so it felt unique. I really enjoyed it, as it made me feel a bit like a detective, noticing important bits of information I read so I could search the correct terms and get to the bottom of a murder. I had to figure out logins, passwords, and track down the man in charge of all the bloodshed. It was a lot more violent than I expected, but it also had a ton of heart and wisdom. It's rougher around the edges than something like Unavowed, as you can't do things like double-tap to move somewhere faster. But it's a short game and only costs $1.99 on iOS, so give it a shot if you're interested. It's definitely worth spending a night with it. You can also watch my videos below if you're not sure whether you'd like it.
Stranger Cases
I've only played through a handful of levels so far in Snapbreak's Stranger Cases, and it does seem on the easy side. But the first eight levels are free with ads between each, so there's no reason not to try it. It also features some impressive artwork and humorous situations, like a mother trying to give her kids a bath while they're all climbing on top of her. I'm still working on my walkthrough, but I'll hopefully have that done in the next couple of days. If you liked the publisher's other games, give this one a go!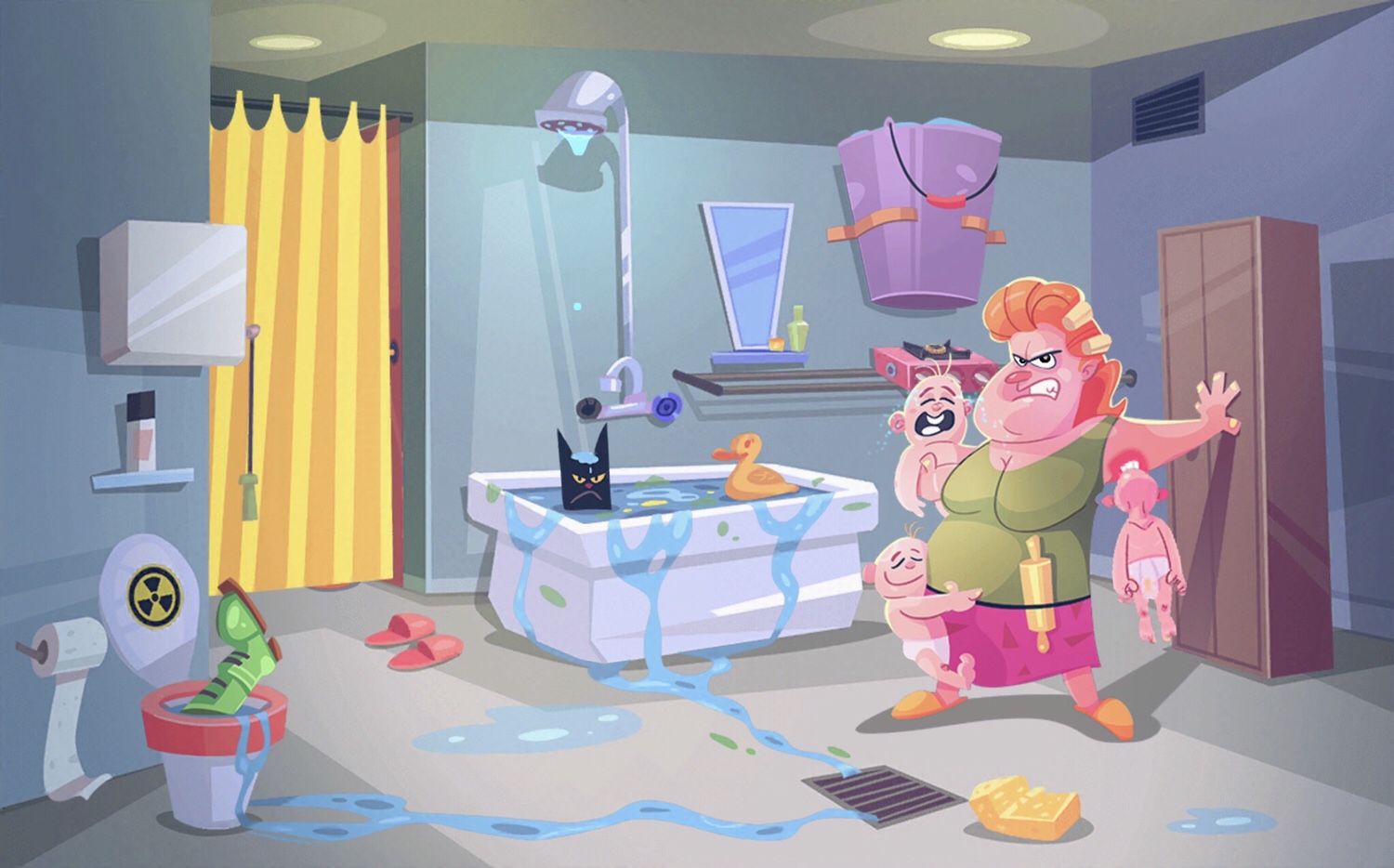 Bendy in Nightmare Run
I've been following news of the Meatly's Bendy franchise for a while now, and was happy to see them releasing a game on mobile, even if it wasn't the original Bendy and the Ink Machine. Instead, we got Bendy in Nightmare Run, which is a boss battling auto-runner, where you're running towards the camera instead of away from it. The artwork is like an old black-and-white cartoon and looks fantastic. There's always a boss in pursuit and you have to swipe to move left or right, as well as jump. You pick up cans of bacon soup that you can use later to purchase upgrades and power-ups. But the really important things to pick up are weapons like axes and anvils. You throw these at the boss to injure him. Unfortunately, I find it a little too demanding, as the levels are long and unforgiving. I think you lose after getting hit two or three times and then you lose everything except the soup cans you collected. I gave up fairly quickly, in part because of the ads and in-app purchases. You can watch an ad to have more health in your next run or buy more soup cans using real cash. Power-ups and upgrades can take a while to earn through play, so this was all a big turnoff for me. Still, it's free, so might as well give it a try if you're curious.
Powerless
I covered Narratio's text adventure, Powerless, a couple of weeks ago when I started playing it. I was really impressed with the way you take on the roles of different characters, each dealing with their own situations after all electricity has been wiped out. You have a tech specialist, a surgeon, a fighter pilot, and much more. Unfortunately, I encountered a number of game-breaking bugs in the rest of my playthrough and didn't even get to play through all the characters. My version of the game is not the same one releasing tomorrow, though so I'll likely try and play it again before properly reviewing it. I just wanted to warn anyone who was considering buying it on day one. Even with the issues, I'm impressed with the tough decisions the game asks you to make. In one instance, I chose death over the alternative. It also has strong writing, despite some spelling and grammar mistakes. You can watch my videos below to see what the game's like, and watch this space over the next few days for more about Powerless.
And that's everything I've been playing his week! Lots of good stuff, with the occasional less good game. And now I'd like to get back to having my butt handed to me in Barbearian, so I'm gonna take off now. But I'll see you back here next week with more of My Week Unwrapped!