The Company Game
By: gary gogis (Chain Reaction Games)
I've already written about cryptic puzzler, The Company Game, a couple of times before, as I've had it for several weeks ahead of release. In fact, I'm not sure I can top my quote from this My Week Unwrapped blurb: "ItΓò¼├┤Γö£├ºΓö£├╗s like if Blackbox, The Guides, and Device 6 had a baby. And the baby was delivered by a 14-year-old doctor." As you may have guessed from that, the game was — impressively so — developed by a 14-year-old. And that should probably make a lot of people wonder what they've been doing with their lives.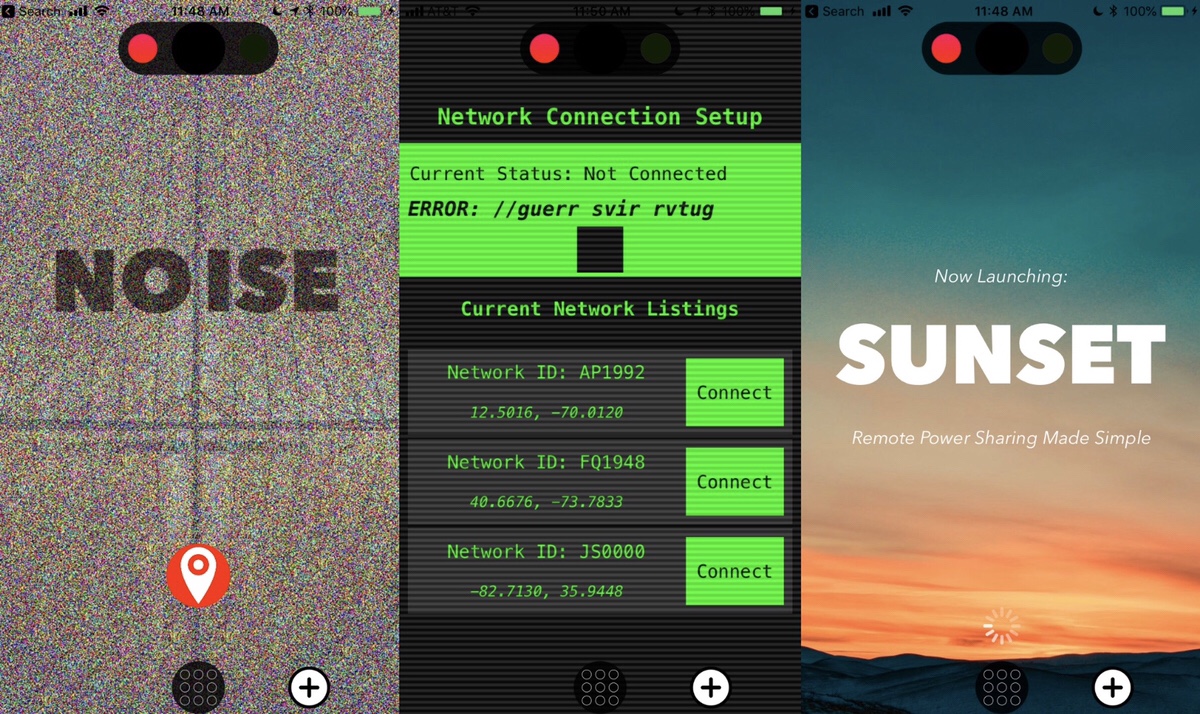 I'm always open to a good puzzle game, especially when there appears to be a mysterious underlying story. From the get-go, it's obvious there's something weird going on here, and each puzzle you solve drops a few more breadcrumbs. Is the Company evil or not? And why is every level called a "lie?" I was eager to know what exactly the Company is up to, who's Moon, and a whole bunch of other things I can't mention without spoiling too much. As I unlocked more and more information about their secret meeting, I felt I was close to the truth. Unfortunately, the game in its current state ends with a TO BE CONTINUED, so I still have to wait and find out what exactly is going on with this bizarre Company. And SAIL. And Moon. It left me with more questions than answers. That said, two more content updates are expected, and they'll be included in the original price. As much as I hate not having the answers yet, I was able to forgive Agent A for being released in chapters, so I think I can forgive this game, too. After all, the final version will have three times the content. I'll just have to have a little patience. It does make it hard to judge the game on its story, though.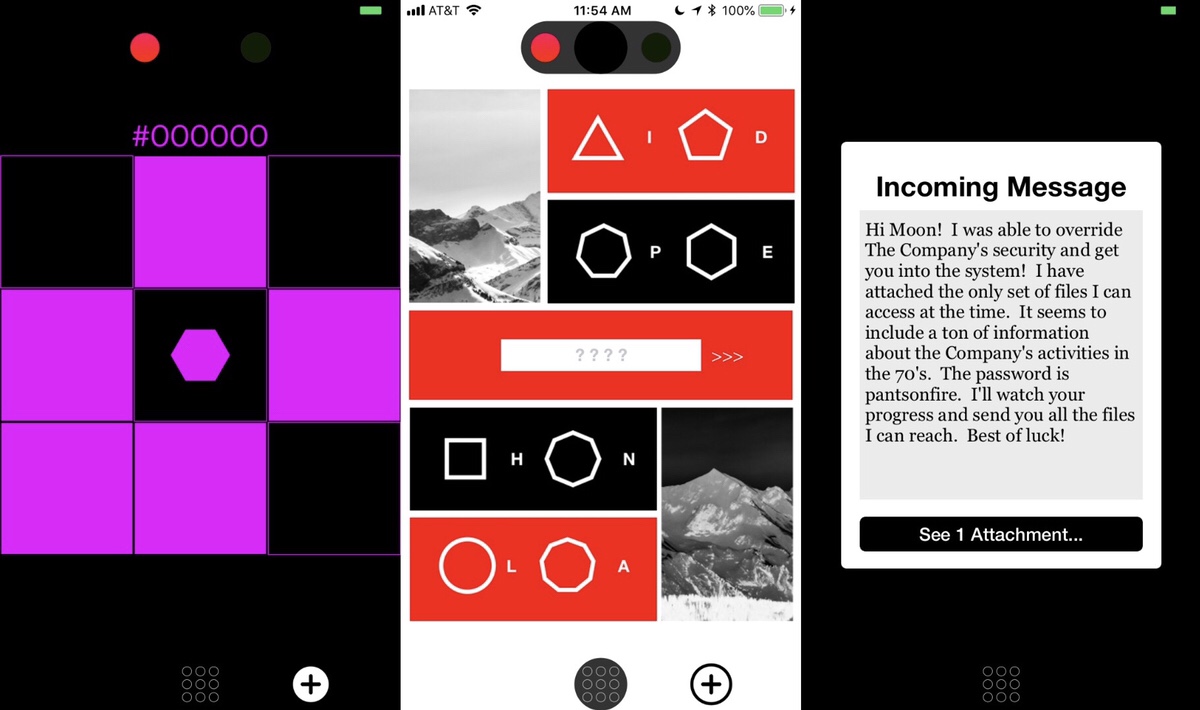 Since you're primarily going to be solving puzzles here, let's discuss those for a bit. If you're familiar with Blackbox, you'll already be comfortable messing around with your iPhone's settings to complete puzzles. Not all of them feel new if you've played the other game, but some things did make me go, "wow that's clever." Level 11 is a great example of this and one of my favorite puzzles. It's just so simple and elegant the way it works. I also like how everything ties back to the story, something Blackbox doesn't have. The game perhaps has more in common with The Guides, though, especially the way you have to return to some levels to get information for later ones. Those levels are clearly marked so you're not wasting your time revisiting levels that offer nothing new. Like most puzzle games of this sort, there's a mix of easier puzzles and some serious head-scratchers. The game does include free hints, though sometimes they were either too helpful or not helpful enough. Still, its inclusion was appreciated. I also liked how the Morse decoder was implemented, as you don't actually have to type out dots and dashes like in The Guides. Hell, I may keep that at hand when other games use Morse code. I do wish it had been utilized more, but hopefully that's part of the plan for future content.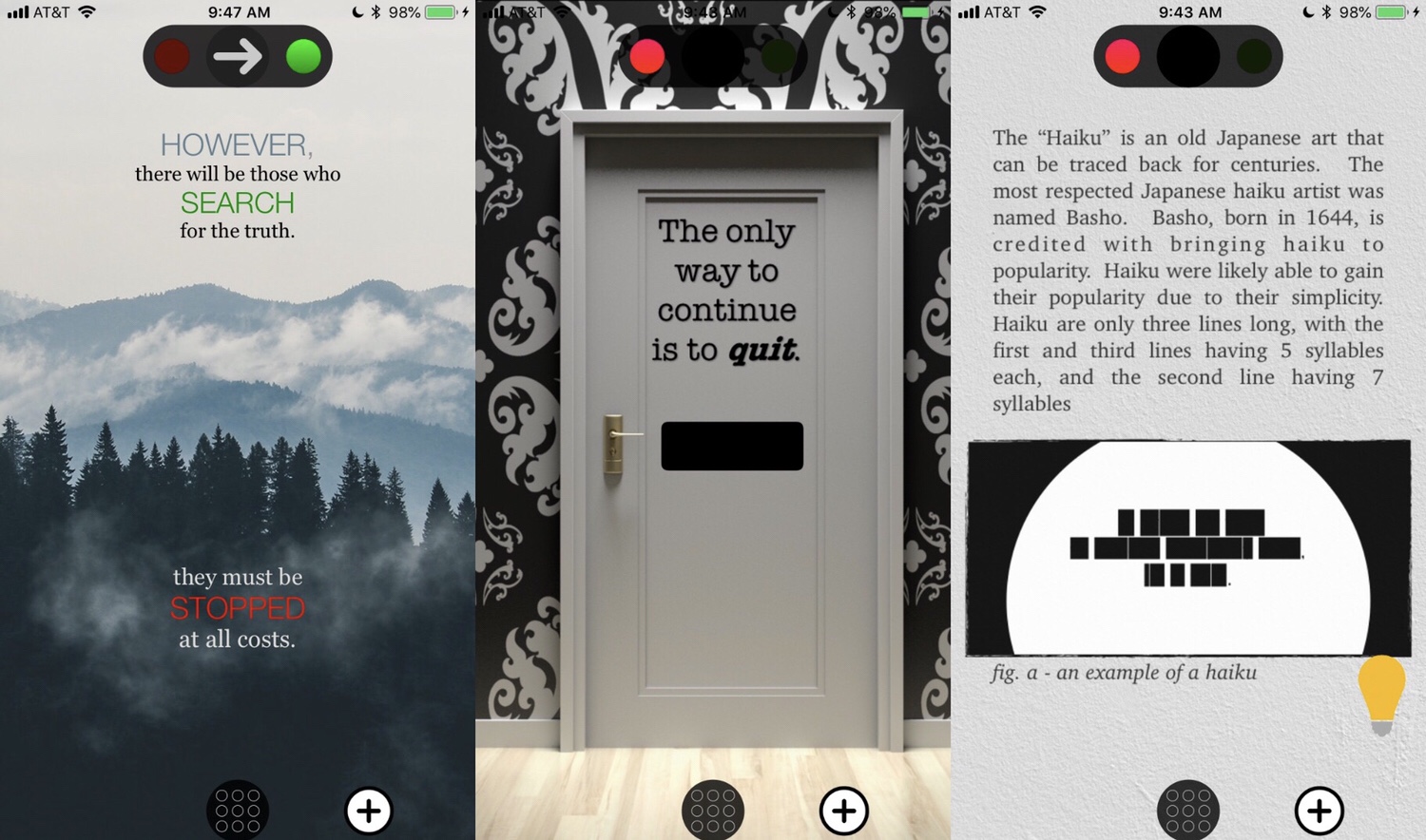 There were a few puzzles that involved tapping tiles to fill the whole screen with one color, and I have to admit that after solving all of them, I'm still not 100% clear on the rules, which changed for each one. But I don't know if that says more about me or the puzzles. Those were the least enjoyable for me of the bunch. I liked cracking codes, finding passwords, and discovering new ways my phone's features could be turned into a puzzle. There's one Augmented Reality level that I thought was a really cool use of the technology. I didn't even know it could work that way. I'm not a huge fan of AR in most games, but this was an innovative use that didn't involve walking around my living room with my phone pointing at the floor.
Overall, the variety of puzzles kept things interesting, along with the mysterious story you're unfolding. There are currently only twenty-five levels, but I think that's a pretty good deal for $0.99 – $1.99, depending on whether you pre-ordered it or not. I definitely enjoyed my time with The Company Game, though I am a little bummed it ended on a cliffhanger. If anything, though, it whet my appetite for the rest of the game and got me excited to see what else this young developer has up his sleeves. If this is what he can do at age 14, imagine what we'll see once he's gotten a few more years of practice. As a puzzle and cryptic story fan, I'll definitely be keeping an eye out for his future work. And if you're looking for some puzzles to work on and don't mind having to wait a bit to see how the story unfolds, The Company Game is a great way to spend a couple of dollars and a lazy afternoon. So grab the game here and see if you're smart enough to discover all the Company's secrets.
And if you're stuck on any of the puzzles, try my complete step-by-step walkthrough guide.