Reigns: Game of Thrones
By: Devolver Digital
Daenarys | Jon Snow | Cersei | Sansa | Jaime | Tyrion | Gendry | Arya | Dragonglass
Sansa:
Raven clue: The raven is on the branch of a lonely tree, amongst a crowd of soldiers from all the Seven Kingdoms.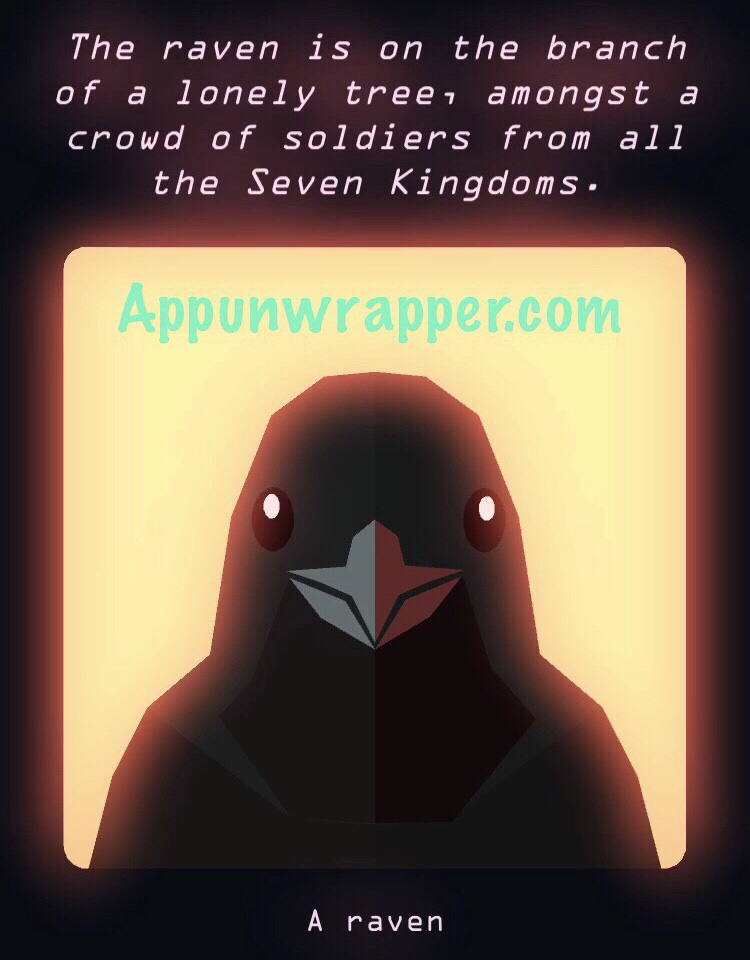 To survive the Winter with Sansa, you need to first unlock the One Kingdom effect. Here's how:
This is the most difficult character to complete, as there's many moving parts and lots of opportunities to mess up. You may not even realize where you messed up. So if you want to be sure, I suggest reading all this over before trying for it.
Bide your time until a Guardsman arrives and tells you that Jaime Lannister has been spotted. Tell them to capture him.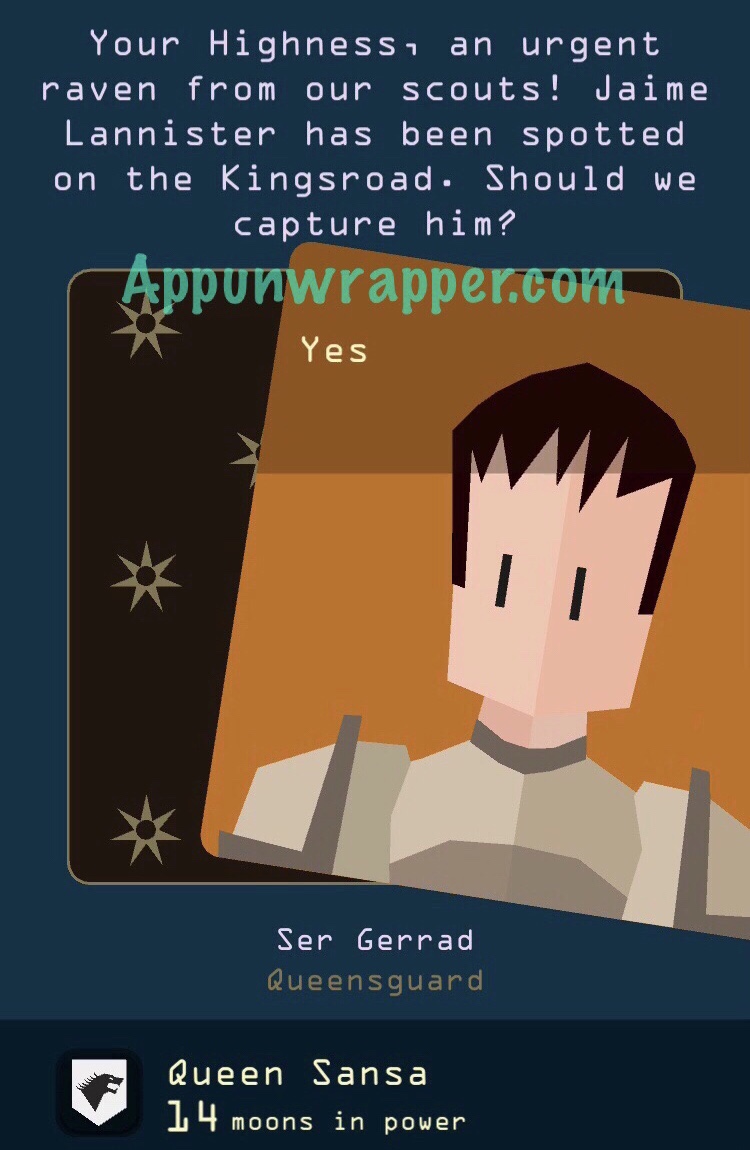 Immediately after, you'll be told that you need to do something about him, as he's rotting inches dungeon. Visit Jaime in his cell, follow the dialogue and offer to marry him. When he asks if it is your wish, answer "No, it is my choice." That's very important!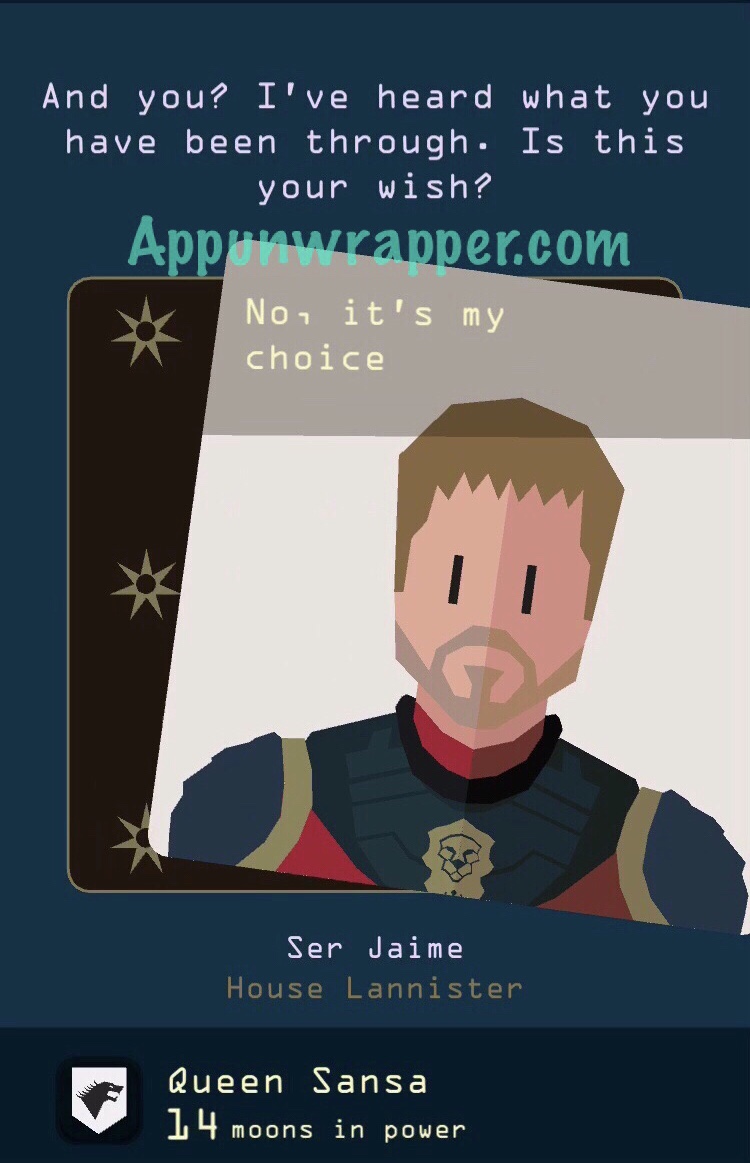 Tyrion then tells you that marriage will not be possible until you're at peace with all your enemies. So attend the small council and choose Diplomacy.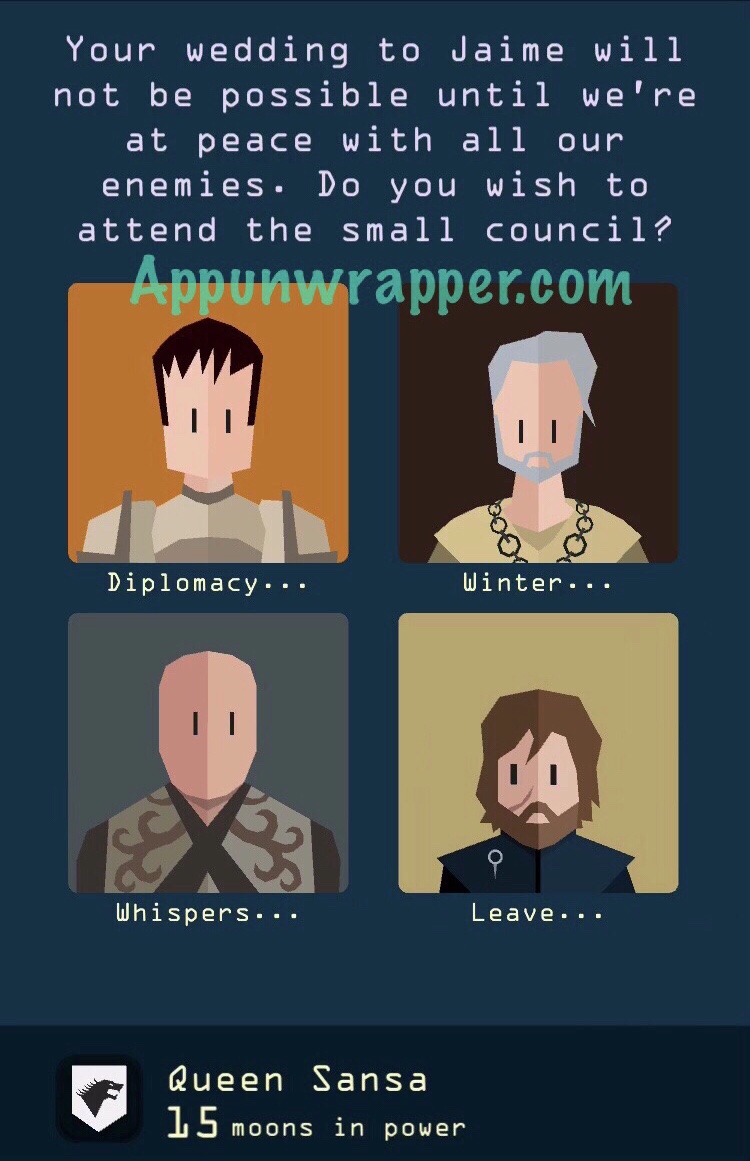 Depending on who you are at war with, here is how to achieve peace: offer Lannister money, make Greyjoy the Master of Whisperer, divert Martell's attention, visit Stark in Winterfell.
In my video below, I was lucky enough to only have to make peace with Greyjoy.
There's still room to mess this one up, though! So read carefully.
Once the wedding is possible, you have to avoid angering House Greyjoy and House Martell. When the High Septon says you'll have a grand ceremony in front of the Seven, say "Not just the Seven!" That will please Greyjoy. And when Maria Sand of House Martell asks why Dorne should attend the wedding, tell her to "Come closer…" You then whisper something in here ear.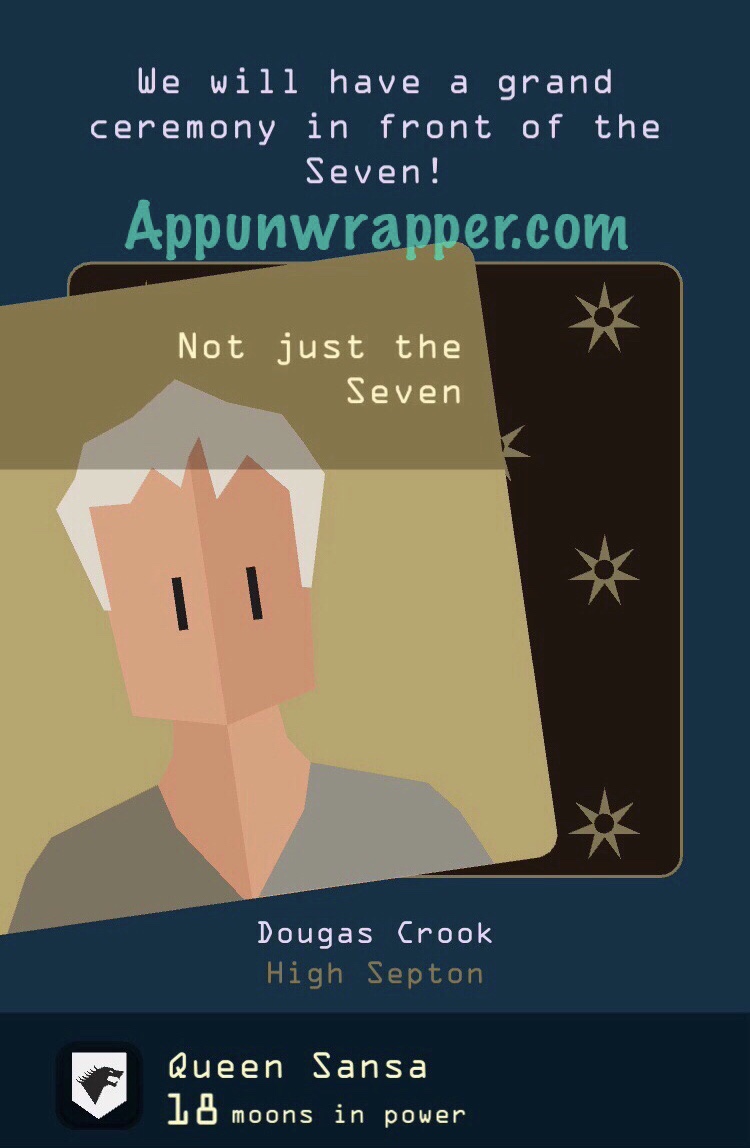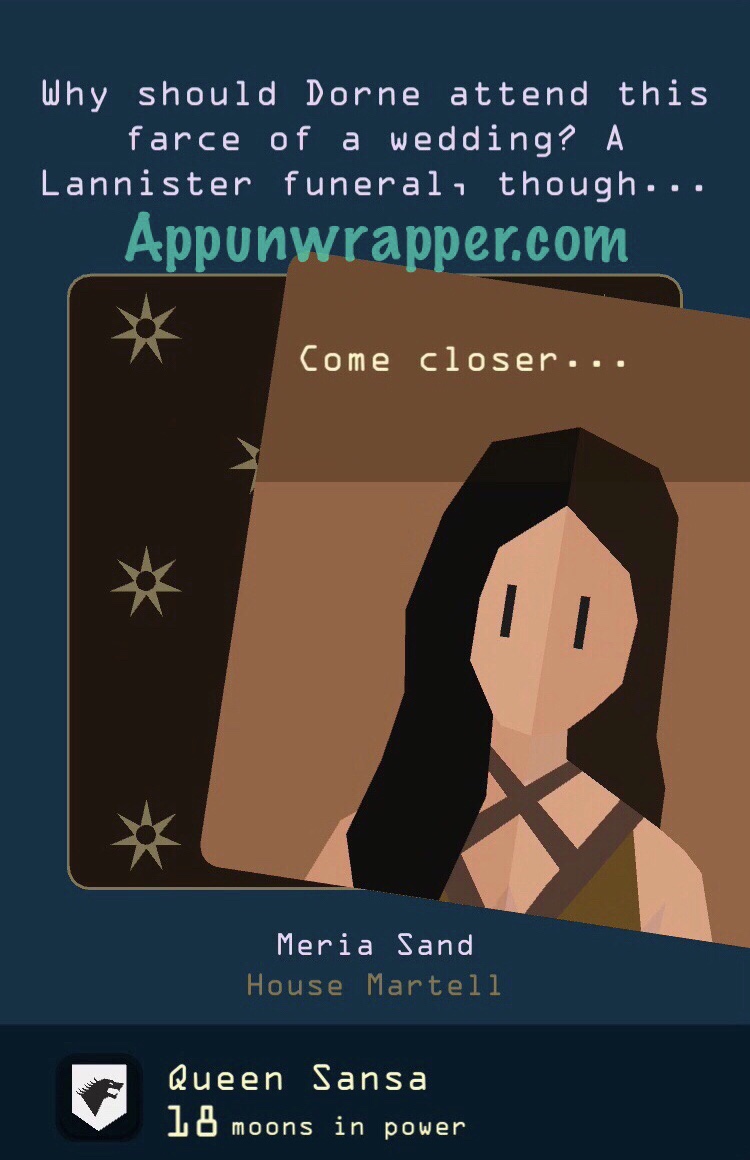 Now you'll get the One Kingdom status effect.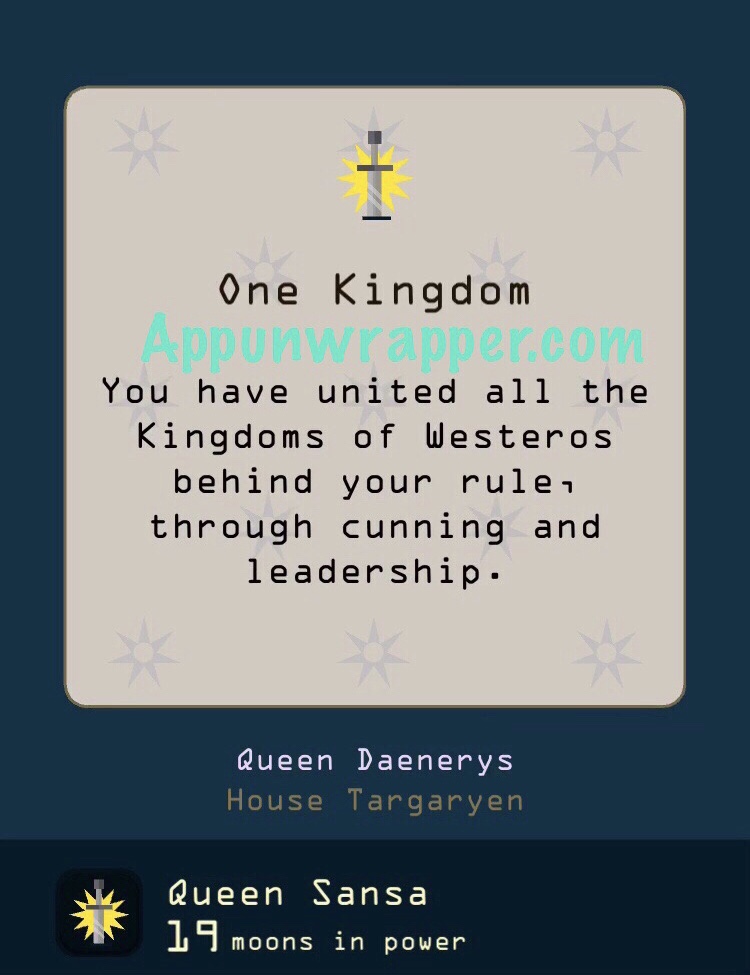 Now, wait for Winter and then die. You'll have to give a speech (be careful with your choices if any of your factions are close to min or max!).
After the speech, lead the battle against the White Walkers. This is the order to choose:
– First wave, against undead giants, bears and other monstrous creatures — Use your Archers. Press on.
– Second wave, against the raising of your own dead soldiers — Use your Knights. Press on.
– Third wave, against the Night King riding the blue-eyed Viserion (dragon) — Use Drogon. Press on.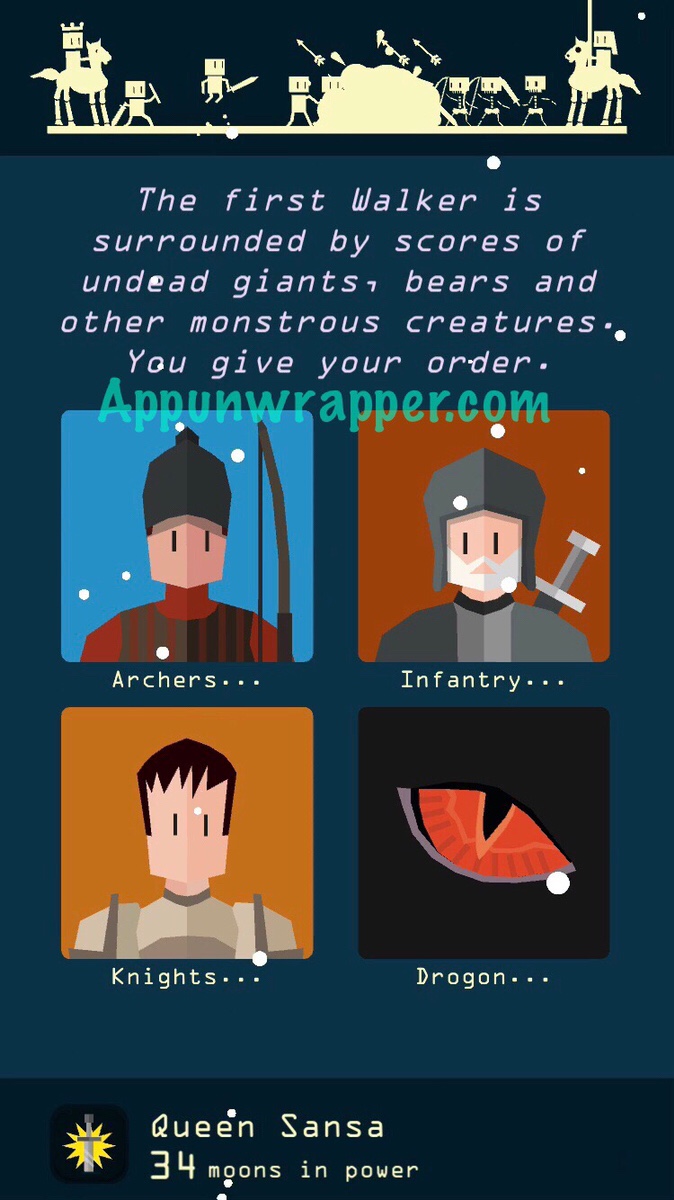 Now you should win the battle. You can even make a mistake, as long as you get two of them right, I believe. Summoning Drogon at the right time is very important.
Once again, you'll defeat the White Walkers and summer will arrive.
Click on the character you need below or click here to continue to Jaime's ending.
Daenarys | Jon Snow | Cersei | Sansa | Jaime | Tyrion | Gendry | Arya | Dragonglass
***
Note: Sometimes a promo code is provided for a game, but it does not affect the review in any way. At AppUnwrapper, we strive to provide reviews of the utmost quality.

Check out my recommended list for other games you might like.

If you like what you see on AppUnwrapper.com, please consider supporting the site through Patreon. Every little bit helps and is greatly appreciated. You can read more about it here. And as always, if you like what you see, please help others find it by sharing it.

I also offer affordable testing and consulting for iOS developers.

COPYRIGHT NOTICE © AppUnwrapper 2011-2020. Unauthorized use and/or duplication of this material without express and written permission from this blog's author is strictly prohibited. Links may be used, provided that full and clear credit is given to AppUnwrapper with appropriate and specific direction to the original content.