Tick Tock: A Tale for Two
By: Other Tales Interactive
Tick Tock: A Tale for Two is a really unique two-player co-op puzzle game where each person has their own device and the two players need to communicate what they're seeing. You can play either in the same room or remotely using some sort of voice chat. Technically, you can also play by yourself using two devices, but that kind of ruins the whole gimmick. Anyway, it's more fun to figure it out with your friends, but if you're stuck, this walkthrough guide should help you. Feel free to ask for extra help in the comments section.
It's going to be a more enjoyable experience if you read everything and communicate everything you see, as that's how you'll understand the story, but for this guide I focused primarily on the clues.
Prologue | Chapter 1 | Chapter 2 | Chapter 3
Prologue:
Player 1:
Your note is from Amalie and says:
"This clock is part of a game, a gift I made for my sister. To have a fighting chance, play with a friend and tell each other what you read and see. If you find my sister, tell her I miss her."
Also, you have the first half of a newspaper clipping that says (emphasis mine):
"Another Disappearance Stri
The youngest member of the renowned clockmaker family, Lærke, was reported missing yesterday.
Her sister Amalie told her she had last seen her at ten thirty."
You also have a pocket watch that says "Amalie 1915 – " on it.
Player 2:
Your note is also from Amalie and says:
"I sent one clock to you and one to your friend. If you want to play a game, look into the past together. Remember to wind the clocks up."
Your half of the newspaper clipping says:
"kes Our Village
Understandably distressed, she later corrected her statement and said it must have been an hour and a half later.
Contact:
If you have seen or hear anything unusual please contact the police."
Your pocket watch says "Laerke 1917 – 1937" on it.
Both:
If you put the clues together, the headline says "Another Disappearance Strikes Our Village."
Amalie first gave 10:30 as the time of the disappearance but later changed it to 1.5 hours later, or 12:00.
So both players should slide open their pocket watches and move both hands to 13, or XII. Like Player 2's note said, don't forget to wind it by twisting the top.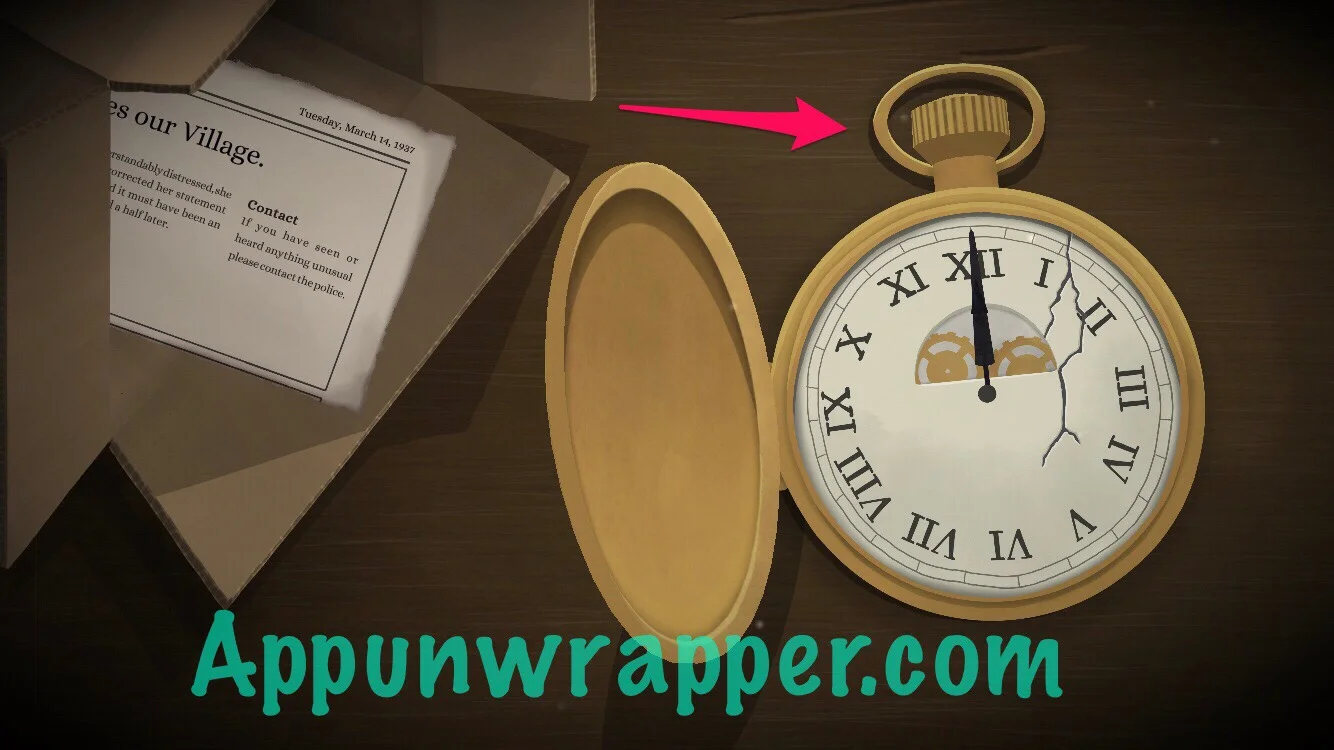 And that should get you through the Prologue!
Click on the Chapter you need below or click here to continue to the Chapter 1 walkthrough.