Iris.Fall
By: NExTStudios
Light and shadow are common themes in puzzle games, and for good reason. They're visually interesting and can offer some innovative mechanics if done right. Iris.Fall, which originally released on other platforms in 2018, is the latest iOS game to take advantage of this. Though it doesn't always push itself to its full potential, the visuals are stunning and the puzzles were compelling enough to hold my interest through to the end. I did have a few issues with the mobile port, but nothing that made me want to stop playing. This is a short but memorable game, worth freeing an afternoon to play.
In IrisFall, you play as a young girl named Iris, who wakes from a dream and follows a black cat into a strange theater. The story is told through wordless cutscenes and I confess that I didn't really follow the narrative very well. But the animations are a sight to behold even if you're not perfectly sure what's happening. This theater is full of giant robots and other machines that you need to control, and the game never skimps on the visuals. There's even a chapter that takes place inside a book where everything is made out of paper and reminded me of Monument Valley. The graphics are definitely the main highlight of the game, but I enjoyed solving the puzzles, as well.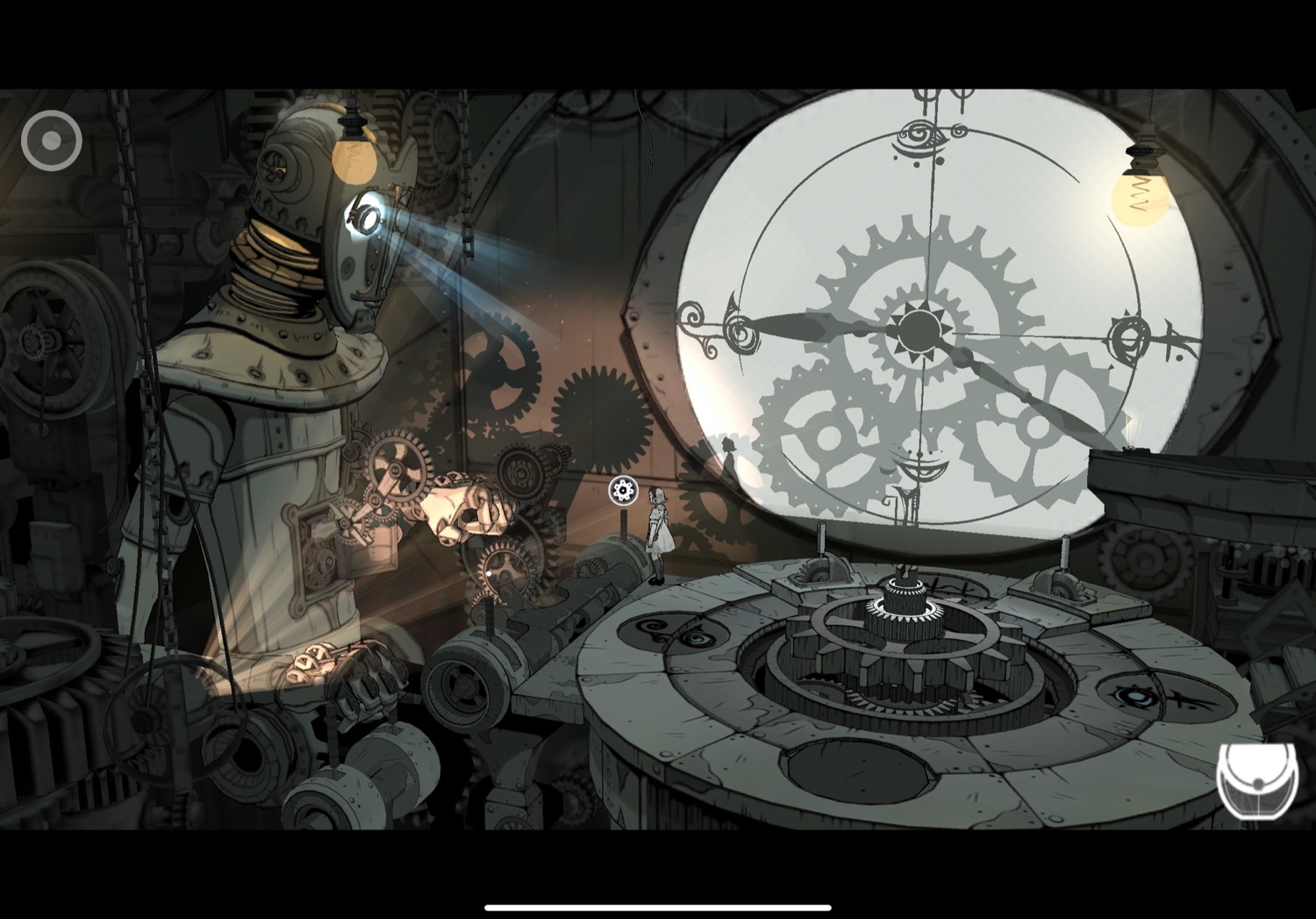 The game plays like a point-and-click adventure, as you move around the environment and pick up objects for your inventory, then find a use for them. But what sets it apart is that there are books lying around that let you switch from your physical form to your shadow. So if you need to reach something but can't find a way to get to it, you can try creating a path of shadows and then then swap to your shadow to climb to it. You share an inventory, so as long as one is able to get an object, you both have it. The mechanic is also used for reaching different switches so you can create a path for each form. It's not the first time two separate characters are used together to solve puzzles, but there's enough innovation here to make it stand out.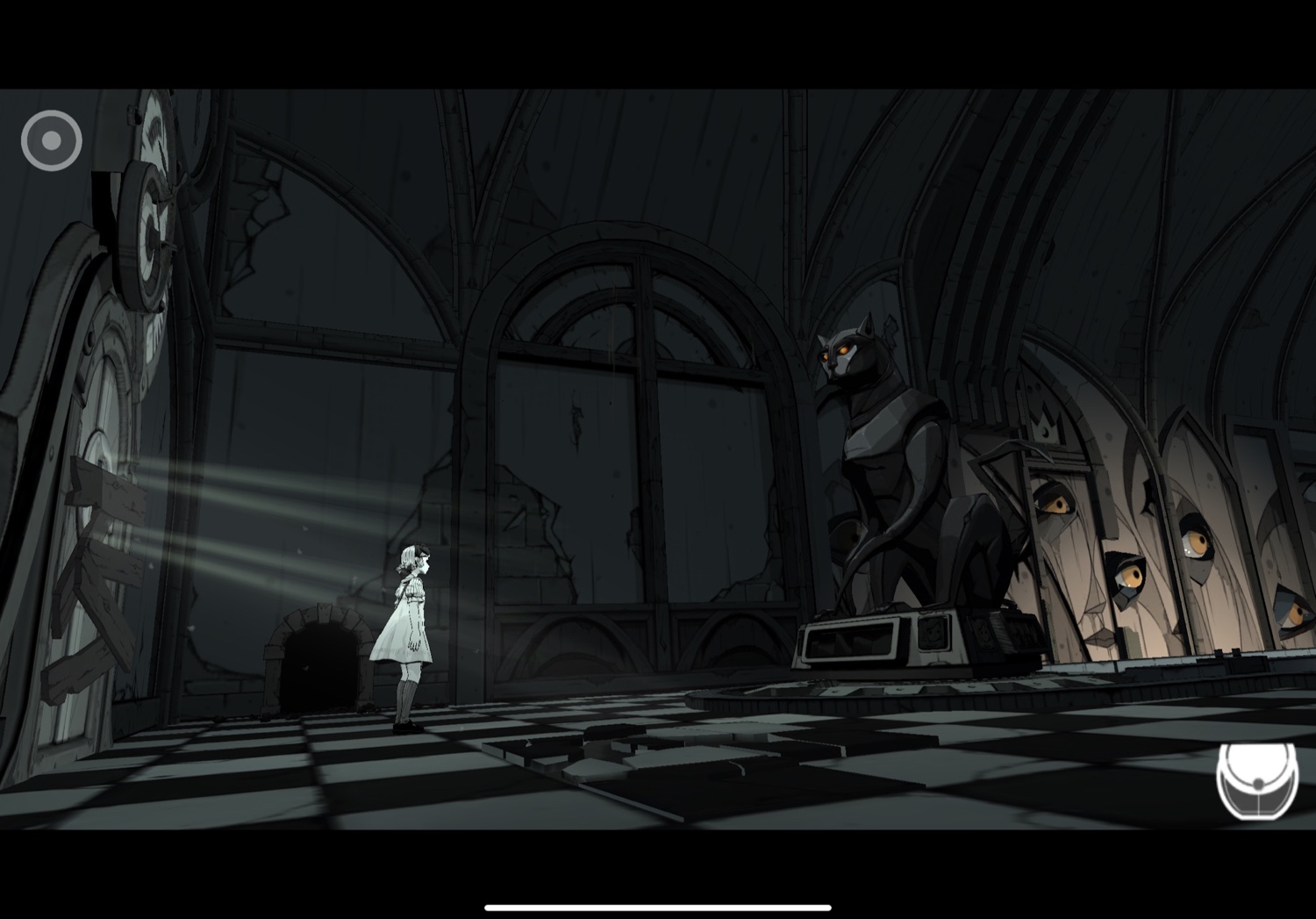 The shadow form isn't the only trick this game has up its sleeve, though. Eyes are a common theme throughout, and you'll often have to shine lights on them to unlock a door or trigger some other machine. This might mean using a Rubik's cube to focus light beams on them or activate a number of switches in the right order. Each chapter and each puzzle is different enough that I never got bored or tired of them. And while many are fairly easy to solve, a few did stump me for a bit. Thankfully, the entire game is a relaxed experience, so you can go at your own pace without worrying about any reflex-based mini games. This is a puzzle game through and through.
The mobile controls in IrisFall are fine for the most part, but I think the game would have benefitted from tap-to-move instead of the left side of the screen acting as a joystick. You interact with puzzles by tapping on icons, so it's awkward to then have to switch to swiping for movement. That would have also helped prevent the problem where I'd get stuck on things while moving. It's not enough to ruin the experience, but it just feels a bit ill thought-out for mobile. Like I said above, the game doesn't have any time-restricted puzzles, so it's just a minor nuisance that doesn't actually affect playability. Another small issue is that the achievements found on other platforms aren't implemented here. There's also a weird user agreement you need to agree to in order to play, and it looks like it was meant for free-to-play games, not ones you already paid for. Just keep that in mind before buying if that's a concern for you.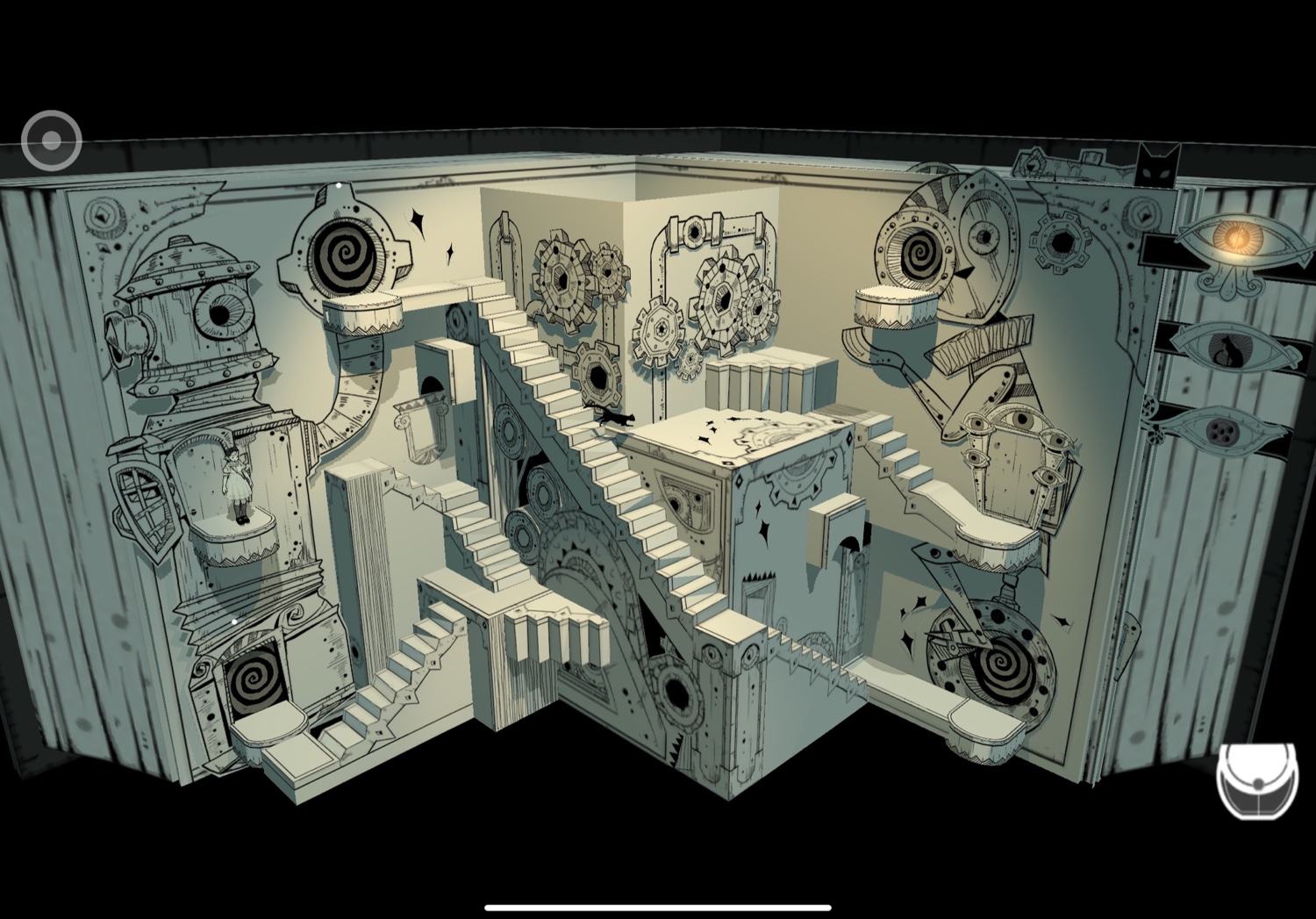 Overall, IrisFall made the transition to mobile quite nicely. Touchscreens are perfect for puzzle games, and this one is no different. Some things could be improved on, but they're minor and shouldn't stop you from playing this gorgeous work of art. I do wish there was more of it, as it's ok the short side, but I appreciate that each chapter is very different from the last and the developers didn't resort to filler to provide out the game. I prefer quality over quantity and that's what you get here. So if you're a puzzle or adventure fan, grab IrisFall here and find out what that curious cat is up to.
If you get stuck, try my walkthrough guide.