Doctor Who: The Lonely Assassins
By: Maze Theory / Kaigan Games
Doctor Who: The Lonely Assassins is a "found phone" game for iOS, Android, Switch and PC from Maze Theory and Kaigan Games. You work with Petronella Osgood to try and find out what happened to Lawrence, the owner of the phone you're holding. You need to go through his text messages, emails and other apps for clues to try and locate him. Some things can be easy to miss, so this walkthrough guide should help you if you get stuck. Feel free to ask for extra help or offer help in the comments section.
Walkthrough:
This video will show you how to get the best ending in the game, including all bonus footage.
For the delivery, enter this info:
Order ID: 574320
Order Date: 02/13/2021
Status: Delivered
To search for Natasha in the missing persons database, enter this info:
Missing since: 02/17/2021
Home Address: 71 Timber Street
Age at disappearance: 45
Eye Colour: Brown
Sex: Female
The four corrupted files are a photo, an email, a text, and a website.
Make sure you read all the forum posts and download the file if you want to get all four TARDIS sightings!
To clean out the corruption on the phone, just find the four corrupted files from earlier and delete them. The browser is the trickiest because it's a puzzle and you also have limited time to solve it. The main thing to know is that after tapping on the moth, tap/click on the word CUBE instead of on the cube itself. For the rest of it, you should be able to keep trying if you mess up, as long as you don't run out of time.
Here's how to convince Marguerite Quincy, the Records Administrator at the Metropolitan Archive to give you another copy of the "A London Citizen Displaced During the War" video:
Call this number on the phone (from the website): (020) 7946 0827
You'll get a recording and can choose 1, 2, 3 or 4. 1, 2 & 4 just give you extra information. But 3 will give you a chance to enter the extension number, 1034.
Once you get through to her, you won't be able to answer. So she'll text you instead. Now you have to convince her you're Larry so she'll give you the video.
Here's how to answer:
– Sorry, I've got a problem with the file you sent me.
– We met last week.
– It was good to meet and chat in your office.
– Yep, the old video footage.
– My computer died and I lost the file. Sorry!
– Thanks so much!
– Oh! What did you find?
And then you'll be able to download the video and photo.
These are the four phone calls you get that are used for the cameras later:
Shark 1747
Watcher 9327
Angel 5801
Joker 9226
After you finish the game, stay through the credits for an extra scene if you found everything you were supposed to. Here's how the stats screens should look at the end: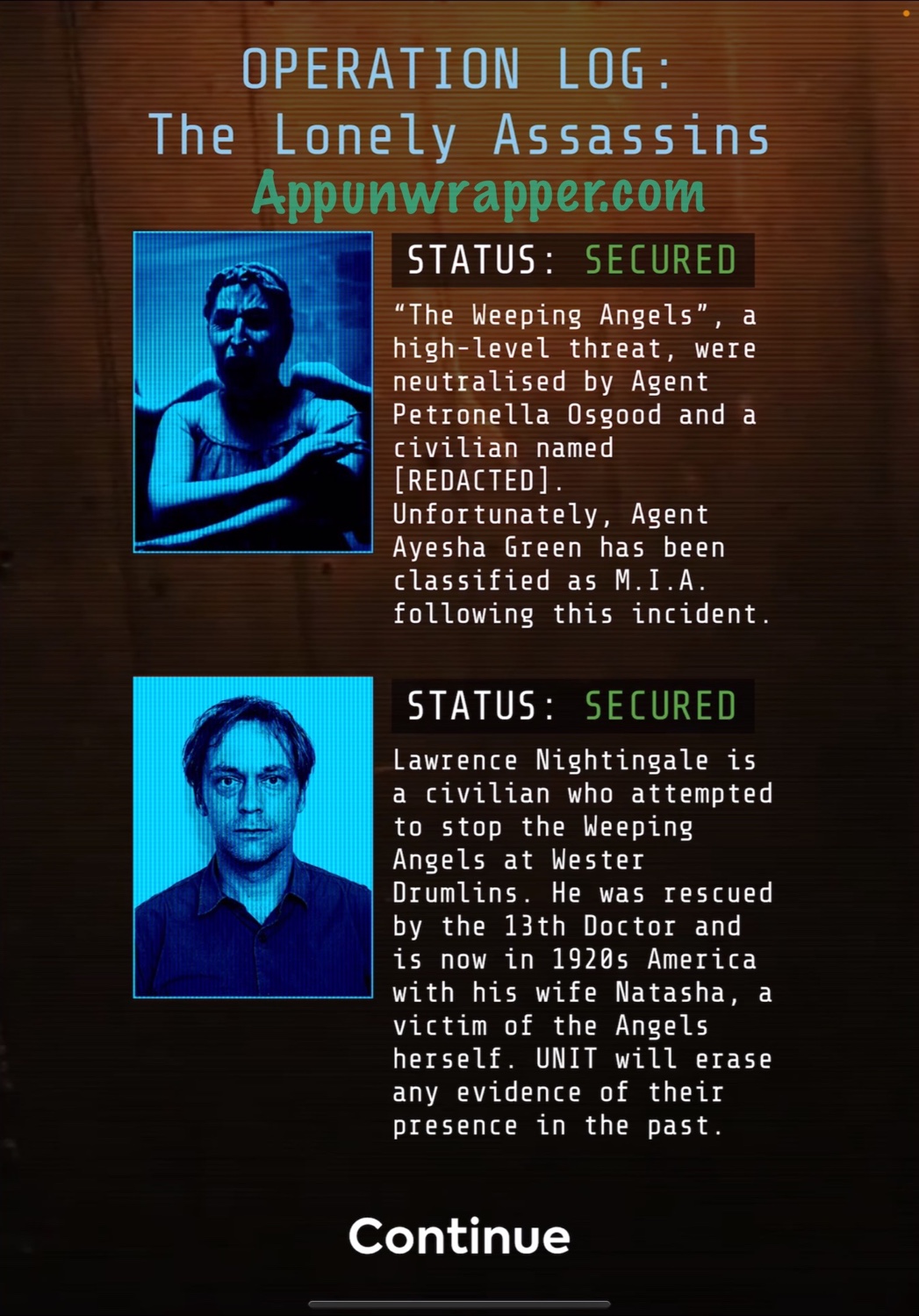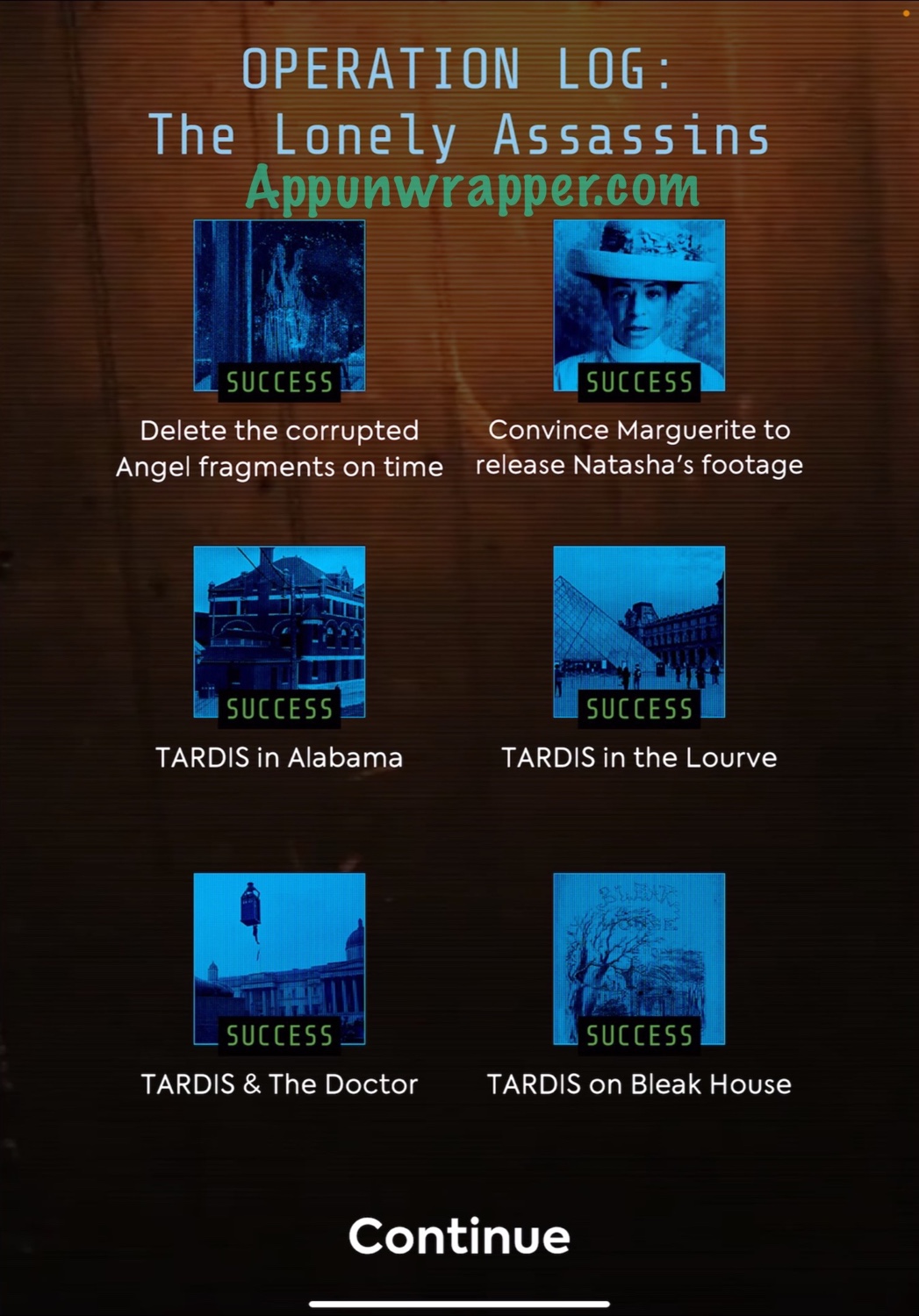 ***
Note: Sometimes a promo code is provided for a game, but it does not affect the review in any way. At AppUnwrapper, we strive to provide reviews of the utmost quality.

Check out my recommended list for other games you might like.

If you like what you see on AppUnwrapper.com, please consider supporting the site through Patreon. Every little bit helps and is greatly appreciated. You can read more about it here. And as always, if you like what you see, please help others find it by sharing it.

I also offer affordable testing and consulting for iOS developers.

COPYRIGHT NOTICE © AppUnwrapper 2011-2020. Unauthorized use and/or duplication of this material without express and written permission from this blog's author is strictly prohibited. Links may be used, provided that full and clear credit is given to AppUnwrapper with appropriate and specific direction to the original content.