Tender: Creature Comforts
By: Kenny Sun
Tender: Creature Comforts is a narrative-driven game from Kenny Sun and friends, in which you play as an earthling dating aliens through a Tinder-like app. I'm a big fan of text messaging games and games that try to mimic the social media experience. So I was eager to check this out, not least because of the quirky art style and premise. Unfortunately, the game plays out in real time similar to the Lifeline… series, so I haven't seen enough over the last few days for a full review. But I still want to share my early impressions and gameplay videos for those considering buying it.
Your first steps in the game are to create your Tender profile. You choose from four profile pictures and then fill out your information by picking from a selection of pre-written lines such as, "Sweat pants > any other pants," which, frankly, is one of my mottos. Once your profile is set up, you can browse through potential matches, most of them aliens. As with Tinder, you swipe right if you like them and left if you don't. If one of the people you liked likes you back, you match and can text message them. If you hit it off, you can then schedule an actual date.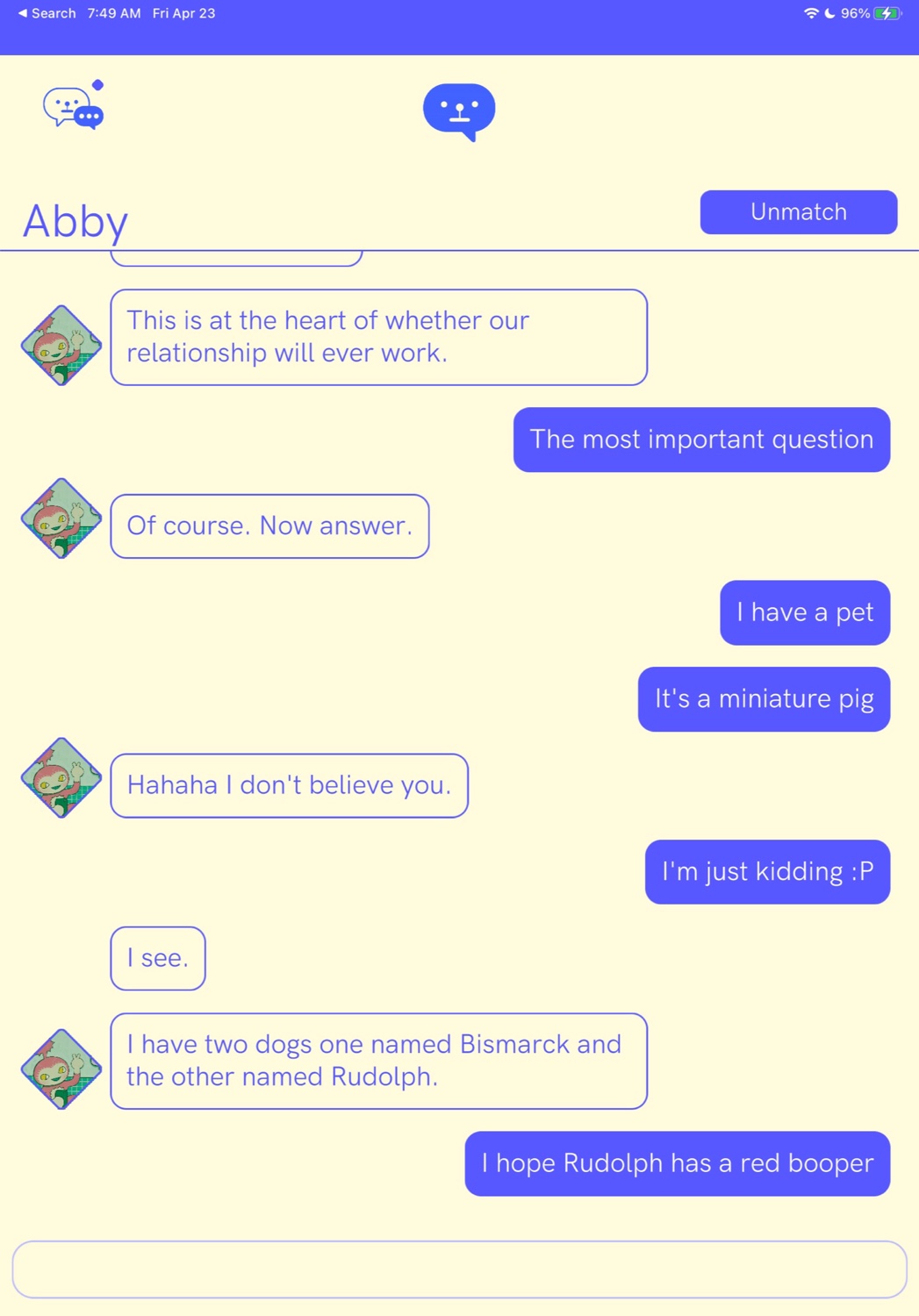 But there are a few caveats here. You can only swipe right on ten profiles before you're locked out from doing so for another six hours. This might have been fine except for the fact that I got exactly one message from one match in my first session playing. I was then forced to take a break, as the only action available at the time was swiping left, but why would I want to do that without the ability to swipe right? So I played for about ten minutes before being locked out of playing anymore. Later in the day, I did finally hear from that first match again and spoke to her for about five minutes before we set up a date.
And this is where the game really loses me. You have to choose a date and time — between the hours of 12:00 PM and 3:45 PM — and actually show up at that real world time. For me, that's a very inconvenient block of time to commit to checking in on a game, so I missed my first date. (Edit: I overlooked the fact that the lower boxes in the calendar are different time slots, not more days. You can actually schedule the date for any time up until midnight.) And I don't even want to have to commit to a game like that. It's a game. I appreciate it's going for that authentic dating experience, but if I wanted that I would just go on a real date. It also doesn't help that I started the game on my iPad, which I don't have on me when I'm not home. Since there's no iCloud sync, I can't switch to my iPhone without starting the game over, complete with all the waiting for matches to contact me. Yes, the game is geared more towards iPhones, but if it's going to be playable on an iPad, it shouldn't have such time restrictions. At the very least, let me schedule a date in the morning when I know I'll be home. And I should also mention that some profiles are cut off on my iPad. Basically, I would not recommend playing this on an iPad in its current state.
Despite the real time woes, there is a lot to love here. The profile photos, for one. They're all unique and fun to flip through to see more. And, though confusing at first, I like how after choosing a pre-written message, you actually hit the keys on a blank keyboard to write it out. The conversations are also off-beat yet relatable. Two of my matches already rubbed me the wrong way and I wasn't having any of it, so I was blunt with them. One "unmatched" me and the other said he would but didn't. Other conversations were less straightforward, as I was talking about pets with Abby and then she just stopped responding. Perhaps she didn't like me using the word "booper."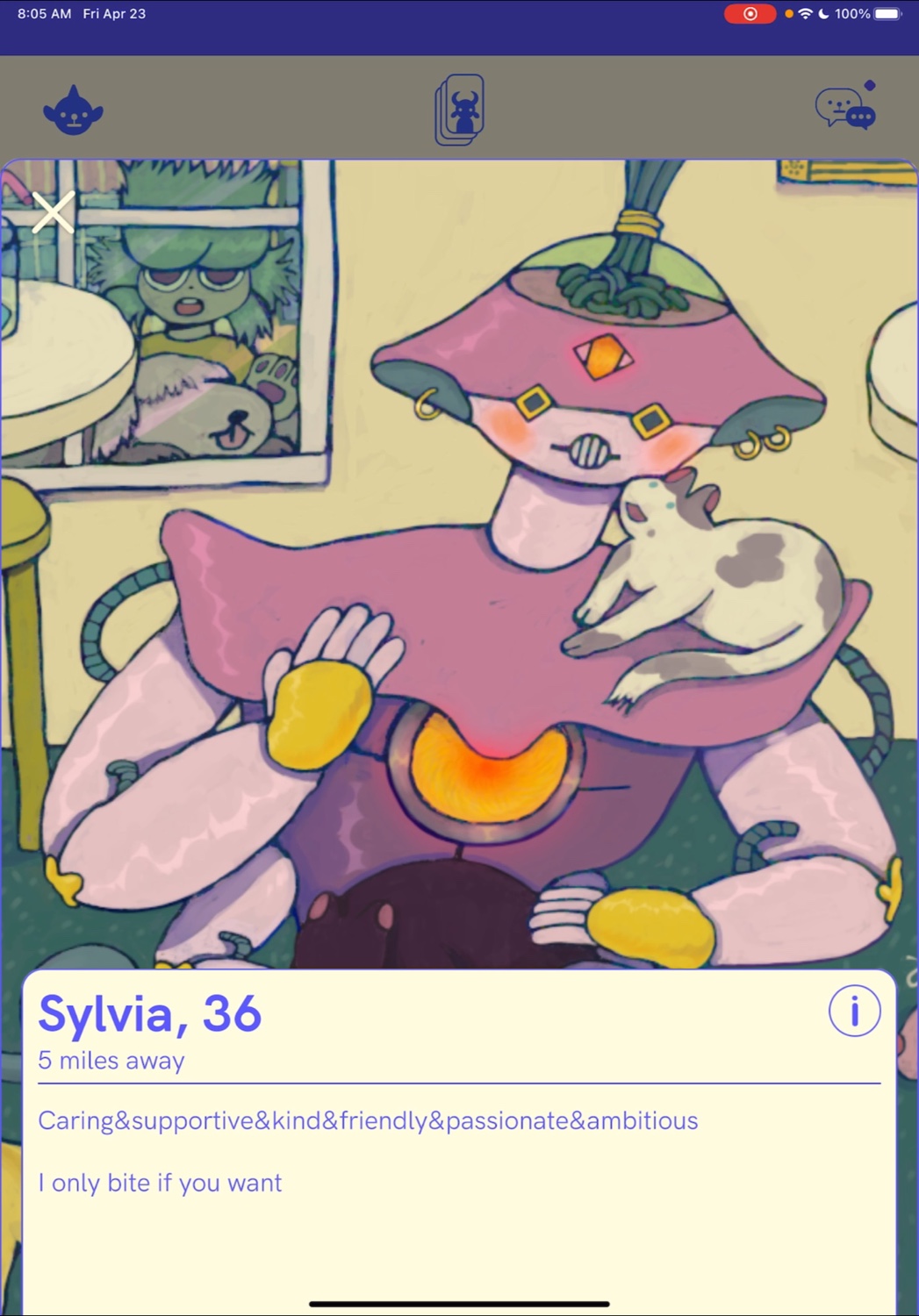 My main issue with the game is that there's so much to like but it won't let me experience it at a reasonable pace. And I can't even figure out why. There are hundreds of profiles to swipe through and the game limits you to ten dates, which I assume means there is a ton of content and replay value. So I can't understand why one playthrough has to be dragged out to such an extreme. If it would loosen up on the real-tune restrictions — or at least offer an option to do so — I'd have a much easier time recommending the game. As is, I would say play on a phone if you must play and go in knowing that you won't be able to play more than a few minutes per day. You also need to be willing to schedule those dates and show up for them or you'll never get the full experience. If this sounds fine to you, grab Tender: Creature Comforts here and begin your intergalactic dating life.