Infinity Blade III (3) set to release alongside iPhone 5C & 5S
***Update: Infinity Blade 3 is out! Download it here. ***
Chair Games announced Infinity Blade III is arriving in only about a week! Check out the details from Epic's site:
Yesterday, during AppleΓÇÖs event at its headquarters in Cupertino, ChAIR co-founders Donald and Geremy Mustard revealed Infinity Blade III. Here is a handy, succinct recap of all the important details and links.
Release Date: September 18, 2013
Price: $6.99 USD
Compatible with: iPhone 5S, iPhone 5C, iPhone 5, iPhone 4S, iPhone 4, iPad 4th gen, iPad 3rd gen, iPad 2, iPad Mini, iPod touch 5 and iPod touch 4.
Operating System Required: iOS 6 or higher
64-Bit Version: Available exclusively on the new iPhone 5S (DonΓÇÖt worry, it still looks amazing on all other iDevices!)
Key Points
Intuitive Touch Controls
Simple Navigation
Two playable characters ΓÇô Siris and Isa!
The Hideout ΓÇô your new home base
ClashMob 2.0 ΓÇô Three new modes
The Dragon ΓÇô a recurring nemesis with near-limitless health
Interactive World Map
Deep role-playing elements
Goals that earn in-game rewards
Ben Hibon Animated Short ΓÇ£Infinity Blade: OriginsΓÇ¥
Features the voice talents of fan-favorites John Noble (Yes, John Noble from "Fringe"!!) and Troy Baker
Here's the gameplay trailer: https://bit.ly/19EG2OK
And the keynote demo, including footage of the epic DRAGON boss battle. This looks amazing: https://bit.ly/15SPSJT
I predict that the first few times I fight the dragon, IΓÇÖll be too distracted by the visuals to focus on the battle.
I don't know about you, but I can't wait wait to play!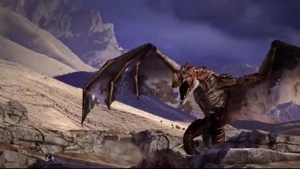 Catch up on the first two games before the third comes out. Download IB and IB2:
[DKB url="https://www.appunwrapper.com/IB" text="Download IB" title="" type="" style="" color="green" width="" opennewwindow="" nofollow=""]
[DKB url="https://www.appunwrapper.com/IB2″ text="Download IB2″ title="" type="" style="" color="green" width="" opennewwindow="" nofollow=""]
Also, catch up on the story with the two Infinity Blade books, Awakening and Redemption.
***Update: Watch the Infinity Blade: Origins animated short created by Ben Hibon and voiced by John Noble of "Fringe!": https://bit.ly/1bewQEQ ****
Watch this space for more info.
***Update: Infinity Blade 3 is out! Download it here. ***