Another Lost Phone: Laura's Story
By: Plug In Digital (Accidental Queens)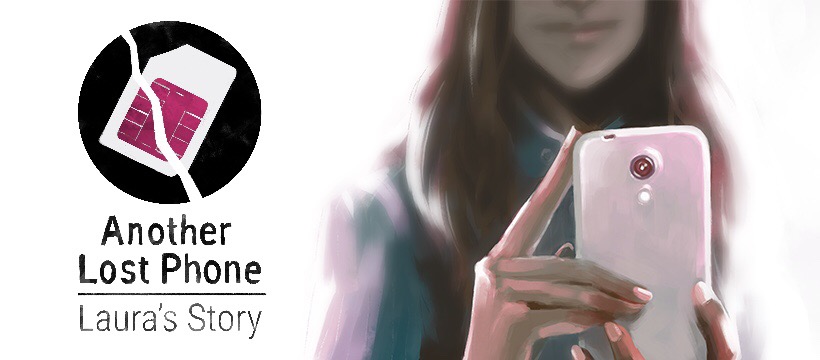 This is a complete walkthrough guide with help, hints, tips, tricks, solutions and answers for the iOS, Android and PC text messaging game, Another Lost Phone: Laura's Story, by Accidental Queens.
See my review for Another Lost Phone here.
Walkthrough:
Note: This guide is simply meant to help you progress through the game. I'm giving you the solutions to each puzzle, but will try not to spoil the story.
You can watch my walkthrough video or continue on to my step-by-step guide.
Wifi Password:
Open the apps folder and find the Notes app. Find the PublicFreeWifi password, 6389856.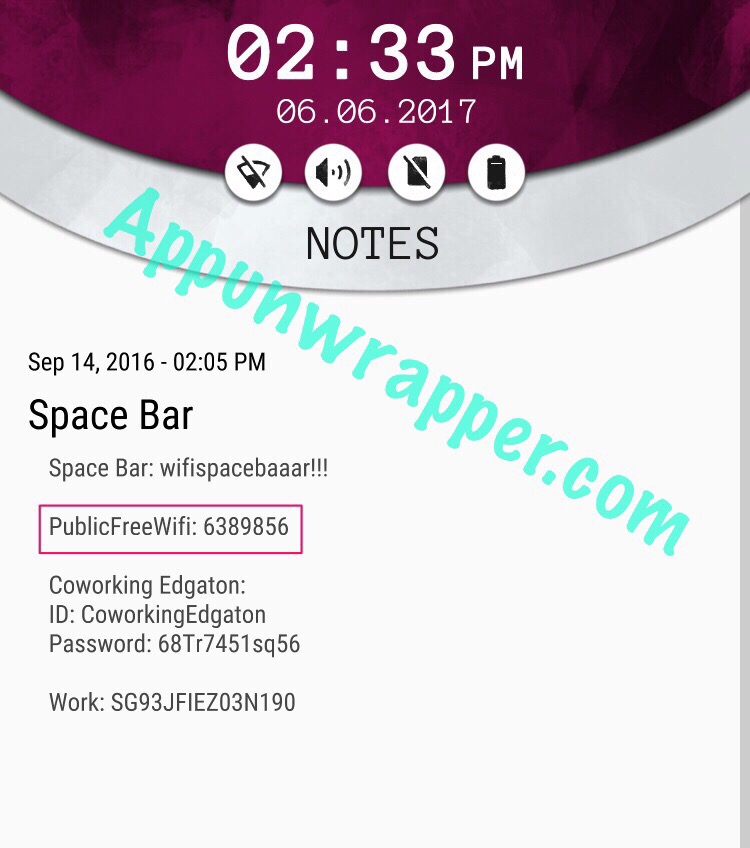 Open the Wifi settings and choose PublicFreeWifi. Enter 6389856 as the password to connect.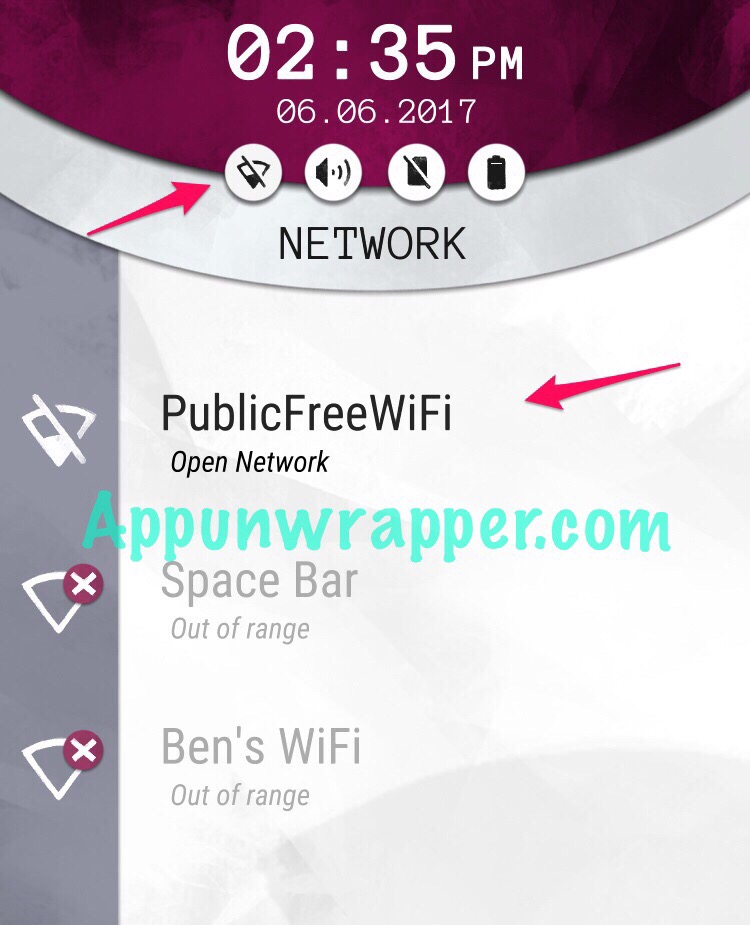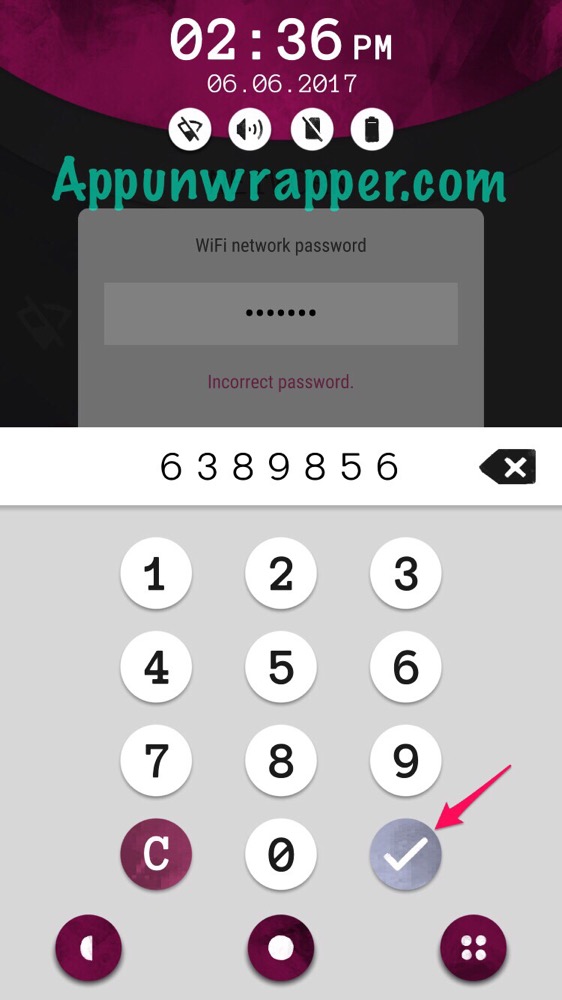 You can now connect to the PowerJob Messenger app.
Unlock PowerJob Messenger:
You need to identify the people in the three photos shown in the app to gain access to your account. It's different each time, so I'm going to try and help identify each one for you. To make things easier, I've separate this puzzle into its own guide here.
Laura's Fake Email Password:
Once inside the PowerJob app, read all the conversations. Some things should stick out, like Claire F. telling Laura to try to log into her fake email address using Ben's birth year.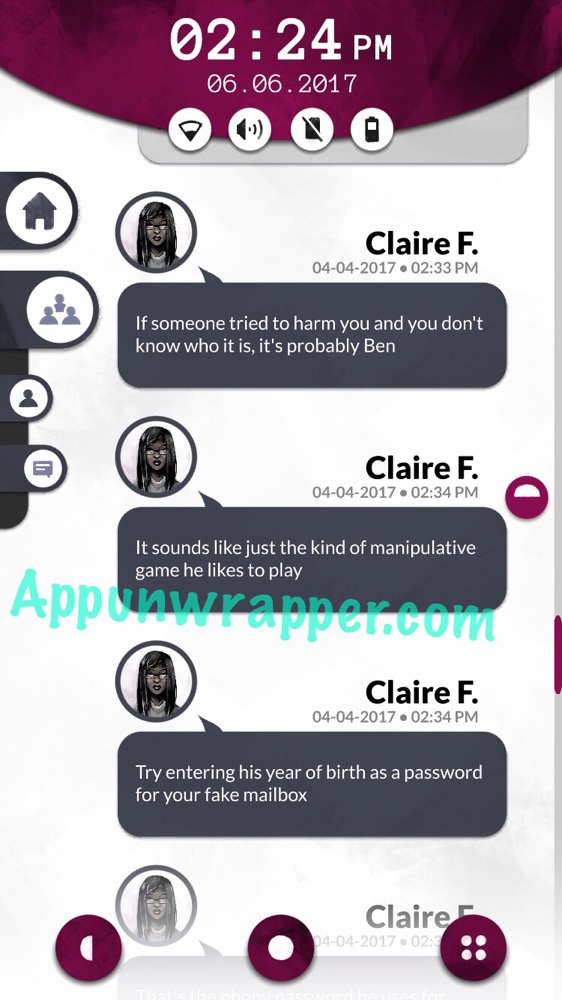 So let's find out Ben's birth year. First, look at his PowerJob profile. It says he's 30 years old.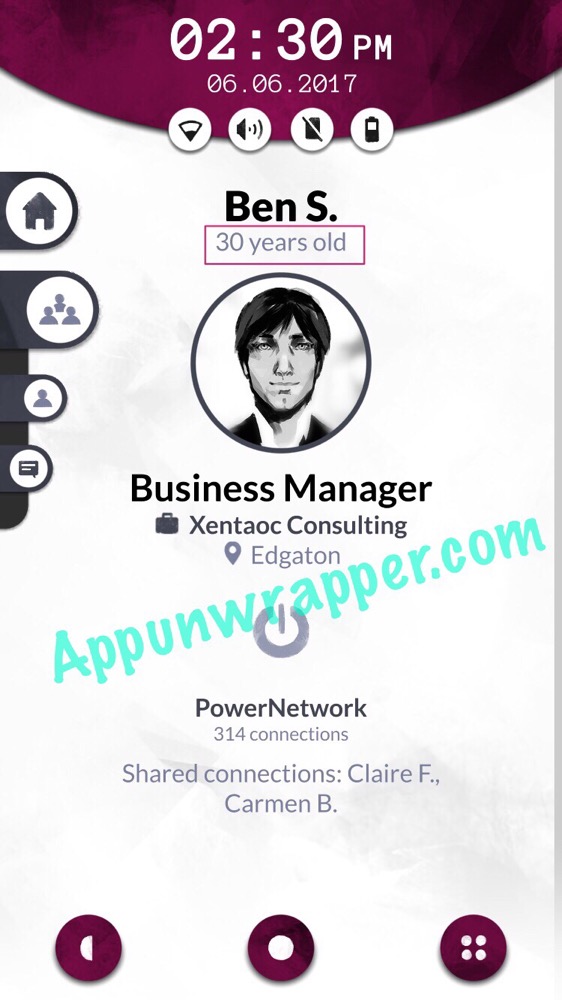 Find his birthday in the calendar. It's March 15, 2017.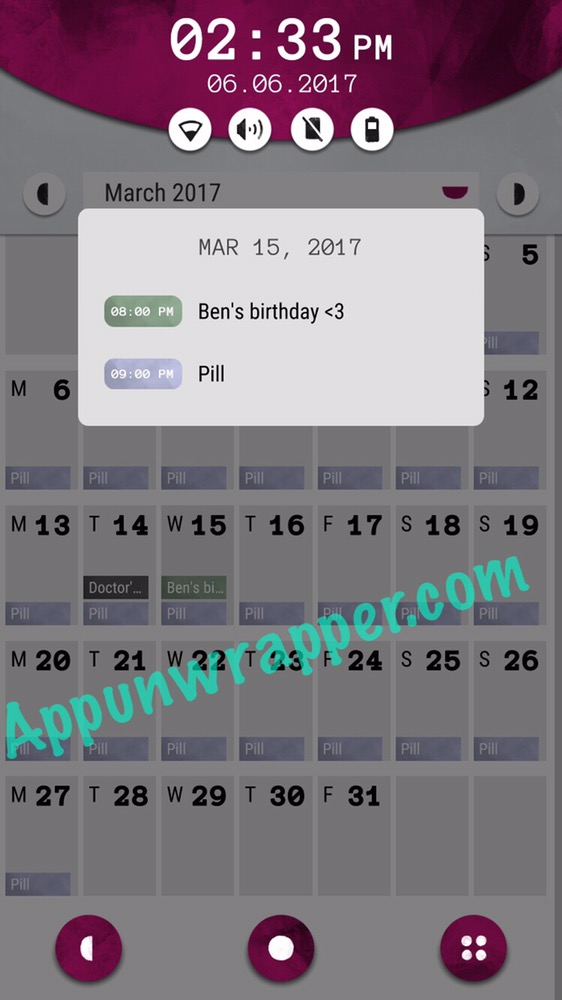 It's 06/06/2017 in the game. If Ben is 30 years at this point, that means he was born in 1987. So that's the password for Laura's fake email account.
Open the email app and tap on Laura's profile image. Now you can switch to the laura.b1991 account, which is the one that sent out the video. Enter 1987 as the password to access the emails.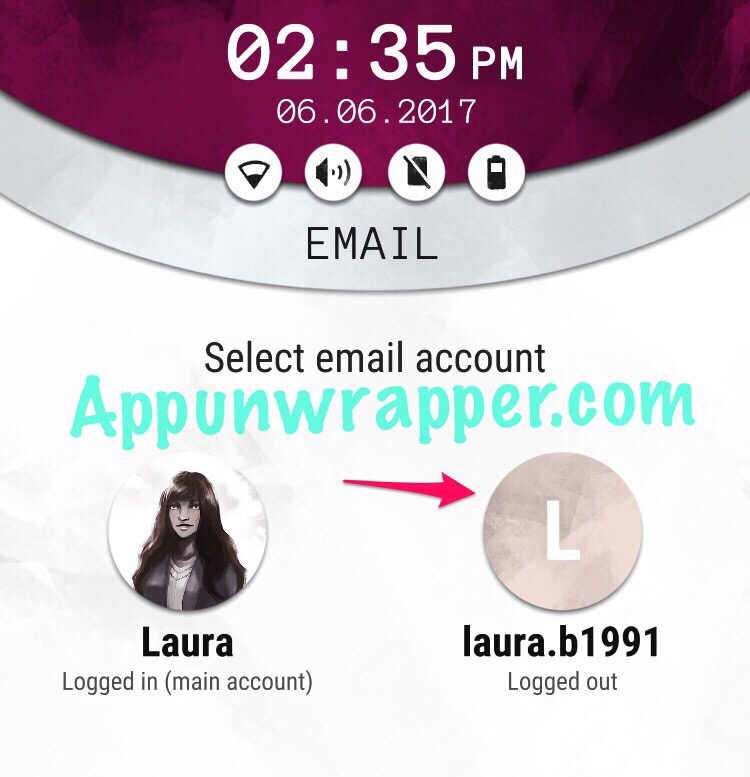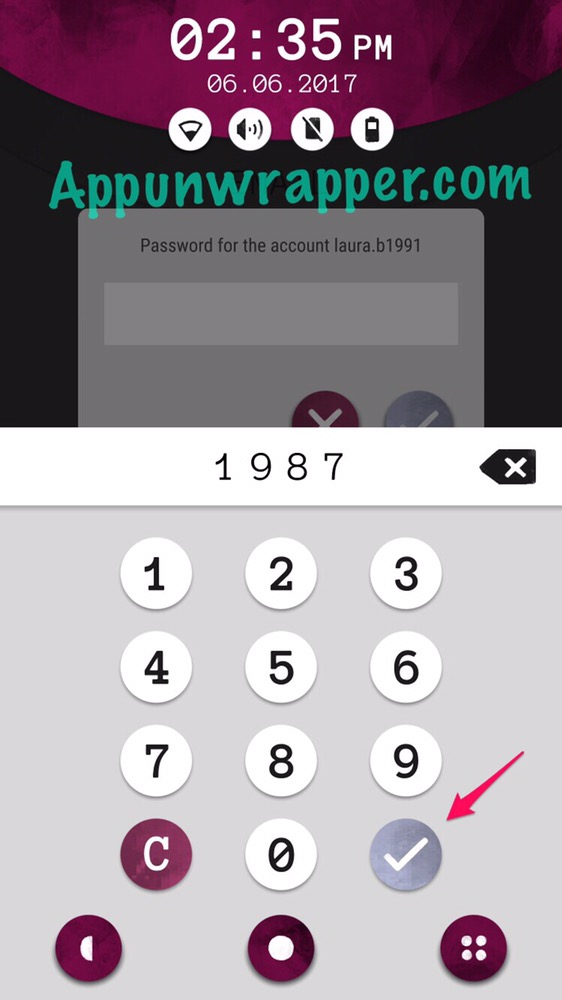 Feel free to read through these for the story, but there's no more puzzle info here.
SecurityChest password:
If you try to enter a password for the SecurityChest app, it gives you a hint.
"Sum of the following information: Year of birth of my first boyfriend + office number of my penultimate boss + street number of the place where I met Amanda for the first time."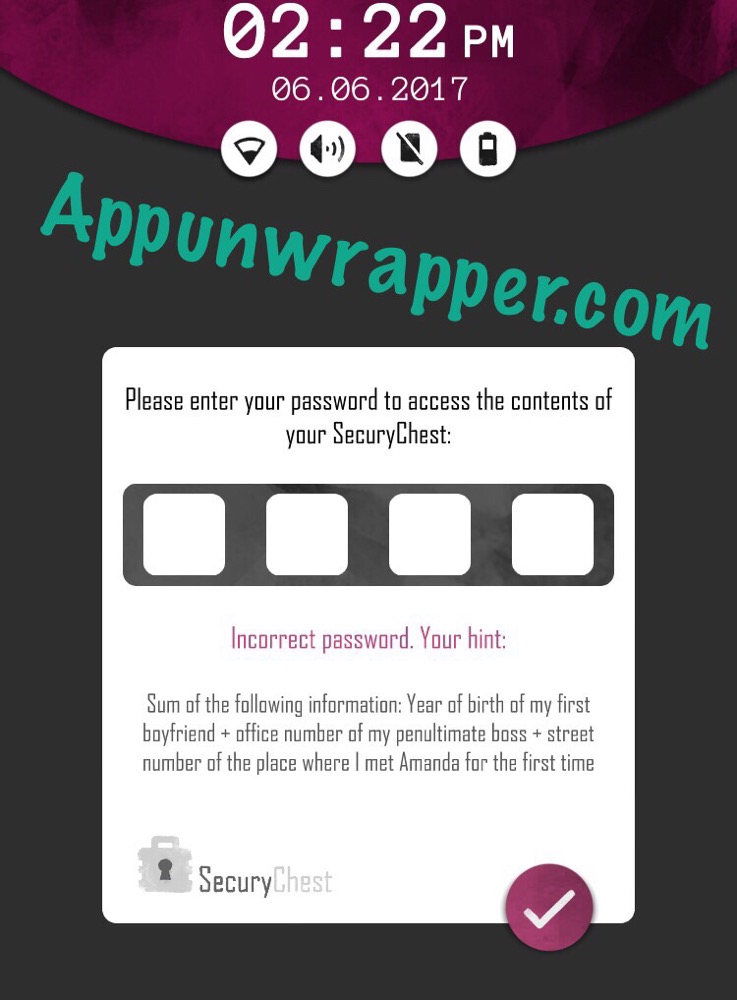 This is how you get all that information.
Her first boyfriend is Alex. You know this from a number of places. First off, in the PowerJob Messenger, talk to Charlotte. She'll discuss the video with Laura and Laura will tell her that her first boyfriend used to call her "my little bunny" and she had sent him a sexy video. So she thinks her first boyfriend sent the video to everyone.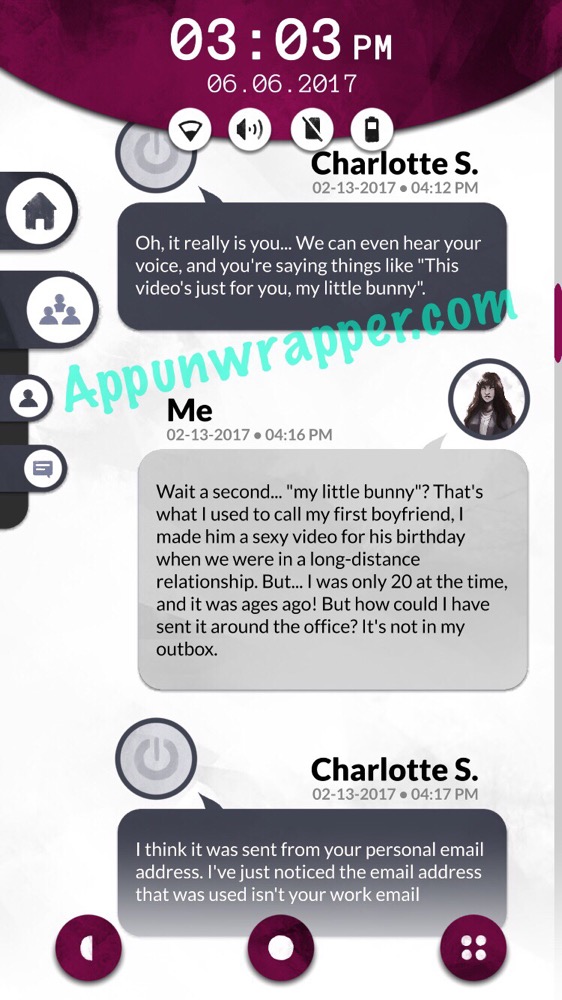 Then, if you look in Laura's Sent email box, you can find this email she sent Alex where she blames him for sending out the video. So he must be her first boyfriend. There are other clues, too, but this should be enough.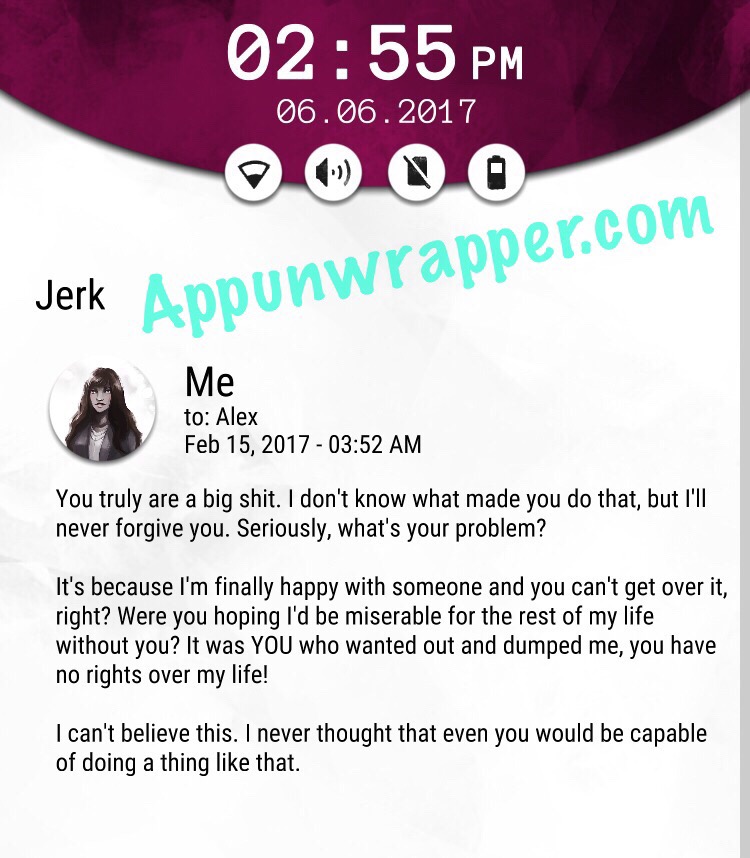 So now to find Alex's birth year. His PowerJob profile says he's 26 as of 06/06/2017.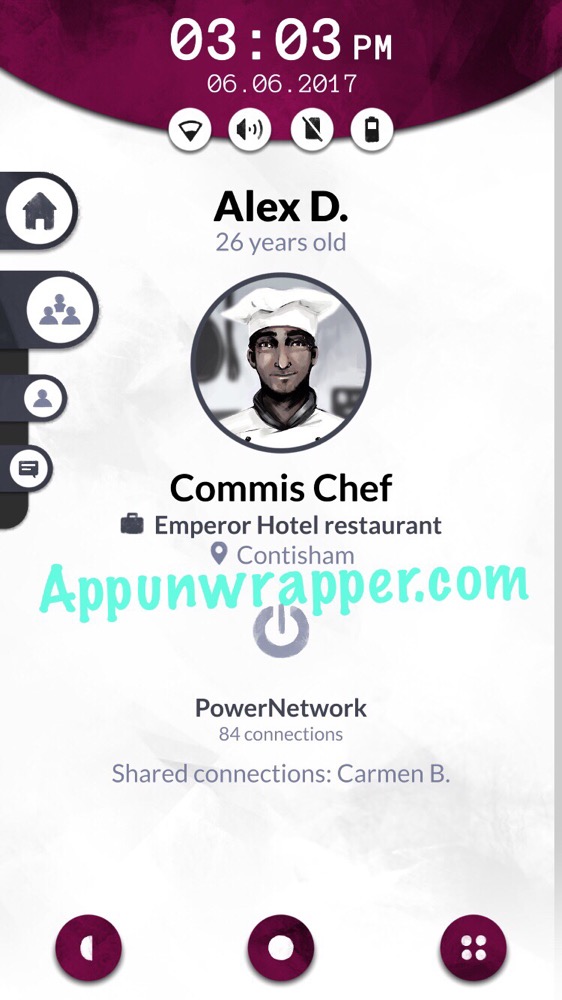 Next, find his birthday in the calendar. It's December 31st. That means that he hasn't had a birthday yet in 2017. So subtract 26 from 2016 and you get 1990. So the answer to the first part of the equation is 1990.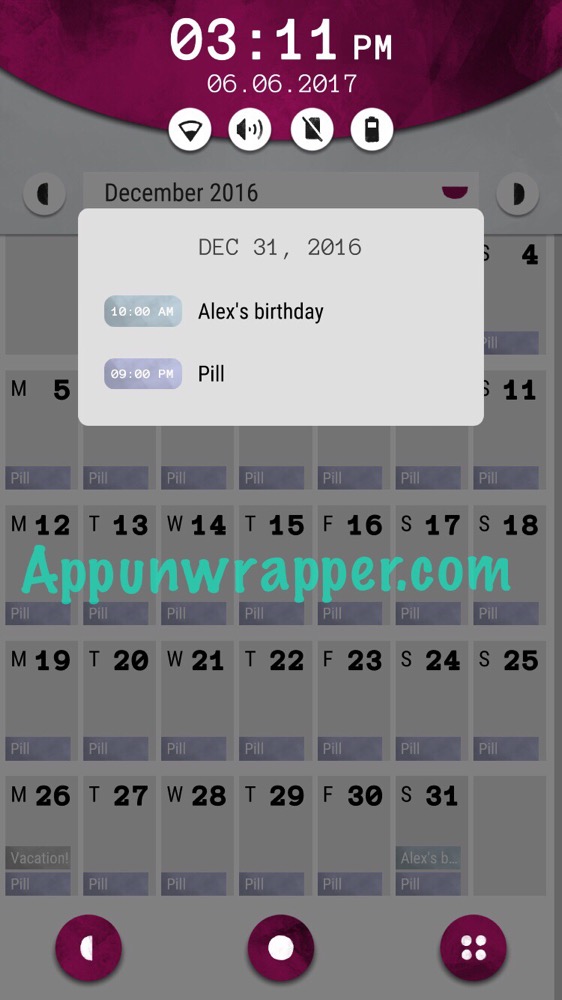 For the office number of her penultimate boss, open the PowerJob Messenger to Emma's conversation. Laura tells her that Adam, her boss at her last job, Woa Events, has a office number 107. So that's the answer for the second part of the equation.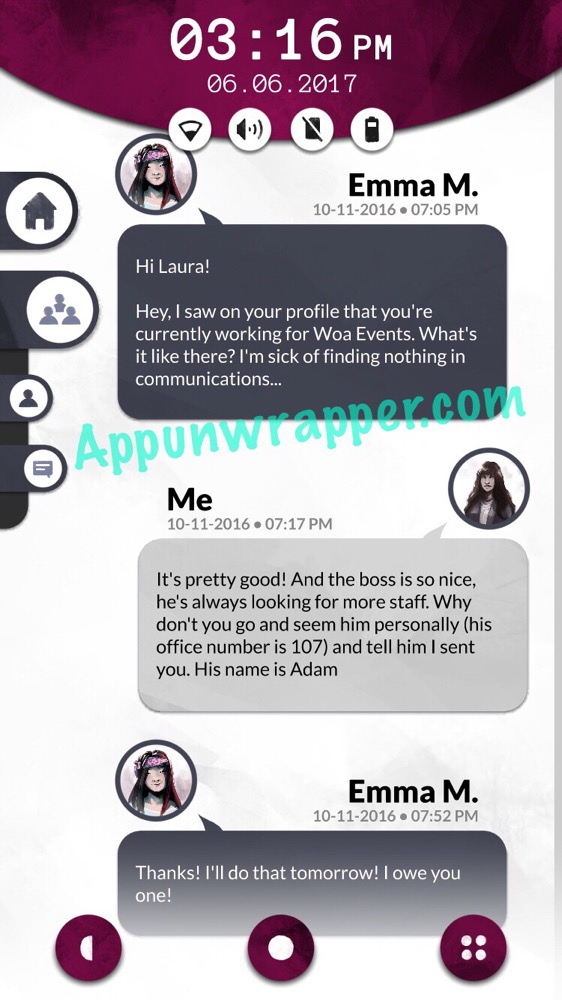 And last, you need the street number of the place where Laura met Amanda for the first time. Open up PowerJob and find Amanda's conversation. She tells Laura to meet her at 3PM on February 24th at a shop with an octopus over the door.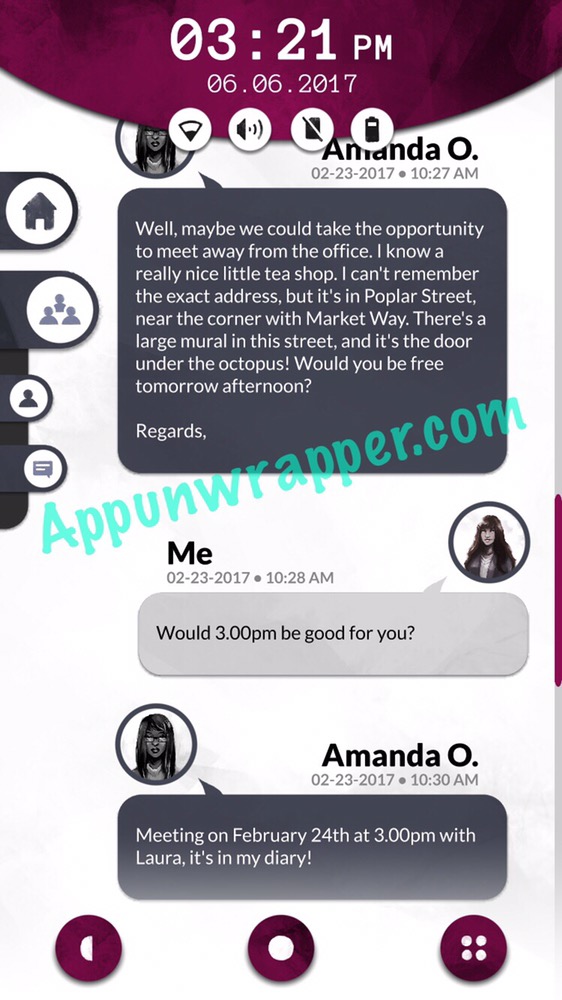 Next, open the photo gallery to February 24th. She says it's the place under the octopus, and since the other addresses leading to it are 20 & 22, the next logical number is 24. So the third part of the equation is 24.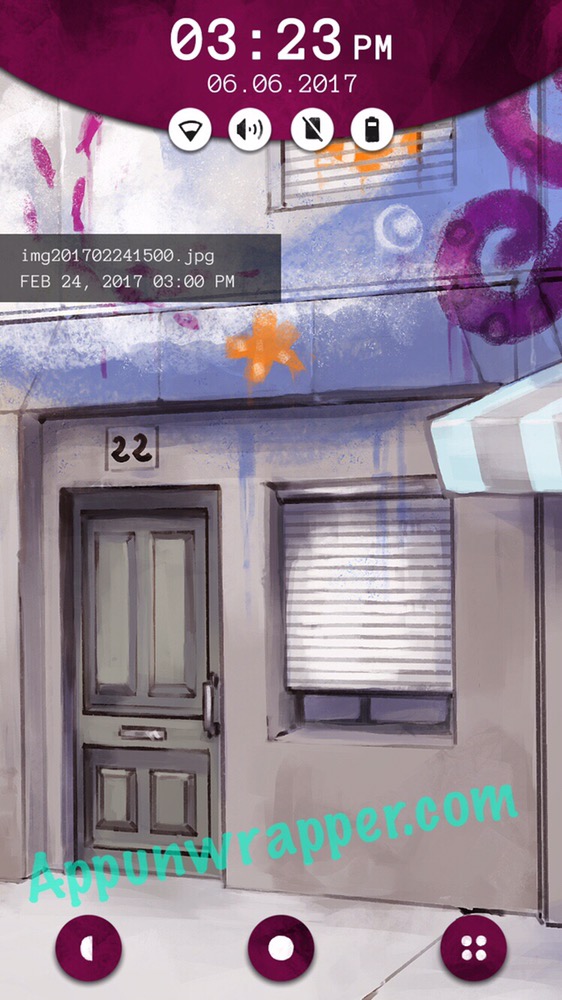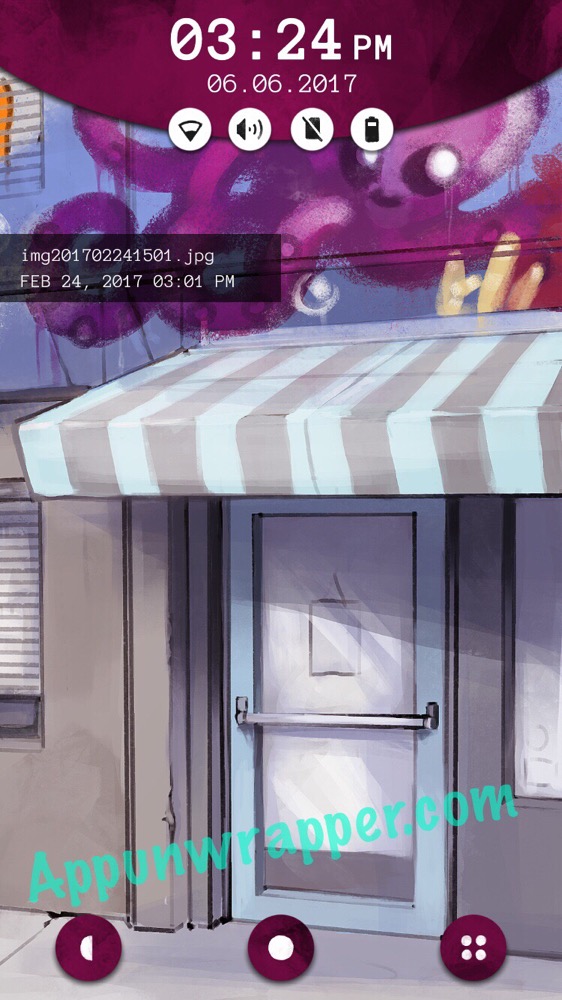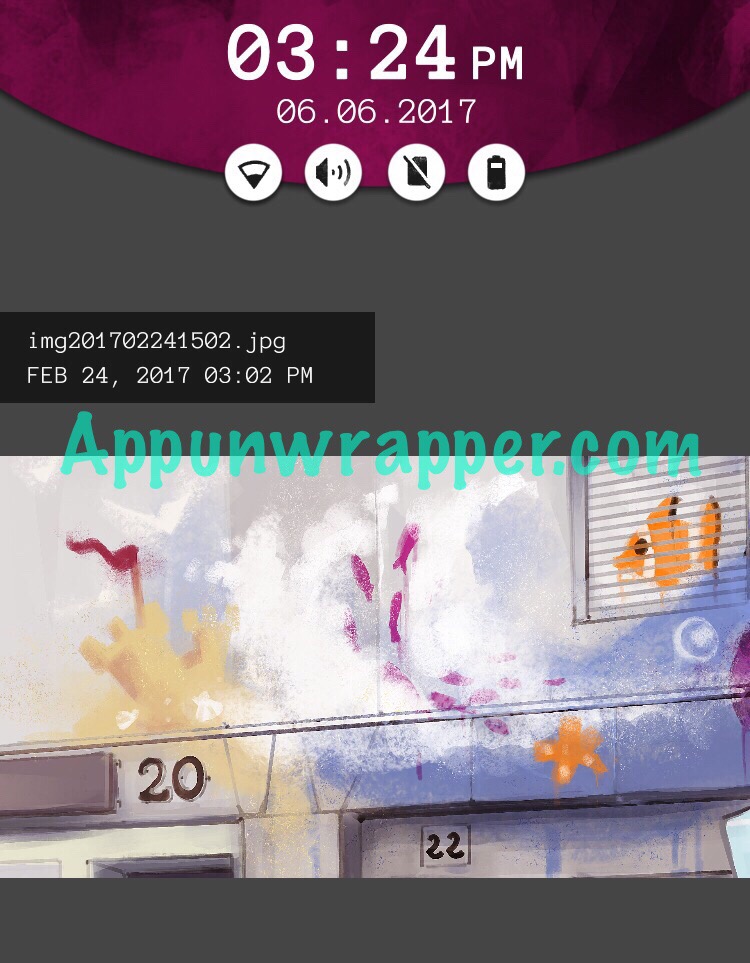 Add up all three numbers – 1990 + 107 + 024 = 2121.
So the SecurityChest password is 2121.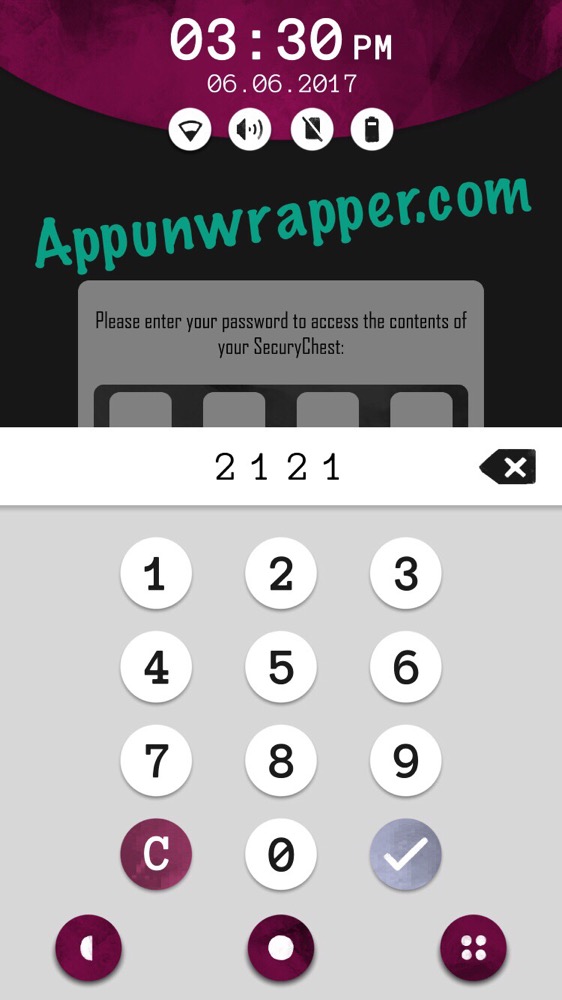 CloudSave Work Account Password:
Open the PowerJob Messenger app to Nadia's conversation. She explains to Laura how the CloudSave account works.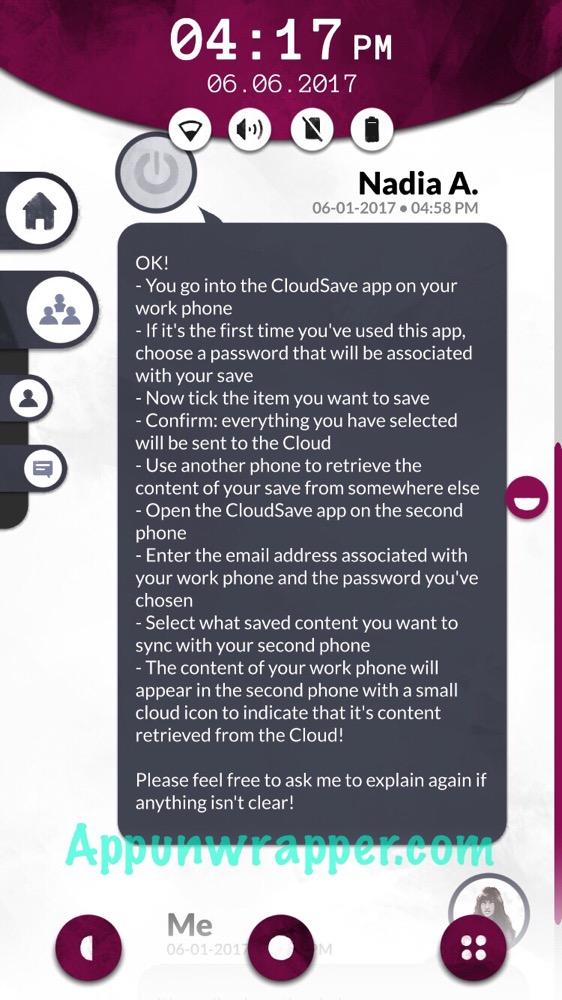 Open the Our Messenger app inside the SecurityChest. At the end of Alex's conversation, Laura asks him for help figuring out a password. He tells her it needs to be at least 8 letters long and should be a password she uses on her phone, followed by another code she uses frequently.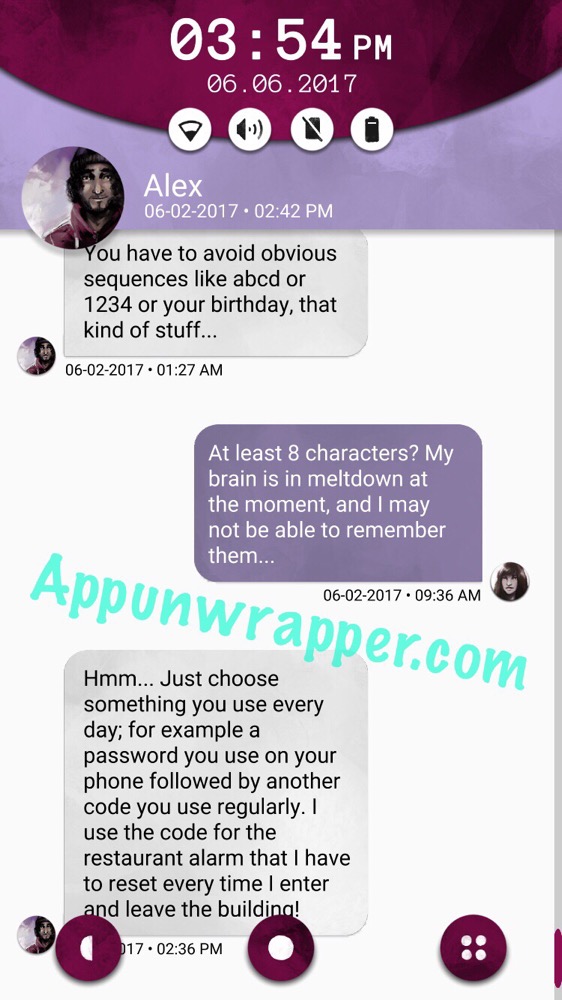 We already have 2121, since she needs to enter that every time SecurityChest locks up again.
For the second half, open the SMS app and find her discussion with Ben. He gives Laura the digicode to get into his home, which is 4004.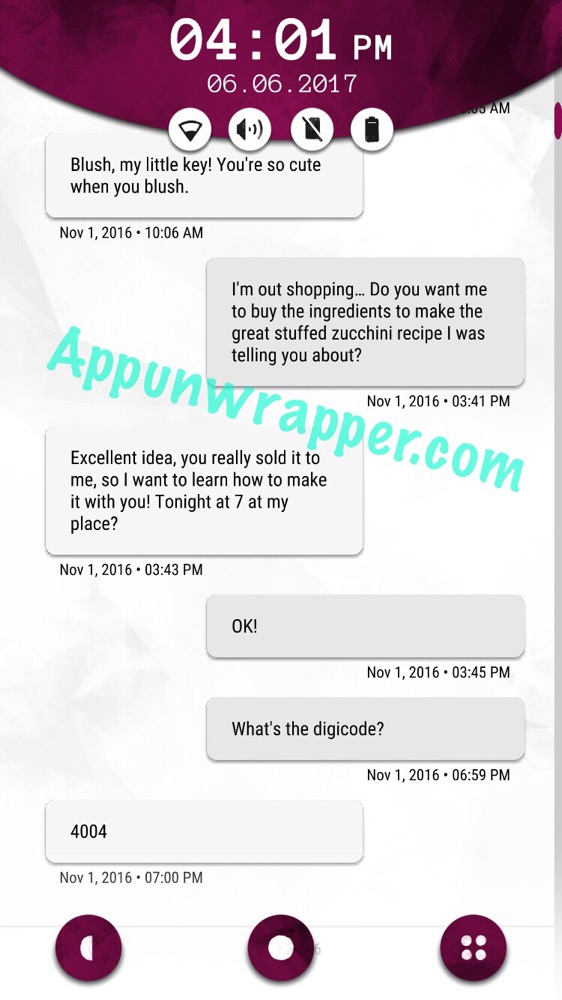 So put the two codes together and you get 21214004. That's the password to unlock the CloudSave work account.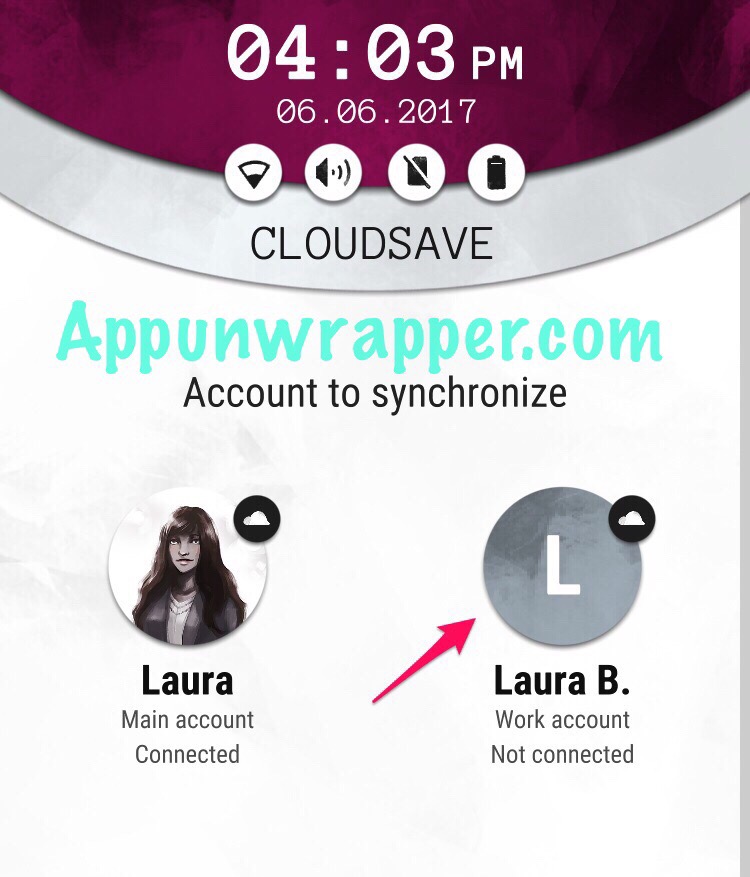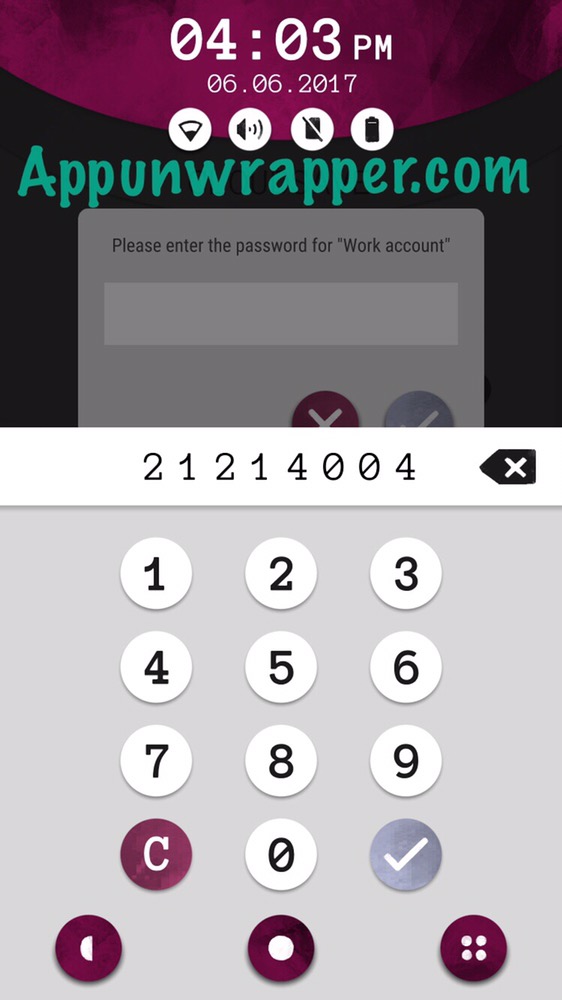 Turn on GPS:
There's one last puzzle. Read through all the new iCloud texts and notes. There are two notes that are new and after you read those, you'll get an email from Laura asking you to turn on the GPS app and then delete everything on the phone. Download the photo she attached to the email.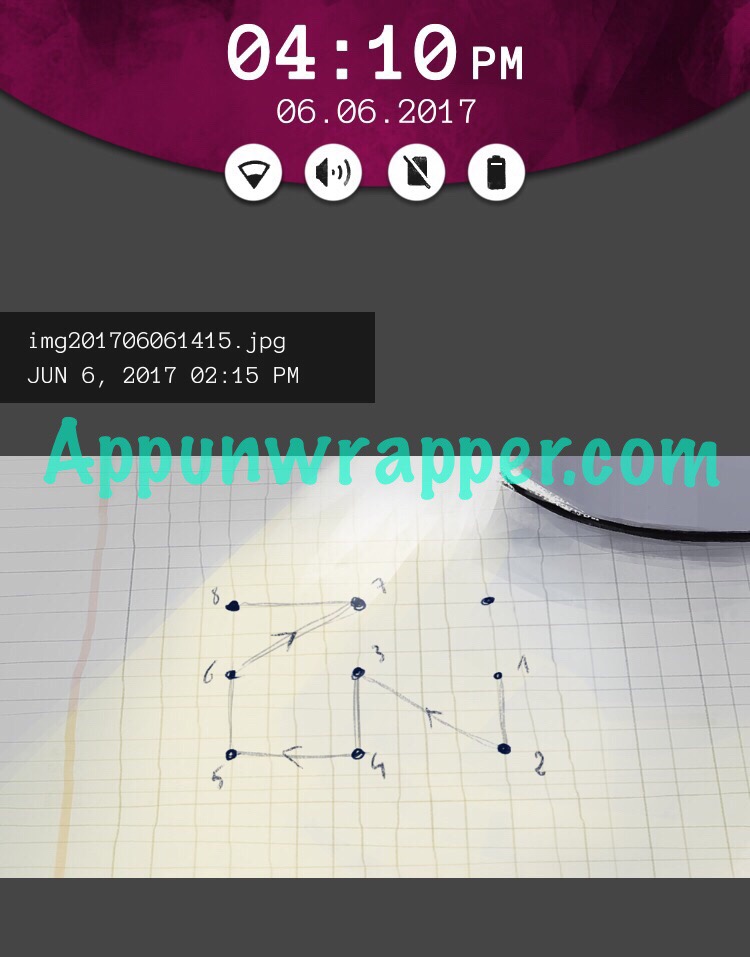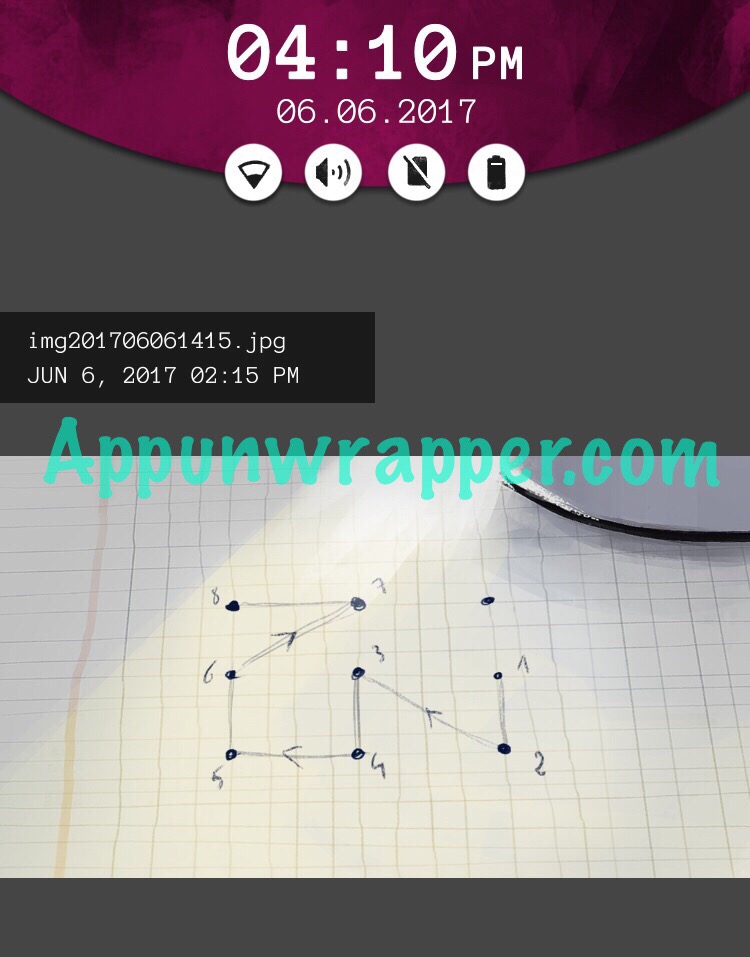 Once you feel you've read everything, open the Settings and then go to GPS and check off "Enable GPS location." Copy the pattern from the photo she sent you.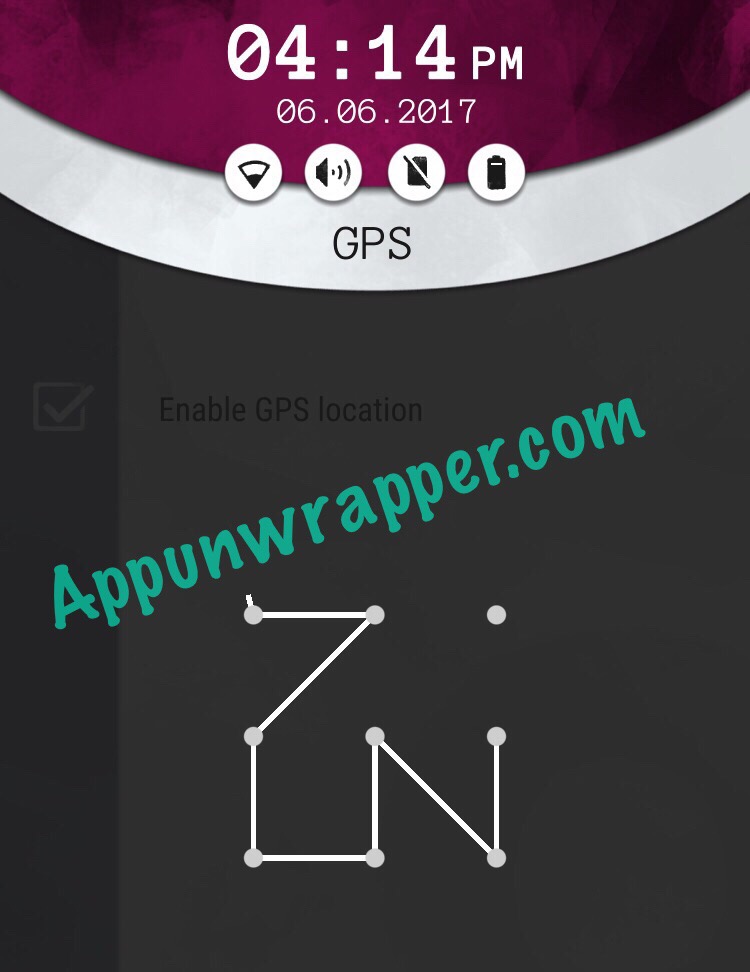 Now, you have two options here. When you're absolutely sure you're done reading everything, open the I-Am-Here app and tell Ben where the phone is. That will take you to the end of the game and you can then erase the phone. The other option is to go straight to into the settings and select "Erase all the data." Then read the ending and credits. I didn't notice any difference between the two ways of doing this, so it's up to you.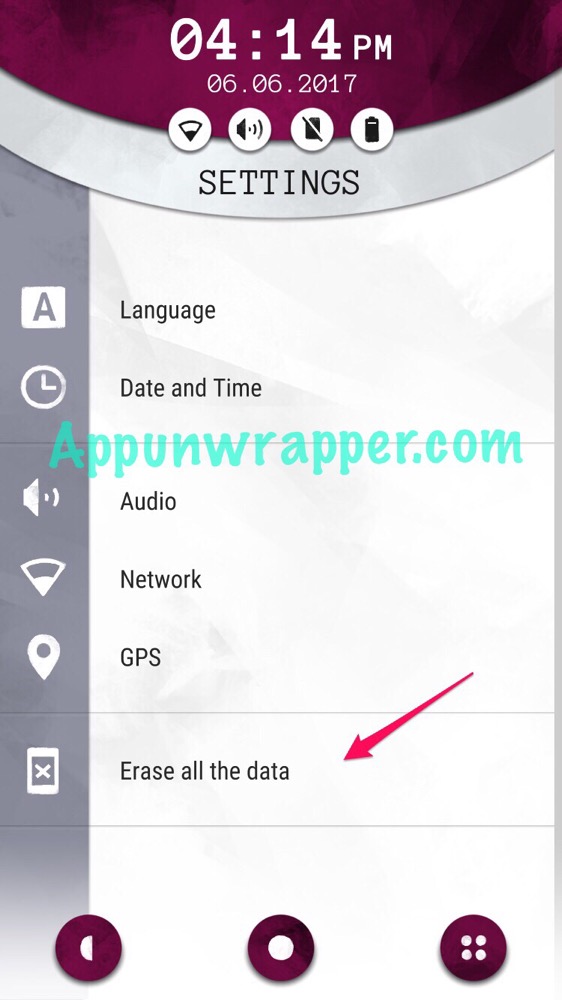 Congratulations! You completed the game!
Achievements:
You get an achievement if you don't read anything and just go into the settings and erase all the data on the phone.
***
Note: Sometimes a promo code is provided for a game, but it does not affect the review in any way. At AppUnwrapper, we strive to provide reviews of the utmost quality.

Check out my recommended list for other games you might like.

If you like what you see on AppUnwrapper.com, please consider supporting the site through Patreon. Every little bit helps and is greatly appreciated. You can read more about it here. And as always, if you like what you see, please help others find it by sharing it.

I also offer affordable testing and consulting for iOS developers.

COPYRIGHT NOTICE © AppUnwrapper 2011-2020. Unauthorized use and/or duplication of this material without express and written permission from this blog's author is strictly prohibited. Links may be used, provided that full and clear credit is given to AppUnwrapper with appropriate and specific direction to the original content.