Escape Game: "The Drifting Locked Chamber"
By IDAC CO., LTD
IDAC has another free room escape game in the app store. This one is quite elaborate and takes a bit of time to complete. But all the puzzles are logical. It's challenging, but not frustratingly so.
Click here to see my walkthrough.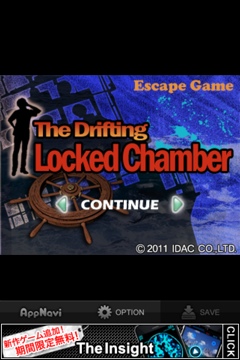 Gameplay 4/5
This game doesn't have any of the usual IDAC snags that could prevent you from finishing even though you know what you should be doing. It is still very linear like all their games, but it makes sense.
Story 2/5
Some pirates just attacked the ship you're on. Now you're locked on the ship out at sea and have to escape. Unique setting, so it wins a point for that. But you only see the story before and after you play the game.
Graphics 3/5
The graphics are the usual simple 2D drawings we're used to seeing from IDAC. Nothing to make you go "wow," but clear and easy to decipher what's what. You're on a ship, so it's a bit different than what you're used to.
Audio 1/5
Like all other IDAC games, there is no music and the only sound effects are the typewriter noises coming from the text across your screen.
Replay Value 1/5
This is an escape game, with no alternate endings. So one you escape, you won't likely play again. But it's worth your time to play through at least once.
Conclusion: 4/5
This is one of IDAC's better games. It's not as frustrating as others. The puzzles make sense and give you a sense of satisfaction when you solve them, just like a room escape game should do. The setting is also unique, as there aren't too many escape games that have you adrift at sea. I enjoyed playing "The Drifting Locked Chamber" and would definitely recommend it to any IDAC or other room escape fans.
Click here to see the walkthrough.
If you liked this game, check out some other room escape games here: List of Escape Games, including "The Mystery of the Abandoned Factory".