The Lost City
By Fire Maple Games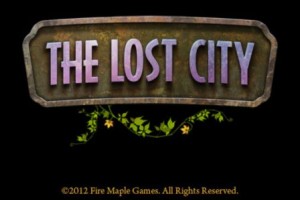 [DKB url="https://www.appunwrapper.com/lostcity" text="Download" title="" type="" style="" color="green" width="" opennewwindow="" nofollow=""]
Click here for walkthrough help.
Fire Maple Games, the makers of The Secret of Grisly Manor, recently returned to the point-and-click genre with a much longer and more satisfying game, called The Lost City. Those who were disappointed with the length of the first game may be hesitant to purchase, but there's no need to be. Here's why.
Gameplay: 5/5
The game mechanics of the Lost City are of your typical room escape or point-and-click adventures games. You explore your surrounding, picking up items and uncovering clues to solve puzzles. The touch controls in the Lost City are very responsive and intuitive. If you're used to point-and-click adventures, you shouldn't have any trouble jumping right into this game.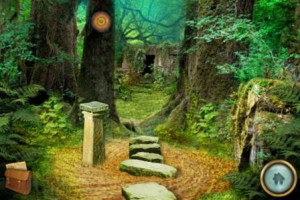 The game does require a lot of exploring and backtracking. There are many screens to "walk" through, and you'll even have to change the seasons back and forth for certain puzzles. But the loading times are practically nonexistent, so I found it a pleasure to roam around, looking for clues in the gorgeous outdoor environments. Quick transitions between screens make all the difference in games like this, keeping you from getting frustrated with the exploration process. I really appreciated that Fire Maple Games managed to keep it so smooth without having to sacrifice visual quality.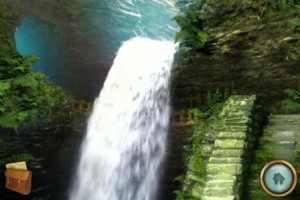 There's also a journal that marks down clues for you, so you don't have to memorize them. This, along with an in-game hint system and a map of sorts, should allow even adventure newbies to enjoy the game without too much frustration.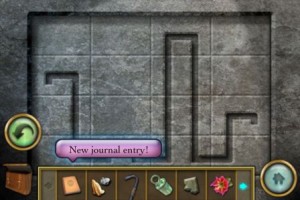 One thing that bothered me was the lack of backgrounding/multitask capabilities, so if you leave the app, you'll have to start from the loading screen. But again, the loading times are so quick that this is only a minor nuisance.
Story: 3/5
There isn't much of a story here, and you won't really encounter any characters on your journey. This is a quiet, meditative game that offers more puzzle than story.
Graphics: 5/5
The scenery in the Lost City is almost photo-realistic. It feels like you're exploring actual ruins. The changing seasons add another dimension to it, keeping the scenery fresh. The snow and rain never lag and look perfectly natural. playing on my iPhone and it looks great, but it makes me wish I had an iPad! The colors are lush and all the items are crisp and clear. And if you can't tell what an item is, there are descriptions. The text is also very clear, so you should have an easy time reading it even on a small screen.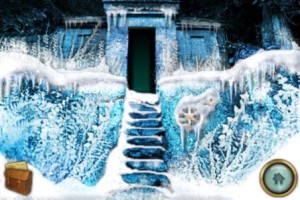 Audio: 4/5
The music in the Lost City is relaxing and captures the mood of the game, but I found it a bit bland. But it wasn't irritating, so it didn't interfere with my enjoyment of the game.
The sound effects are done beautifully, from the running water to breaking rocks. They help to bring the whole experience together and make it feel realistic.
Replay Value: 2/5
Like most point-and-click adventure games, you likely won't play it more than once. The fun is in solving all the puzzles and then moving on. But the Lost City offers a good variety of puzzles and exploration that should give you your money's worth. While most of the puzzles don't present a huge challenge, the unique elements such as changing seasons, extend the length of the game considerably.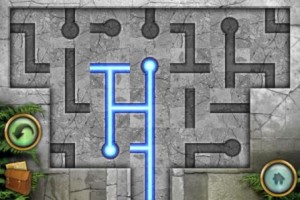 Conclusion: 4.5/5
If you're a room escape fan or point-and-click adventure fan, you'll want to give the Lost City a try. Quality games in the genre are hard to come by, and this one really delivers. With the seamless gameplay and gorgeous graphics, you won't want this game to end. In fact, it might seem too short simply because you want more if it. But that shouldn't keep you from trying this nearly-perfect game. If you love to quietly explore and solve puzzles at your own pace, go download the Lost City right now!
[DKB url="https://www.appunwrapper.com/lostcity" text="Download" title="" type="" style="" color="green" width="" opennewwindow="" nofollow=""]
If you liked this game, try these other room escape and point-and-click adventures.