Battleheart Legacy
By: Mika Mobile, Inc.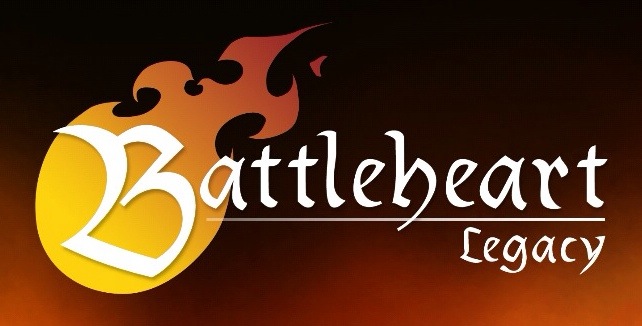 [DKB url="https://www.appunwrapper.com/BHLegacy" text="Download" title="" type="" style="" color="green" width="" opennewwindow="" nofollow=""]
See all our Battleheart Legacy guides in one handy place, including how to unlock each class and their skills trees.
See our step-by-step walkthrough for quests by levels and locations.
If you've been playing Battleheart Legacy for a while now and want to take the game to the next level, check out the Colosseum at the Arena of Madness. It's located at the tent right below the Mage Academy Tower.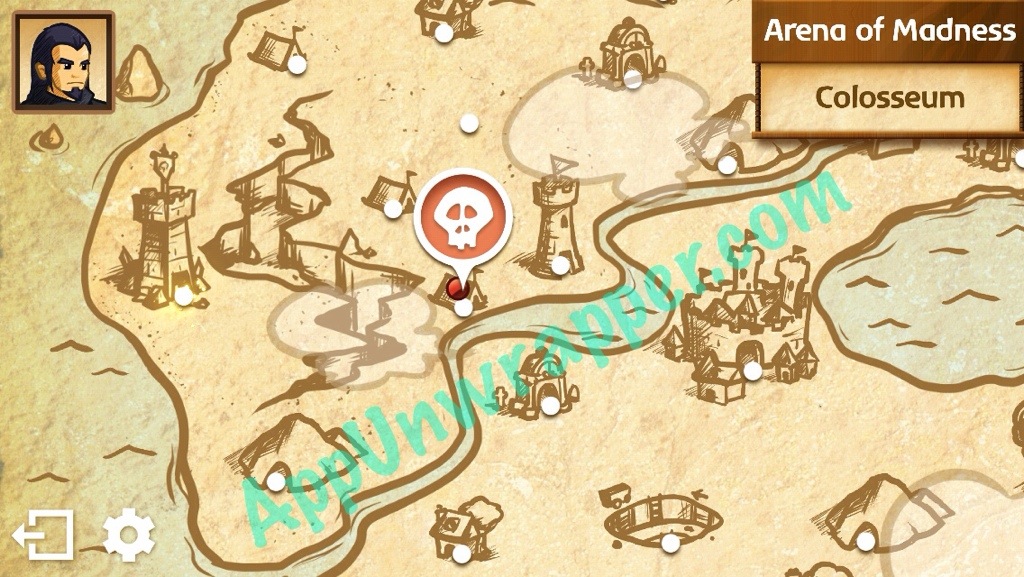 You can earn great amounts of XP there while battling endless waves of enemies that get stronger with each wave. There is a possibility of getting a Legendary item at any point, increasing the closer you get to 100 kills. But after 100 kills, you always get a Legendary item.
I'm still tweaking my build, but I'm currently using a Necro/Witch with a little bit of Wizard (Teleport) thrown in. I focus mainly on distracting the mobs with Mass Hysteria and Horror. Then I have my mummy and skeleton army keep the attention off of me. I also use Tornado and Soul Mass as attacks. I also have a Life Leech item (such as Vampire Tooth Pendant or Blazesong Amulet) and Instant Cooldown items (such as Azamoth's Cursed Eyeball) This means all damage I cause replenishes my health and the 25% Instant Cooldown means I have a high chance of my skills being ready to use again right away, without any cool downs. Impending Doom is also a great way to reduce your cooldowns if you have the stat points for it.
I got over 240 kills with this build, and I only stopped because I didn't have time to continue. I'm still tweaking it, but Impending Doom makes a huge difference:
Active:
Teleport
Tornado
Summon Pet (or Mummy)
Mass Hysteria
Soul Mass
Horror
Raise Skeleton
Victory Banner
Passive:
Staff Master
Arcane Potency
Army of Doom
Lasting Affliction
Withering
Impending Doom
My accessories are a Blazesong Amulet (10% life drain) and Azamoth's Cursed Eyeball (+15% Instant Cooldown)
I basically use Horror first to send all the enemies into a frenzy, so I can start picking them off. Since it scatters them, I use Tornado to pull some of them together. Then when Horror's effect wears off, I hit them with Charm or Mass Hysteria, since they have similar effects. Keep an eye out and don't spam Horror/Mass Hysteria. You want to make sure you have at least one available at all times, in case the Instant Cooldown doesn't work. If you get stuck without those three skills, it will be hard to keep them off your back. I also swapped out my mummy for a wolf pet because they seem better in every way…and I somehow managed to summon more than one at a time. 🙂
Whatever class(es) you're using, you want to try and minimize your cool downs so you're able to spam skills. You also want to make sure you have AoE skills to take care of large mobs.
I'll continue to post tips and hints here, as well as info about Legendary items you can loot. Feel free to share your own builds in the comments section if you have any that work well.
Legendary Equipment:
Robes of the Shadowmancer (Mage robe):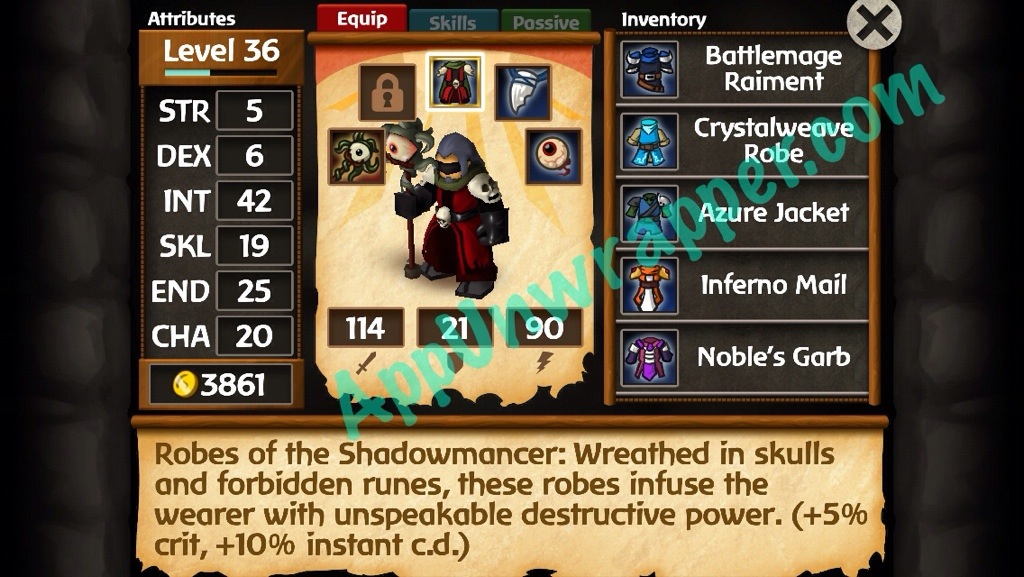 The Scourging Inferno (staff):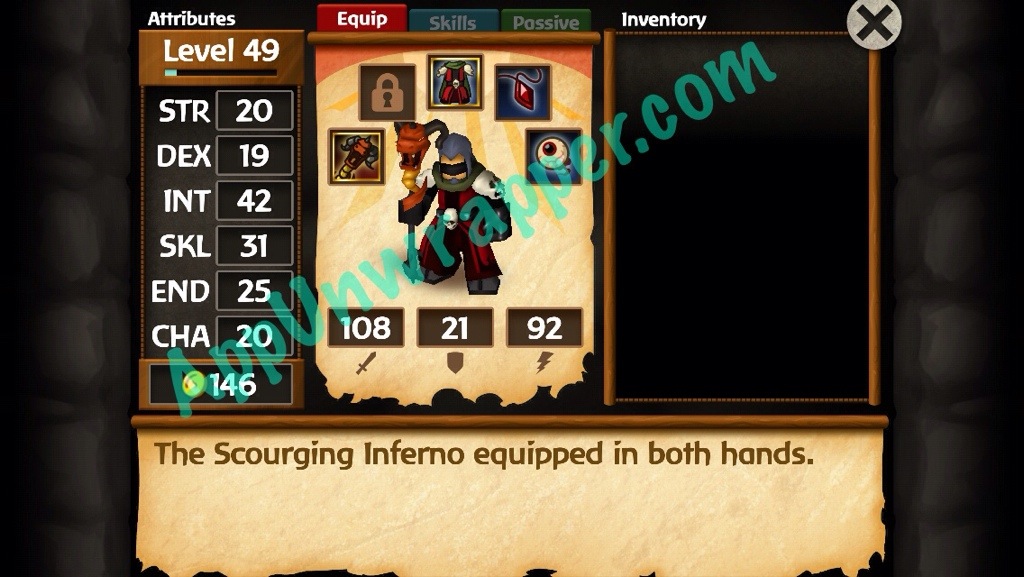 Mor'doth Doomplate (armor)
Cowl of the Red Fang
Bael's Bloodreaper (axe)
Feung's Legacy (fist weapon)
Divinity (mace)
Witherstrike (sword)
Tombcaller (dagger)
Hurricane (bow)
Mad Smith's Gloomblade (Colossal)
See all our Battleheart Legacy guides in one handy place, including how to unlock each class and their skills trees.