Splitter Critters
By: RAC7 Games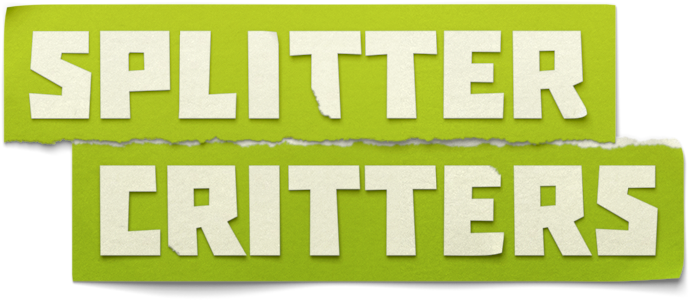 This is a complete walkthrough guide with answers and solutions for the iOS puzzle game Splitter Critters by RAC7 Games. Feel free to ask for extra help in the comments section.
See my Splitter Critters review here.
Tips:
Make use of the "undo" button! It's not just for mistakes. It's a mechanic that helps you minimize the number of cuts you make, since you are limited. Some puzzles are designed specifically around using the undo button, so make it a habit.
Use two fingers to pinch to zoom out, as well as move the camera. The latest update gives you more control over the camera, making trickier levels easier to manage.
Pay attention to the different aliens. They each have a special pattern.
-Yellow aliens continue walking in the same direction no matter what, even if it's off a cliff into lava. The only thing that stops them is a wall. Monsters will eat them.
– Blue aliens turn around at the edge of a platform. They're easier to manage than yellow critters. Monsters will eat them.
-Red aliens behave similarly to blue ones, but they're able to kill monsters. Use them to make the path safer for the other aliens.
Critters can float and swim in water. On some levels, water also fills gradually rises, filling up the screen. Use the water to float over spikes, because if the aliens hit a spike, they'll die.
Buttons are used to power up the satellite that summons the spacecraft. You might need to make the critter stay on the button for an extended period, or have multiple buttons pressed at the same time. Play around with it. These are fun levels!
Lasers are also used to power the satellite. You need to bounce them off reflective rocks to the receptor. But be careful, because if a critter walks into one of them, he's dead!
Walkthrough:
World 1, Levels 1, 2, 3, 4, 5, 6 & 7:
World 2, Levels 8, 9, 10, 11, 12, 13 & 14:
World 3, Levels 15, 16, 17, 18, 19, 20 & 21:
World 4, Levels 22, 23, 24, 25, 26, 27 & 28:
World 5, Levels 29, 30, 31, 32, 33, 34, 35, 36, 37, 38, 39, 40, 41 & 42:
Level 41 was changed, so here's the new one:
Bonus Moon A, Levels A1, A2 & A3:
Bonus Moon B, Levels B1, B2 & B3:
Bonus Moon C, Levels C1, C2 & C3:
Bonus Moon D, Levels D1, D2 & D3:
***
Note: Sometimes a promo code is provided for a game, but it does not affect the review in any way. At AppUnwrapper, we strive to provide reviews of the utmost quality.

Check out my recommended list for other games you might like.

If you like what you see on AppUnwrapper.com, please consider supporting the site through Patreon. Every little bit helps and is greatly appreciated. You can read more about it here. And as always, if you like what you see, please help others find it by sharing it.

I also offer affordable testing and consulting for iOS developers.

COPYRIGHT NOTICE © AppUnwrapper 2011-2020. Unauthorized use and/or duplication of this material without express and written permission from this blog's author is strictly prohibited. Links may be used, provided that full and clear credit is given to AppUnwrapper with appropriate and specific direction to the original content.