NoStranger (No Stranger)
By: Scott Mulligan

It's rare these days for me to feel so strongly about a game that I need to write a post just to make sure people know the game exists. But the developer of NoStranger emailed me late last night and I was curious, so I fired up the game. An hour later, I was forcing myself to stop playing so I could get some sleep. I woke up thinking about the game again.
I plan to write a proper review (spoiler-free as possible) but since I'm still playing, I'm not ready to do so. I just want everyone to play this game. It's quite possibly the best "text message" game I've played. And it's free. The one caveat is that it's in real-time, so if you're impatient like I am, you'll have to watch ads to skip the waiting times. While that might break the immersion, it is a small price to pay for this fantastic game. I was lucky enough to get a code from the developer to skip ads, and they do seem to be adding an IAP for it in the future (the Android version may already have it). Even if you're stuck with the wait times and/or ads, I highly recommend playing this game.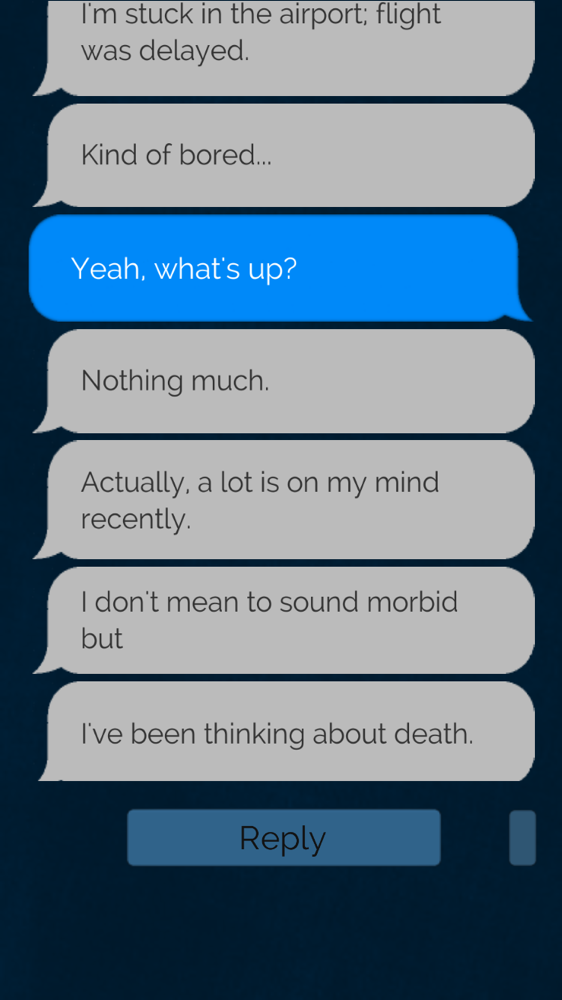 The writing is natural and believable. I feel like I'm talking to a real person. I haven't rolled my eyes once, a rarity in these kinds of games. On top of that, the game has you searching for answers on Google Maps or Tumblr, even YouTube. You have to type in URLs in a browser and then have a few minutes to solve the riddle on the screen. And the pacing (without the timers) is perfect. I've played other games like this that either dragged or got to the surprise ending too quickly. But I've spent two quality hours in-game with this already and that's with skipping all the wait times. It has never once felt like it was dragging. I've just been amazed at how long it is. There is a lot of content and apparently some replay value, too. I'll be able to talk about that more once I compete the game.
Anyway, play this game. It's free to try so there's no reason not to. And if you want to see what it's like without the wait times, you can check out my gameplay video:
Download the game here and let me know what you think!
Update: I just finished the game and am working on a walkthrough here.